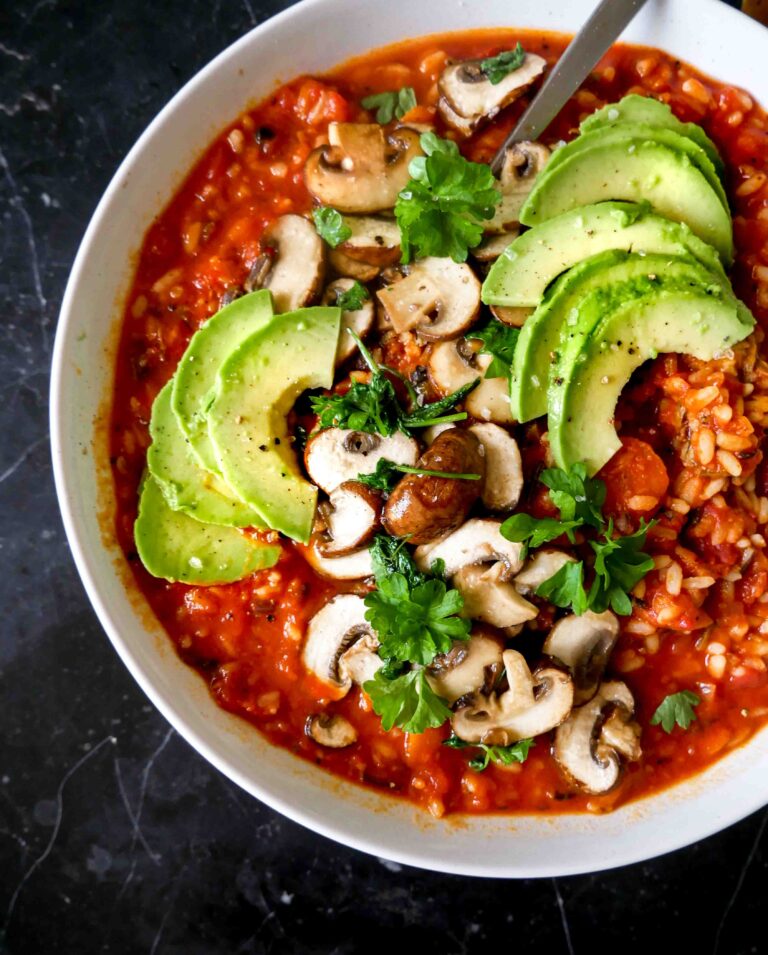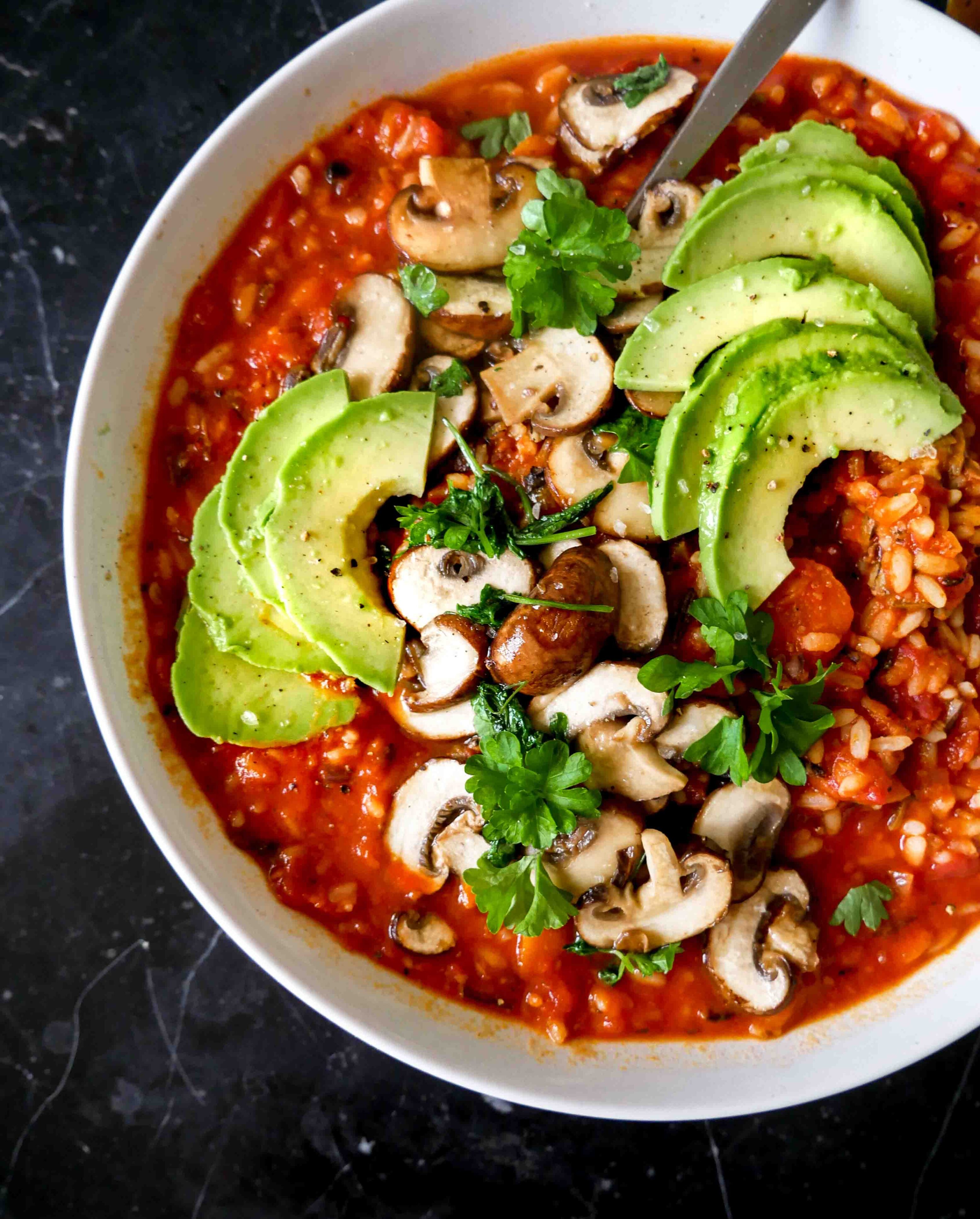 Easy vegan stew with rice, sweet potato and creamy mushrooms. Perfect autumn recipe for a satisfying meatless feast.
This rice and sweet potato stew are a winner for sure. I've made this recipe so many times – lately yesterday. So finally I wanted to share this updated version with you. I love the texture and flavor of all the combined vegetables in this vegan stew.. But I've seen versions using all sorts of different greens and vegetables, so feel free to substitute with kale, spinach, cabbage, or whatever hearty greens you prefer.
Make a big bowl of this for meal prep or save for later. This recipe holds up really well both in the refrigerator or freezer. I like to pack up my stews with rice and everything.. Then refrigerate for a few days or freeze for longer term storage.
This recipe is full of warming spices like: Cumin, paprika and garlic, salt and pepper which simmer in a delicious rice infused tomato sauce with rice.
» Try also: Simple vegan risotto with mushrooms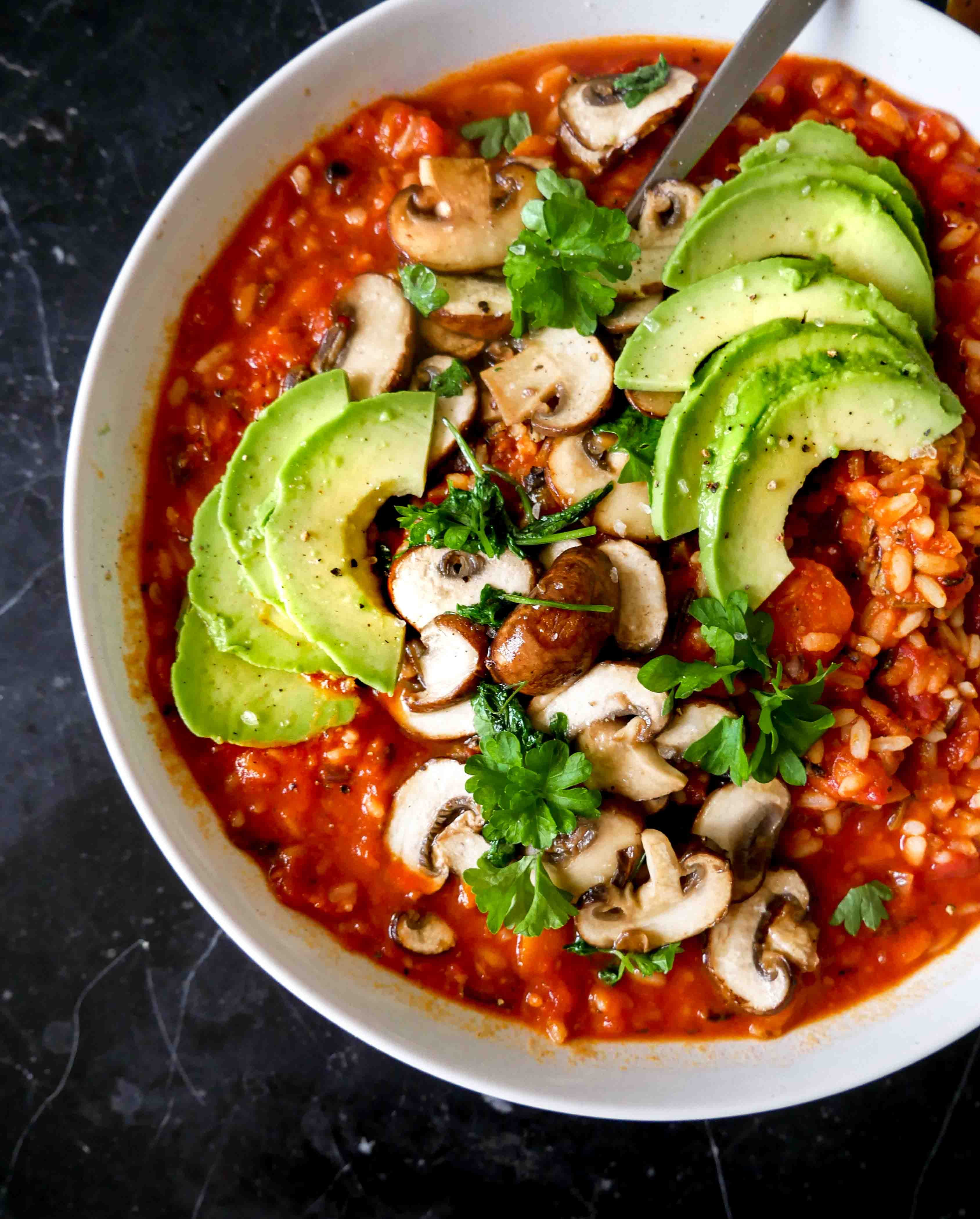 Print Recipe
Vegan stew with rice and creamy mushrooms
Easy vegan stew served with rice, sweet potato and fried creamy mushrooms. Served with fresh parsley and avocado. I hope you'll like this recipe.
Ingredients
First in the oven:

3 x small sweet potatoes (or one big), chopped

3-4 carrots, chopped

2 tablespoon oil

1 teaspoon paprika

Drizzle with salt and pepper

Stew:

2 tablespoon oil

2 x gloves of garlic

1 onion

1 can of tomatoes

Juice from 1/2 lemon (or lime)

1 teaspoon cumin

1 teaspoon paprika

1 cup of water

Rice after choice - around 1 cup per person

Creamy mushrooms:

1 tablespoon oil

4 x medium brown mushrooms

Salt and pepper

For serving: Parsley and avocado slices
Instructions
1
In the oven: Pre-heat the oven at 200c. Finely chop the sweet potato and carrots in smaller pieces. Add on a baking tray with baking paper. Mix the vegetables with oil, salt, pepper and paprika. Bake in 12-15 min.
2
Stew: Place the pressed garlic and onion into a large saucepan along with olive oil. Allow this to heat until it's bubbling, then pour in the tins of tomatoes, lemon juice, cumin and paprika.
3
When the vegetables are finish in the oven, then stir in the chopped carrots and sweet potatoes (the vegetables may feel a little under cooked and not too soft). Bring this mix to the boil then turn it down to simmer at low/medium heat in 1/2 - 1 hour. Add 1 cup of water if needed.
4
Cook the rice 10 min. while the stew is cooking.
5
When the rice are finish add in the stew, mix it all together and turn down the heat while finally making the mushrooms.
6
Creamy mushrooms: Chop/slice the mushrooms. Add on a pan with oil, salt and pepper. Fry on medium heat and add some finely chopped parsley.
7
Serve the rice stew in big bowls, add the creamy mushrooms on top. Decorate with a little parsley and avocado slices. Drizzle with salt and pepper.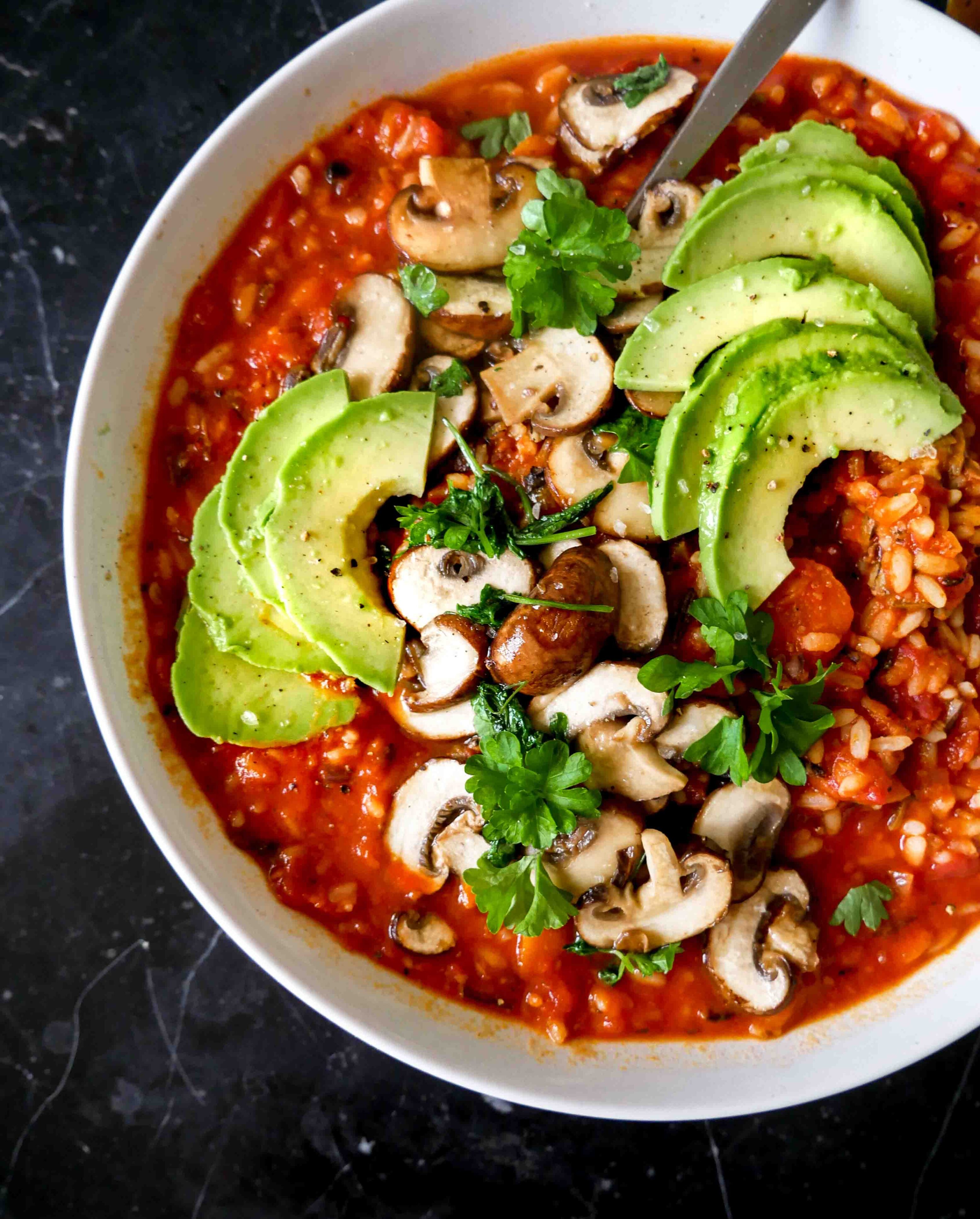 Stews for all seasons:
Grey weather and autumn really calls for big batches of this recipe. In the colder months I try to use all the seasonal vegetables available (I'm experimenting this recipe with pumpkin as well!) This one is made with sweet potatoes, carrots, rice and creamy mushrooms on top. The mushrooms gives such a delicious touch for the final stew. So warming and hearty, perfect for chilly autumn evenings. Curry, chili or garam masala would work perfectly too if you want more spiciness. And another good thing about simmer dishes that your house are just bursting with flavour. It's close to be a food week wonder too. You can make a big batch one night to last you the next few days or weeks. Just keep a few portions in the fridge or freezer.
What else to serve with this vegan stew?
A few starters can turn this into a good meatless feast. Think salad like a fattoush or a simple Mediterranean salad. Homemade crispy flatbreads are also a winner to dip in the stew, or else try out to add some of these vegan cauliflower hot wings into the stew! Enjoy.