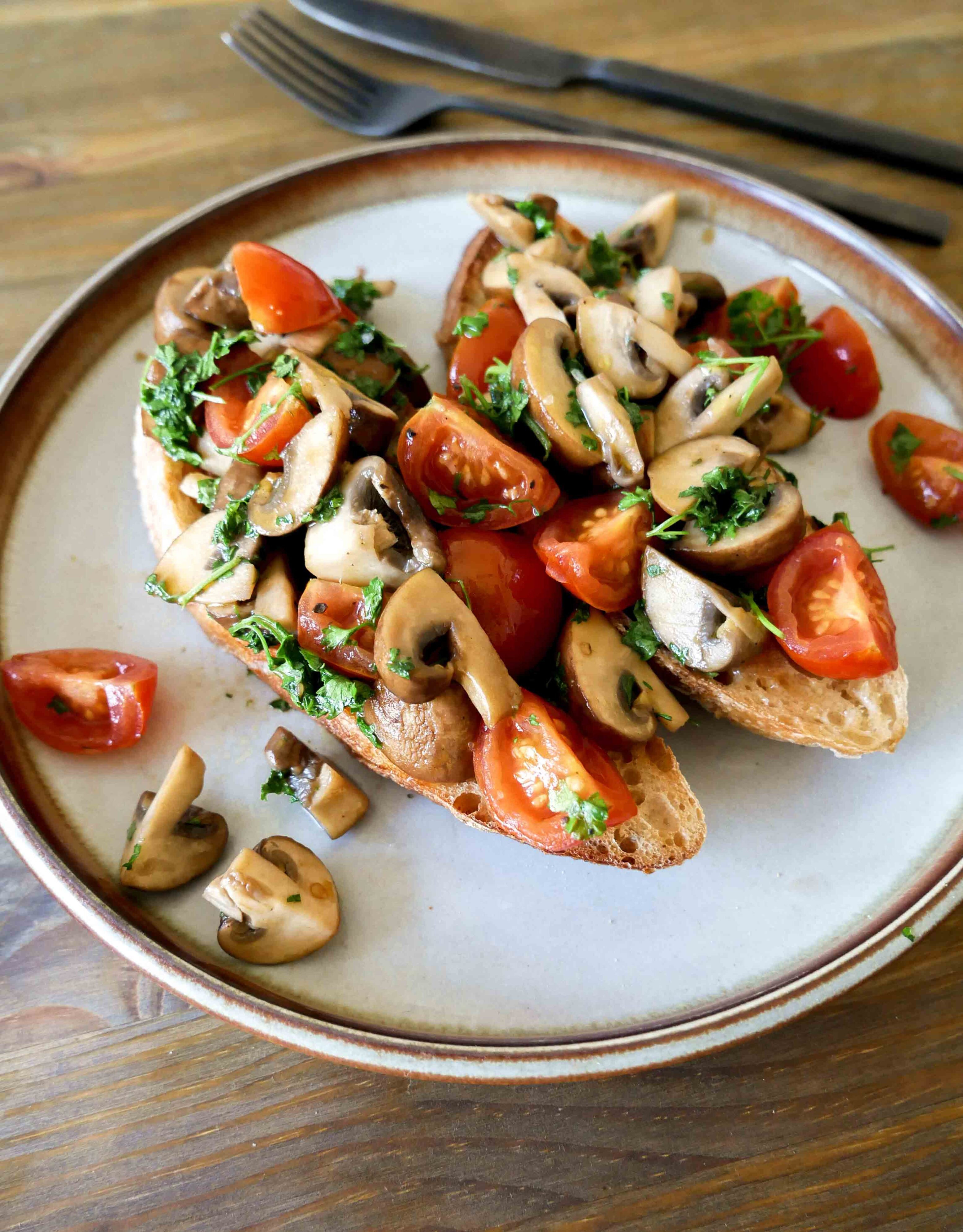 One more of these Italian inspired dishes. Italian mushroom and tomato bruschetta appetizer – ready in 10 minutes. Who can resist bruschetta drizzled with garlic, virgin olive oil, mushrooms and tomatoes? Impossible.
This fresh and crispy (all year round version) of Italian bruschetta is a great variation of the classics we know. I've used sweet cherry tomatoes, seasonal danish mushrooms with perfectly freshly toasted baguette for this one. You can actually use any kind of bread types you want. Baguette, toasts, french bread or rustic bread of your choice.
You can also bake a simple bruschetta bread yourself, this can be made the evening before servering. The topping can be prepared beforehand too and assembled warm right before serving.
I remember my dad and I have made these grilled bruschetta many times as a starter the last years. It's really the perfect snack in the weekend.
Using whatever leftover ingredients you have left, right next to a glass of red wine. So, make this a perfect appetizer, a lunch snack – or dinner side dish at summer barbecues outdoors.
» Try also: Grilled eggplants – with tomatoes, hummus, green pesto, olive oil and fresh parsley.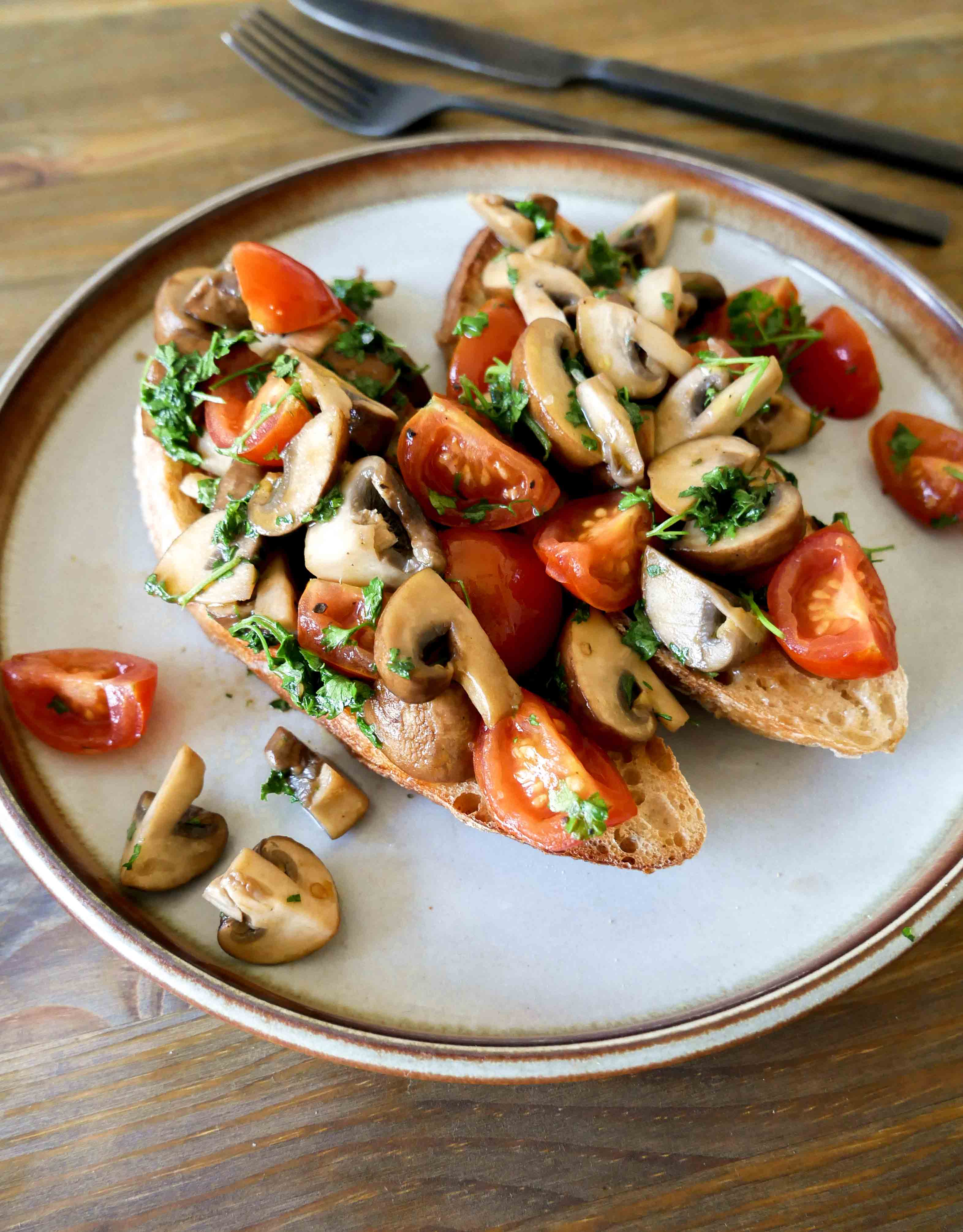 Print Recipe
Mushroom and Tomato Bruschetta:
Easy Italian vegan mushroom and tomato bruschetta recipe. Toppings on crispy baguette toast bread. Serve as a appetizer – ready in only 10 minutes.
Ingredients
2 x Baguette slices or Toast bread

2 tablespoon of Olive oil

Small clove of Garlic

A handful of Cherry Tomatoes

A handful of Mushrooms

Salt and pepper

1 tablespoon of fresh Parsley
Instructions
1
Wash and slice mushrooms and tomatoes. Add olive oil to the pan together with pressed garlic, chopped tomatoes and mushrooms. Let it simmer a few minutes while stirring a little, and drizzle with salt and pepper.
2
Finely chop the fresh parsley. Add into the mushroom and tomato stew.
3
Slice the baguette or toast bread, toast on both sides (or lay them down directly on the pan besides the stew.)
4
Serve the bruschetta with a gently touch of olive oil on top of the bread slices. Next, add the soft mushroom and tomato mix. Top with salt, pepper, herbs or other favorite spices.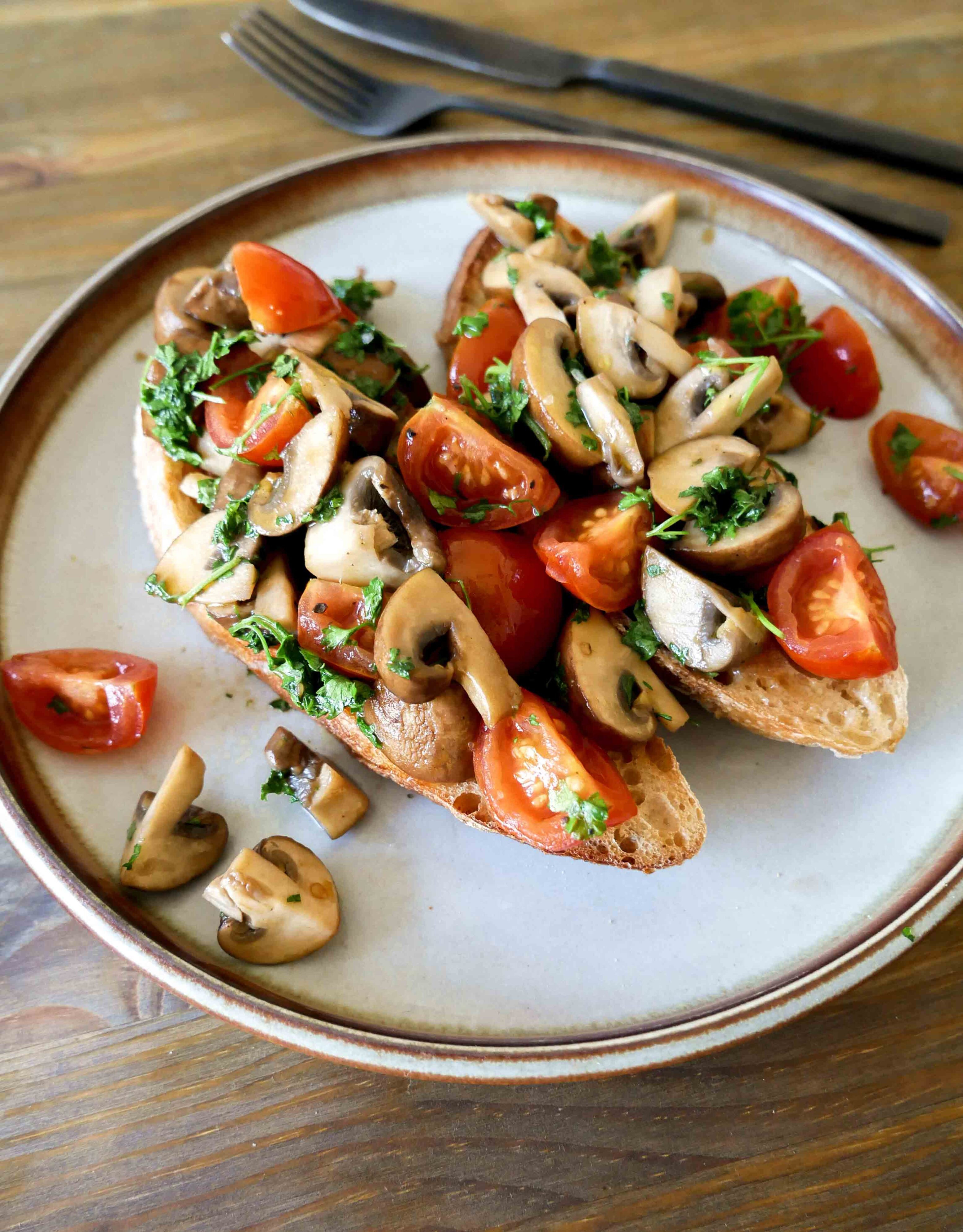 What to add on vegan bruschetta:
This easy mushroom and tomato bruschetta is made with no cheese. And the same with the classical vegan bruschetta with fresh tomatoes, basil leaves and drizzled with olive oil. You won't miss having cheese on your bruschetta if you use fresh red ripe tomatoes and flavorful basil! But sometimes I need a little more that just tomatoes and herbs like basil, parsley etc.
I like to simple use what I have in the kitchen! Sometimes top my bruschetta with eggplants, spring onions, red bell peppers – variations of pestos (or try out black olive tapenade – so good!). My dad loves the classic "pomodoro" sauce. So sometimes we add the Italian tomato sauce too! For me it's so much more fun to experiment with untraditional bruschetta toppings. Make them as big you want – and as spicy you want. I'm not a huge fan of chili. (I', sorry but I use it very gently). But you can easily spice up, if you want to bring an extra strong taste..
You can actually use the vegan cheese version if you'd like too. The one from Violife is quite good and works perfectly and creamy like cheese. They both have block, sliced, grated and its all 100% vegan! I hope you'll like this simple recipe. Go rate it below: