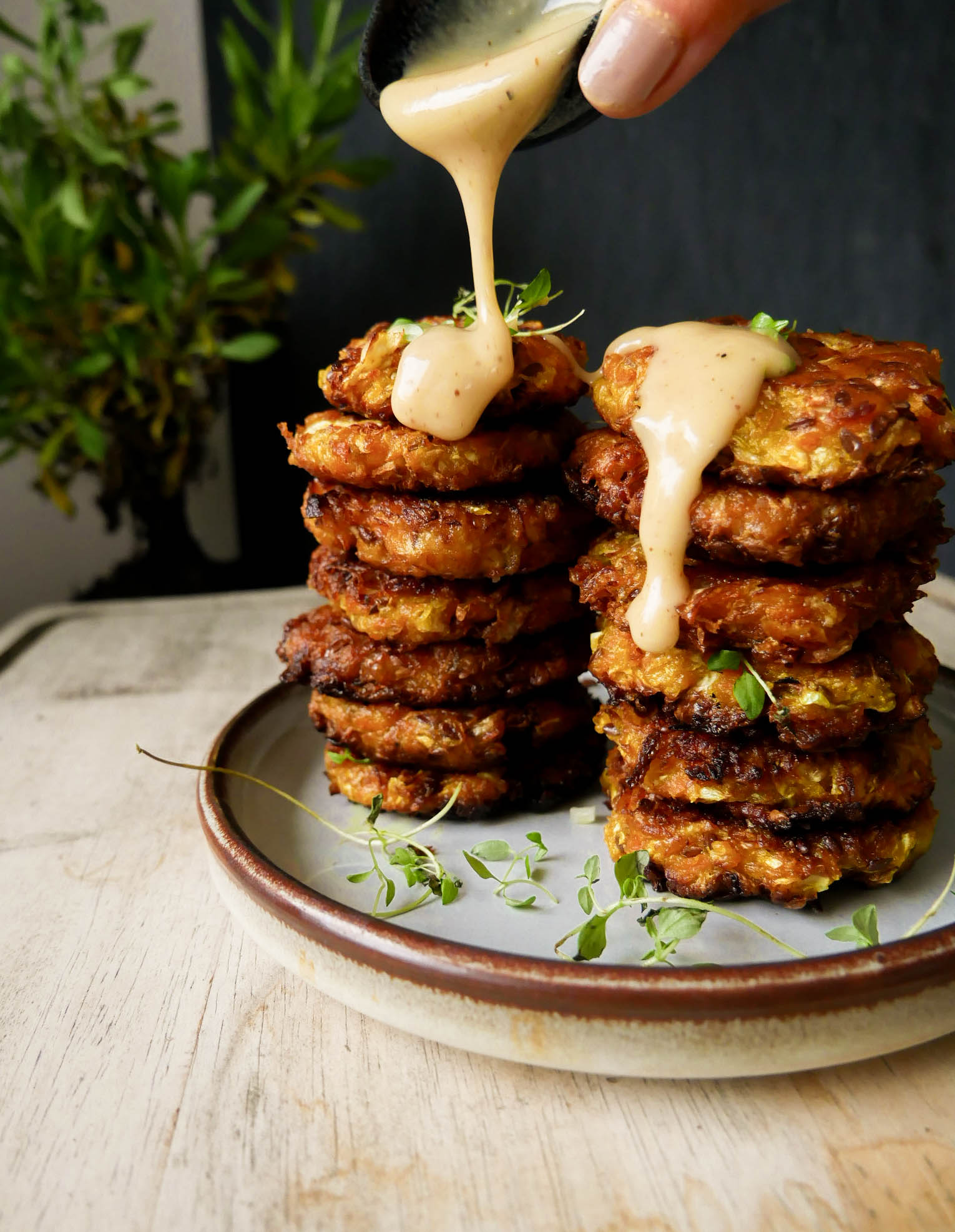 The most perfect cooked Vegan Cabbage Fritters recipe. Made simply with fresh shredded cabbage, carrots, turmeric, flaxseeds, flour, salt and pepper.
I am beyond excited to share the recipe for these fritters. Because these fritters are one of the easiest things you can make, plus I think they will be some of your new favorite food if you're looking for new plant based recipes that is everything except boring and tasteless.
I served these vegan cabbage fritters with fresh herbs and a good dressing sauce. A delicious treat. The secret is to add a lot of good and healthy shredded vegetables which makes even kids love them. I used cabbage and carrots – but you use almost any leftovers! Try also with kale, spinach, beetroot, potatoes or sweet potatoes (all shredded). Cook the patties at medium heat on a pan with olive oil for a crispy texture on the outside but still soft on the inside.
Also, I was at a event last week and they had some seriously good-looking and big cabbages. So last week was full of recipe-thinking only with cabbage.
But I think this one might be my favorite so far. And now you know why I'm going to share a lot more cabbage recipes the next weeks.
» Try also: Vegan Croquettes – Vegetable 'Nuggets' with cabbage and potatoes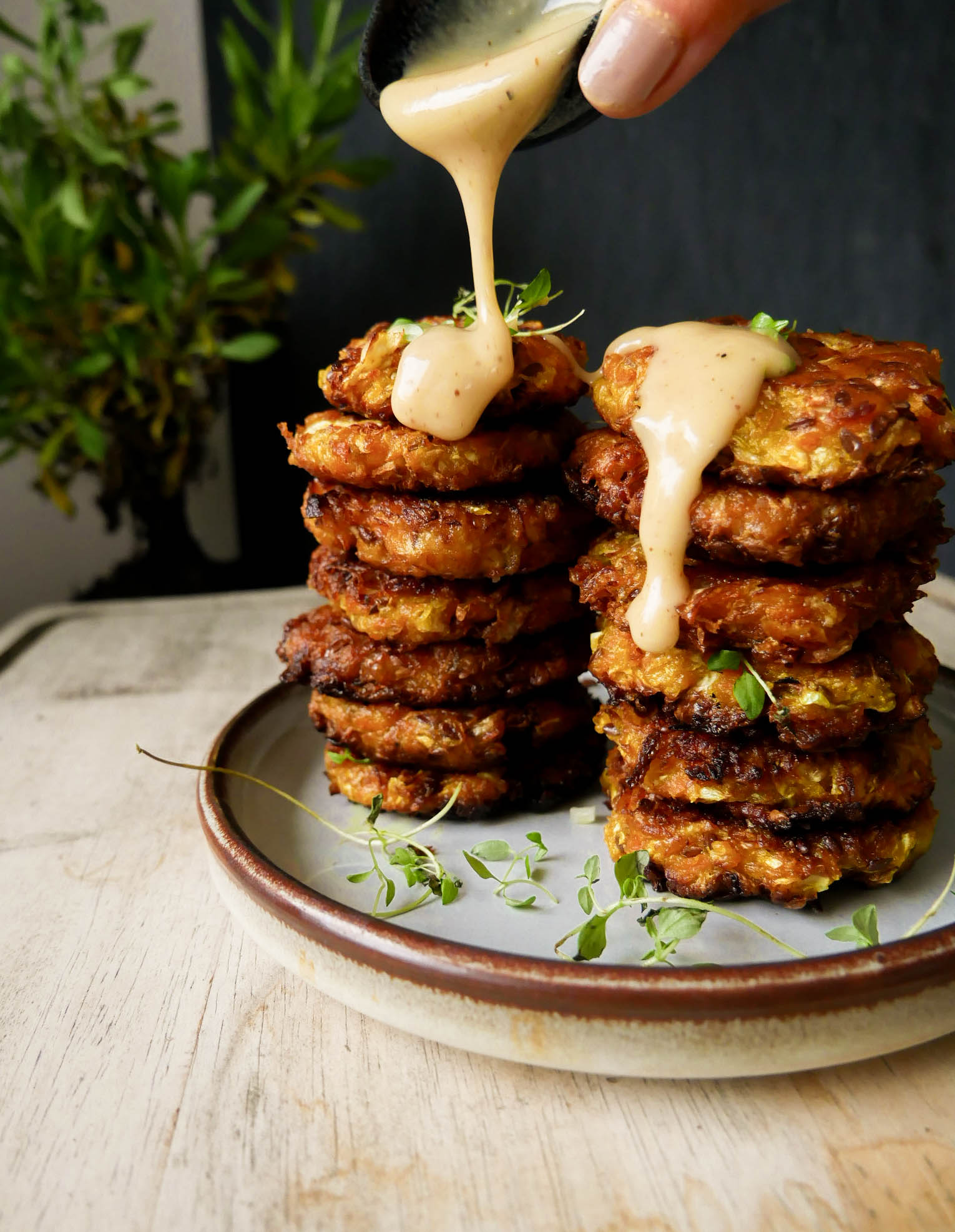 Print Recipe
Vegan Cabbage Fritters
Micadeli's Vegan Cabbage Fritters. The best and easy recipe for these patties with cabbage, turmeric and carrots. No eggs used. Get recipe here.
Ingredients
2 tablespoon of Flaxseeds

7 tablespoon Water

500g. Cabbage

200g. Carrots

2 tablespoon of Flour

1 teaspoon of Baking powder

1 teaspoon of Turmeric

Salt and pepper

Oil for frying
Instructions
1
In a small bowl start to mix the flax seeds with water. Leave to thicken while preparing the vegetables.
2
Wash the cabbage and peel the carrots. Then shred both into small pieces.
3
Mix the shredded cabbage and carrots in a bowl along with flour, baking powder, turmeric, and a generously pinch of salt and pepper. Add the flax seed mix too. Combine all ingredients. (The mixture will be a little wet and sticky.)
4
Form the mixing into fritters shape or which shape you'd like (see picture below).
5
Heat a pan with 3-4 tablespoons of oil. Carefully add the fritters. Leave to cook 5 minutes until crispy and golden. Flip them halfway through. Once cooked place on a plate with paper towels to drain the oil.
Making vegan fritters and patties with no eggs:
In the beginning I found it quite hard to make patties, fritters and that type of food using no eggs. Because after 5 seconds on the pan or in the oven the texture just fall apart and the result is shapeless and very disappointing. It can be very hard to combine the most mixes if you're not using eggs or similar foods. Or well.. Then I found out the true magic about flaxseeds.

Using flaxseeds (combined with water) has been a total surprise for me the last year. You just mix those to ingredients together, wait 5-7 minutes (or more if you have time), and then see the magic slowly happening. Stir a little bit in the mix and you can see (and feel) a sticky texture – just exactly like egg white. Add the wet flaxseeds into the bowl along with the rest ingredients below and your patties and fritters will turn out with a combined texture and shape easily!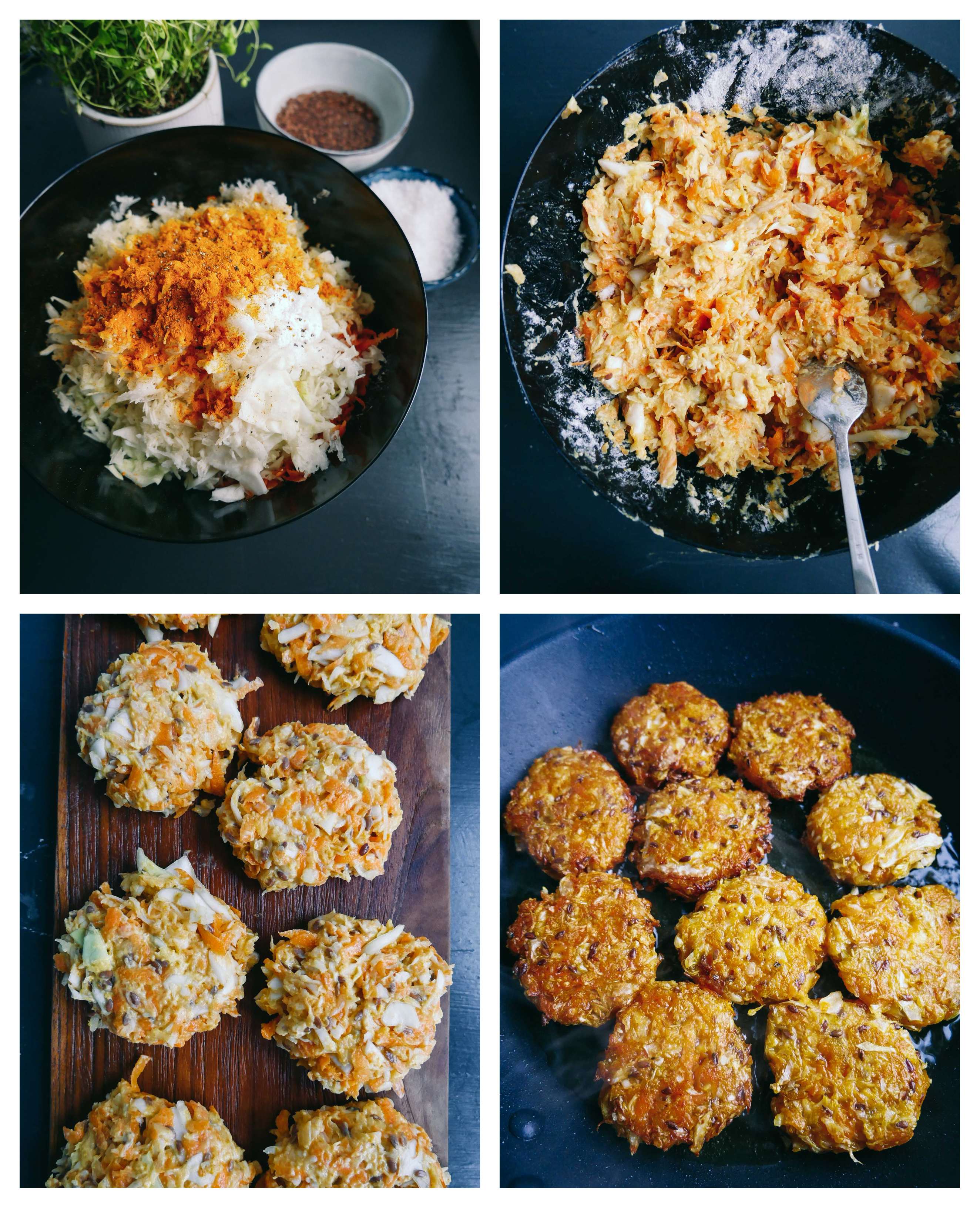 1) Shred the vegetables:
Start to shred the vegetables. If you don't have cabbage or carrots fell free to use potatoes, beetroots, kale, spinach or other good healthy vegetables. I just used a handheld big grater/shredder for that part and it worked just fine. But if you have a food processor you can shred the vegetables in under a minute and you don't have to worry about shaving off the tips of your fingers!
2) Combine with flaxseeds, water, turmeric and flour:
Next step is to combine all the ingredients (besides the cooking oil) in a large bowl. Stir it all together with a spoon – or your hand until the batter is combined. It needs to be a little sticky. And you can test by taking a small handful and form with your hands. If you feel it's a little too wet and hard to combine then add a little more flour. For a gluten free option use buckwheat flour – or oats!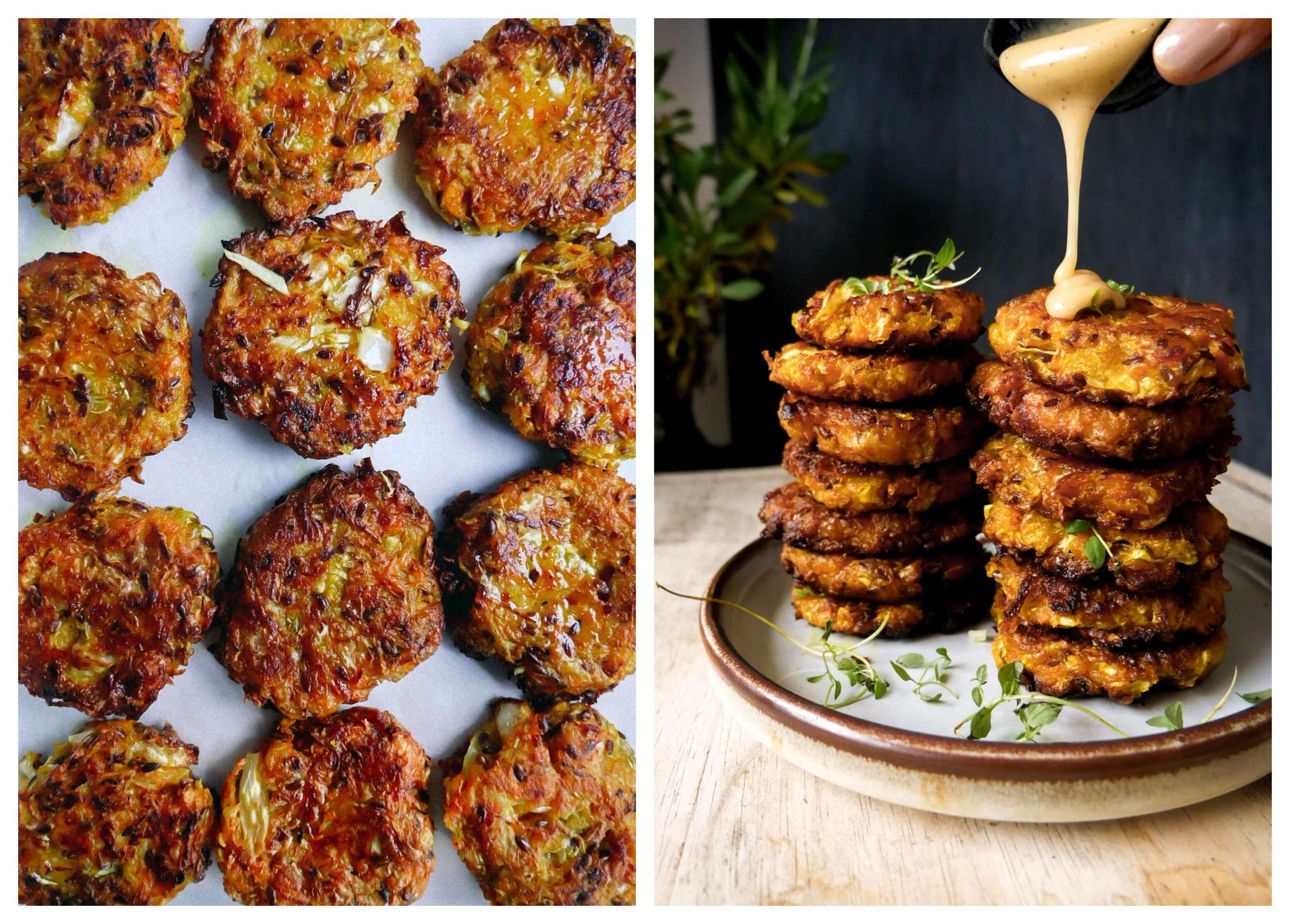 And here is the result. ↑ Perfectly crispy on the outside but still very soft and warm in the middle. Serve the fritters with vegan mayo dressing or a good classic ketchup would also fit in. I made this recipe a few times and made actually 3 different sauces. Mustard/honey sauce (like the one on top), classic sweet chili sauce and a cold, simple vegan creme fraiche. ↓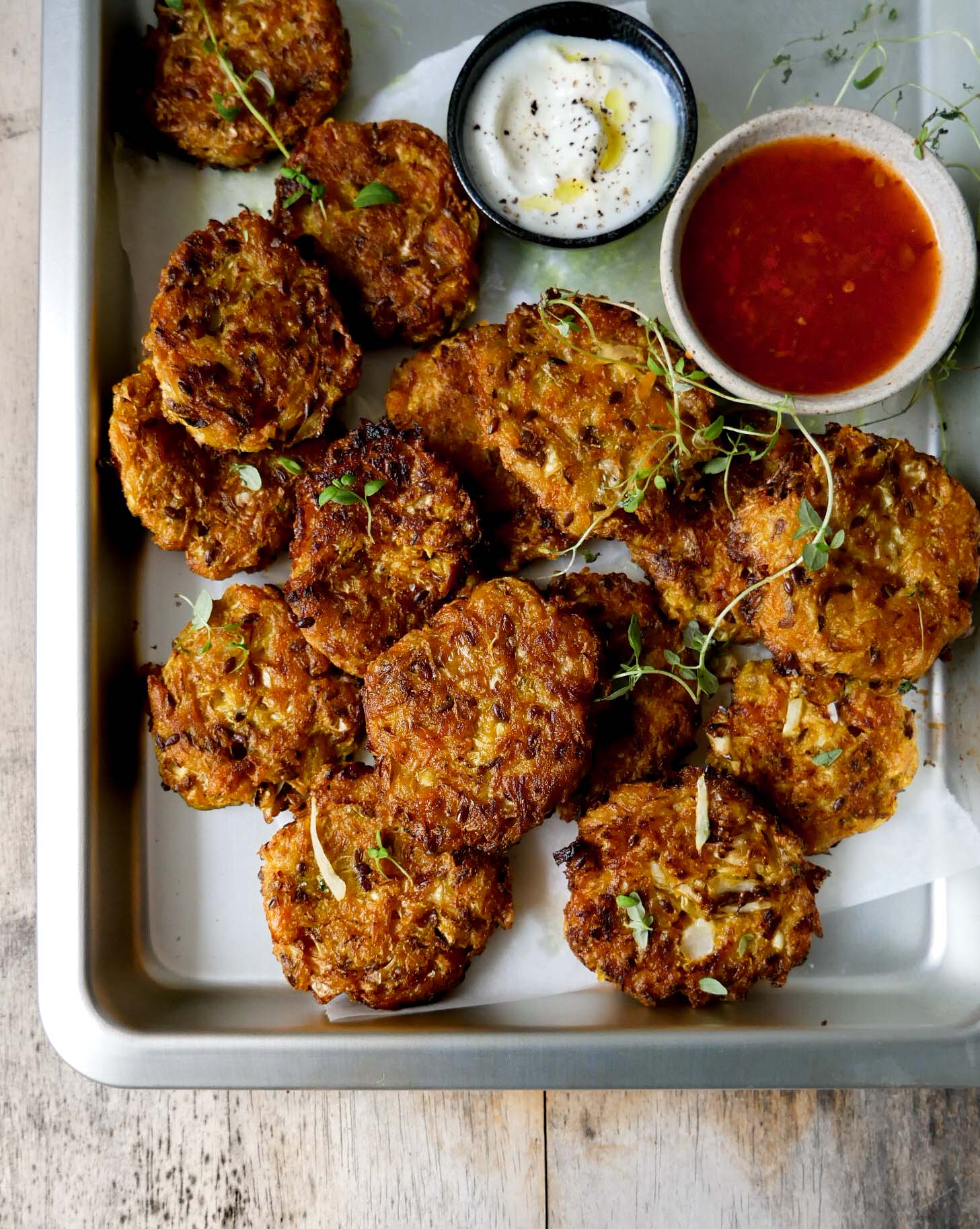 I really hope that you can use this vegan fritters recipe! If you make it and share it, don't forget to tag me on Instagram. I would love to see your results.. And just let me know in a comment below, if you have any questions making it.
Did you like this recipe? Rate it here ↓