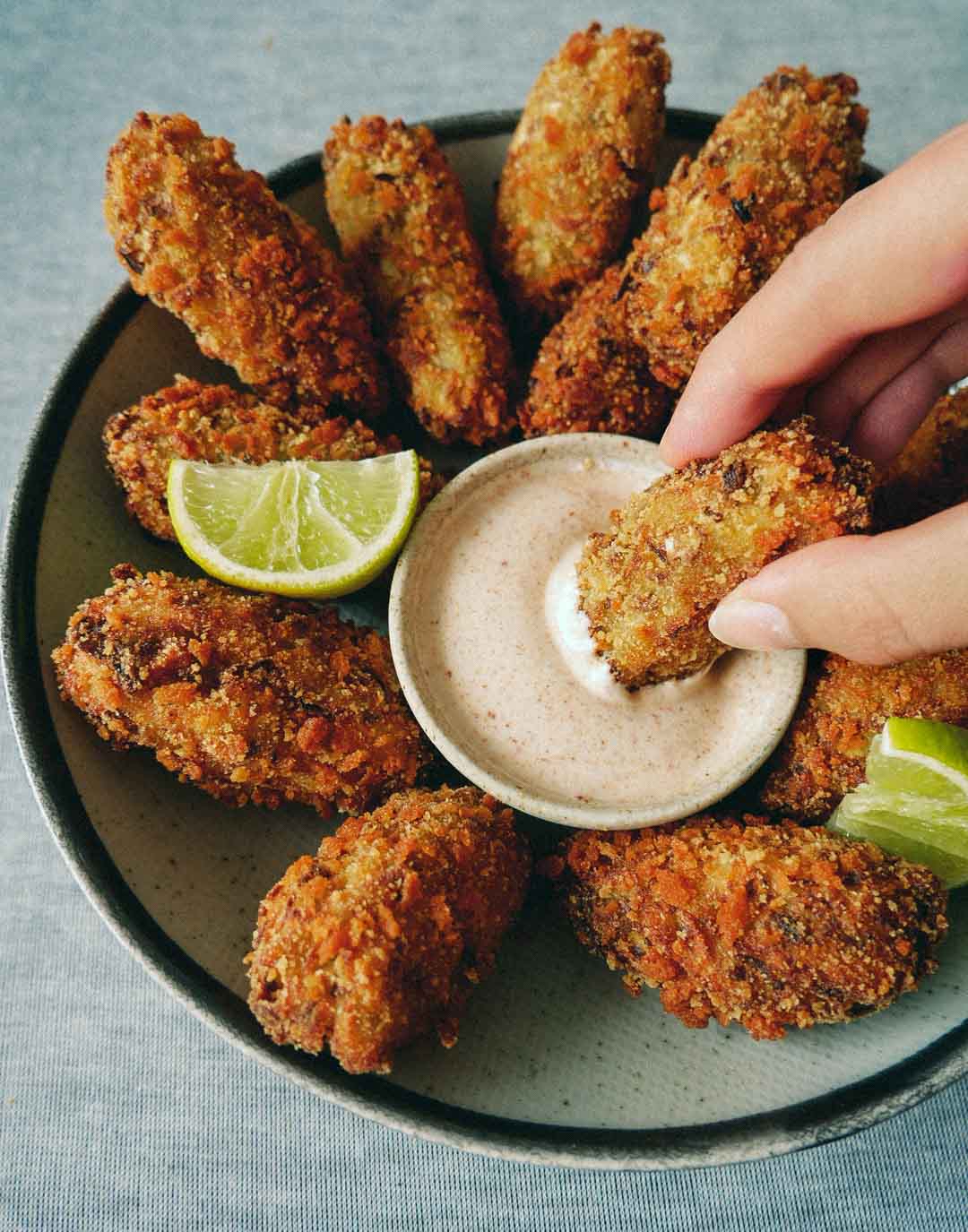 Easy meatless vegan croquettes nuggets made with cabbage and potatoes. A delicious vegan nugget snack. Crispy on the outside – soft and gooey in the middle.
I love to experiment with these small veggie snacks. Lately I've made them with tofu, halloumi or vegetables like here. Potato croquettes gives a great taste and 'meat' texture which makes everyone loves them. I served a bunch of these for my friend, and even though she love traditional chicken nuggets or croquettes she asked for the recipe.
Be sure to make a creamy sauce or gravy with these snacks. You can use both a dressing sauce or creamy dip. No eggs are used in this recipe only flax seeds and water. If you want to serve this with a vegetarian dinner, eggs can be used but it's not necessary at all.
» Try these: Healthy green spinach pancakes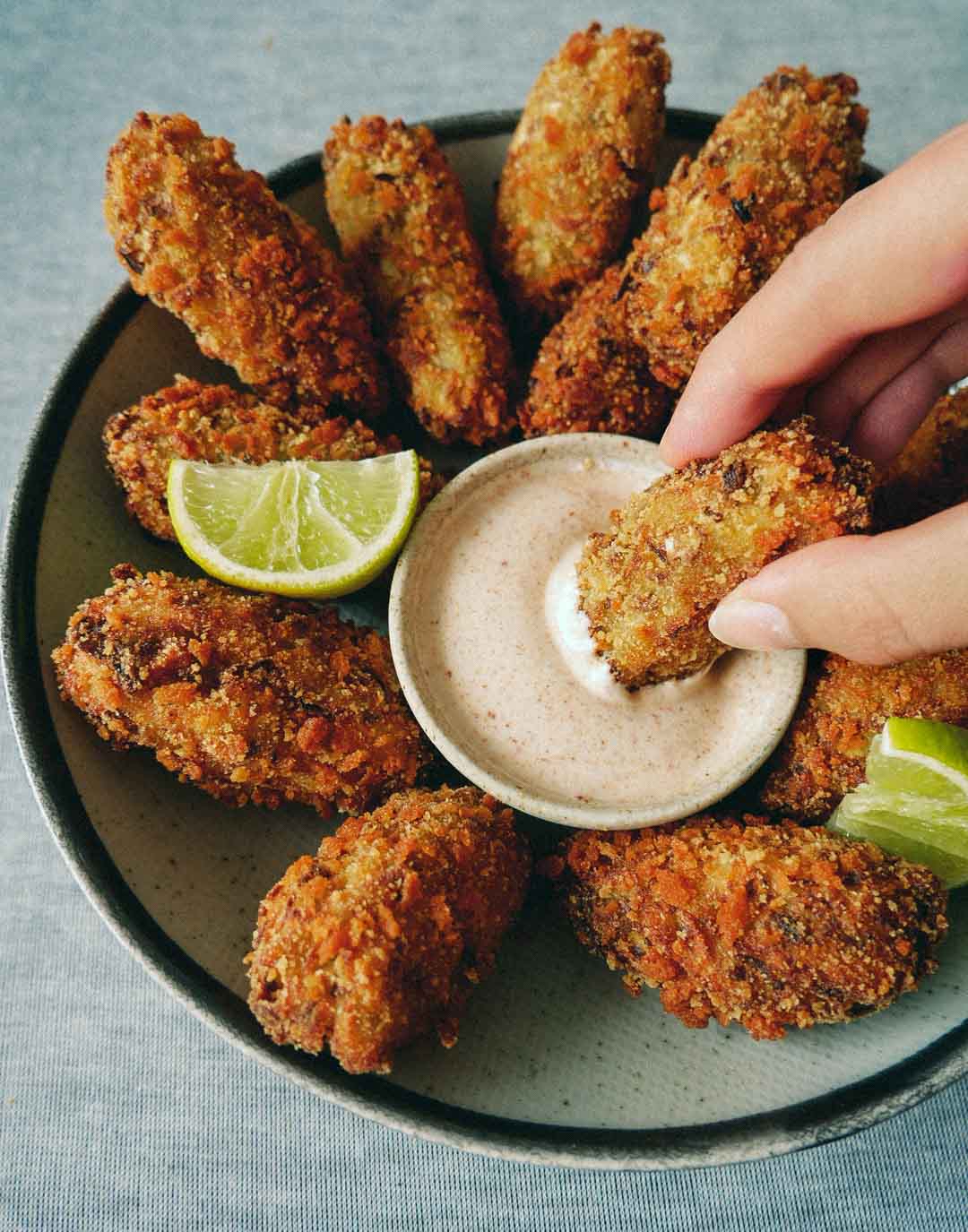 Print Recipe
Vegan croquettes
Easy meatless vegan croquettes nuggets made with vegetables. A delicious vegan nugget snack - crispy on the outside and soft and gooey in the middle.
Ingredients
5 medium potatoes

200g cabbage

1 clove of garlic

Half cup of flour (buckwheat if gluten free)

2 tablespoon flax seeds & 5 tbsp of water, mixed

Drizzle with 1 teaspoon of paprika, salt and pepper
Instructions
1
In a small bowl start to mix the flax seeds with water. Leave to thicken for 5 minutes.
2
Wash and peel the potatoes. Then shred the cabbage and potatoes in small pieces.
3
Mix the shredded cabbage and potatoes a bowl with garlic, flour, paprika, salt and pepper. Add the flax seed mix too. Combine all the ingredients. (The mixture will be a little wet because of the water from the potatoes.)
4
Form the dough into croquettes shape or which shape you'd like. Roll them all into breadcrumbs.
5
Heat a small saucepan with some oil. Test the heat by placing a small pieces of breadcrumb. If it bubbles it's hot enough. Carefully add in the croquettes.
6
Leave to cook until crispy and golden, moving and flipping halfway through. Once cooked place on a plate with paper towels to drain the oil.
7
Serve them while they are hot - Use them in pancake wraps, with salad or eat them with a cold homemade dip.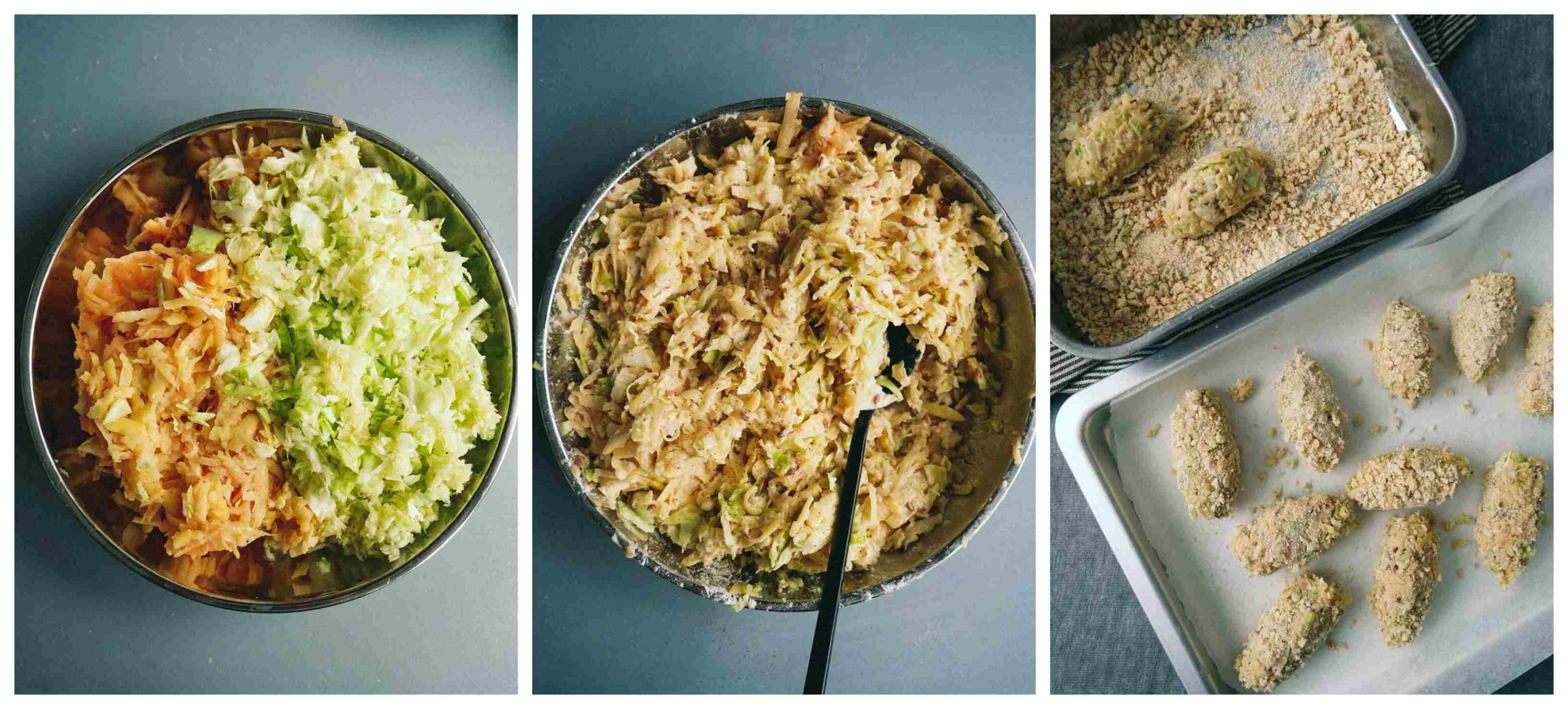 Vegan croquettes in spinach pancakes:
I had a leftover of these ones last week I made them. I prefer eating them directly after making them when they still are warm and crispy on the outside.
Last week I made these green and healthy spinach pancakes too, and it was so delicious eating the pancakes with the vegan croquettes, spinach, dressing and vegetables.
I also saw some inspiration on pinterest that someone made the leftovers into sushi rolls. That is such a good idea! Instead of crispy fried prawns or fish, make this recipe instead and add the croquettes in slices in the sushi. Just be sure that the croquettes is still crispy on the outside. And here you have some very delicious vegan sushi.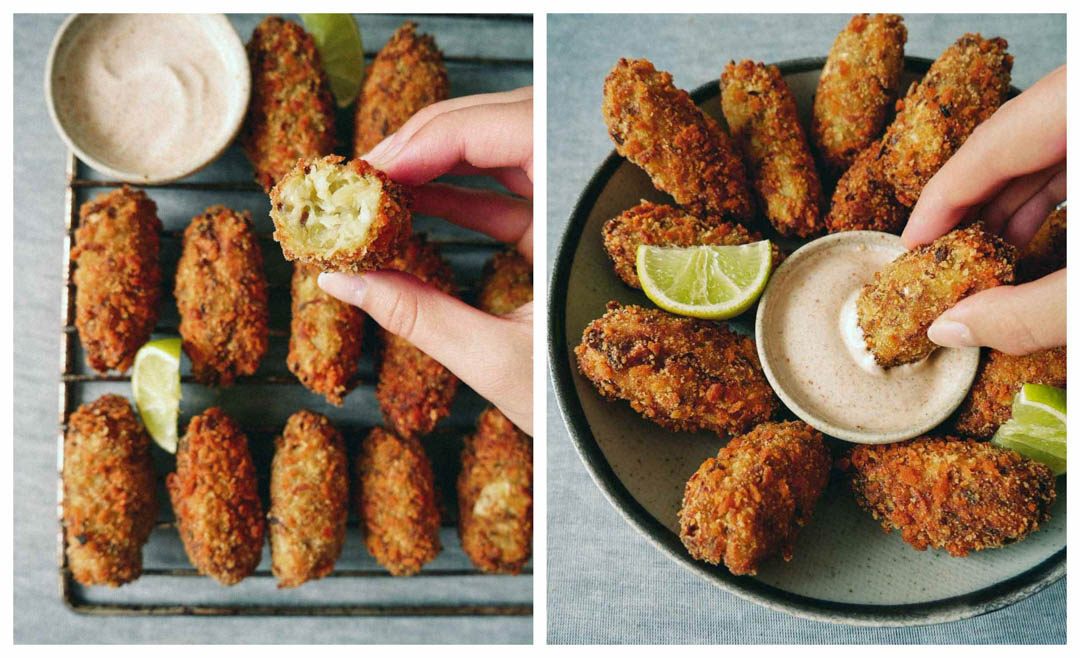 This recipe is quite simple but you can add all the spices you think or change the cabbage or potatoes with other vegetables like sweet potatoes, beetroot, spinach, carrots, cauliflower or broccoli. If you have any good ideas how to make and serve this recipe just let me know in a comment below.