Autumn is here and so are all the comfy warm recipes! This cacao porridge with bananas and almonds on top is the most delicious, indulgent, plant-based breakfast. So easy to make in ready in only 10 minutes.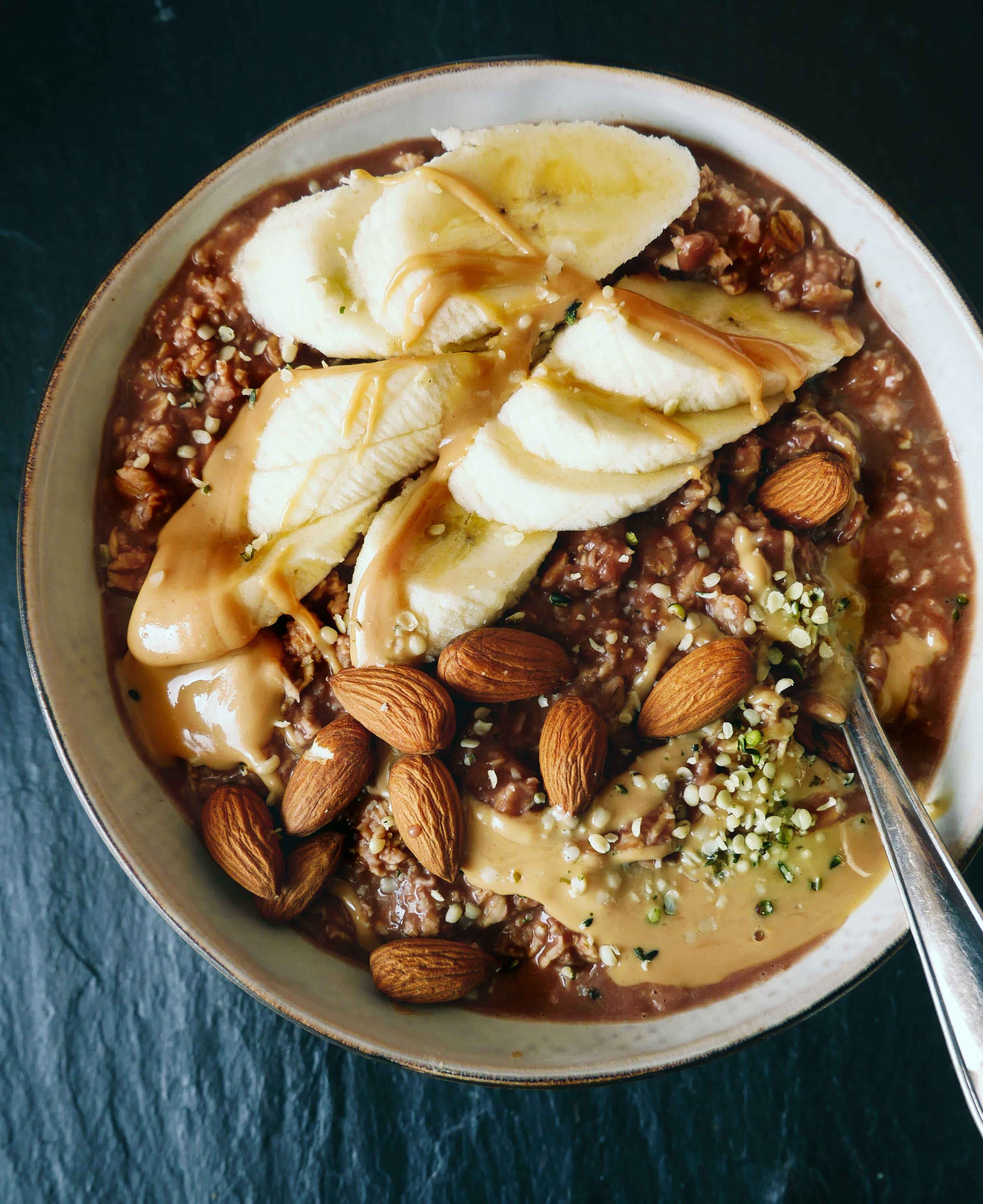 I mix oats with cacao powder, then add little chunks of almonds, banana slices and hemp seeds to create the perfect warming breakfast bowl.
The best part about this bowl is that it only takes about 10 minutes to whip up! And it feels like you're enjoying something like a dessert – but it's entirely good for you! Simply top with your favourite low-sugar toppings (I can't go past creamy peanut butter) and sprinkle with raw hemp seeds and almonds for the ultimate crunch.
This recipe uses almond milk, but you can use whatever milk or milk alternative you like!.. And if you're really keen – you can make a big batch on a Sunday evening. Then you have a quick and easy cacao porridge breakfast for those busy weekday mornings when you're rushing out the door. You can some chia seeds as well, keep in the fridge night over and then you have a tasty and nutritious meal.
» Try also this: Homemade caramel oatmeal with seasonal apples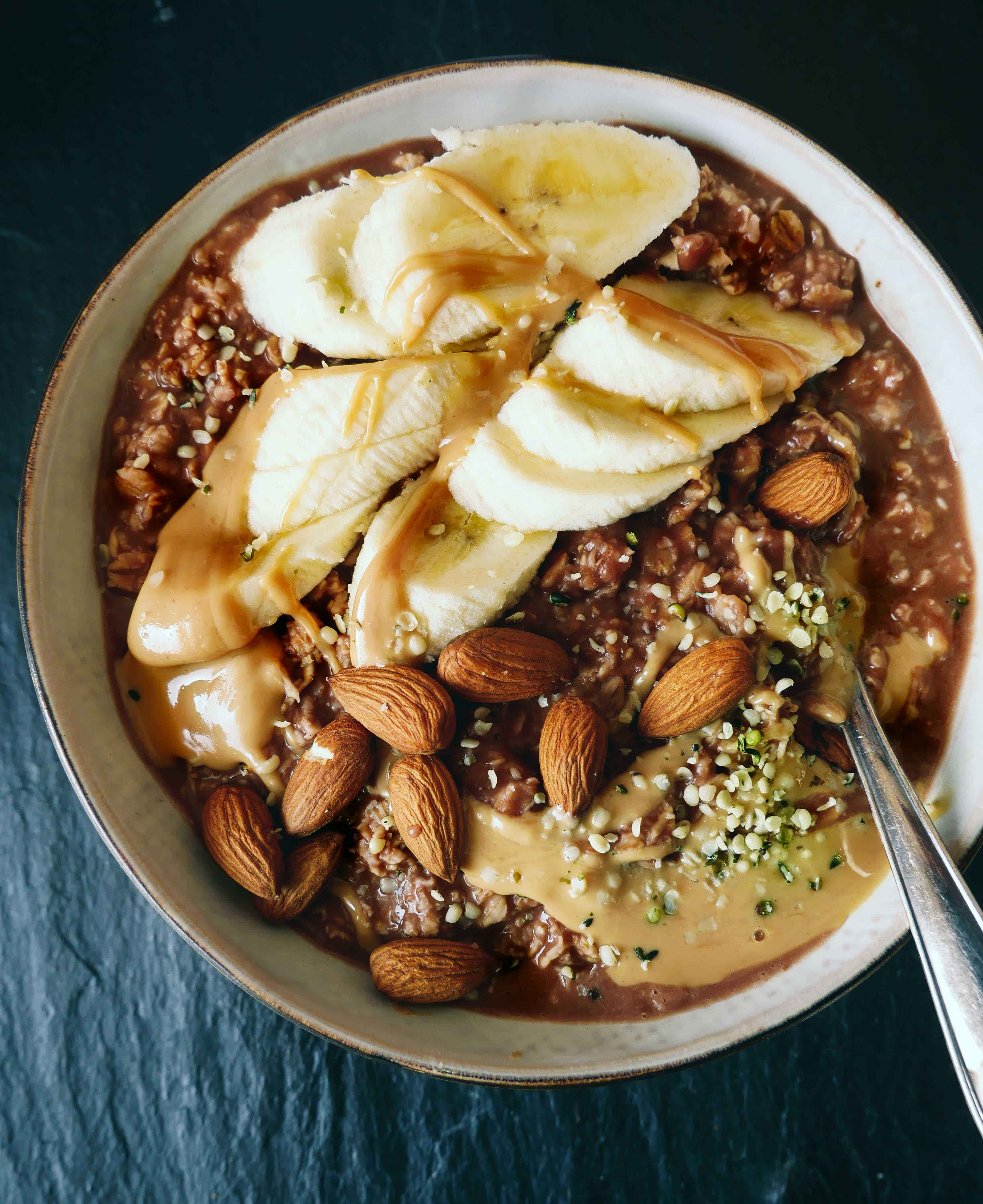 Print Recipe
Cacao porridge bowl:
This easy 10-minute cacao porridge with bananas and almonds on top is the most delicious, indulgent, plant-based breakfast. Get recipe here.
Ingredients
1 cup of Oats

2 cups of Plant Milk (I used Almond Milk)

1 tablespoon of cacao powder

Toppings:

1 handful of Almonds

1 ripe Banana

1 teaspoon of Hemp seeds

1 tablespoon of Peanut Butter.
Instructions
1
Porridge: Mix the oats with the almond milk and cacao powder in a small saucepan. Warm carefully and stir at low/medium heat. Gently drizzle with salt.
2
Serve with: Top you warm cacao porridge with a handful of almonds, 1 ripe banana (sliced), drizzle with hemp seeds and a spoon of creamy Peanut Butter.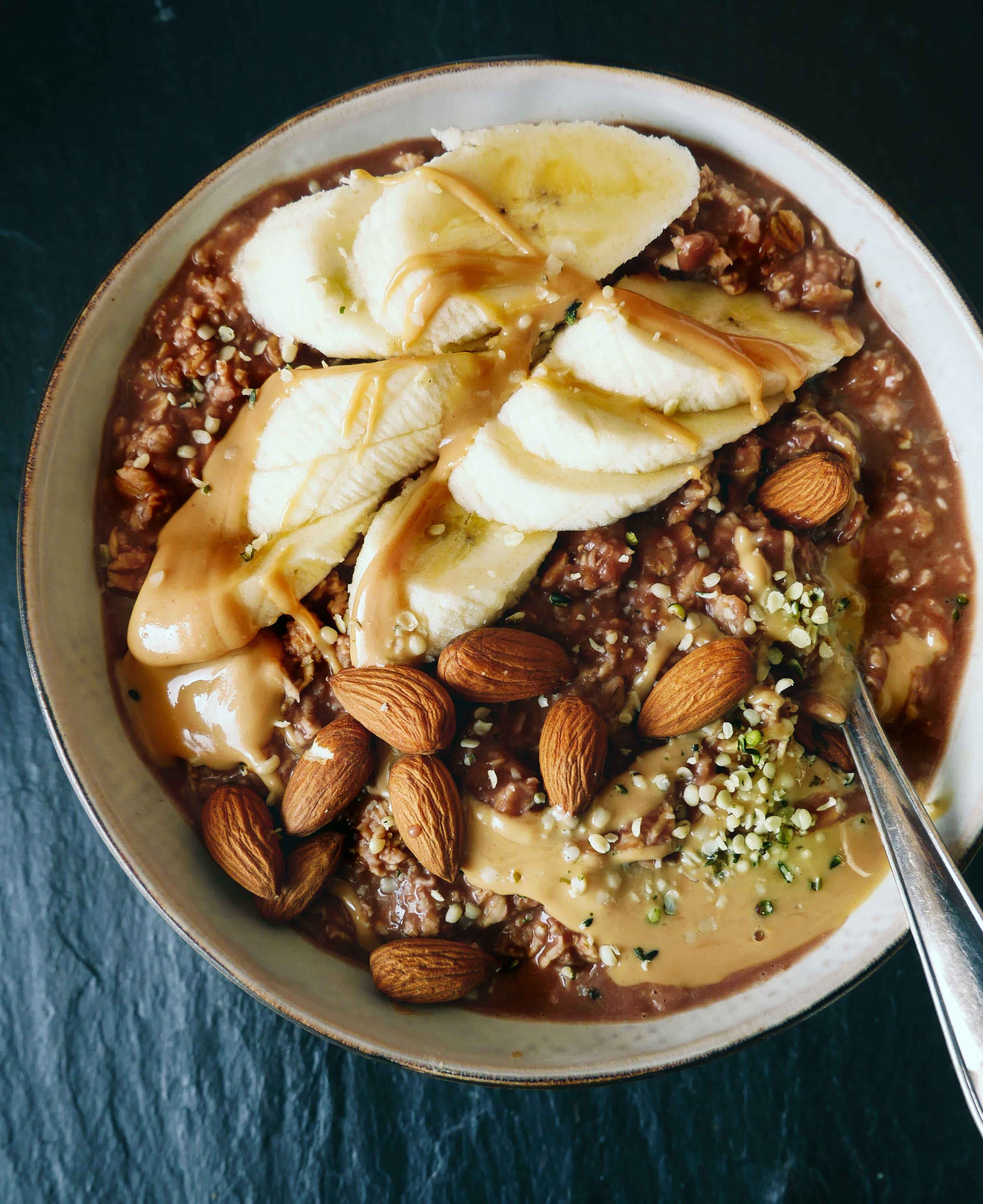 Oatmeal & Cacao Porridge in countless variations:
I think a reliable porridge recipe is a must-have for an easy and satisfying breakfast. Just mix things up with your favorite porridge toppings and use your favorite fruits, nuts and seeds. I always try to add new ingredients in the making or use new ingredients for toppings every time. It's quite fun that a simple and boring meal can be spiced up using delicious toppings. Apple and cinnamon porridge might be one of my favorites. I made a delicious vegan caramel sauce too for the ultimate comfy breakfast! Sometimes I also make my own berry compote and add this to the bowl – like this Autumn Porridge Recipe. Taste incredible and it's quite beautiful as well!
If you want it even more deluxe and speciel – go try out this colorful Peach and Banana Smoothie. So satisfying with the caramelized bananas! Just cooked a few minutes each side on the pan with some coconut oil. Add some ginger as well – and this smoothie really kicks out your day and is filled with all goodness.
Anyone of you that have tried more Savory porridges or oat meals? I'm interested to try out pumpkin, butternut squash or other creamy vegetables/fruits? I know, it might sound weird. But I found some good examples some days ago – and really wanted to try them out! Look at these Savory Recipes from HuffPost – looks quite delicious, right? Please comment below if you have good savory oatmeal recipes!