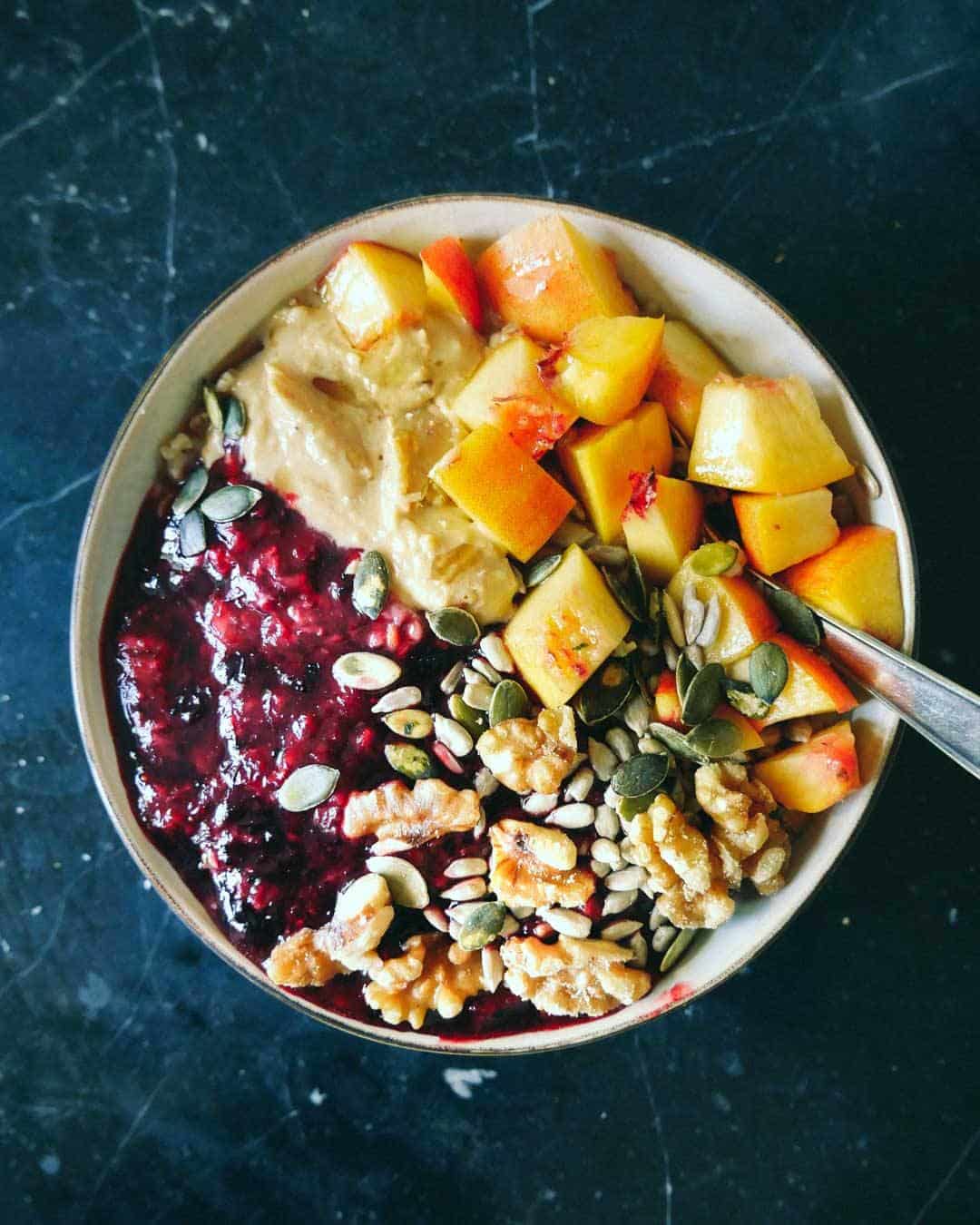 Warm autumn porridge with berry compote – porridge all year round
Porridge with berry compote: This vegan breakfast porridge is my new favourite quick breakfast. I know you might see porridge recipe at all food blogs these days.
It has been so popular to make, it's simple and tasty amazing. This warm and creamy porridge bowl recipe are ready in only 5-10 minutes, and I've topped with all my favorite ingredients. I've shared a lot of these porridge pictures lately. Some of them with berry compote, some without, and some with fruits, berries, seeds and nuts.
When is comes to porridges, there are no limitations, no rules. Just follow the season and add all good ingrediens from there. Another good autumn recipe I made was this Oat porridge with cinnamon. A very simple recipe which tastes so good! Just leave a comment below if you have any questions for this recipe.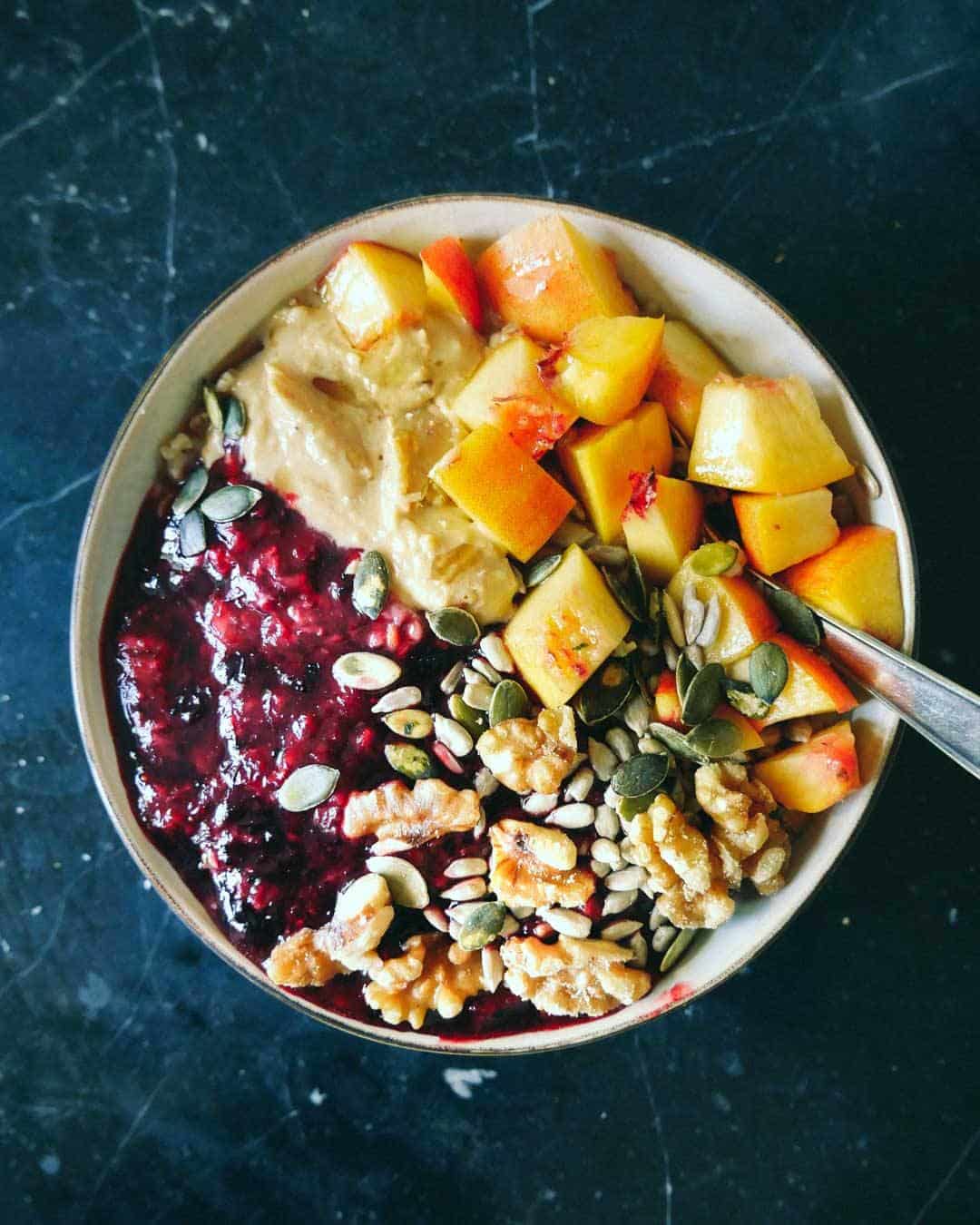 Print Recipe
Porridge with berry compote:
Autumn Porridge with berry compote – A simple 10 minute recipe. Homemade and filled with the best colorful toppings. Get the recipe here.
Ingredients
1 cup of oats

2 cups of oat milk

a pinch of salt

1 cup of fresh or frozen berries

Toppings: walnuts, seeds, peach and peanut butter
Instructions
1
Put oats and plant milk in a can. Cook carefully, add salt and then let it sit for a 2-3 minutes.
2
In another small can add the berries with just 1 teaspoon of water. Cook carefully at low heat in 2-3 minutes until soft.
3
Add the porridge in a bowl, top with the sour berry compote, sweet fruits, peanut butter and seeds.
Berry compote in 5 minutes:
A warm berry compote tops everthing on a cold autumn or winter day. And it's so easy to make. Porridge is a breakfast that takes absolutely 5-10 minutes to make and it's easy to spice up with bunch of toppings, fruits and berries. You can buy fruit compote or you can make your own with fresh berries (in the summer) or berries from the freezer. Sometimes I use jam instead if I don't have any frozen berries in the freezer. Just choose a 'healthy' one with not that much added sugar. Or else the porridge will get way too sweet. Berries gives so much flavour to the sweet porridge filled with peanut butter, fruits and maple syrup. So please keep the berry compote sour and naturel. The photos are taken from my post on Instagram I hope you liked it!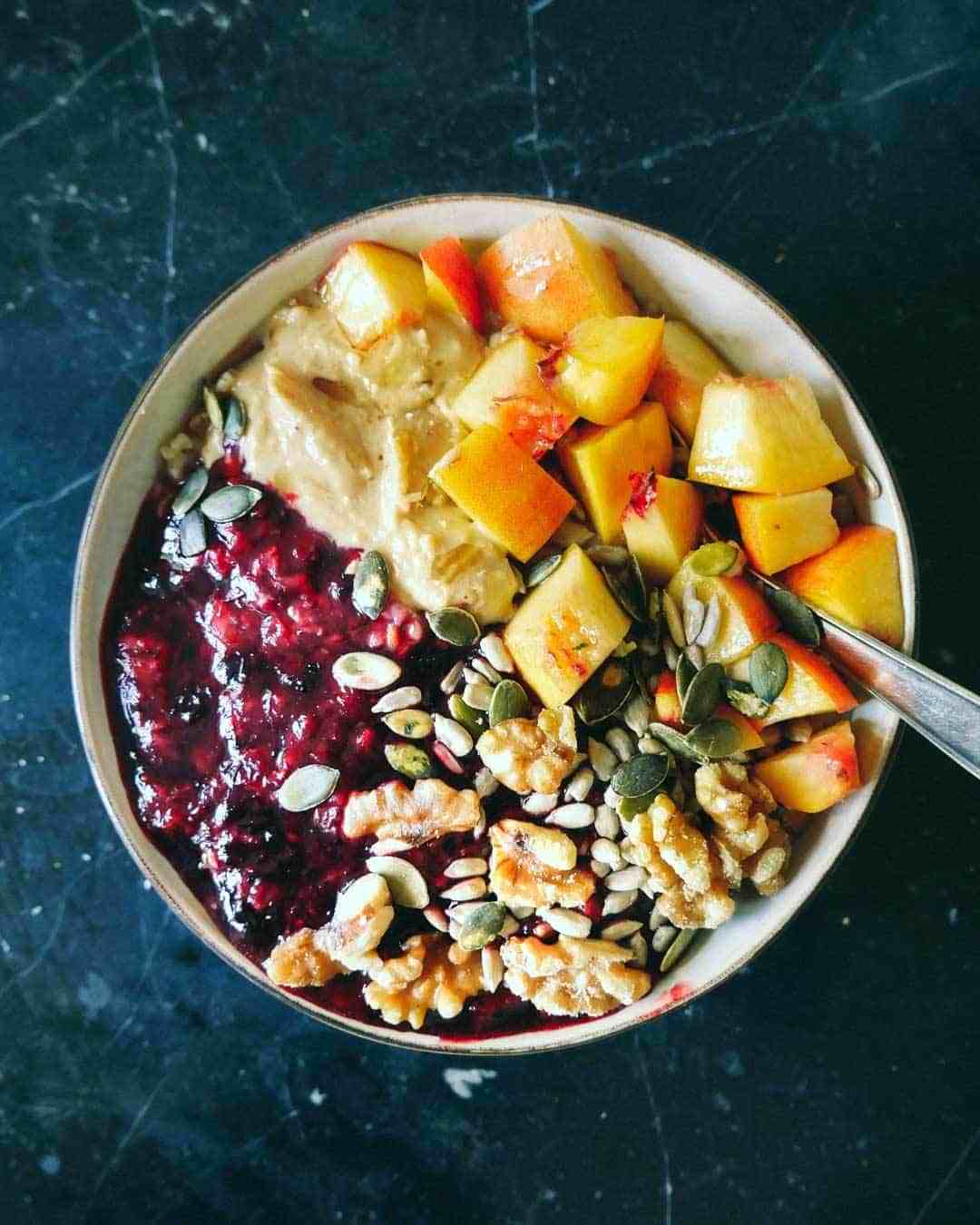 ~ Simple and delicious autumn porridge made in only 10 minutes. Always use seasonal toppings you just have in your kitchen. Enjoy!
Do you like this recipe? Rate it below ↓