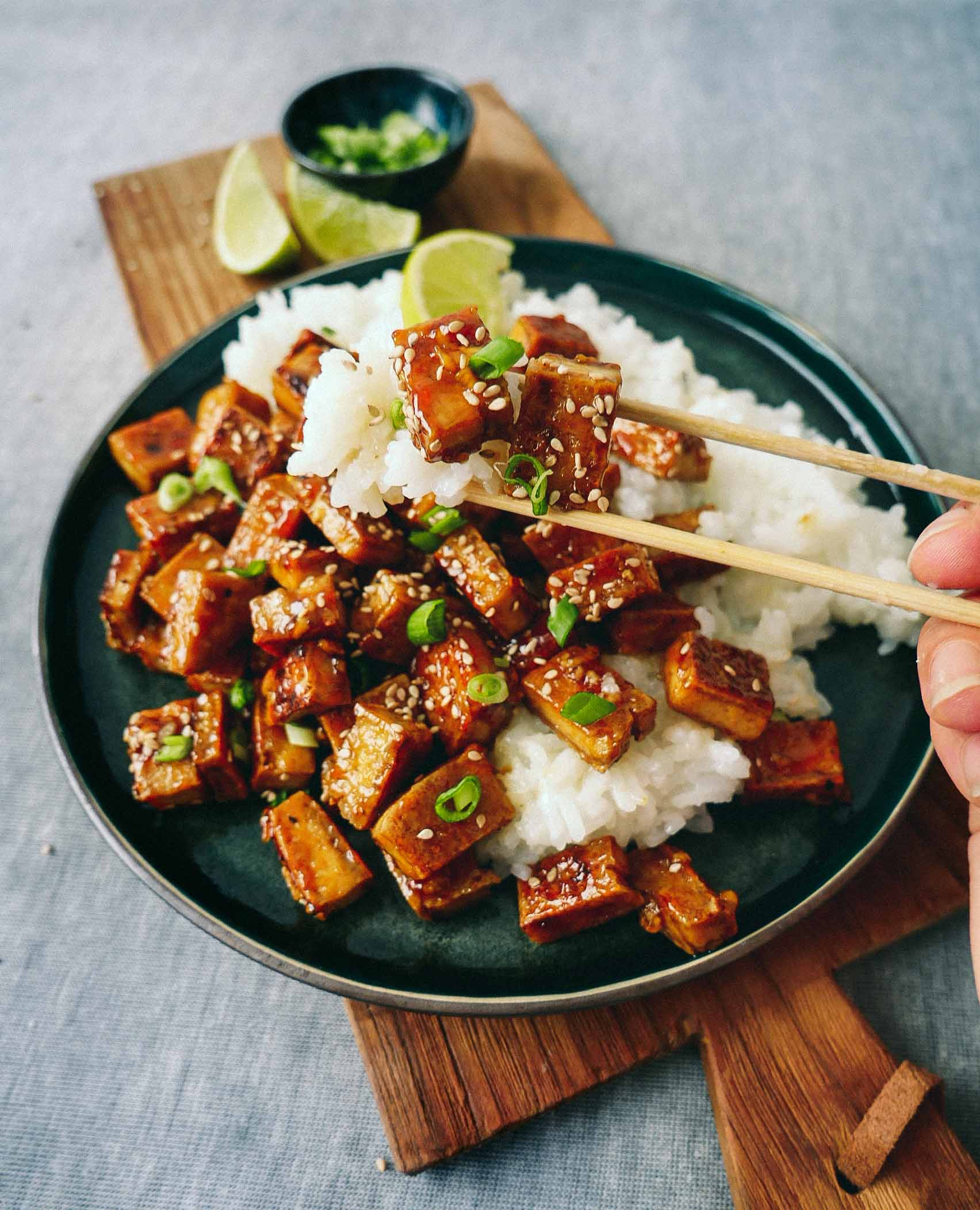 This fried caramelized tofu recipe is totally unrelated to my summer celebrations. Never the less, it's one of those recipes that literally screams like heaven no matter of season.

Fried tofu combined with a sweet caramelized layer, a sour taste (lime juice), sesame seeds, cooked sticky rice and a drizzle spring onions. It's very uncomplicated and is one of my favorite tofu recipes I've made so far.
This dish is great to do when you want to make a vegan dinner with friends. Almost everyone will love it and hopefully some will ask for the recipe.
The marinated tofu can be prepared in advance and stored in jars. And when it's time for dinner, you just need to cook the rice, arrange the lime in smaller slices, put vegetables (spring onions) in bowls on the dinner table, and let everyone arrange their own plate.
» Try also these: Crispy kale chips – the perfect healthy snack idea for guests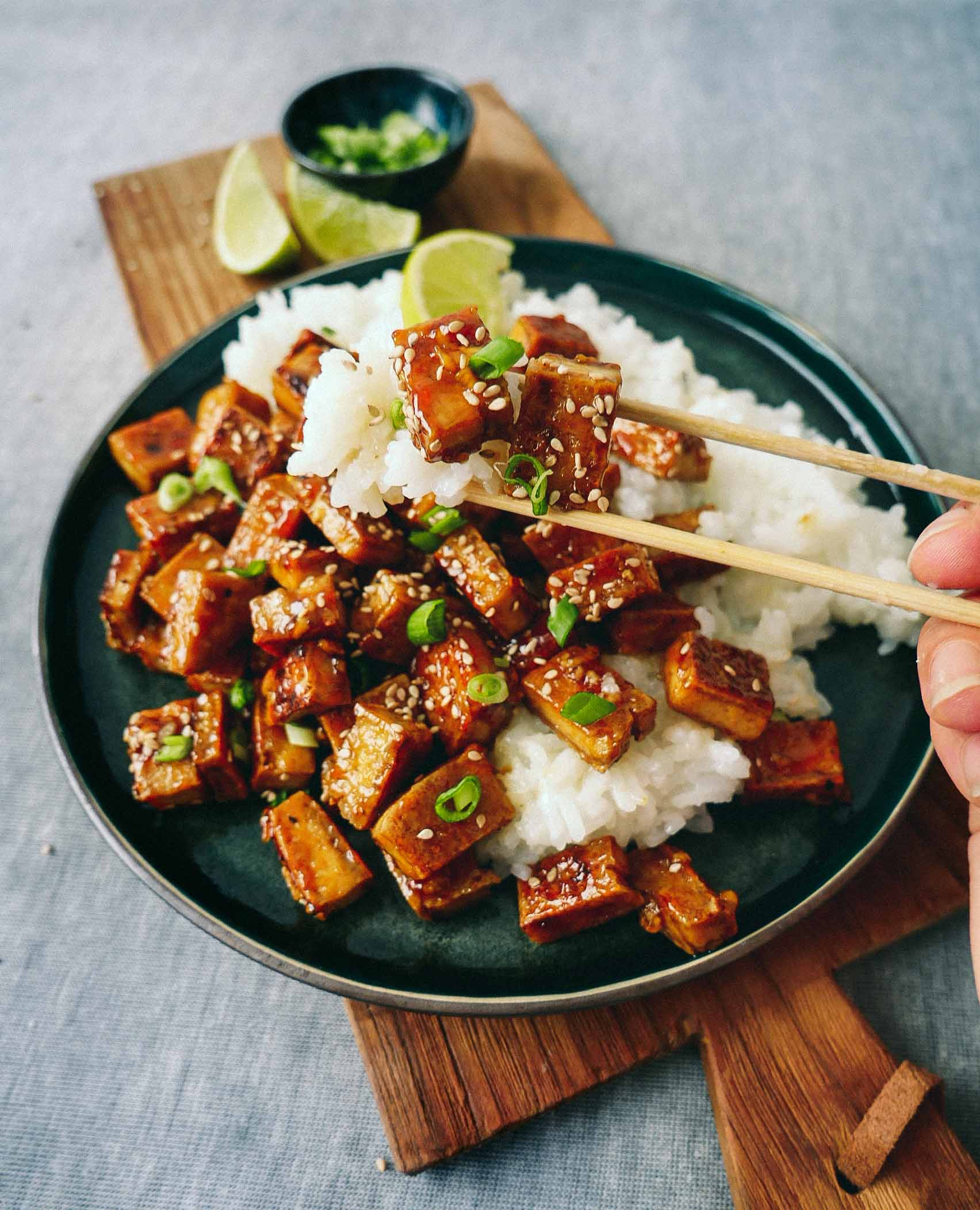 Print Recipe
Fried caramelized tofu recipe
Fried tofu combined with sweet caramelized layer, lime, sesame seeds, cooked rice and spring onions. Eat in salads, wraps or with rice.
Ingredients
250g Tofu

1 clove of Garlic, pressed

1 teaspoon of Corn Starch

1 tablespoon of Maple Syrup

2 tablespoon of Soy Sauce

Juice from 1/2 Lime

Salt and pepper

Oil for frying

For serving:

Rice, spring onions, sesame seeds
Instructions
1
Dry the tofu and cut them into small cubes. I wrap the tofu in towels until excess liquid is absorbed by the towels.
2
Add oil to a pan, and add the tofu in small pieces on the hot pan. Warm a few minutes until golden on each sides. You may need to turn around the tofu cubes. Take out the tofu from the pan and add on a plate.
3
On the pan add garlic, 2 tablespoon of olive oil, corn starch, maple syrup, soy sauce, lime, salt and pepper. Cook the sauce/glaze until it boils then lower hear. Mix slowly until thick.
4
Add in the tofu cubes and cook until the sauce is well incorporated and creamy. Stir until caramelized.
5
Serve the crispy caramelized tofu in salads, wraps or with rice. Drizzle with sesame seeds, lime and chopped spring onions.
My best tips for the perfect fried caramelized tofu:
In the beginning I actually didn't liked tofu at all. I thought it was boring, tasteless and unnatural. I always felt so disappointed ordering meals and dishes on restaurants served with tofu – and I couldn't make it work at home either.
After searching for inspiration on Instagram I finally found a type of tofu that looked great. It was so delicious to look at, caramelized, creamy, golden and looked like chicken or pulled pork – lavish I would say. But did it taste good too?
Then I tried to make my own with as few ingredients as possible: Tofu, garlic, maple syrup, soya, lime, oil, salt, pepper – and a little of corn starch to get the perfect thick tofu texture. It was actually pretty simple. First to fry the tofu pieces on a pan. Then make the sauce/soy batter and add it on top of the fried tofu. Give it a few seconds, stir it all well together – and let it combine slowly.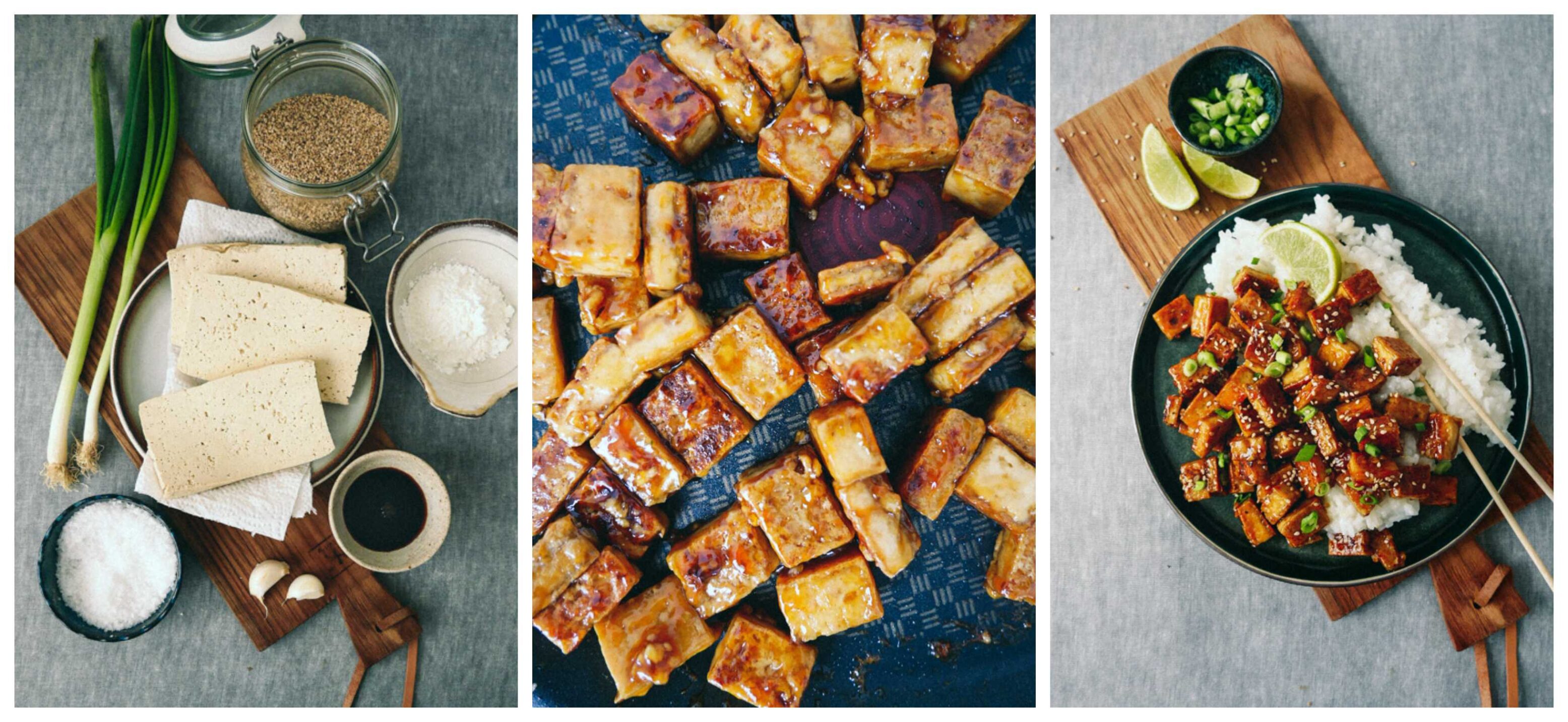 You can easily make this recipe without corn starch (some doesn't want to use it). The result of the texture will not be that thick – but the taste will be just as good. Try also to experiment with spices like cumin, paprika, barbecue and turmeric.
Next time I think I will try to make the dish in spinach pancakes / crêpes. Made these tofu wraps from Instagram some weeks ago – and they turned out so good!