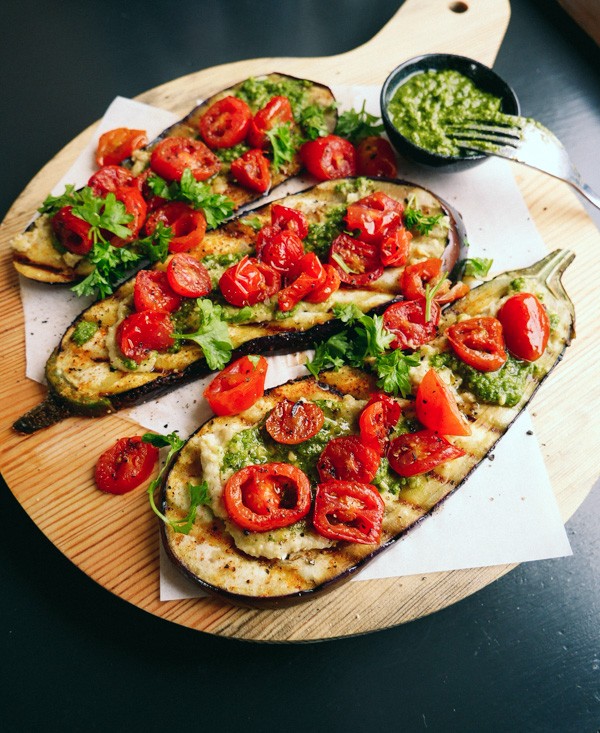 Grilled eggplants – An easy and simple Spanish / Italian inspired aubergine dish for a starter, lunch or midday snack. Made with eggplant, tomatoes, hummus, green pesto, olive oil and fresh parsley.
As I wrote to you I wanted a quick meal after coming home from vacation yesterday. And I got this idea from my stay in south Italy – Amalfi Coast. Some of you wrote to me about easy snack/ starter ideas for the grill. So here ia a recipe in case some of you are still struggling with "late" summer recipes. This is a delicious little something that I prepared for lunch, as a starter or just a light dinner served with danish roasted rye bread. Sometimes I use my grill outside on the balcony but other times (depends on season) I just cook inside and use a traditional grill pan.
This would look great too on a summer table, together with a few spreads, salads and barbecue. If you are planning on making this or any of my grill recipes, I'd love to see your creations on Instagram.
You can find this recipe just underneath, and remember that you can easily use any leftover ingredients and vegetables.
I made this green pesto myself with a leftover of parsley. But almost any other pesto or spread recipe would be great too.
» Try also this: Serve the eggplant slices with this spicy tomato salsa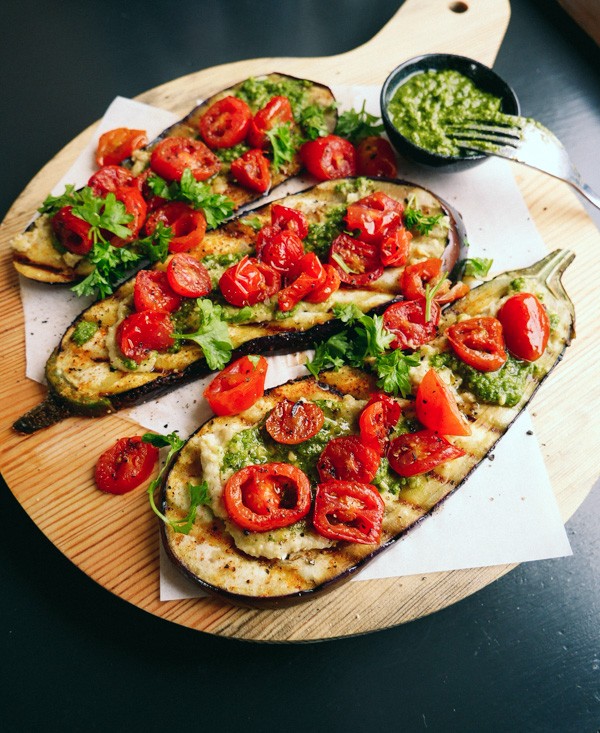 Print Recipe
Grilled eggplant recipe
Oven roasted vegetables – like grilled eggplants, zucchini, pumpkin, sweet potatoes, baked potatoes – have always been a favorite. Recipe here.
Ingredients
Half eggplant, 3 slices

Handful of small tomatoes

2 tablespoon of hummus

2 tablespoon of green pesto

2 teaspoon of parsley

3-4 tablespoon of olie

Salt and pepper
Instructions
1
Wash the small tomatoes and chop them in small pieces. Cook in 2 tablespoon of olive oil, salt and pepper on a grill pan or on the grill outside.
2
Wash and slice the eggplant. Add the slices on pan too and cook in a few minutes on each side until grilled.
3
Arrange the eggplant slices on a plate. Add hummus, green pesto, fried tomatoes and fresh parsley on top. Drizzle with salt and pepper and serve immediately.
Simple grilled eggplant slices: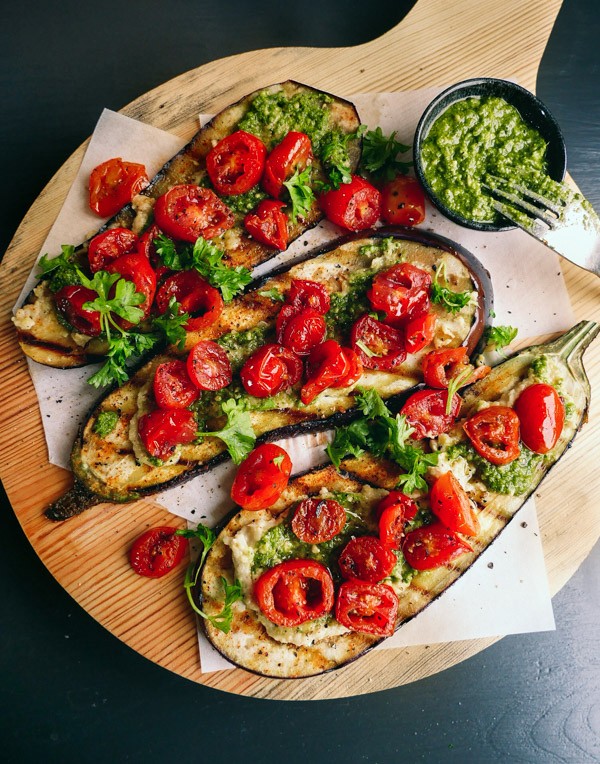 Oven roasted vegetables halves – like grilled eggplants, zucchini, pumpkin, sweet potatoes, baked potatoes – have always been a favorite of mine.

They are very simple to make. They don't need to take every minute of your afternoon to make – and they look stunning when serving with toppings and dressings.
These eggplant slices turned slightly scorched on top and deliciously soft inside. I wanted to give them a more festive and seasonal twist.. And topped them with hummus, pesto, parsley and a generous handful of fried warm and soft tomatoes from the grill pan. It's a simple trick to remember toppings, spreads or salads.. But it always looks more festive when you top large roasted vegetables with any type of "salad".
Roasted Portebello mushrooms, would also be wonderful as a base. Especially if you are not too fond of aubergine / eggplants.
I hope you liked this recipe – let me know if you have any questions making it!