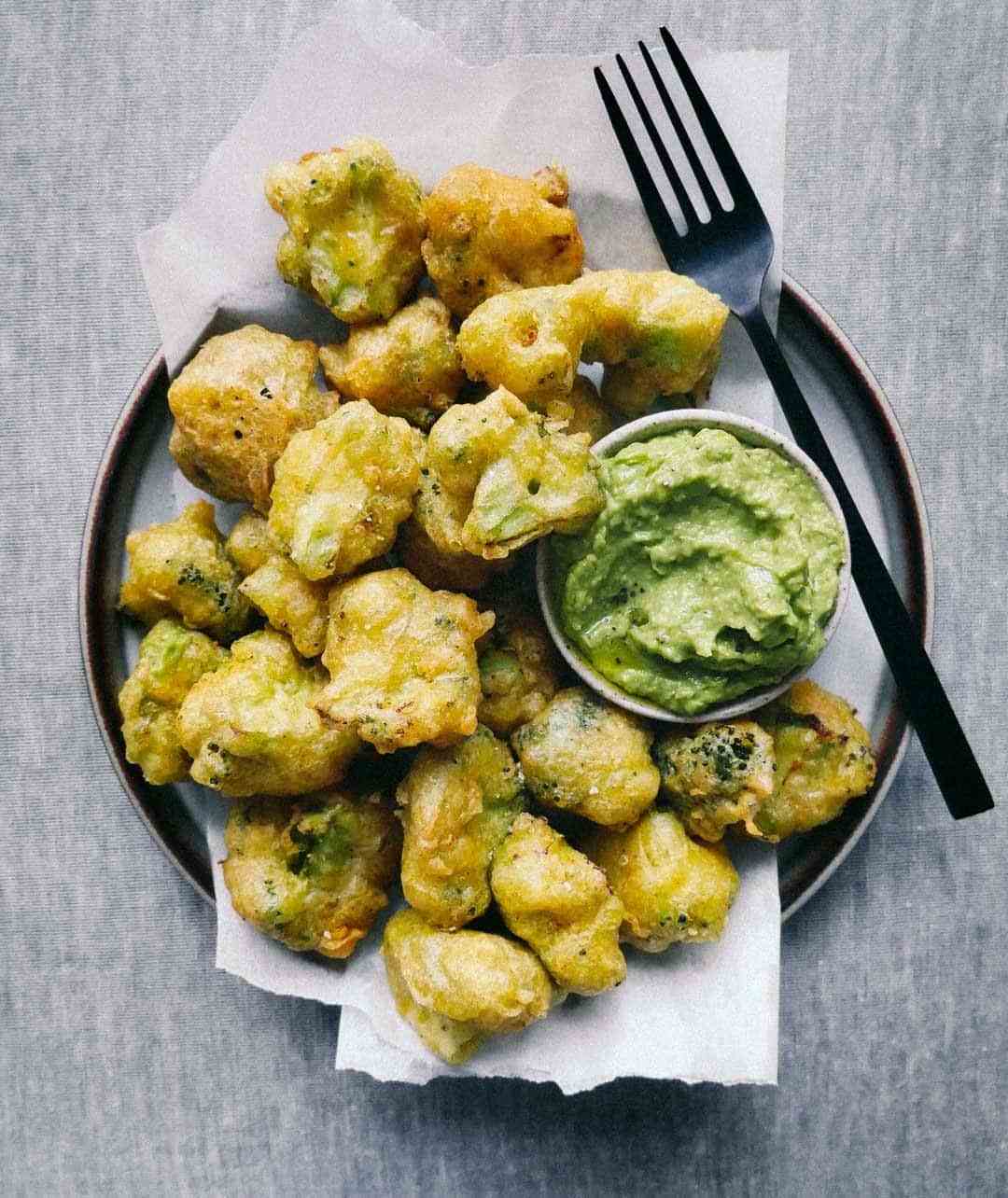 Deep Fried Broccoli Wings – Easy vegan recipe:
The best recipe for these vegan deep fried broccoli wings aka vegan fried 'chicken'. Beer-Battered, crispy, delicious and SO easy to make. The broccoli bites are so easy to work with and the oil makes them even more crispy. Just adjust the amount of oil – it's not necessary to fill the whole pot. Taste with salt, pepper and spices. I added beer in my batter with flour, salt and my favorite spice: harissa. I also added some paprika because of the taste and the red/orange color.
Beer can be omitted. But I can really recommend adding some beer to the batter. It gives the batter so much texture. It gets even more crispy and highlight the rich tastes of sweet and sour from both the beer and the broccoli. If you're making it for kids add plant milk in the batter instead.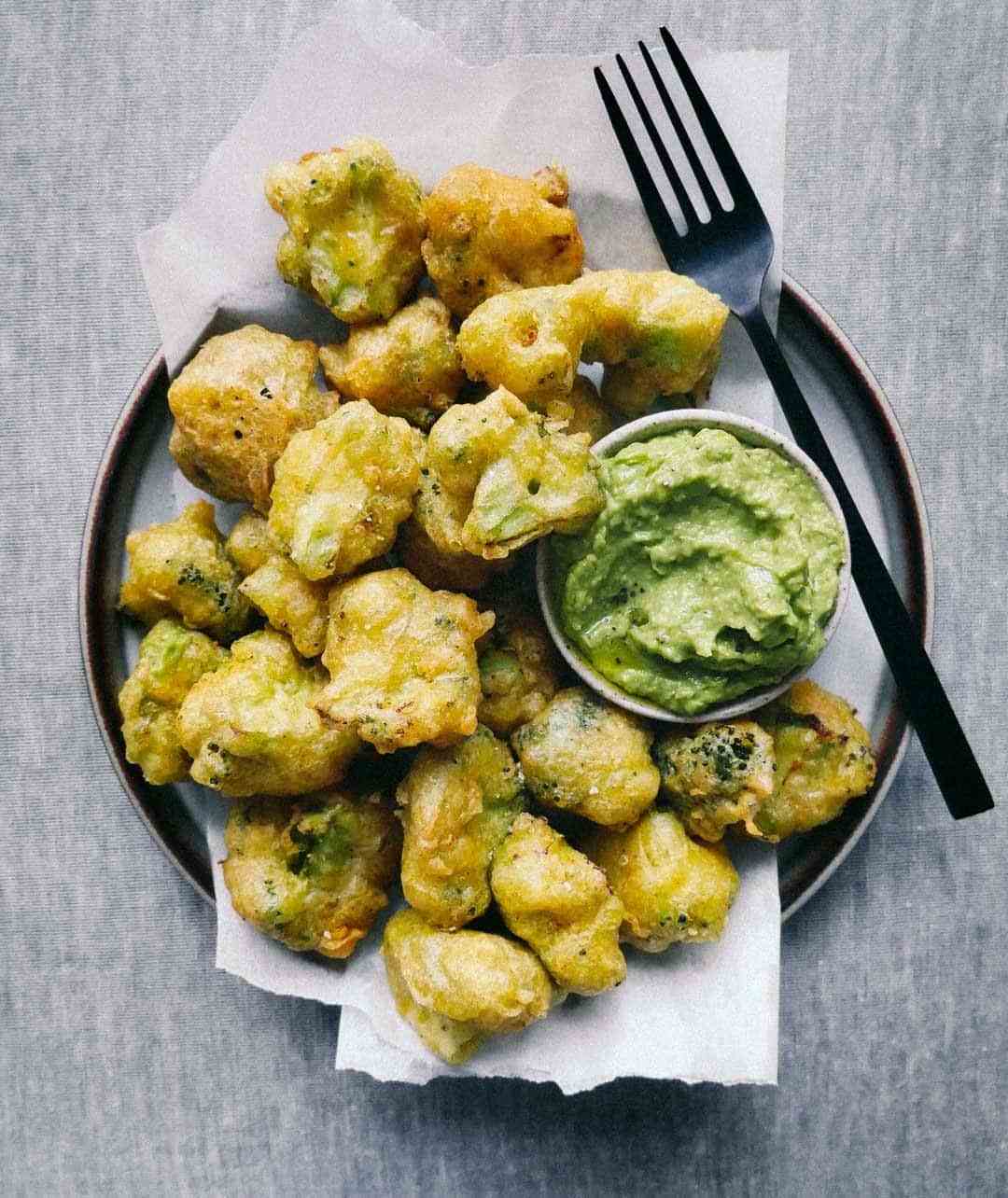 Print Recipe
Vegan Deep Fried Broccoli
Your best recipe for vegan deep fried broccoli bites – aka vegan fried 'chicken'. Easy crispy recipe with beer, batter and delicious healthy avocado dip. Get the full recipe here:
Ingredients
1 Broccoli, washed

300 ml. neutral oil (around 1/3 of 1 liter)

150g. Flour of your choice

1 teaspoon Paprika

1-2 teaspoon Harrissa (or other red spices)

1 Beer (33 cl.)

Drizzle with salt and pepper
Instructions
1
Wash the broccoli and cut into small pieces or bouquets.
2
In a bowl add flour, paprika, harrissa, salt, pepper and beer. Whisk the batter until smooth. (The mixture needs to be a little thick.)
3
Heat oil in a small pot (use a smaller pot to save more oil.)
4
Add the broccoli pieces in the batter. Put in the deep fried oil well coated with batter. When the oil gets super hot fry the broccoli bites in batches 3 minutes each. Turn them once until golden brown. Drain on paper towels.
5
Serve the broccoli bites with fresh cold avocado dipping. Enjoy!
Vegan fried broccoli + the perfect avocado dipping:
You never go wrong with this avocado dip. I know I've been making it a lot, but it's also insanely good. Add the dipping to almost every kind of vegetables, stews, salads, starters and it gives the dish an extra touch. If you make this I will guarantee your guests ask for the recipe. It's only made with 5 ingredients tough; 1 glove of garlic, 1 avocado, 2 tablespoon of olive oil, salt and pepper. Go find my primary avocado dip recipe here. Just use ingredients you already have in the kitchen and mix with your favorite spices or vegetables. Dips, spreads and pestos are so easy to make because you can always adjust the options of ingredients.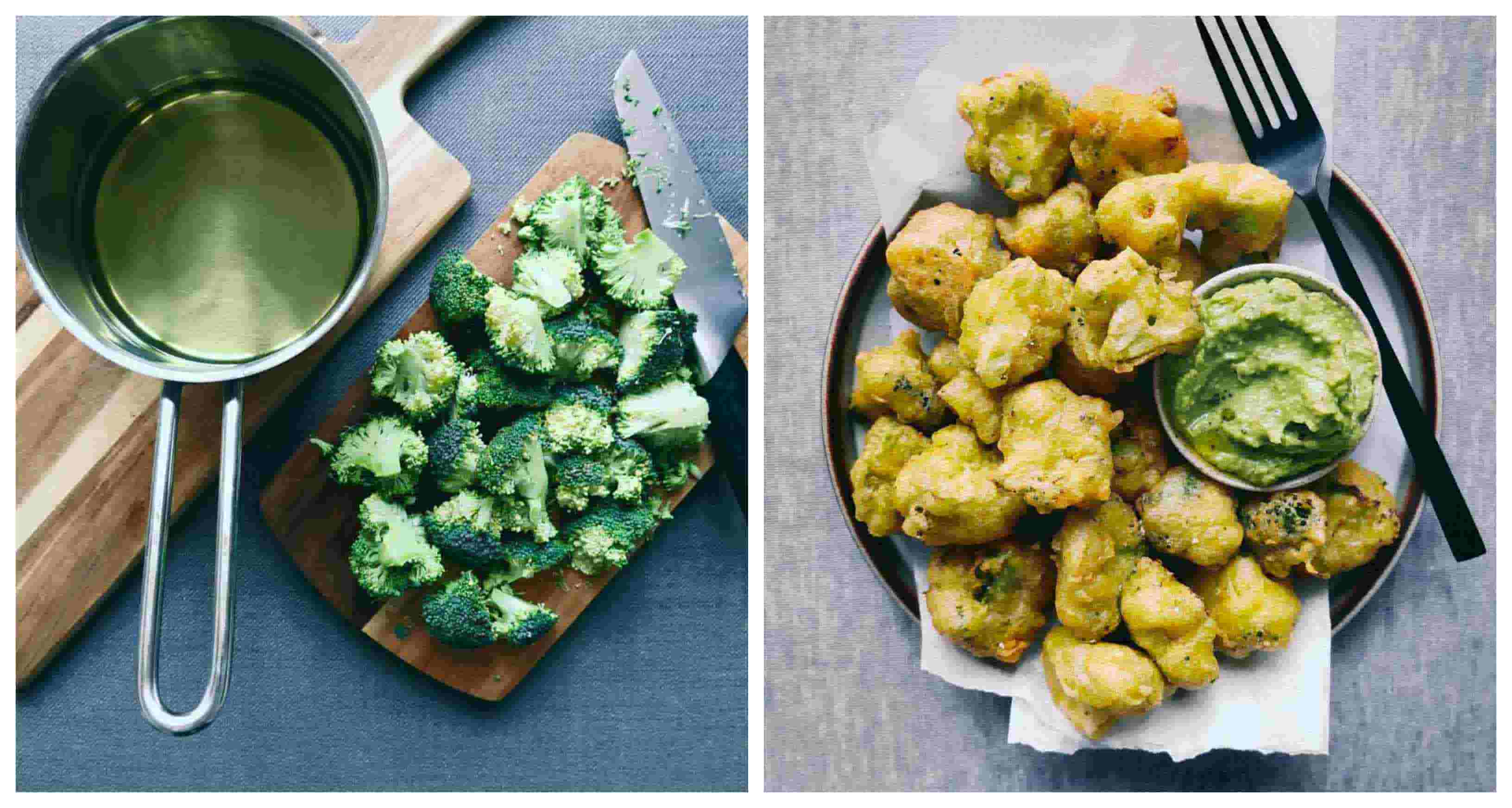 I hope you could use this recipe! Let me know in a comment below if you have any questions making it..
Rate my recipe below ↓