Welcoming the soon january weather with this easy, cozy, creamy Butternut Squash Pasta. Maybe best for nights when you're craving some Italian, but also craving cozy orange winter flavors. This recipe is vegan as well – and ready in 25 minutes.
This recipe is using seasonal autumn/winter butternut squash blended with garlic, salt, pepper and a gently tablespoon with turmeric. All pureed into the MOST creamy, vegan Butternut Squash sauce that's so vibrant and so delicious. Served with simple Pasta Penne. Feel free to serve with any type of pastas you have at home. Spaghetti should be very good too. Mix well the spaghettis with this creamy butternut squash sauce and you have a very coherent consistency at every bite.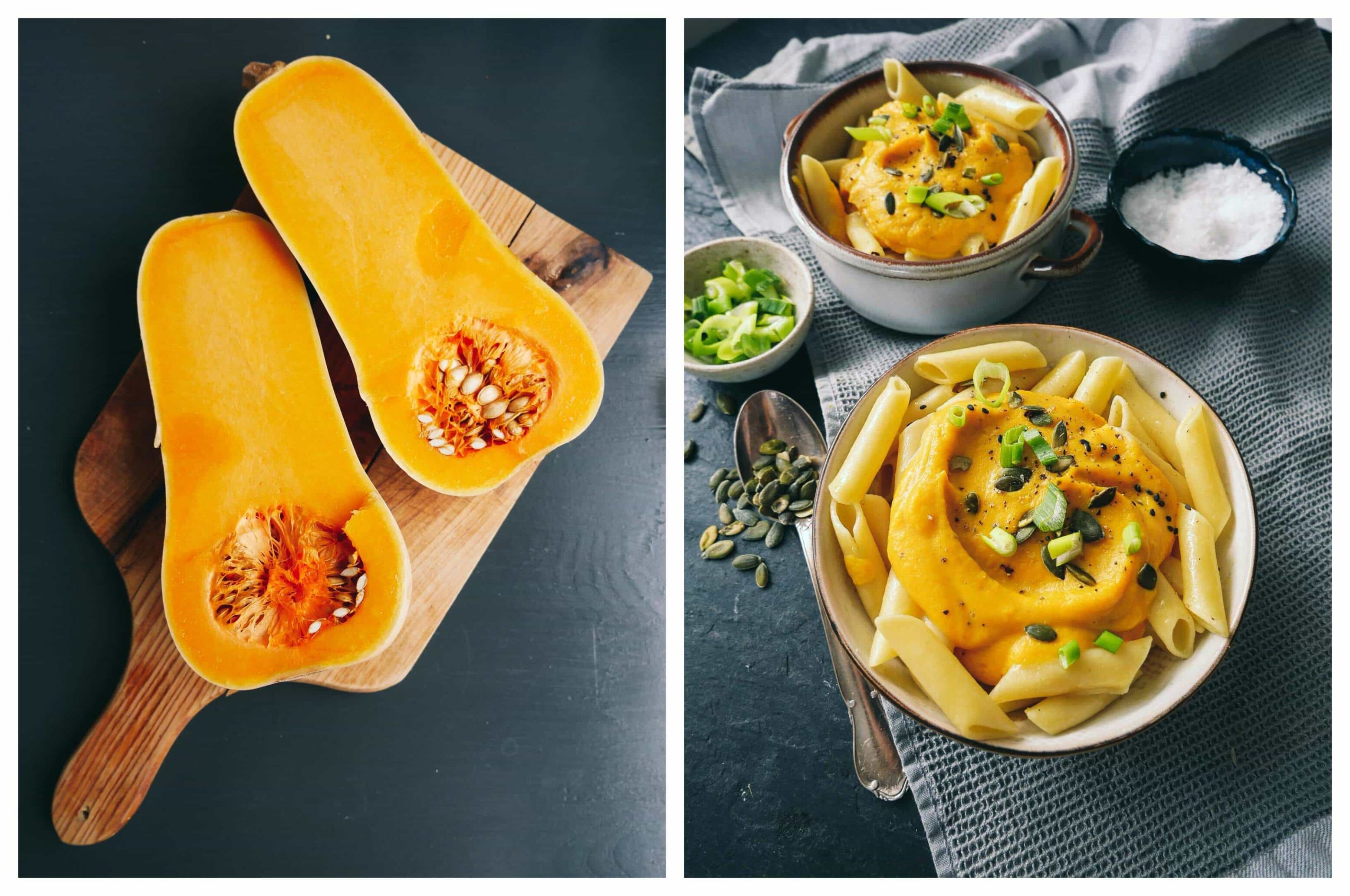 You can also finish off this pasta with salty prosciutto bread crumbs. I'm so into salty homemade bread crumbs lately.. And serve them with any pasta recipes I can get away with. And for an winter dinner like this that's mouth-wateringly delicious. This is a great fall pasta to serve any night of the week, or to serve for your next Friday or Saturday night dinner.
» Try also this: Italian Stuffed Pasta Shells – with fresh herbs on top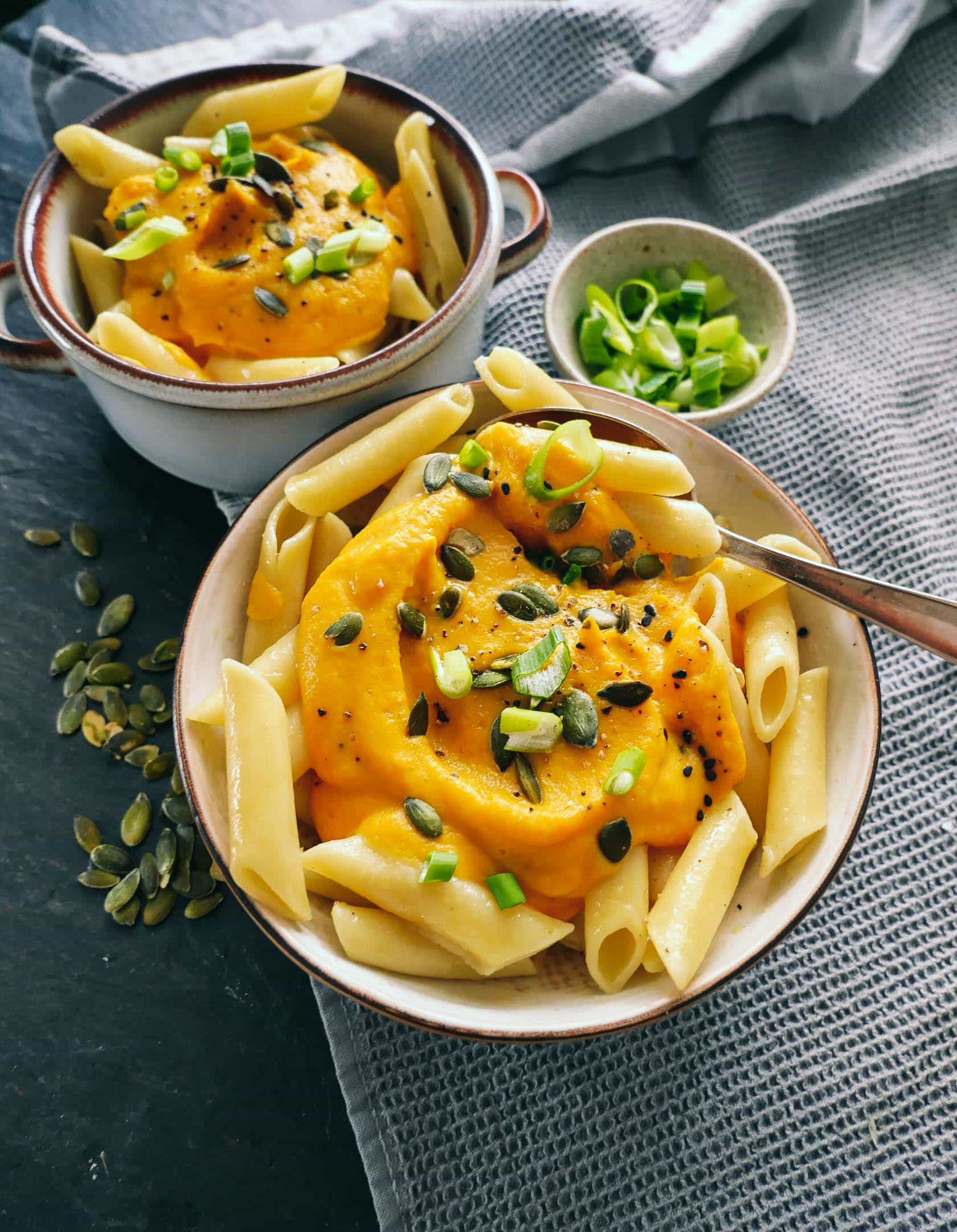 Print Recipe
Butternut Squash Pasta recipe:
This Vegan Butternut Squash Pasta Penne is to die for! Creamy and easy recipe – ready in 25 minutes. A butternut squash puree with pumpkin seeds.
Ingredients
200g. Pasta Penne

1 x medium Butternut Squash

1 tablespoon Turmeric

1 clove of Garlic

2 tablespoon of vegan cream

Salt and Pepper

2 tablespoon of Spring Onions, chopped

Pumpkin Seeds
Instructions
1
Peel the Butternut Squash, cut in smaller cubes and cook in boiling water for 15 minutes with a gently touch of salt.
2
Meanwhile in another can cook the Pastas al dente after package instructions, about 7-8 minutes.
3
Remove the water from the butternut squash, add in a small blender og mixer along with turmeric, vegan cream, garlic, salt and pepper. Mix well, taste with a spoon and adjust if needed.
4
Drain the pastas as well and serve place in bowls or plates. Add the butternut squash puree on top of the pasta. Decorate with salt, pepper, chopped spring onions and pump seeds.
How do make Butternut Squash puree / creme:
This Butter squash creme can be made in many variations and you can use many different vegetables. If you have pumpkin for example (or another of this season delicious pumpkin and squash varieties) – these would be perfect too. But you'll need to cook them a bit before.
I've always thought that a puree like this would take days to make and be bit like a kitchen project. Well, I'm so surprised how easy it was to make – and how easy it is to prepare! If you're working with a full butternut squash (like I did), then cut the squash in half right where it starts to get wider, leaving you two pieces. Then slice off the ends, lengthwise and cut off the peel – cut in small cubes and these are now ready to be cooked.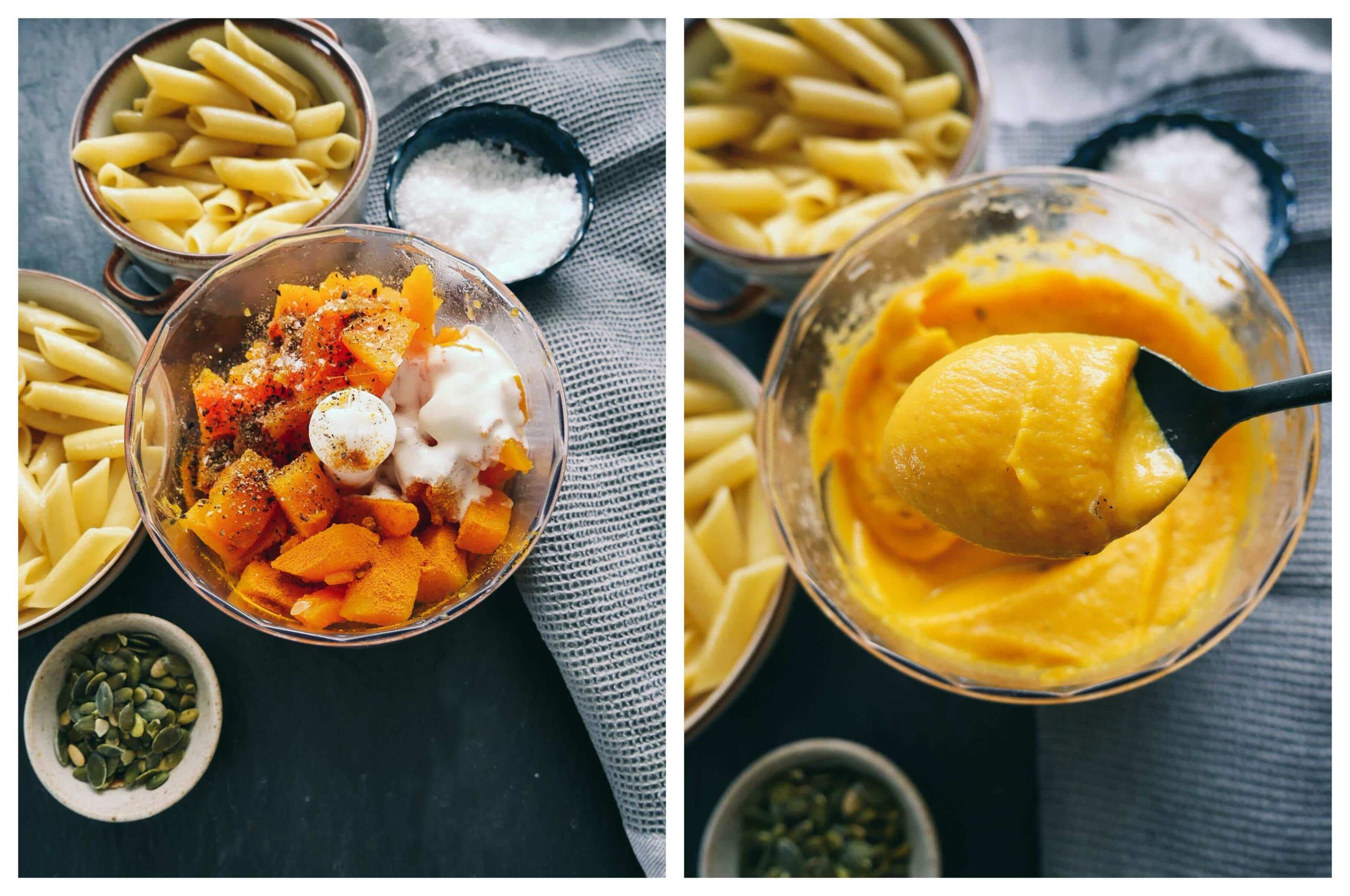 My butternut squash pasta sauce is creating a creamy, almost cheese-like texture. Marked with a hint of the squash's sweetness. But a hint of some sourness would add a bit more taste and deepness. I just liked this very soft and creamy Butternut taste so that's why I didn't add lime or lemon juice.. But fell free to adjust and add some!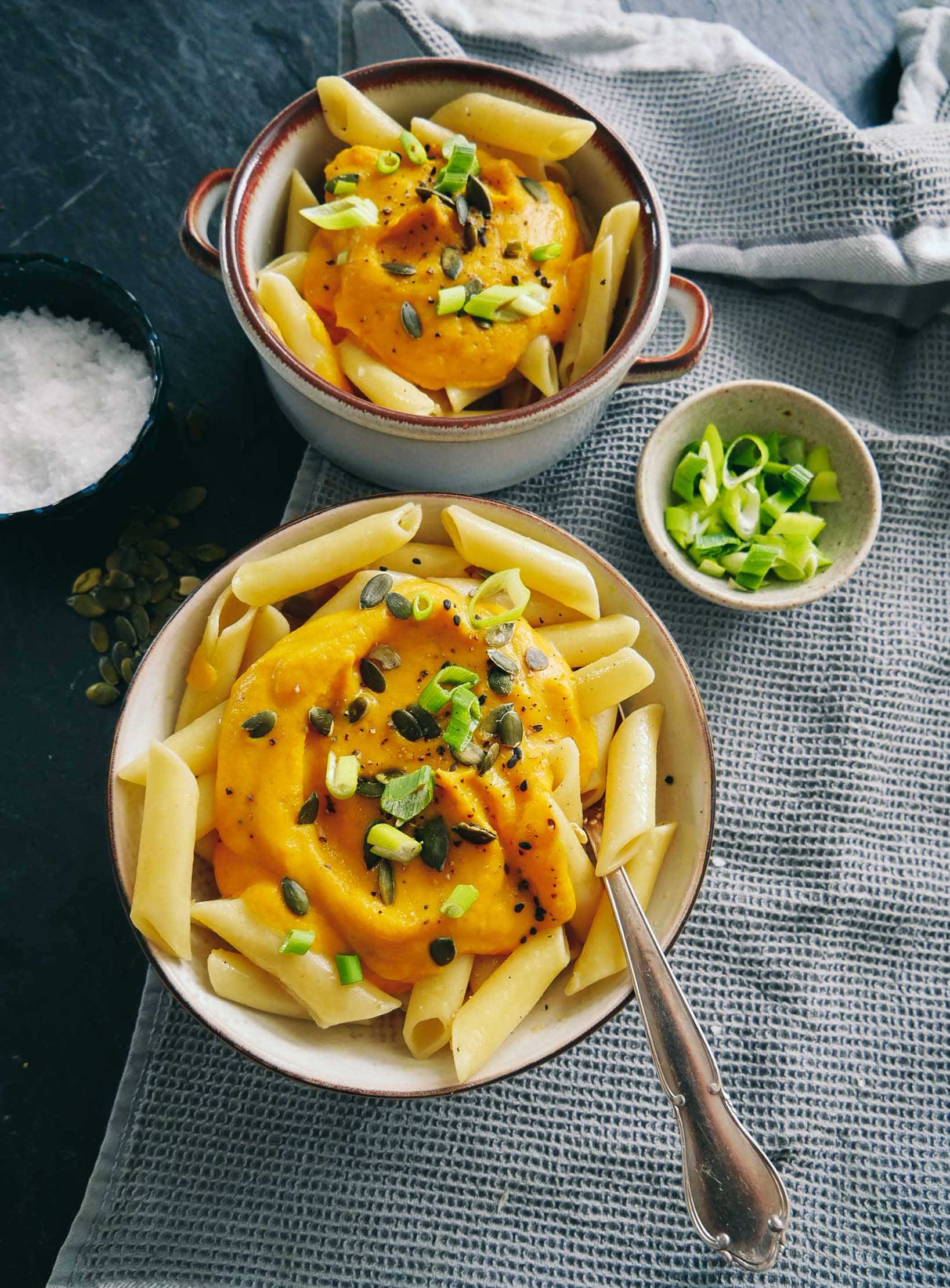 Some might include cashews, almond or dairy-free milk too to get a more "light" puree. I tested this the other day – but felt the creme got more into a soup – than a creamy puree. But if you've want to make a butternut squash soup someday, you'll know that either plant milk or nuts will pair perfectly with the tasty butternut squash.
Did you like my Butternut Squash Pasta recipe? Rate it here ↓