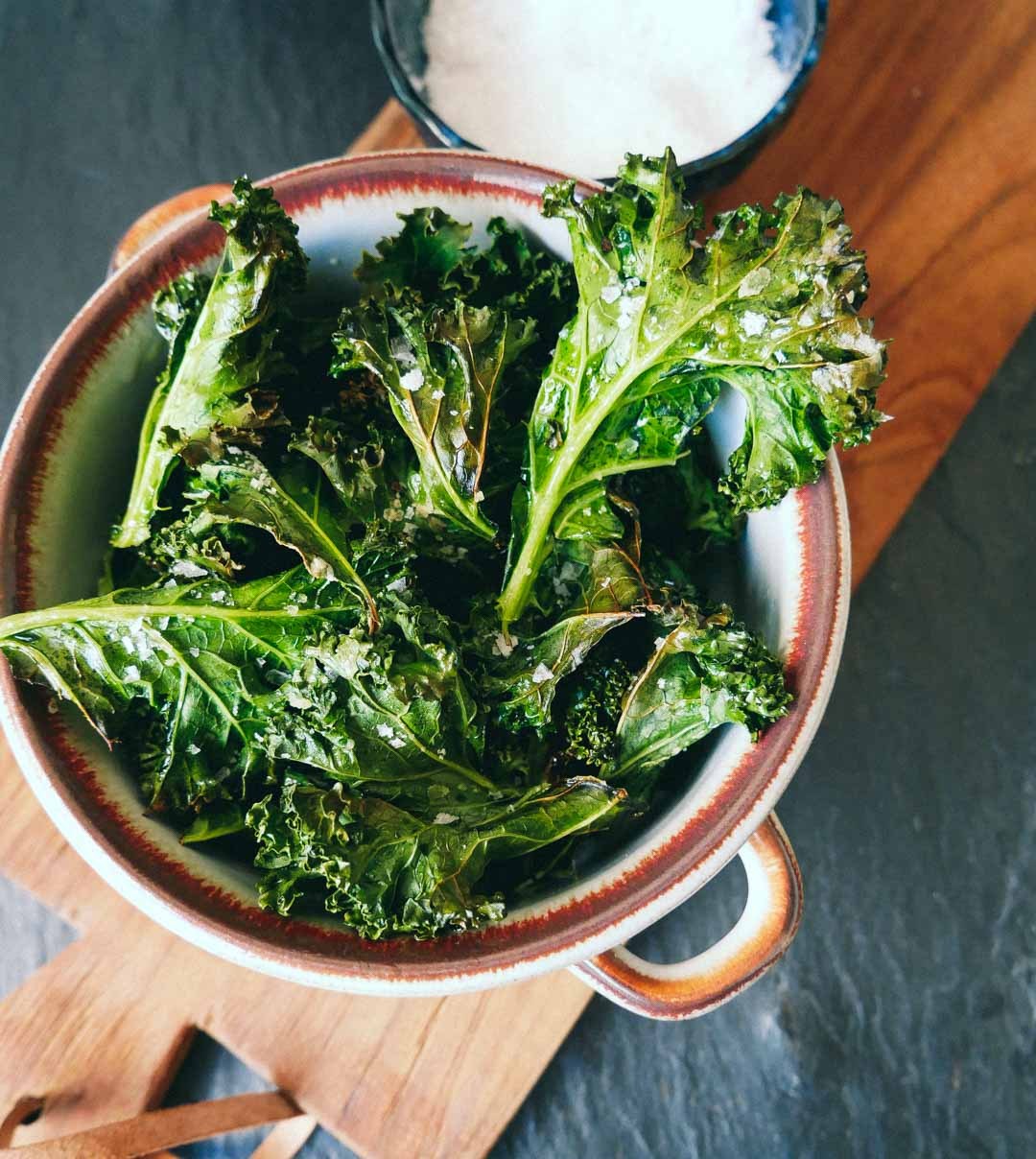 Crispy kale chips with salt is everything you need for your next healthy snack night, as a starter og to eat instead of traditional potato chips. Made with only 3 ingredients – and ready in 15 min.
You can buy them cheap in the supermarket or you can make your own in 15 minutes. I will definitely prefer to make you own. You don't need dried kale, just wash your fresh kale pieces, cover with salt and olive oil and roast in the oven for 15 minutes.
This recipe is quite healthy and also easy to make. Kale chips are surprisingly good and even your kids will love them and ask for a portion more – definitely because they sound quite crispy and fun to eat.
Eat them with a glass of wine, olives, crackers, pesto or drizzle with parmesan. Try also with chili or garlic in the oven.
» Try also: Summer fig salad with quinoa and avocado cream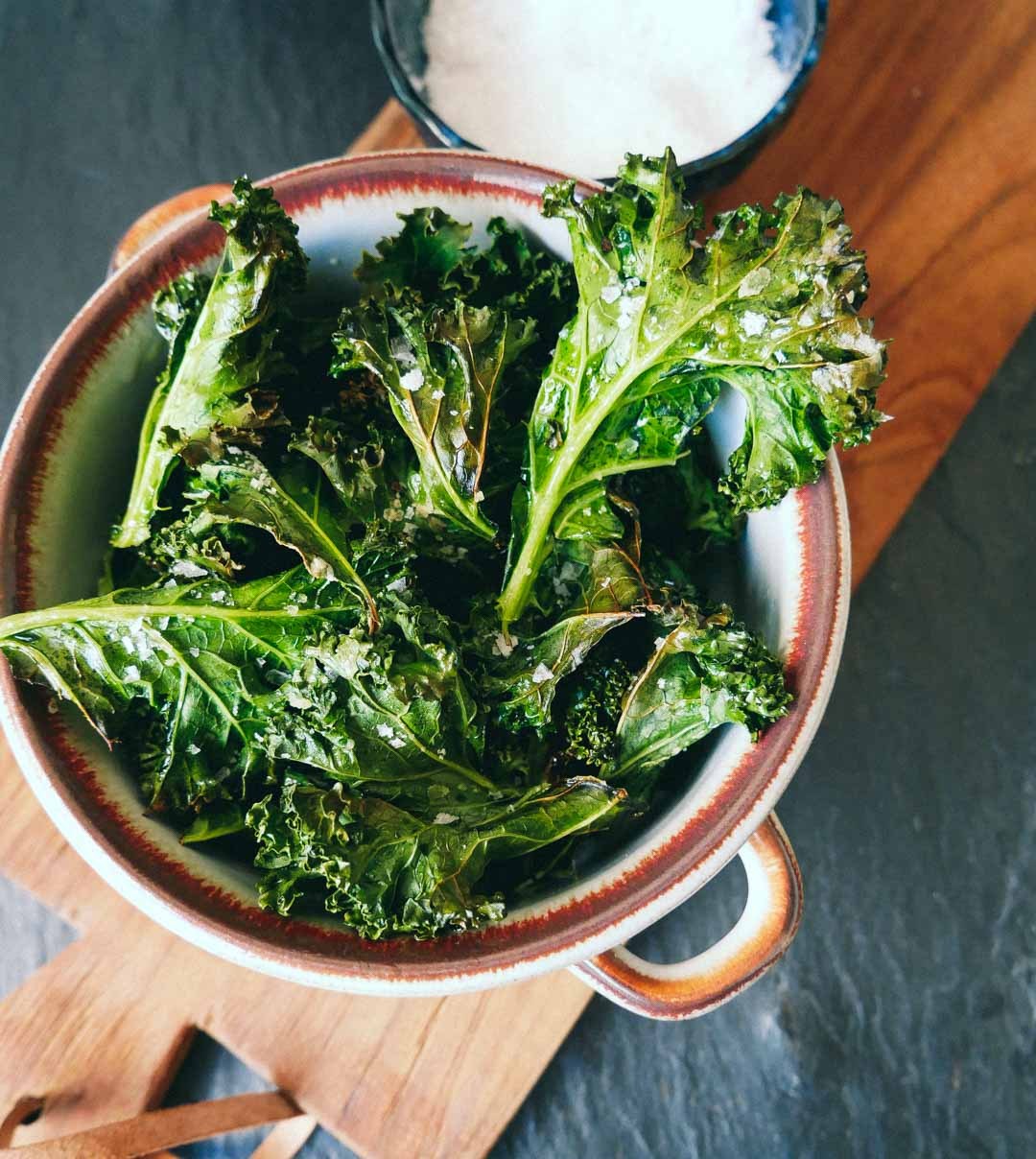 Print Recipe
How to make kale chips:
Kale chips is such an easy and delicious snack recipe. Made with only kale, oil and sea salt. Cook in only 15 min and you have crispy snacks.
Ingredients
4 big leaves of kale

3 tablespoon of olive oil

Sprinkle with sea salt
Instructions
1
Preheat the oven at 170°C (338°F) Wash the kale leaves cut into smaller pieces. Place the kale on a baking tray covered with baking paper.
2
Add olive oil on top and sprinkle with sea salt – mix well. Be sure to place the kale in a thin layer.
3
Bake in the oven 10-12 minutes until golden and crispy. Check continuously - so the kale is not burning.
Crispy kale chips and other healthy snacks: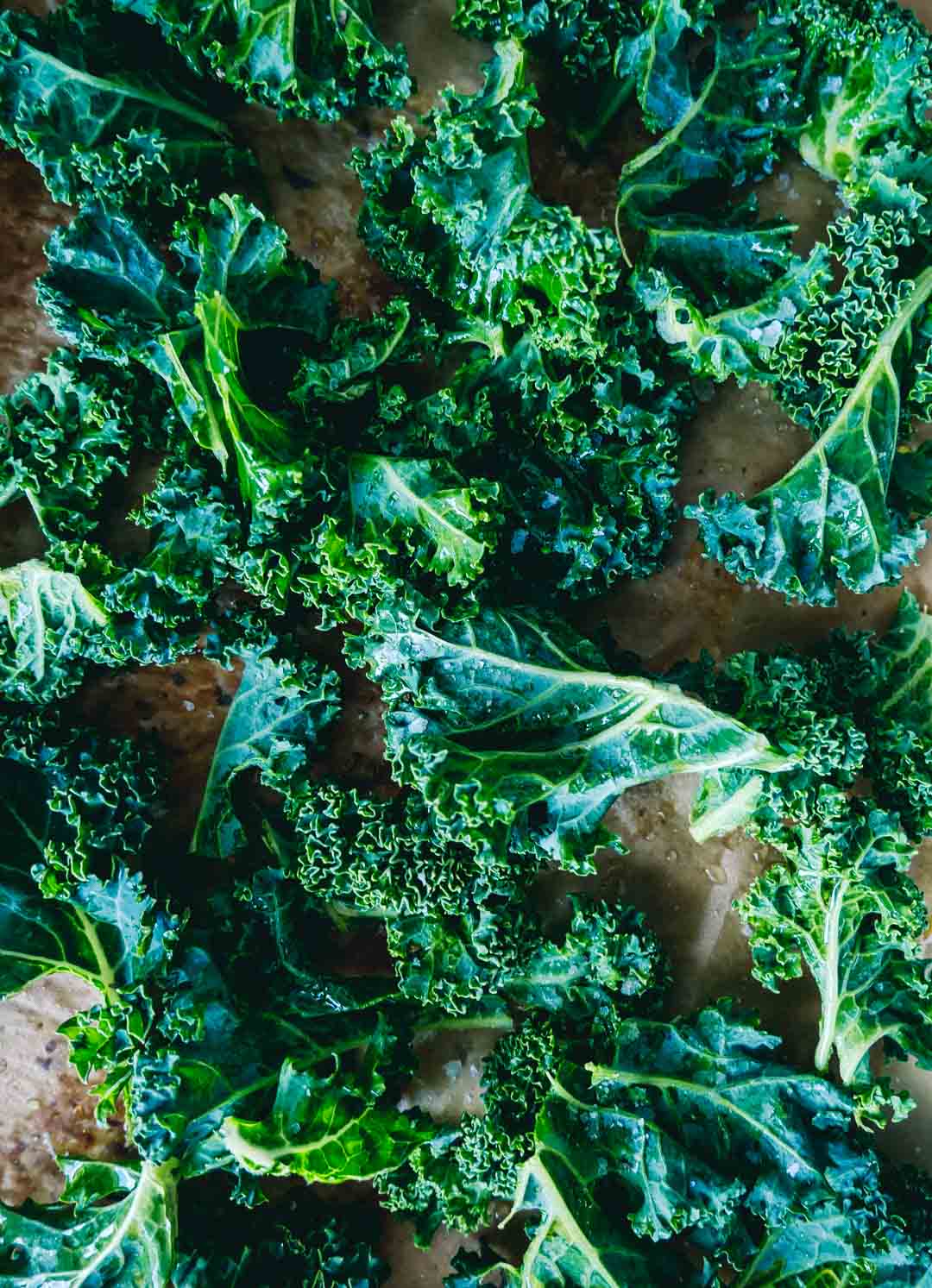 The best thing about baked kale chips is the nutrition. "Kale is king" as they say. So why not make some delicious and crispy snacks with them. Kale is high in nutrients while low in calories – which makes it one of the most nutrient dense foods on our planet.

The vegetable is a member of the cabbage family and is very popular. The leaves can vary and be green and purple. Some have a smooth or more curly shape.
The green or purple colors makes them very beautiful to serve. If you don't have any kale you can try out other vegetables like; beetroots, horseradish, brussels sprouts or bananas. Just make sure to make very thin slices, oil well and sprinkle with salt for the best result. You can also try chili flakes, black pepper, paprika or the taste of sour cream and onion.
I hope you can use this recipe. Leave a comment below and let me know what you think of it!