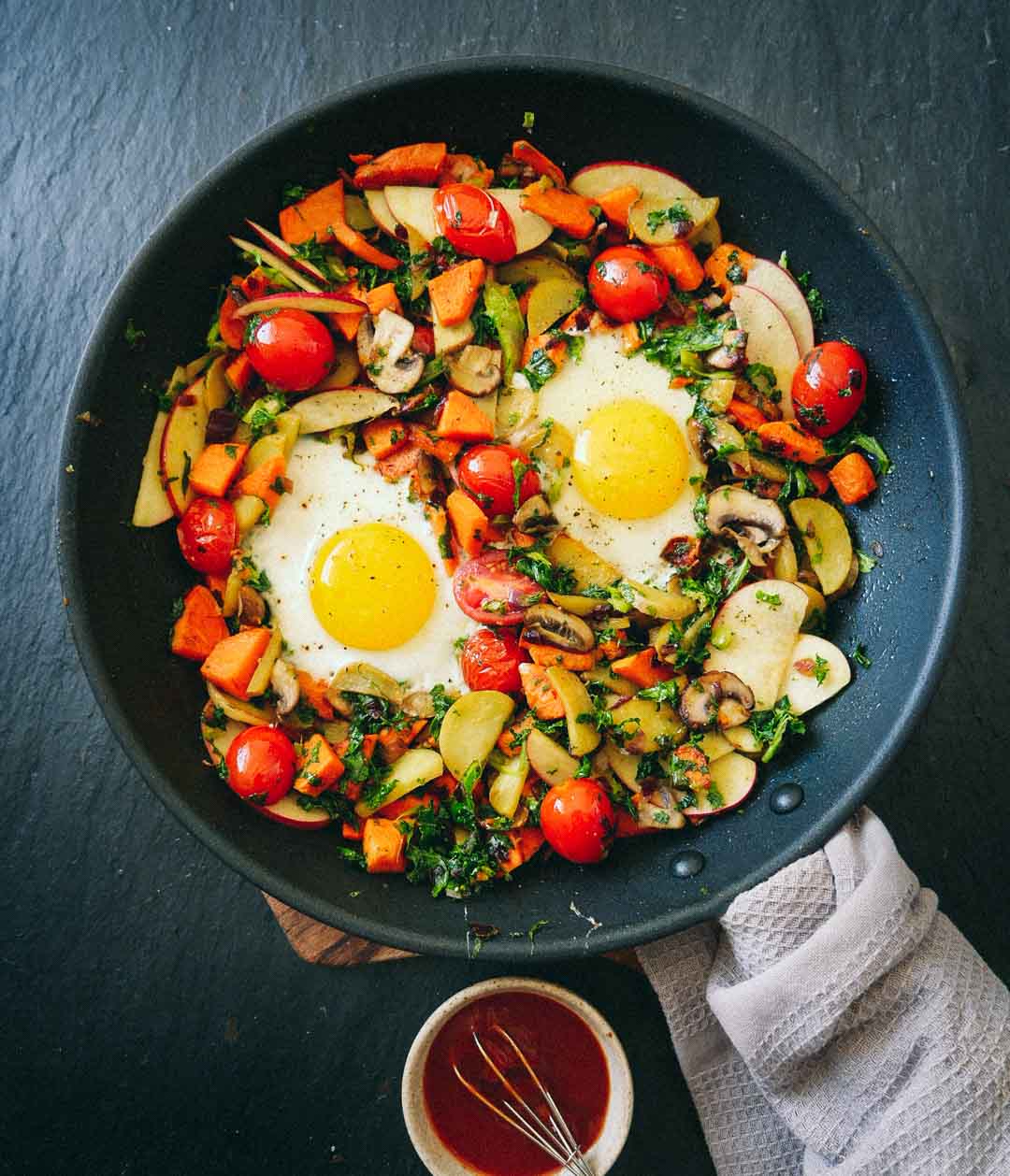 I serve this modern version of "Full English Breakfast" every time I want to make a delicious and satiated vegetarian breakfast or brunch in the weekends.
This meal is warm and satisfying. Not to heavy, the recipe is meatless – which sometimes can be very effective on your digestion the rest of the day. In the recipe I've added some apple slices and healthy kale, which makes it very fresh, while the cooked mushrooms, onion, potatoes and eggs makes this recipe a bit more heavy.
Sometimes I make this recipe for dinner too. And here I like to spicy it up a little bit. For this purpose you can add some strong harissa spice, chili sauce or black pepper and turn up the flavors. A good amount of garlic can also be very good, but maybe more satisfying using for dinner than breakfast. If you don't have any spices then a good tasty ketchup is also perfect.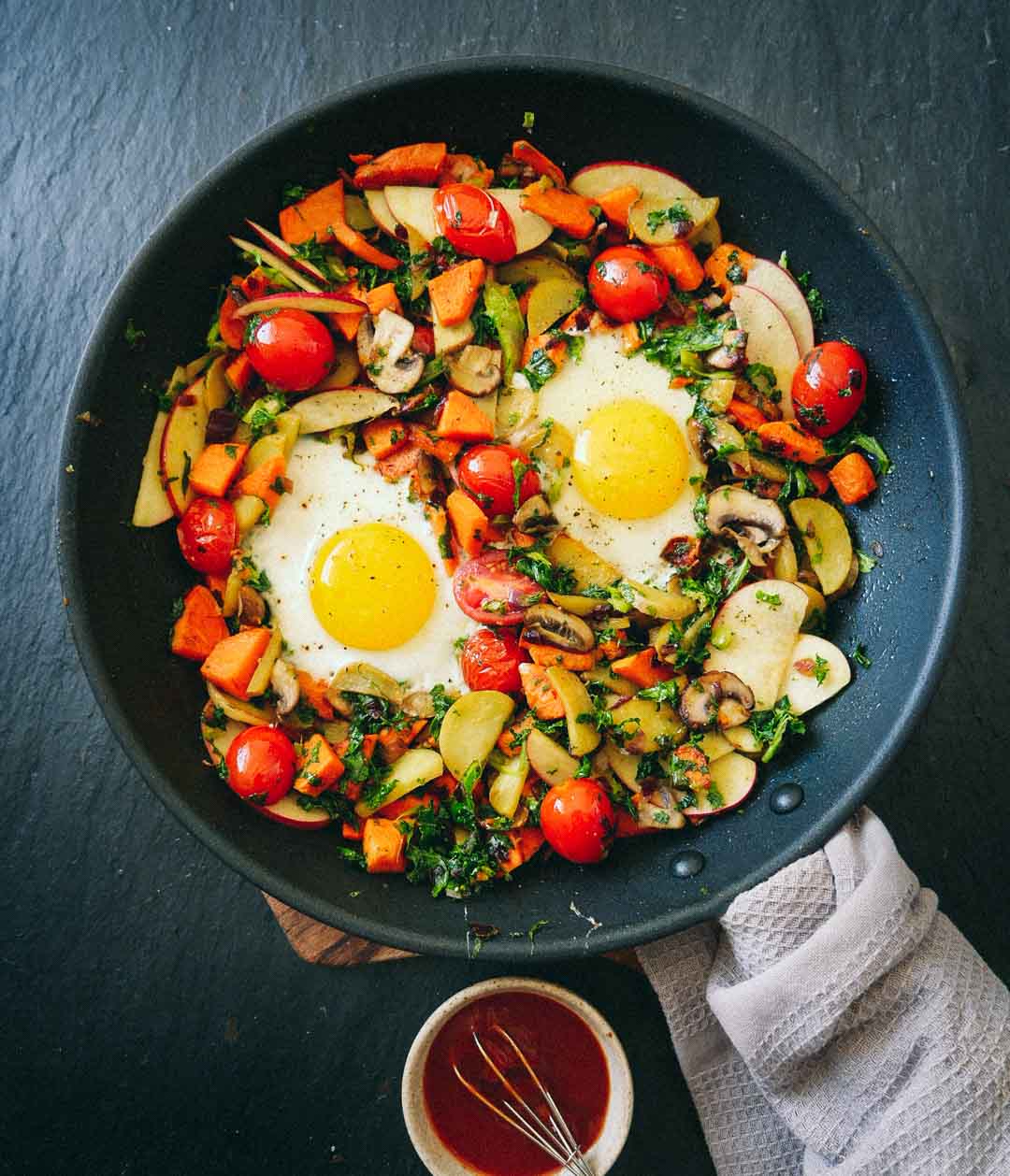 Print Recipe
Vegetarian breakfast recipe:
Vegetarian breakfast version of full English Breakfast with all the good vegetables and fried eggs. The perfect meal for the next weekend brunch.
Ingredients
1 onion

1 sweet potato, 200g

10 cherry tomatoes

100g mushrooms of choice

2 organic eggs

Handful of kale

Salt and pepper

1 apple

For serving: Ketchup or chili sauce
Instructions
1
Warm some olive oil on a medium pan at medium heat. Chop the onion in thin slices and cook in 10 minutes until soft. Chop the potatoes and mushrooms in thin slices as well and cook on the pan.
2
Wash the kale and chop into small pieces. Chop the small tomatoes and cut the apple in smaller thin slices. Add this on the pan and drizzle with salt and pepper. Let it simmer until all vegetables are soft and tender.
3
Next make two holes between the vegetables on the pan and add an egg in each niche. Let the eggs cook a few minutes until you have two fried eggs.
4
Serve the meal directly from the pan and add a spicy sauce or ketchup if kid friendly.
Make vegetarian breakfast with all leftovers
They best thing about breakfast and meals like this is that you don't need specific ingredients. You don't need to follow the recipe and ingredients list one by one. It's easy to make and vary depending on what you already have in your kitchen.
Just vary the portions on the basis of what you have in stock. This recipe is made for two persons. But it's quite big though so it can also be served to a smaller company. Make some extra potatoes serve with bread or add an egg more.
I hope you can use this recipe for a delicious and easy vegetarian breakfast inspired of the traditional English Breakfast. I served this meal with my favorite coffee from the danish coffee company Ønsk.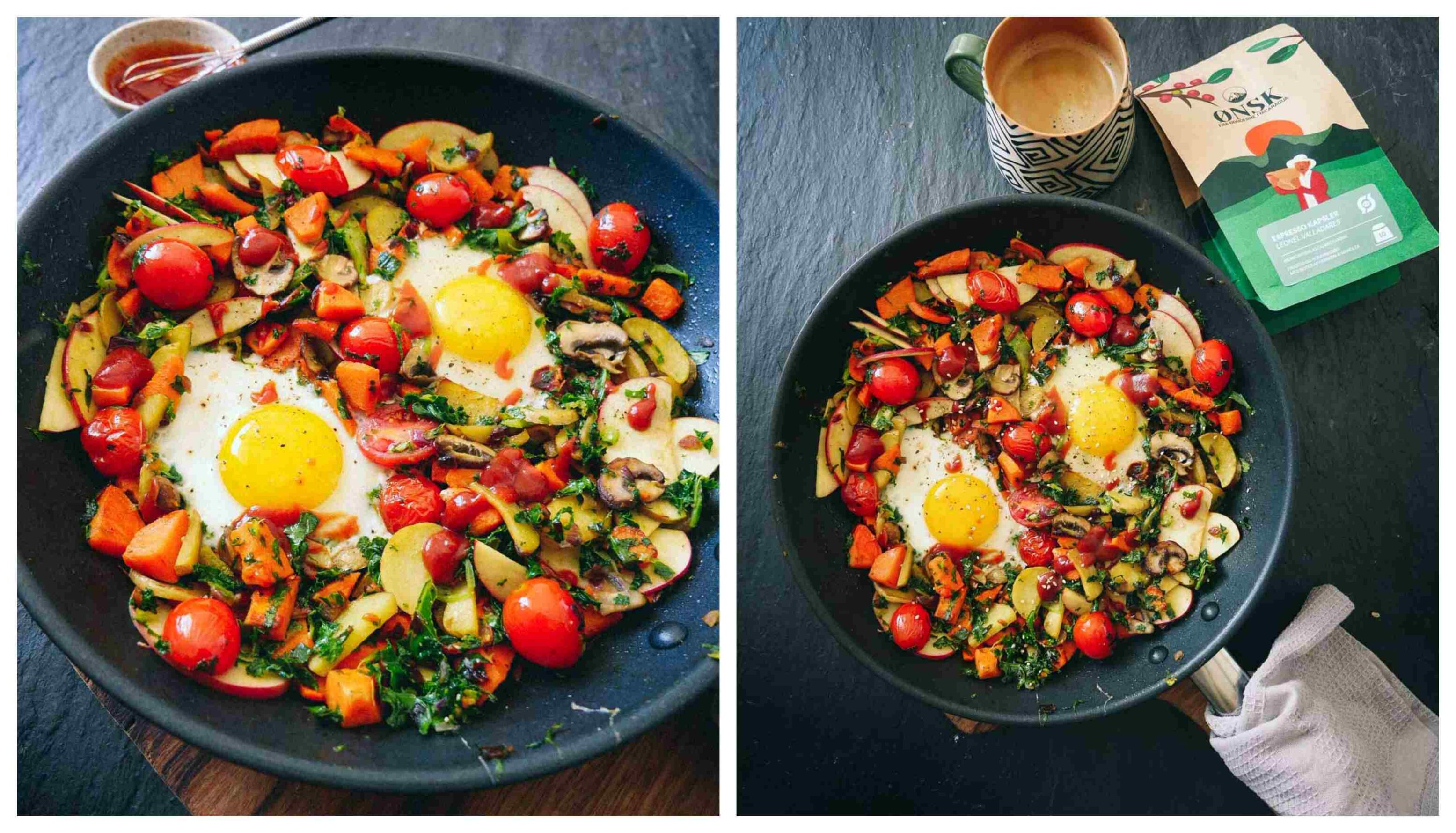 » Here you can find other good vegan and vegetarian recipes for breakfast during the week but also the weekends. Please rate this recipe if you try it – you can also comment below if you have any good tips for vegetarian breakfast ideas.