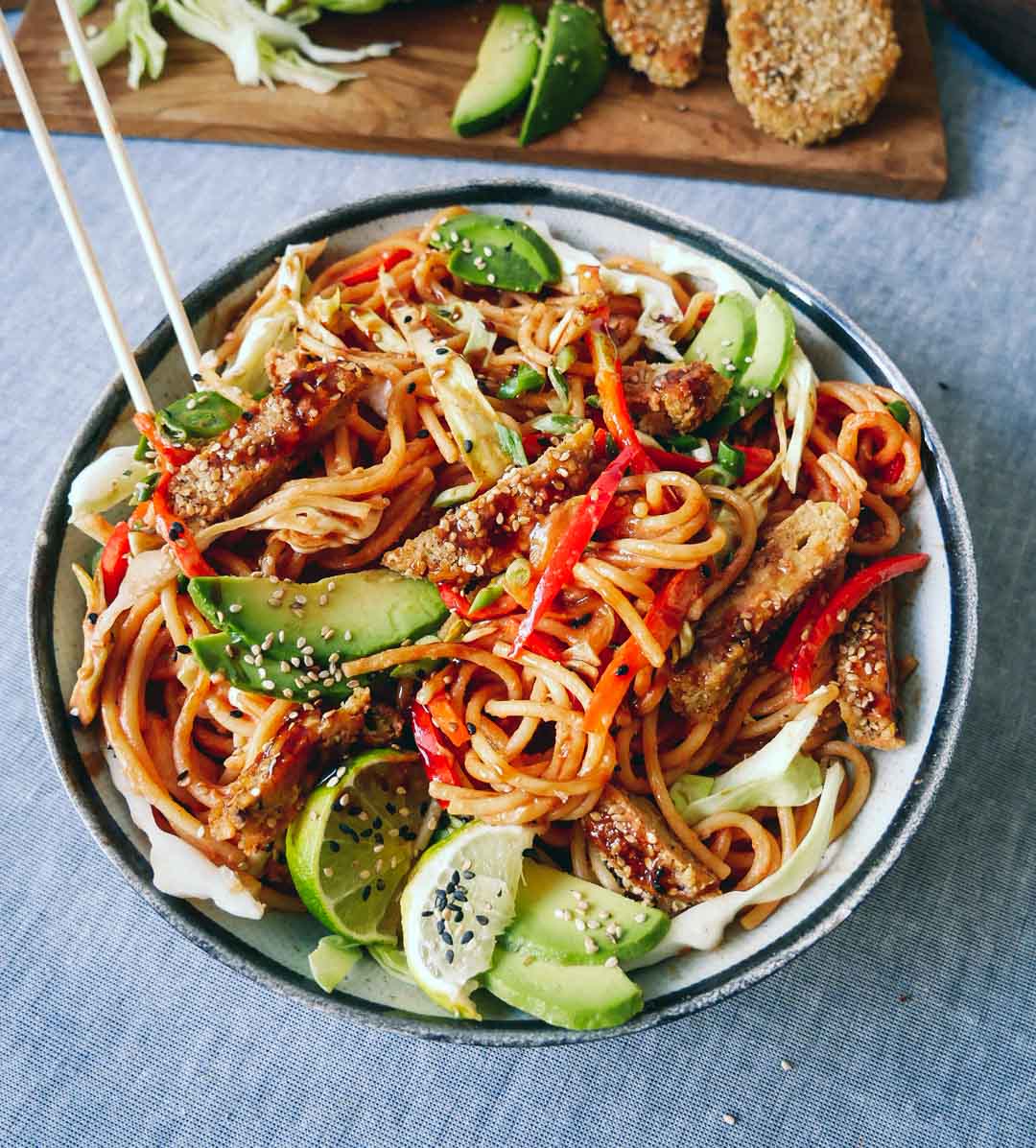 Healthy vegan asian spaghetti meal full of vegetables and a great sauce. An asian and italian mixed recipe, easy to make, and ready in only 15 min.
I kept the dish pretty simple and used what I already had at home. And I've read that's also what the Italians do. "Pochi ingredienti, tanto tempo" (few ingredients, long cooking time). An Italian expression that I believe in when making pasta and spaghetti recipes … Simple cooking with great and simple ingredients is key in the Italian kitchen – and in my kitchen as well. And this dish turned out way more better than expected.
One of the only things I can crave at all dinners is simple and comforting pasta dishes like this. Spaghetti with vegetables is perhaps not one of my most unique recipe ideas but it is easy and simple food at its best, so I thought it might be something you'd also be interested in making.
» In this meal: Crispy chickpea patties with sesame seeds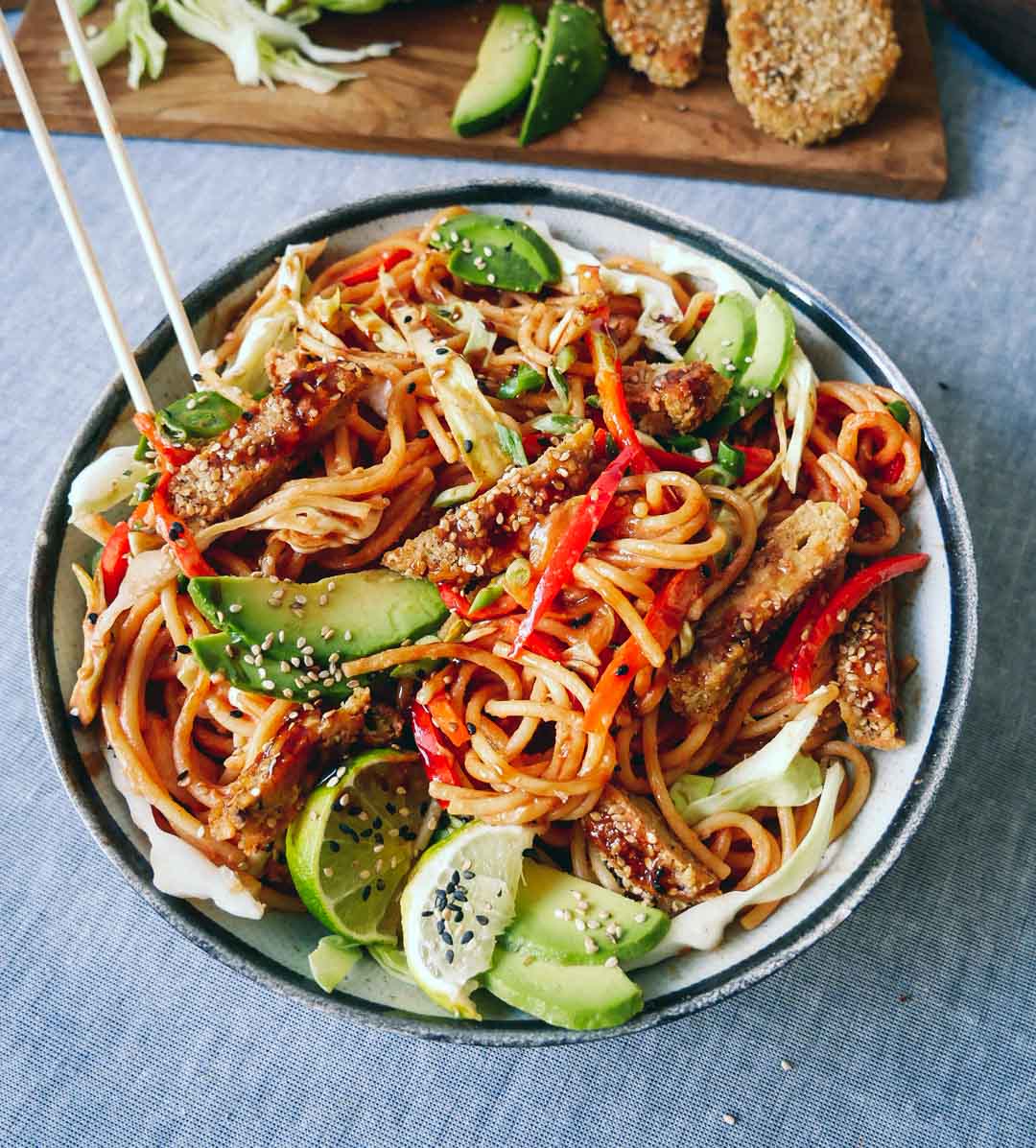 Print Recipe
Vegan asian spaghetti recipe
Vegan asian spaghetti recipe maded with vegetables and leftover chickpea patties. Healthy, easy and meaty dish with soy sauce - Ready in 15 min.
Ingredients
Spaghetti for 2 persons

1 red snackpepper

1 stem of scallion

A handfuld og cabbage

1 avocado

150g Chickpea patties, tofu og halloumi
Sauce:

3 tablespoon of soy sauce

2 tablespoon of ketchup

1 tablespoon of maple syrup

1 lime, juice and zest

1 teaspoon of chili
Instructions
1
Cook the spaghetti or pasta like recommended on the package.
2
While the spaghetti is cooking make the sauce. Mix soy sauce, ketchup, maple syrup, lime and chili - set aside. Chop the snackpepper, scallions and cabbage into thin strips.
3
Heat 1 tablespoon of olive oil in a small pan on medium heat. Add small pieces of halloumi, tofu or chickpea patties. Cook in a few minutes until golden and crispy.
4
Remove the water from the spaghetti and add the vegetables into the spaghetti pot. Add the sauce and mix around.
5
Decorate the spaghetti and vegetables on the plates, add pieces of avocado and crispy meaty chickpea patties. Drizzle with lime juice, sesame seeds, salt and pepper.
Italian and asian spaghetti recipes: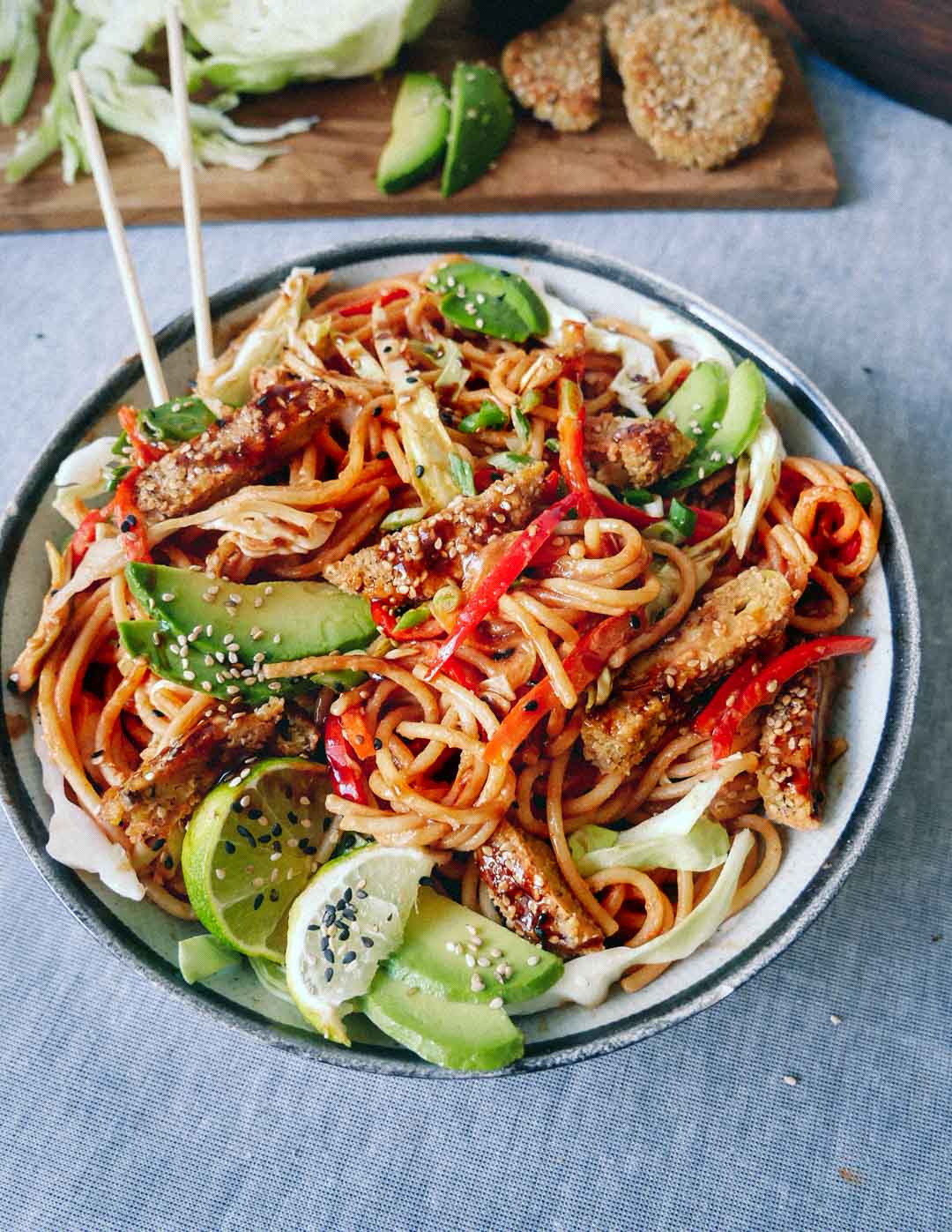 I often make my vegan asian spaghetti or pasta sauce like a "kid pasta sauce" that only contains tomatoes, onion, red lentils and sometimes grated carrot. I actually think it's still full of taste even though there is no added chili, harissa, garlic or black pepper. As it all simmers, the lentils use to dissolve into the tomato sauce and it all becomes so sweet and like 'smoothly textured'. And here it's a simple way for me to sneak extra nutrients or spices in a meal. This recipe is a slightly more adult approach. The sauce has quite more texture and a deeper flavour from the chili and soy sauce.
The chickpea patties works as replacement for the meat or chicken. The chickpeas add protein and have a crispy and tasty consistency. I use to combine chopped and grated vegetables to get a mix of textures.
Here I've added some red snack pepper, spring onions, cabbage and avocado. But you can of course add more veggies if you prefer. However, if you have some good leftovers: Mushrooms, zucchini or eggplant at home, they will work excellent in this recipe as well. They also add a meaty texture to the dish and make it even more packed with great and healthy vegetables.
Have a great evening – and enjoy!
Oh, and don't forget rating this recipe here if you try it. Always love to see and read what you think!