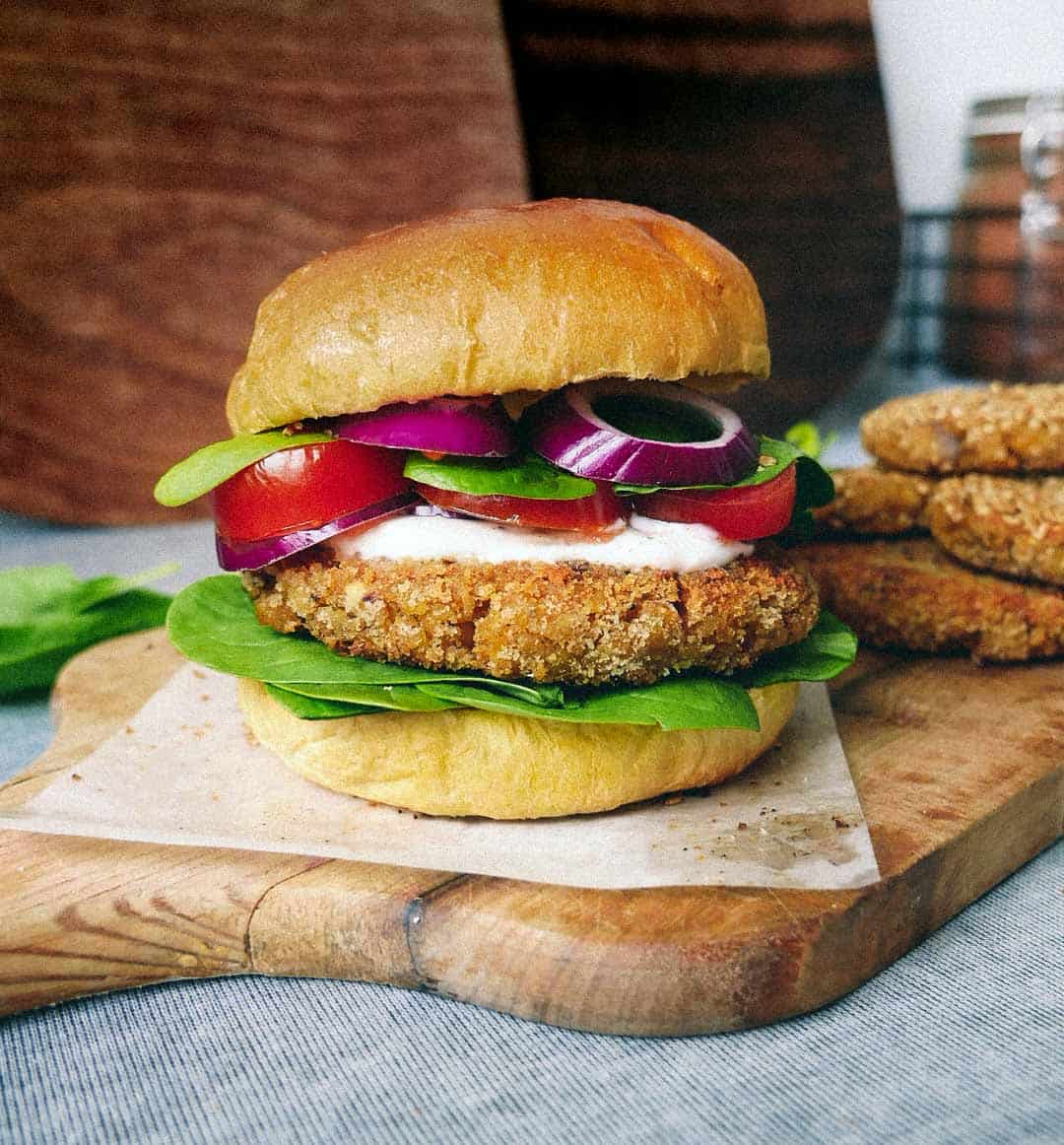 Easy vegetarian chickpea patties made with few ingredients. The perfect patty recipe for vegetarian burgers, in salads or with homemade dip. They're healthy, full of proteins, and the cumin and barbecue flavor will make you fall in love with this recipe.
This recipe is gluten free because I used oats instead of flour. Buckwheat flour will also work perfectly but you cannot omit oats or flour – Because or else they would not be able to shape. And it will be too hard for the dough to combine. These chickpea patties are made with one egg, but if you want a vegan friendly option then replace with 2 tablespoon of flax seeds and 3 tablespoon of water. Mix the two ingredients well together and let it rest for 12-15 minutes until you have a sticky texture. You can add this instead of the egg and it will combine the ingredients.
» Try also: Veggie quinoa patties full of spinach and feta cheese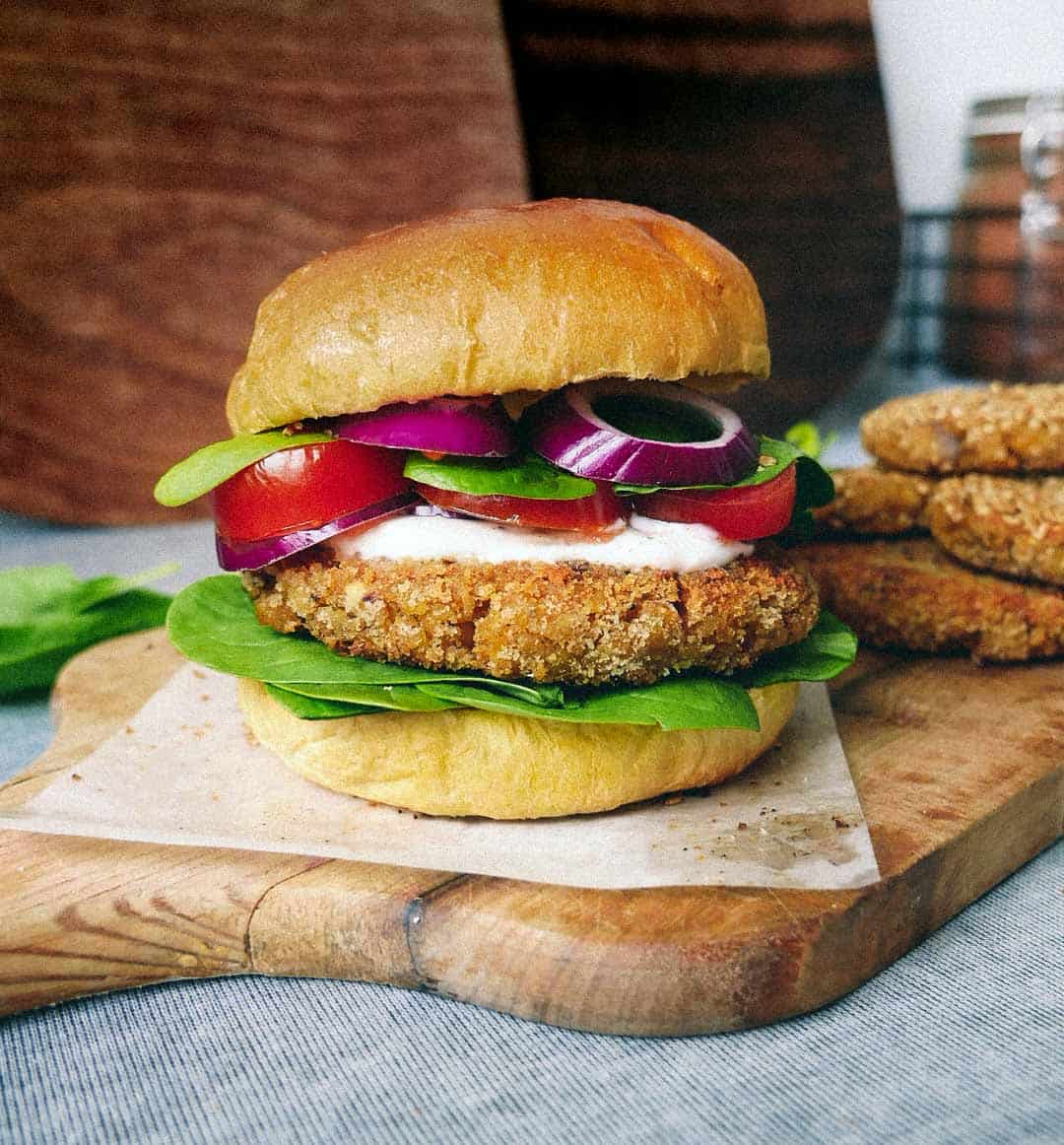 Print Recipe
Chickpea patties - vegetarian recipe:
Crispy chickpea patties full of protein rich chickpeas. Perfect for the next veggie burger night, use in salads or eat them with homemade dip.
Ingredients
240g chickpeas

2 cloves of garlic

1 red onion

Half cup of oats (or buckwheat flour)

1 egg (If vegan then replace with flax seeds and water)

1 teaspoon of cumin

1 teaspoon of barbecue

Salt and pepper
Instructions
1
Cook the chickpeas or use precooked. Mix all the ingredients in a high powered mixer or food processor until you have a good well-mixed texture. Let the dough rest in the fridge for about 30 minutes.
2
Form the dough like a round patty in the size you want and cover them in a bowl with sesame seeds.
3
Fry them on a pan covered with olive oil in 1-2 minutes until golden and crispy. Turn them carefully and cook 1-2 minutes on the other side. After this warm them on a baking tray covered with baking powder in the oven at 170°c degrees for about 15 min. The result should be crispy but still soft in the inside.
Good dinner ideas with chickpea patties: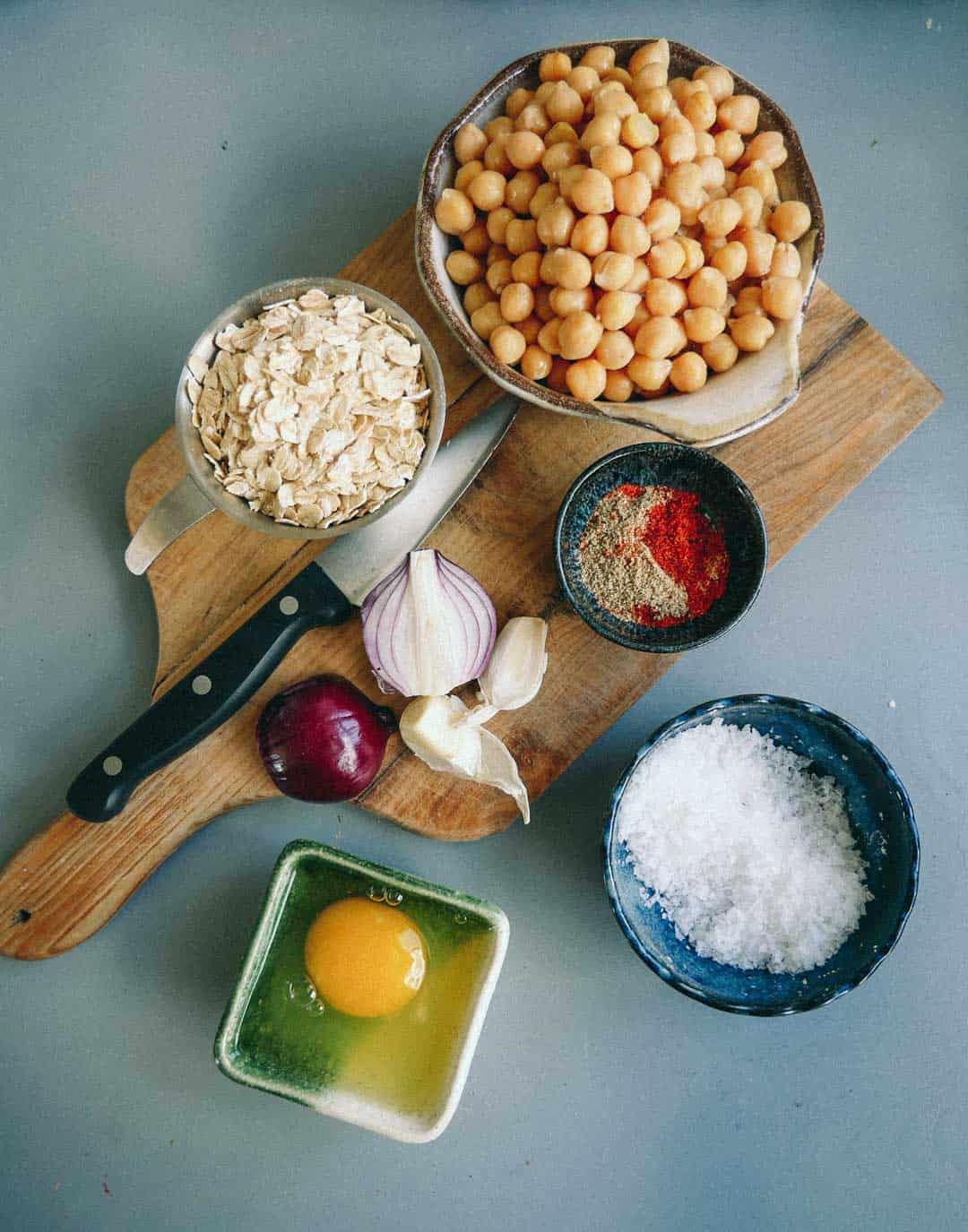 Chickpeas are also known as garbanzo beans – and I simply love to cook with them. Whether I'm using chickpeas for vegan and vegetarian patties and meatballs (which I do a lot) – roasting them in the oven – or adding them in green salads.
They are such a good source of protein, carbohydrates, and fiber. That's why they replace meat very well and keeps you full and satisfied for hours. You can buy the precooked chickpeas (240g), or you can soak them in water for 8 to 10 hours before cooking (it use to give the best results).
Chickpeas can be used in so many variations and dinner ideas. Both for breakfast like this chickpea omelette, brunch, a snacks with pieces of bread and for dinner. And as we all know the water from the chickpeas can be turned into the creamiest meringue in the world. Who had ever thought of that?
I made this recipe double in two big portions. One portion for burgers and one portion for 'chickpea snacks'. Making them into burger patties I got around 4-5 big patties, but making them half size I had about 8-10 patties. Of course it all depends on how big you make them. If you use them in burgers I can really recommend a good and creamy dressing, dip or mayo followed by fresh spinach leaves, tomatoes and red onions . Buy a good vegan mayo (I can recommend the plant based mayo from Naturli' foods) or you can make your own with all your favorite herbs and spices.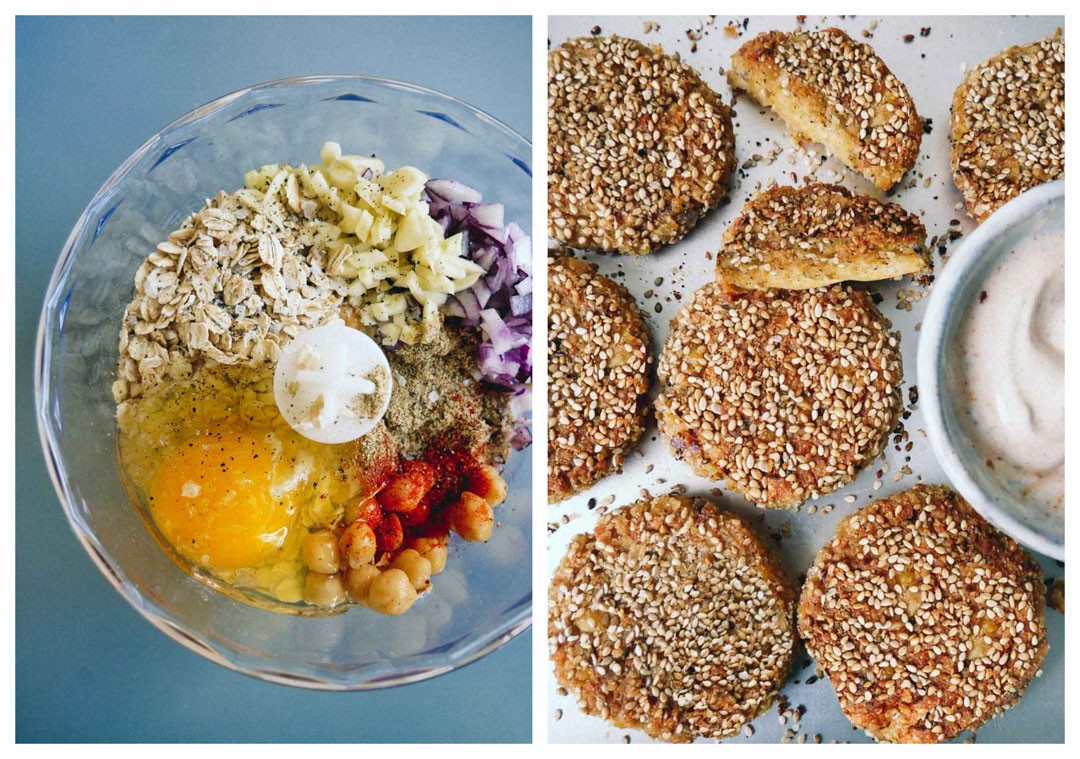 I hope you'll like this recipe – you can rate the recipe here below. Just let me know if you have any questions making them!