This Vegan Cauliflower Curry is made with small bouquets of cauliflower, lentils, vegetables, coconut milk and strong, spicy curry taste. Topped with beautiful green coriander and served with flatbreads and couscous.
One of the best lebanese inspired dishes I could think of! Perfect way to start the week (and january month too) with this simple but delicious one-pan recipe. You can use any leftover ingredients, and total cooking time is about 40 minutes.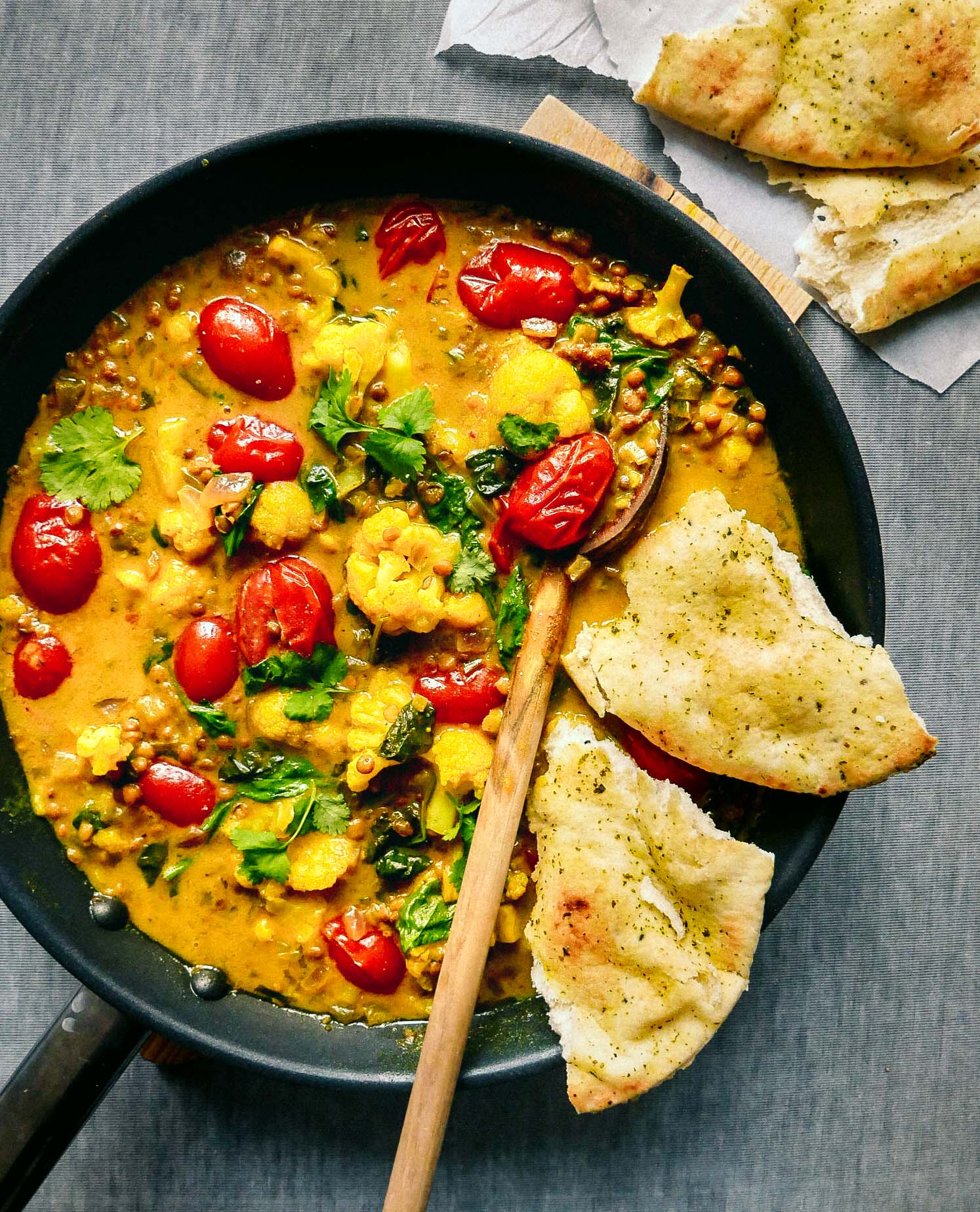 This coconut cauliflower is the perfect healthy (but still delicious) alternative to the traditional chicken curry. Cook the rice, couscous or bulgur as normal. And the curry has a quick 30-40 min. cooking time and uses only simple ingredients.
You can easily make this recipe on busy weekdays or if you have friends and family over for simmering food in weekends. This recipe is perfect for any night of the week. You can also make a big batch of this curry bowl, freeze down and have delicious food leftover for the rest of the week.
» Homemade flatbreads: The flatbreads are homemade and you can find my easy vegan recipe right here.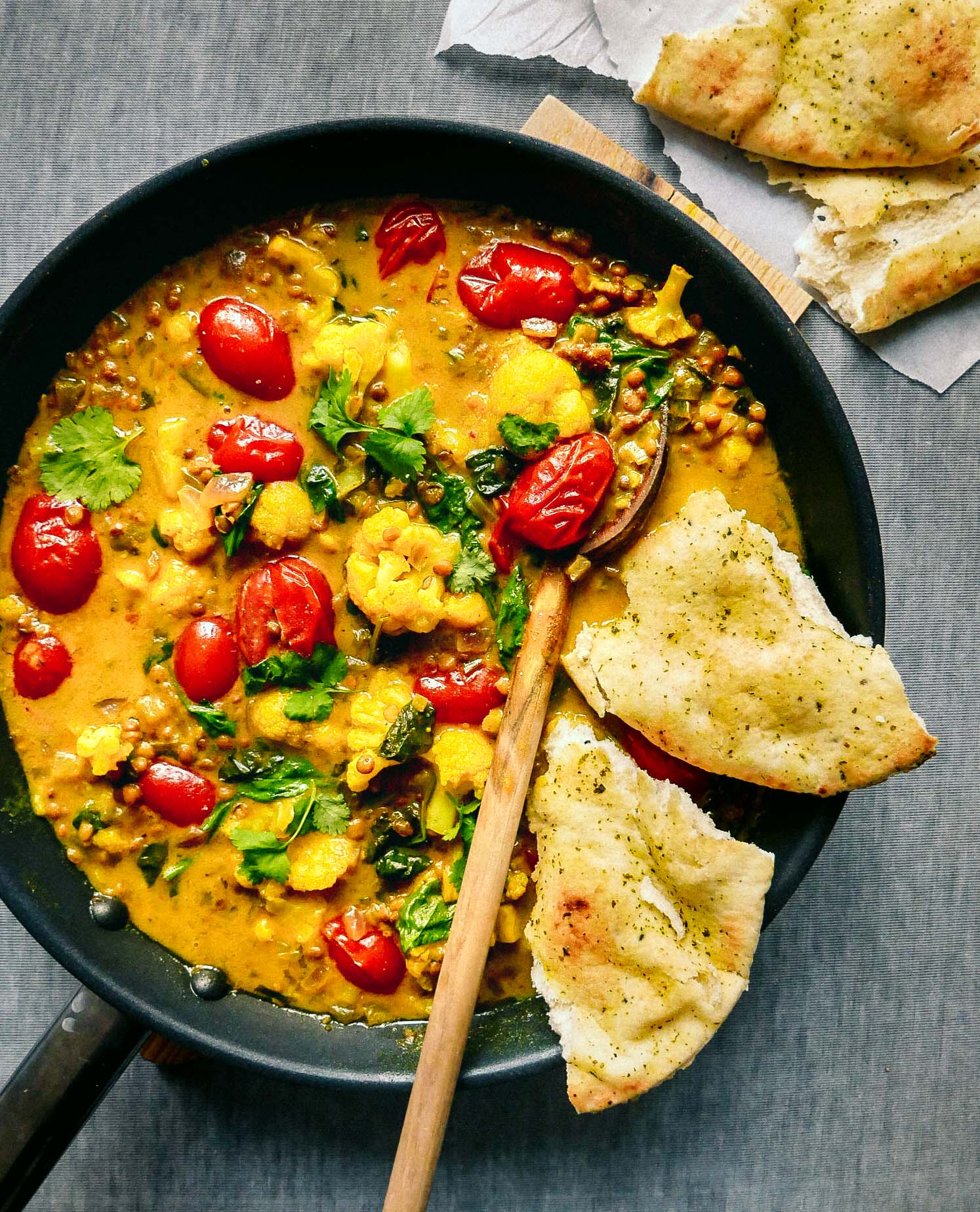 Print Recipe
Vegan Cauliflower Curry
This Vegan Cauliflower Curry is my winter go-to, served with coconut milk, lentils, tomatoes, homemade flatbreads, coriander and couscous.
Ingredients
1 medium Onion

2 cloves of Garlic

1 can Lentils of choice

2 teaspoons of Curry (Turmeric works too)

1 teaspoon of Cumin

500 ml. Vegetable broth

1/2 Cauliflower head

1 can of Coconut Milk

Juice from 1/2 Lemon

1 cup of Plant Milk

Handful of Spinach

Handful of Tomatoes

Salt and Pepper

For serving:

Couscous, coriander and flatbreads.
Instructions
1
Finely chop onion and garlic. Add on a pan with a few tablespoon of olive oil.
2
Drain the lentils and add into the pan along with curry and cumin at medium heat. Add the vegetable broth along with small chopped bouquets of cauliflower.
3
Add the coconut milk and lemon. Stir around and let simmer for 15 minutes.
4
If the texture gets to thick, add 1 cup of plant milk. The curry needs to be creamy, saucy but still thick.
5
Taste with salt and pepper (and more spices if needed). Add one handful of fresh spinach and the tomatoes. Let the curry simmer for 10-15 minutes more.
6
When you're satisfied with the taste serve the curry with couscous, flatbreads, dressing etc. Decorate with coriander on top.
What to serve with the Cauliflower Curry?
If you're inspired from the Lebanese kitchen I can really recommend using some flatbread or couscous along the dish. Rice is also very delicious to serve, but I make rice very often – so for me couscous or bulgur would be my favorite go-to!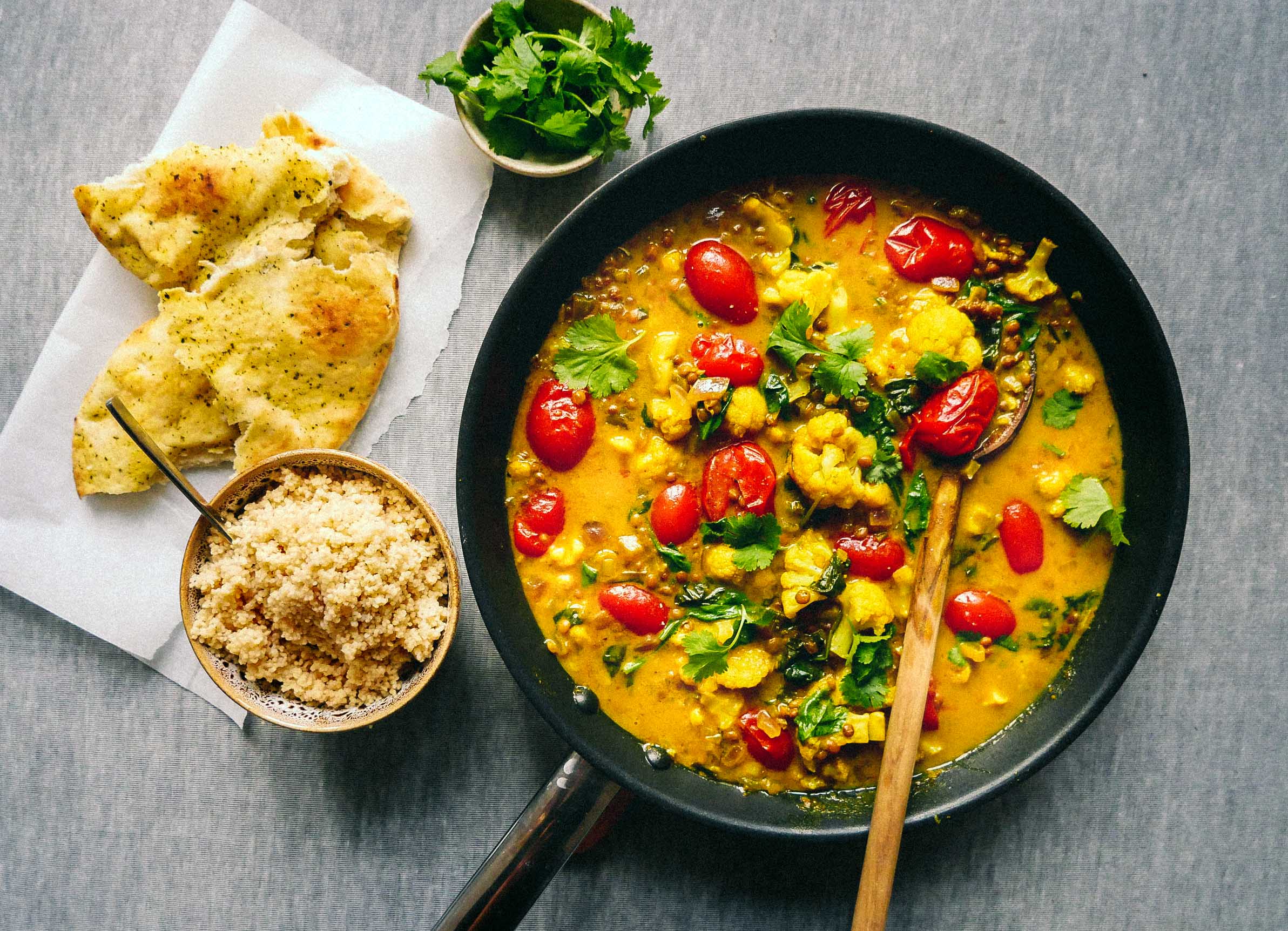 If the curry gets so strong it's also delicious to serve some cold, fresh and neutral tzatziki or other cream along the dish. I have this easy vegan tzatziki recipe here, if you want to make this too! You can easily make it the night before, keep in the fridge and serve directly to the warm and spicy curry.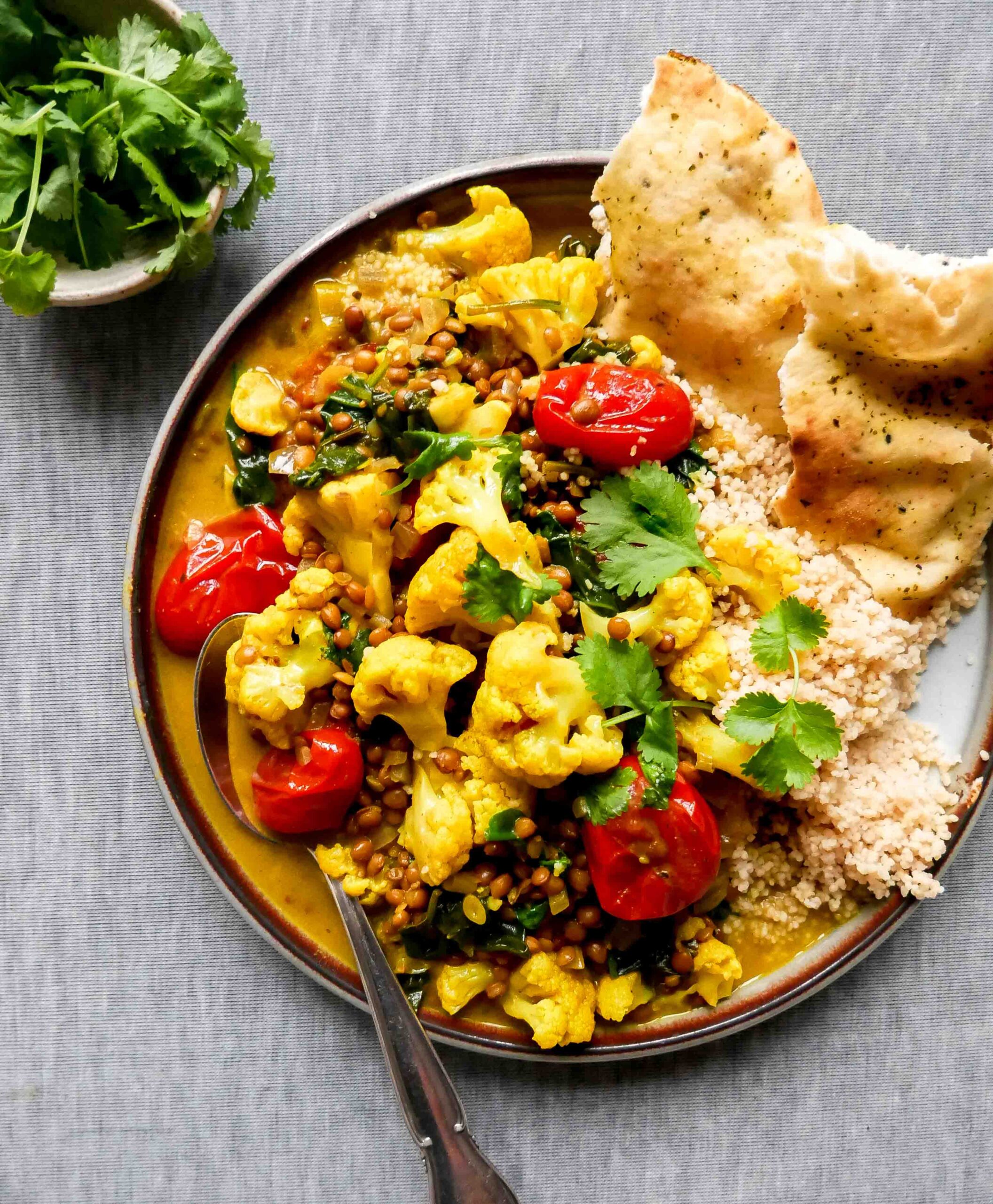 I hope you could use this easy and delicious winter-ish recipe! If you do make this recipe, don't forget to tag me on Instagram: @micadeli_
Did you like the Vegan Cauliflower Curry? Help me rating the recipe right here ↓