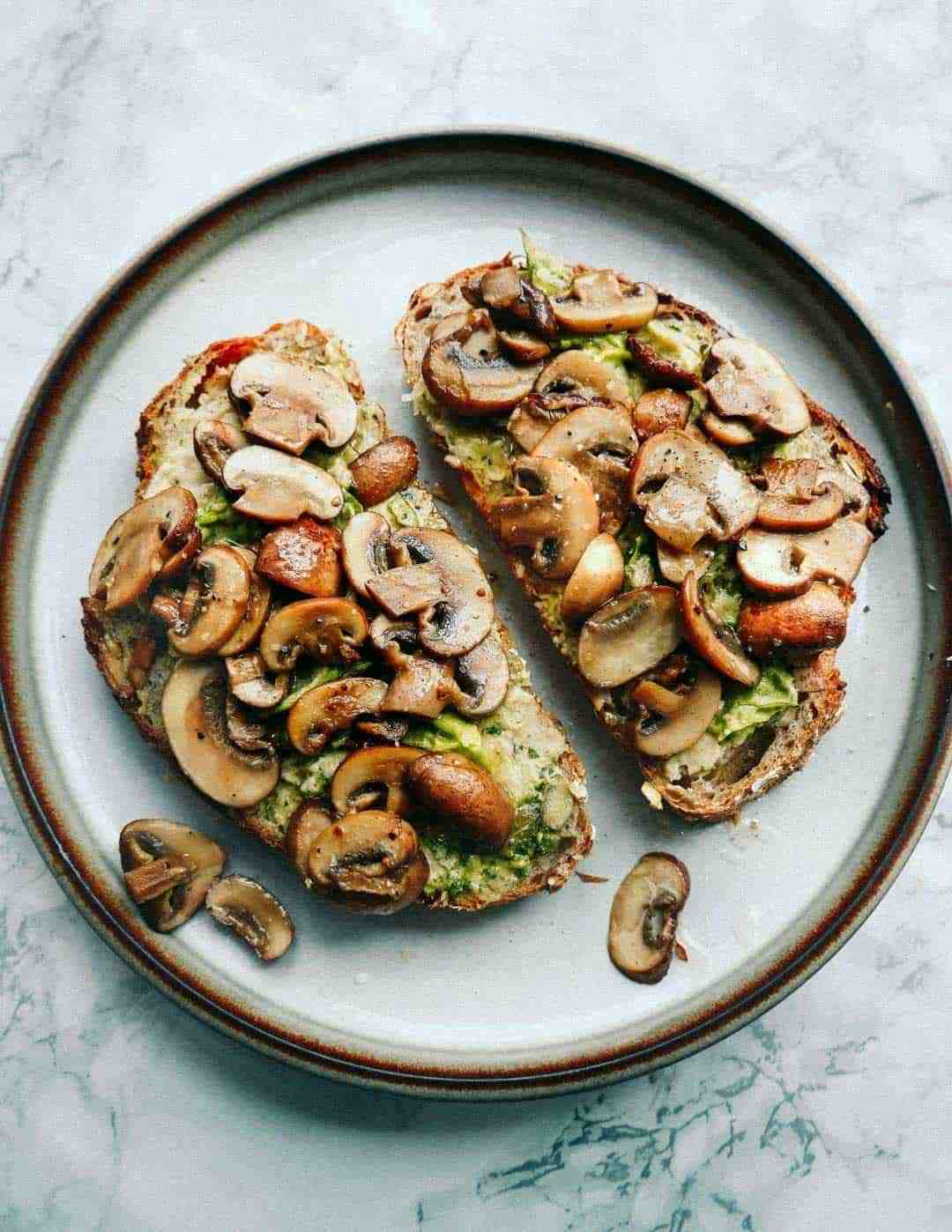 Best, Easy and Creamy Mushroom Toast – Vegan version.
I've got so much great feedback on this creamy garlic mushroom toast. The absolute best vegan toast appetizer. So creamy and tasty with these mushrooms in season.
I've shown you this recipe before on Instagram, but now you also have the full recipe here. You can find the avocado creme here too. It's a perfect dip to make with this recipe and spread on the toasts.
I think I made this recipe 3 times last week. It's a time savior cause it only takes 10 minutes to make and then it's actually a pretty healthy recipe. Delicious for breakfast too (without garlic and onions), lunch, an appetizer or a side dish.
I hope you will like this recipe just as much as I do. Get the recipe right underneath.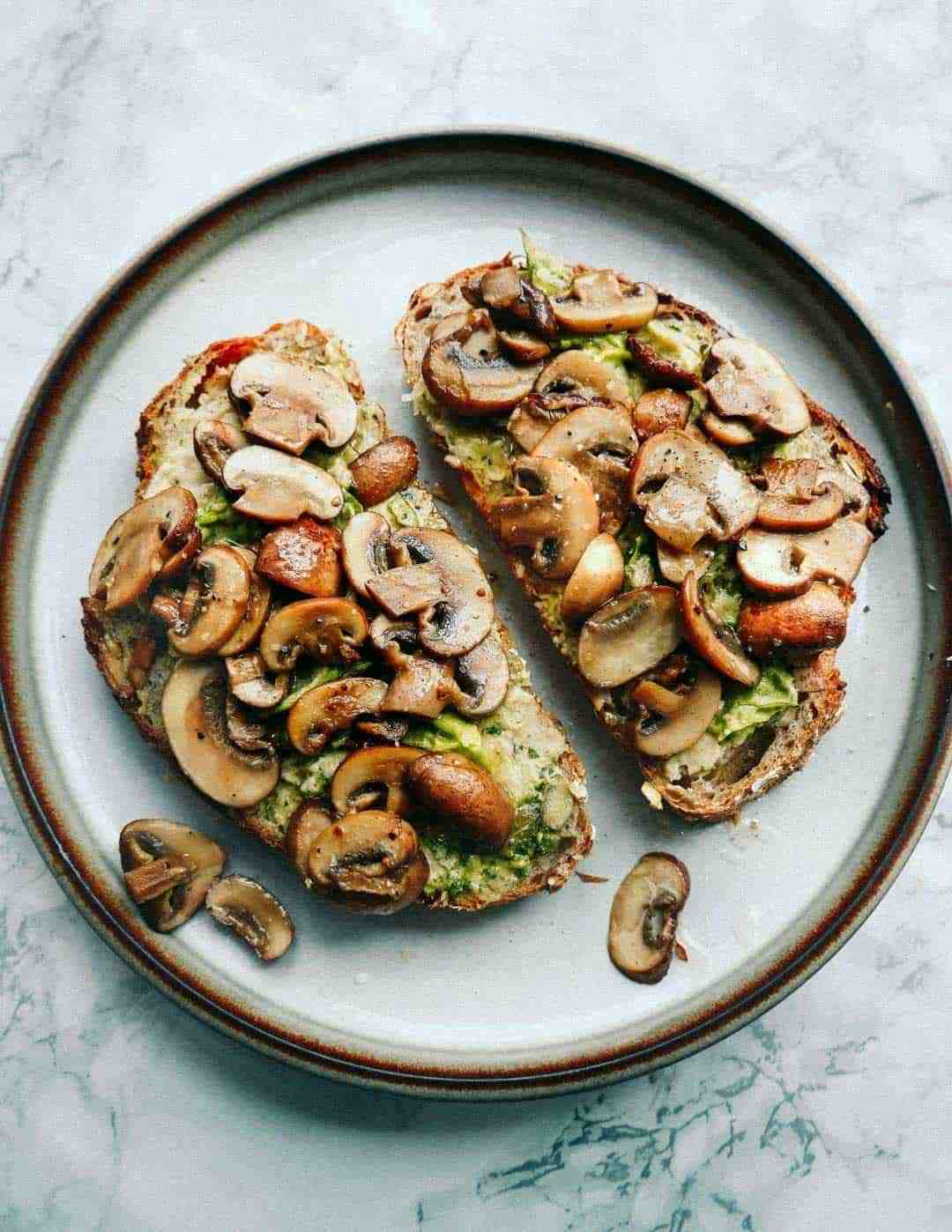 Print Recipe
Mushroom Toasts:
Mushroom Toasts – A simple 10 minute plant based recipe. The creamiest toasts with mushrooms, garlic and avocado dip. So creamy, easy and healthy. Get my full recipe here.
Ingredients
One big handful of fresh organic mushrooms, chopped

1/2 onion, chopped

1 big garlic clove, chopped (can be omitted if you're using the avocado dip too)

1/2 teaspoon chili flakes

Squeezes of half a lemon

2-3 tablespoon of olive oil

Drizzle with salt and pepper
Instructions
2
Then chop your onion and garlic, and place in a pan with a good drizzle of olive oil. Cook over a medium heat until soft.
3
Add the mushroom slices and give it all a good stir with the lemon and chili flakes. Leave to cook for another 5-6 minutes until soft.
4
Warm your sourdough bread.
5
Add the creamy avocado dip on top of the crispy bread, and spoon your mushrooms on top of the toast. Add lemon, salt and pepper. Enjoy!
Don't forget the avocado creme..
I always make these creamy mushroom toasts with a lot of good avocado dip – go find my full recipe here. Only made with avocado, olive oil, lemon, onions, garlic, salt and pepper – and sometimes spinach or parsley. So easy to make and taste SO good. Sometimes I also use the creme in burgers, this delicious winter bowl with rice and spinach or dipping for green soft falafels.
I'm pretty obsessed with mushrooms. I just love their texture and their ability to absorb so many flavors, which is why they work so well in almost all combinations. Perfect for soups, garlic recipes, stews or other good cooking recipes. Really simple to make, whether it's for snack, lunch or dinner. It's so easy to make – stir all the ingredients together, warm your toast and when ready; Add the creamy avocado dip, spoon your mushrooms on top of your toast and serve with lemon and a sprinkle of salt and pepper.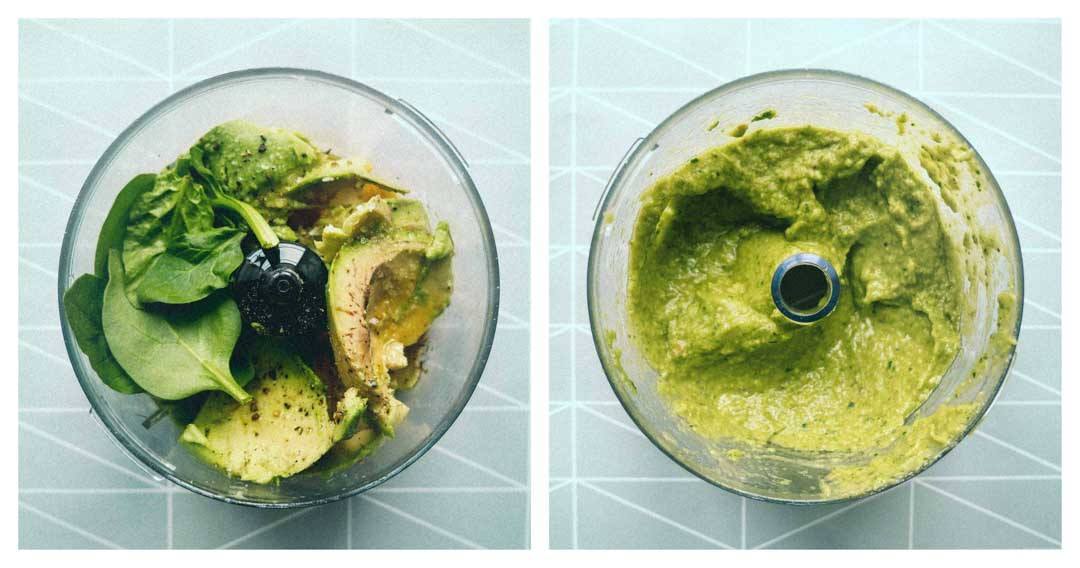 ~ I use to make this avocado dip in two portions. Simple avocado dip mixed with a couple of spinach leaves, garlic, lemon, salt, pepper and half cup of olive oil. Find the original recipe here.

~ Fresh seasonal mushrooms washed and ready to be cooked.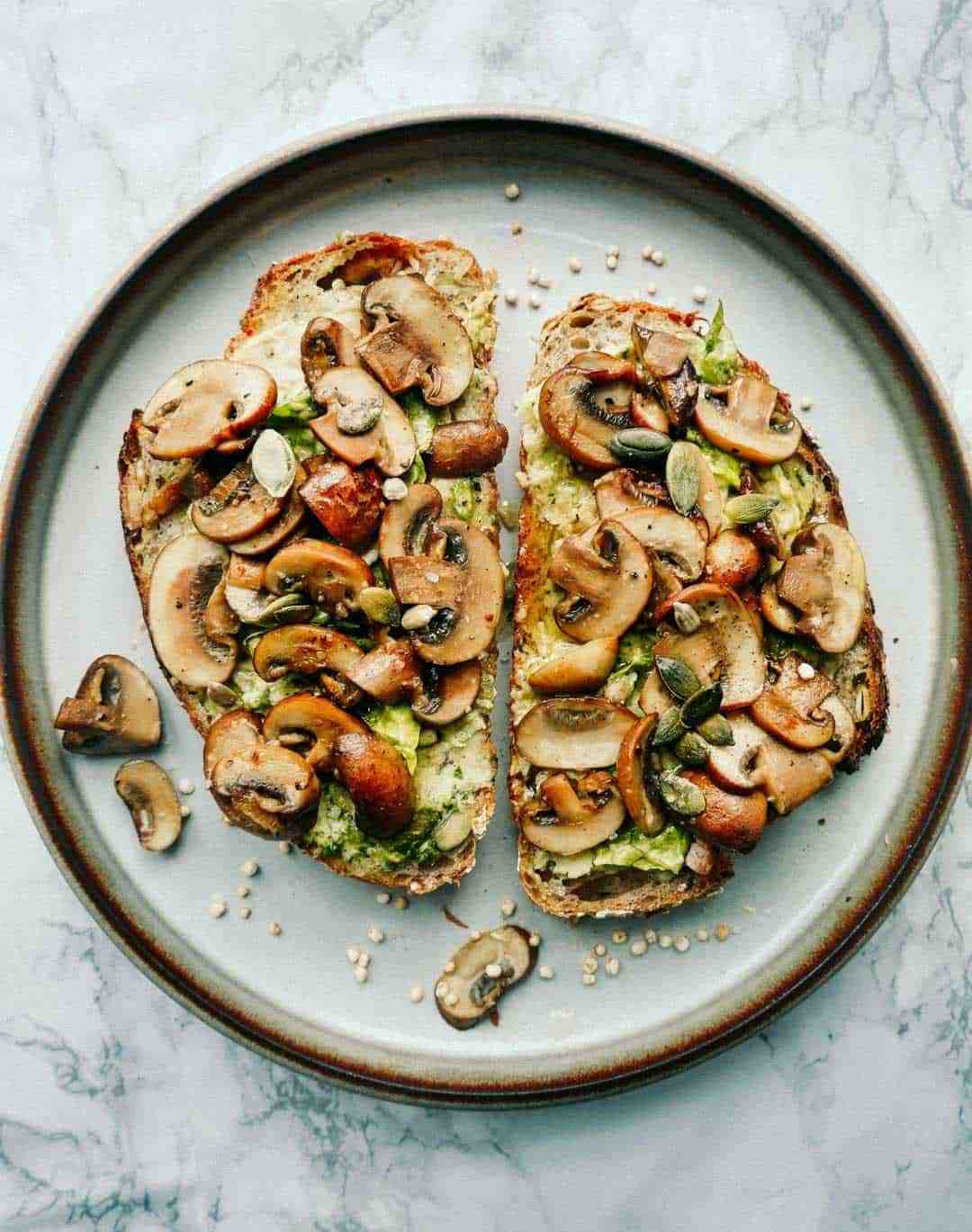 ~ So good. One of the best snacks for breakfast, lunch, dinner or side dish. I really hope you will love this recipe as much as I do! Inspired of garlic and thyme mushroom toast from Deliciously Ella.
Do you like this recipe? Rate it below ↓