This VERY simple rice paper rolls are perfect for a simple lunch or dinner – and they are packed full of fresh and healthy veggies! And served with the best peanut sauce you've ever had!
Important! I will highly recommend you to use leftover ingredients you already have in your kitchen. The vegetables I used for this was my leftover vegetables – but can easily be replaced with similar.
And now for the speaking of dip. I, of course, opted to make a Spicy Peanut Butter Sauce with these rolls.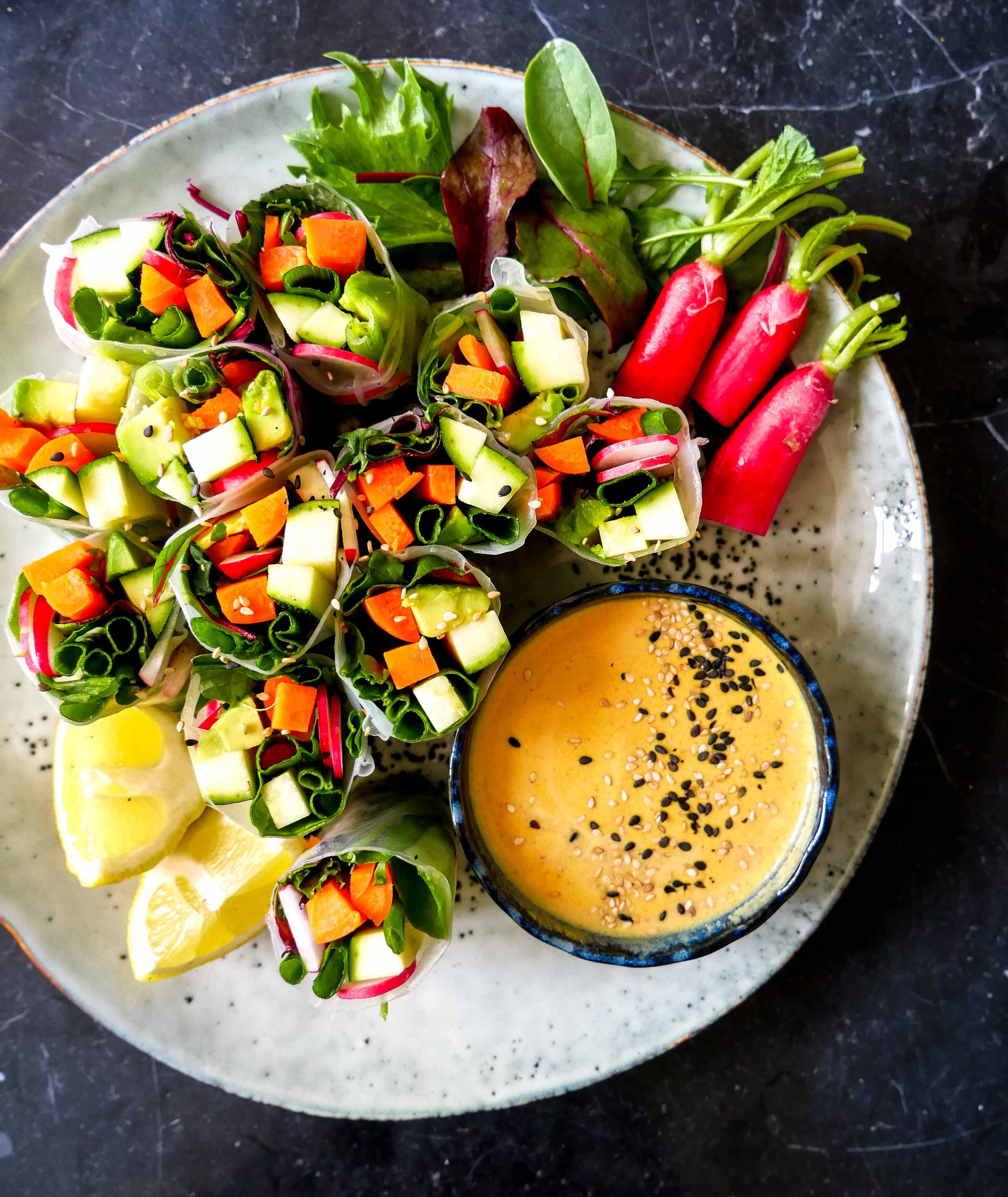 Any reason to eat more peanut sauce, right? This one turned out so good, and I will definitely use this for more recipes! But, you could also use a basic sweet chili sauce, teriyaki sauce or even a dill dressing would do the job perfectly too.
Make these ahead of time for an easy lunch or dinner – they will last for about 2-3 days in the fridge.
NB! This recipe if for one portion, as you can see on the picture. You can easily adjust and double up for a bigger portion.
» Maybe you'll also like: Vegan vegetable spring rolls recipe – also with leftover vegetables!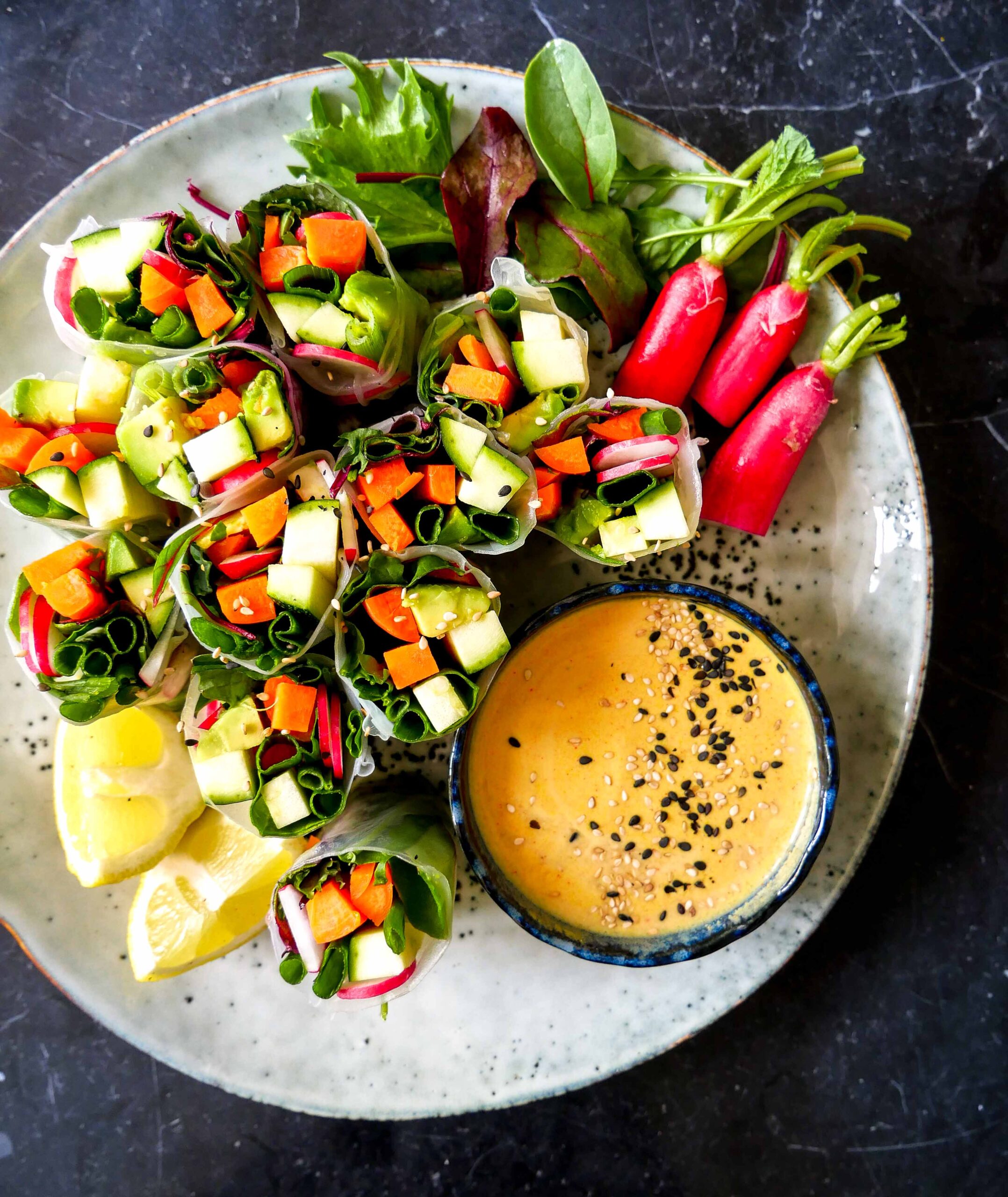 Print Recipe
Vegetable Rice Paper Rolls with Peanut Sauce.
Vegan, healthy vegetable rice paper rolls served with creamy and spicy peanut butter sauce. Use leftover ingredients and serve in 20 min.
Ingredients
Rice Paper Rolls:

2-3 Carrots

1 Avocado

2/3 Cucumber (or zucchini)

Handful of Spinach (or other salad)

2-3 Spring Onions

Handful of Radishes

2-3 Rice Paper Rolls (for 1 portion)

Peanut Sauce:

1/2 cup peanut butter (chunky or smooth, what you'd prefer)

2 tablespoon sesame oil (or other light oil)

2 tablespoon soy sauce or tamari

1 teaspoon chili (optional)

1 clove of garlic, pressed

1/4-1/2 cup water as needed

Juice from 1/4 lime or lemon

Salt and pepper
Instructions
1
Wash and prepare all the vegetables and chop in thin slices. Fill a large bowl or pie plate with hot water. Soak a single rice paper in the hot water until it's completely soft and flexible. (This can take anywhere from a few seconds to 30 seconds depending on the brand/type). I have best results soaking them for about 20 seconds. Gently shake the excess water from the rice paper, lay it straight out onto your work space.
2
Lay the vegetables down in the middle of the wrap. Hold the wrap firmly while you fold in each end of the wrap.
3
Peanut sauce: Make the sauce by adding all ingredients to a blender or food processor. (You can also mix in a bowl with a spoon.) Adding some water as needed, until smooth and desired consistency is reached.
4
Chop the rolls in 3 pieces and serve along with peanut butter sauce.
Why you need sauce to serve with rice paper rolls.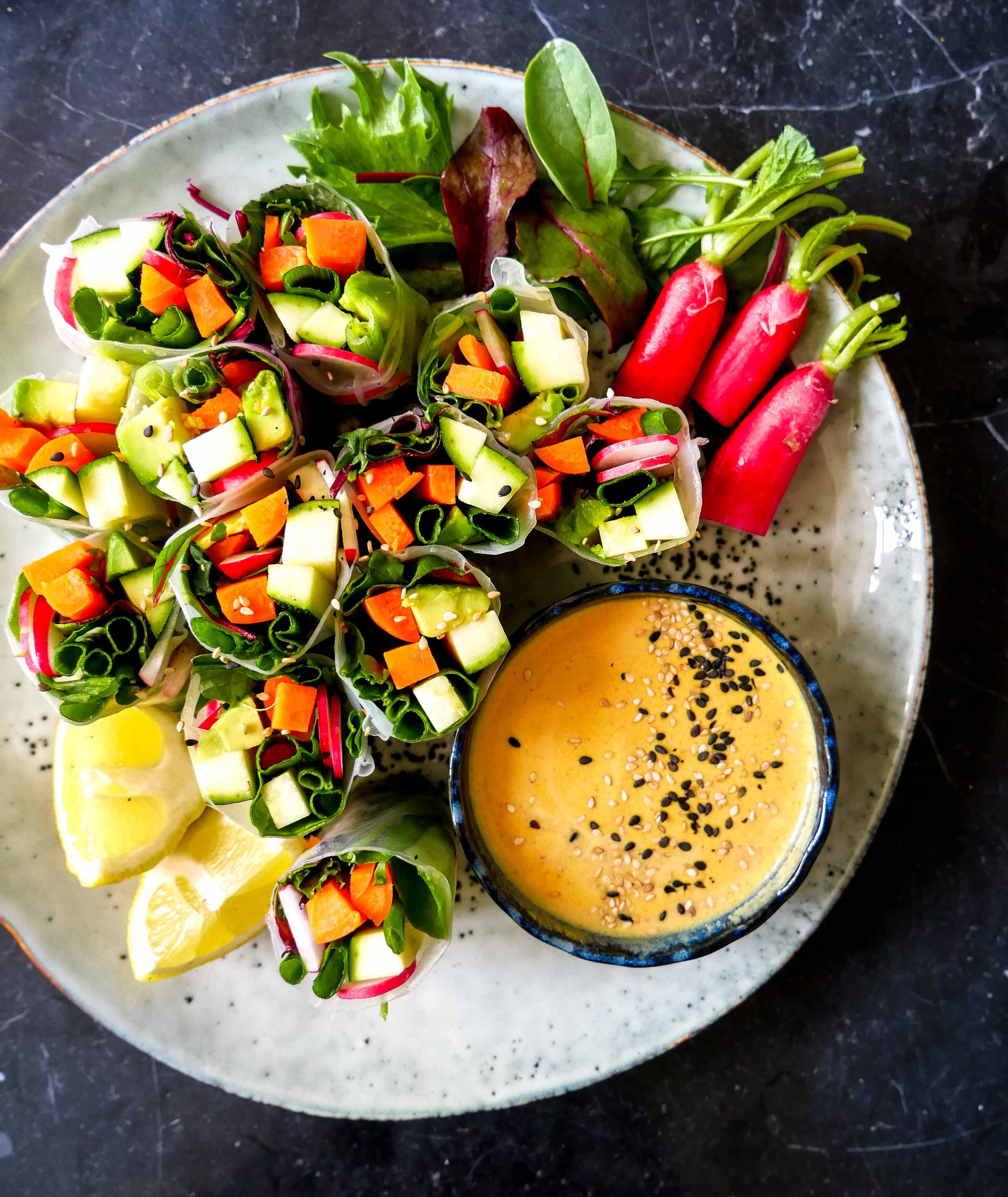 Even though you're making cold rice paper rolls or spring rolls the dressing, sauce or dipping is always the key and the reason you ask for another portion. For me this peanut sauce is the perfect dip or dressing for salads, spring rolls or rice paper rolls. Normally I'm not into spicy sauce, but this Spicy Peanut Sauce is a delicious blend of flavors that is finger licking good..
And you know why I use it so often? Because it is freaking delicious for almost any recipes!
There is just something special about the combination of peanut butter with soy sauce, garlic, sesame oil (or other light oil), a little lemon or lime and the touch of chilli – that makes your tastebuds do a happy dance. AND, not only is it super tasty, it is also ridiculously easy to make.
Want less spicy? Make sure to use garam masala, harissa or similar – or simply use less chilli.
If you make this recipe (and shared some of the pictures too) be sure to tag me on Instagram: @micadeli_
Would love to see your results and feedback with the peanut sauce!
Do you like this simple rice paper rolls recipe? Rate it below ↓