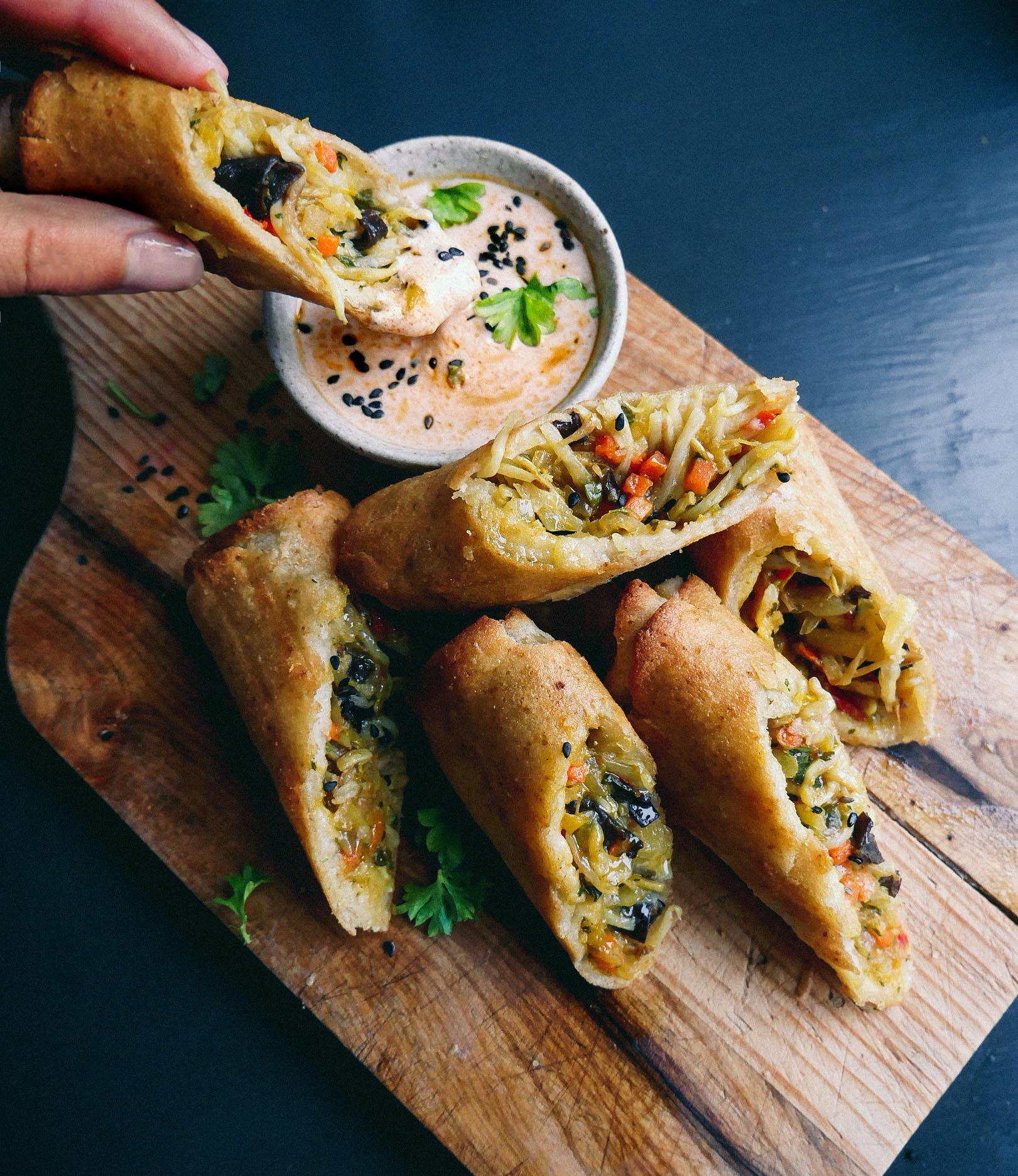 Finally I've shared this vegan vegetable spring rolls recipe with you. You have been asking how to make these and which ingredients I've used. These rolls are actually very simple to make – and you can easily add any leftover vegetables.
Ever wondered how to make spring rolls? The key to making these spring rolls is to have all of the filling ingredients prepared. The paper wrapper can be a little sticky and delicate (like rice paper rolls) so working quickly is crucial.
I think this spring roll recipe tastes good without any condiments. But I also like an very old classic: The Worcestershire-based dipping sauce.
I tried this in New York's Chinatown, where I had my first taste of dim sum spring rolls. A little tangy but goes nicely with the fried spring rolls. You can read my favorite ingredients for dipping sauce underneath.
» Try also these: Asian inspired fried & sweet caramelized tofu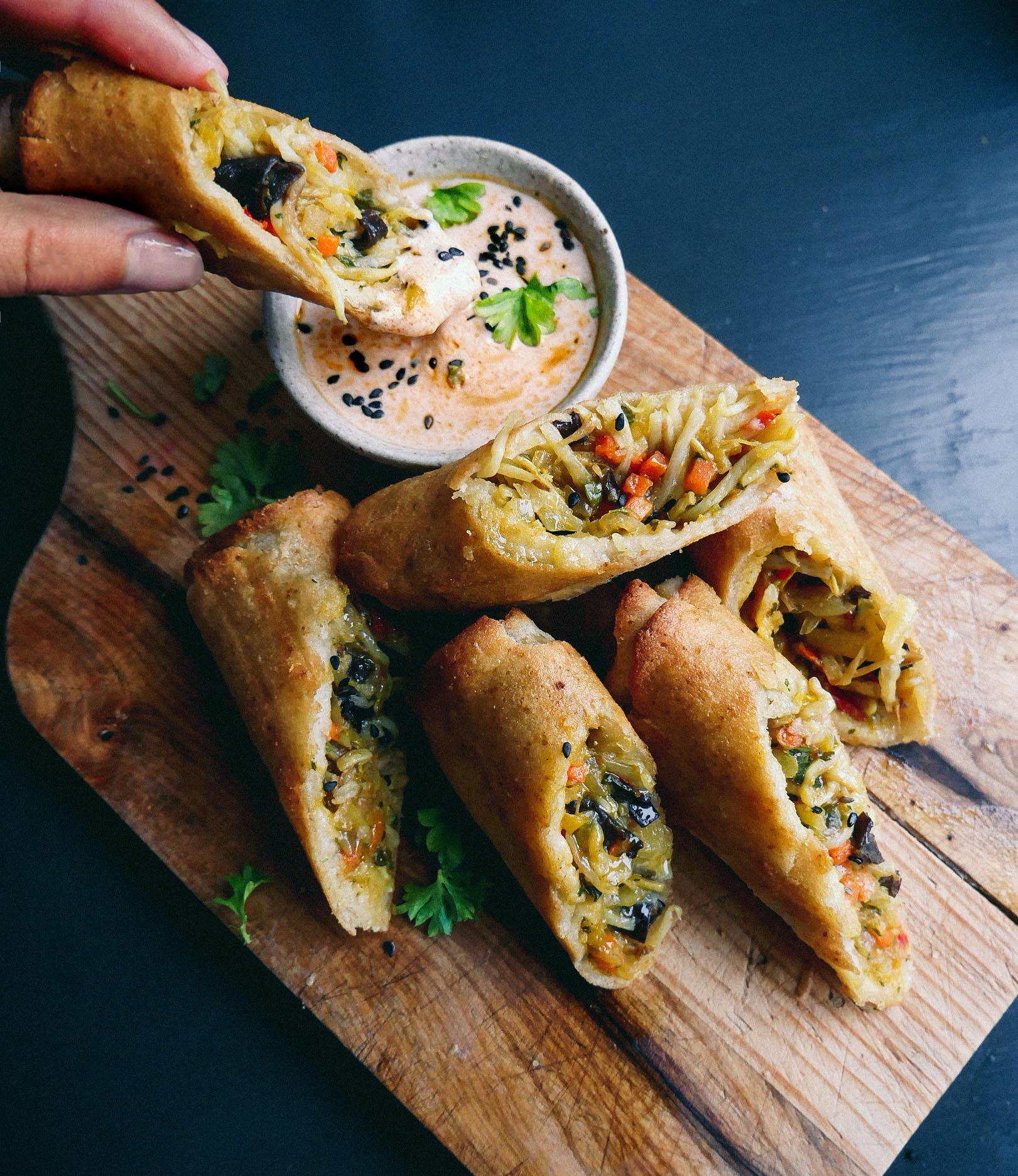 Print Recipe
Vegetable spring rolls recipe:
These vegan vegetable spring rolls are filled with good leftover vegetables – served with a soy asian inspired dipping sauce. Ready in 40 min.
Ingredients
2 tablespoon Olive oil

1 clove of Garlic

1/2 cup of Bean Sprouts

1 cup of shredded Eggplant

1 cup of shredded Cabbage

1 cup of shredded Carrot

1 small Spring Onion, chopped

1/2 tablespoon Salt + Pepper

3-4 round flour wrappers (I like the thick ones you can buy)

Oil for frying
Instructions
1
Finely chop all the vegetables you want to use and cook on a warm pan with 2 tablespoon of olive oil. Cook until nice and soft.
2
Use 3-4 round flour wrappers, use the traditional thin ones or thicker ones (I like the thick ones you can buy). Dip the wrappers into a bowl of water so they gets soft and workable. Be careful so they're not breaking.
3
Place the wrappers down flat on a plate. Add you favorite filling on top. Be careful not to add too much filling. Wrap them together.
4
Add some olive oil in a small sauce pan (it needs to fit the size of the spring rolls). Fry the rolls in some hot oil until they are light brown and crispy.
5
Serve the vegetable rolls with your own homemade dip (go find my tips and tricks underneath) or serve with soy sauce or sweet chili sauce.
.. But how to fold a spring roll?
Nagi from RecipeTinEats have shown in 1 picture how to wrap and fold them (if you want to do it in a more correct way). But as I said you can do it just the way you like it. I doesn't need to be more complicated than that 🙂
You can buy the spring roll wrappers many places at Asian grocery stores. And though nowadays, spring roll wrappers are now widely available in Europe in large supermarkets. I found some very thick wrapper from an Asian supermarket here in Copenhagen and I liked the thick consistency. But I think the thin ones are way more easy to find.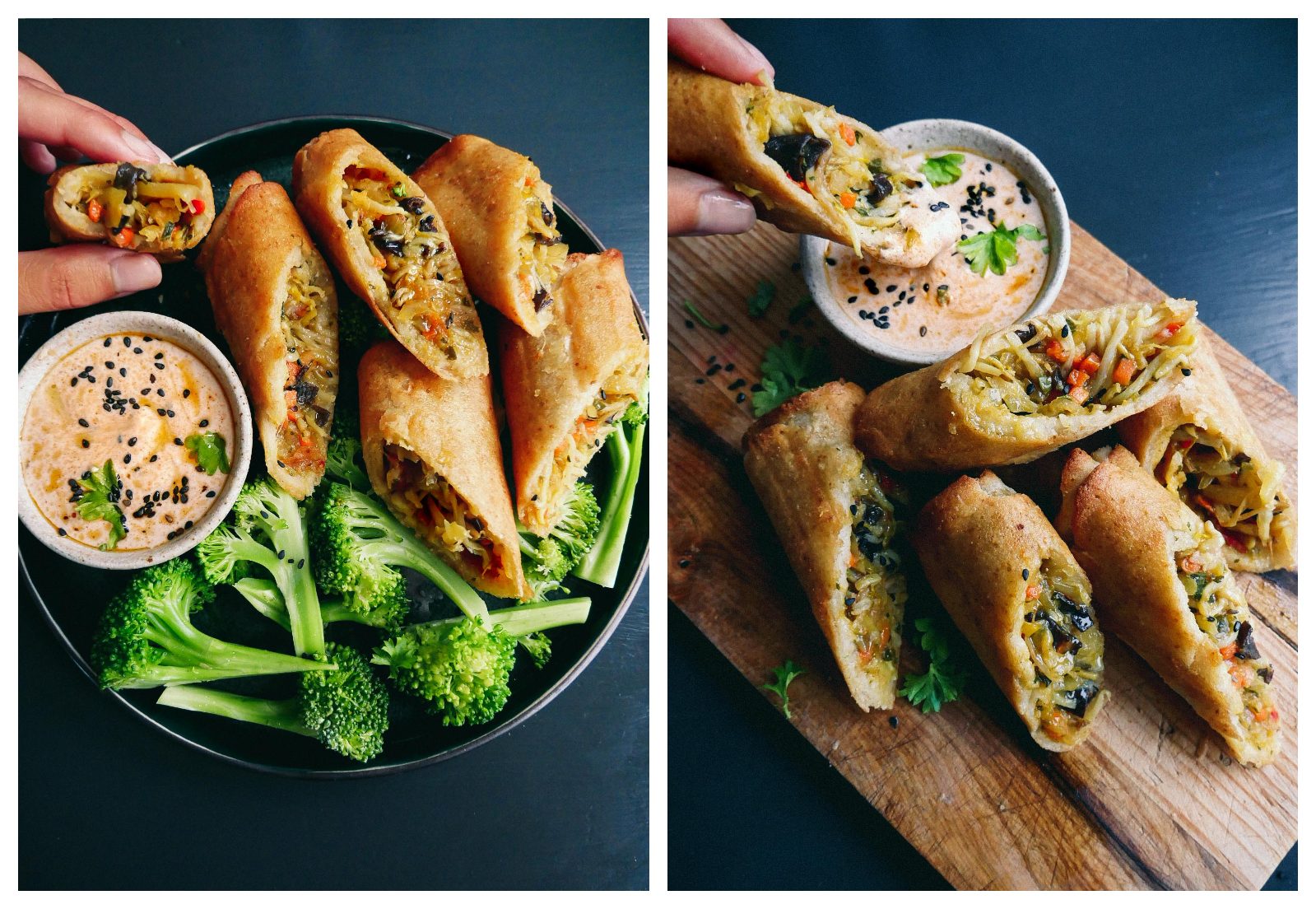 Dipping sauce for vegetable spring rolls:
No spring rolls with out the perfect dipping sauce. I use to make a regular one with ingredients "I always have in the kitchen". A lot of you are asking for my recipes when posting something with dipping sauce or cream. But I always throw some random ingredients together and hopes for the best. My best tip is to always to have soy cream, salty soy sauce, some sourness like lemon or lime, black pepper, spices like paprika, barbecue spice, cumin – and don't forget some sweetness like maple syrup, honey etc. Experiment with your favorite dipping sauce ingredients and make your homemade sauce the best one in town.
Preferred dipping sauces are actually different for the Shanghai and Cantonese clans. Traditional Spring rolls from Shanghai are almost always served with vinegar.. But dim sum can be served with whatever condiment. Some like it with plum sauce, vinegar, hot oil, chili garlic sauce or just plain soy sauce.