Creamy Mushroom pasta dish – 15 minute recipe:
This perfect and most creamy mushroom pasta recipe. Mushrooms is now back in season, and some of you have asked for this vegan pasta mushroom recipe earlier. This 15 minute pasta is so easy to make and you easily use leftover ingredients or other favorite seasonal vegetables. I love to make these very quick and easy pasta recipes for weekdays. Very often I also make this Creamy Pasta Penne recipe with pesto. Finish after 10 minutes – and taste so good every time. In this Rigatoni Pasta I used portobello mushrooms because they taste great right now because of the season. I also added lentils and fresh parsley. But with almost all vegetarian pasta dishes you can add all vegetables you want.
I also want to thank you so much for all your inquiries and interest in my food recipes specially on Instagram. It means so incredible much that you like it.. This recipe easy 15 minutes recipe is now available underneath. Bon appetit.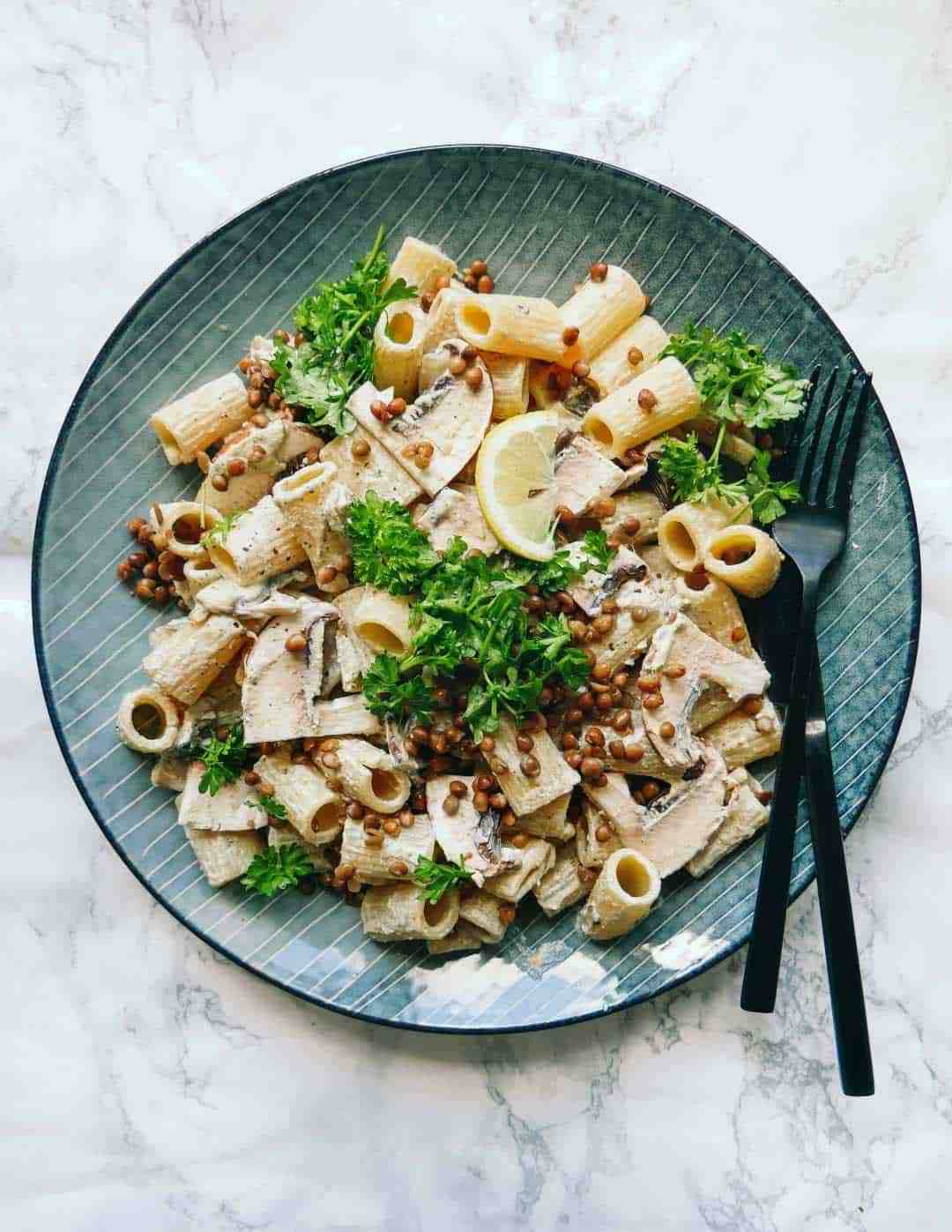 Print Recipe
Mushroom Pasta:
Creamy mushroom pasta – 15 minute recipe. Only vegan ingredients. Recipe made with Rigatoni pasta, portobello mushrooms and parsley. A very simple and quick pasta dish.
Ingredients
A big handful portobello mushrooms, around 200-250g

Pasta rigatoni or other large pasta tubes

2 tablespoon of olive oil

1 clove of garlic

1 little onion

1 cup of soy cream

1 can of lentils

juice from 1 organic citron

a handfuld of parsley

Taste with salt and peber
Instructions
1
Chop your onion (and garlic) and place in a pan with a good drizzle of olive oil, cook in a minute over a medium heat until soft. Wash and chop the mushrooms in smaller slices.
2
Add the mushroom slices and give it all a good stir with the juice of lemon. Not too overcooked, but just caramelized and golden. Leave to cook low for another 5-6 minutes until soft while making the pasta.
3
Meanwhile start cooking your pasta 7-8 minutes over medium-high heat until soft.
4
Add soy cream, salt and pepper to the mushroom mix while the pasta is cooking. Warm this 'mushroom cream' until you'll have a thick and creamy texture.
5
Remove the water from the pasta and add the mushroom cream in it. Stir it all together carefully so it's well mixed and creamy. Remove the water from the lentils and wash you parsley.
6
Serve the pasta on a plate decorated with fresh parsley, lentils on top and a squeeze of lemon, salt and pepper.
– Some of the ingredients you'll need: I used big portobello mushrooms, big rigatoni pastas, lentils, lemon and fresh parsley..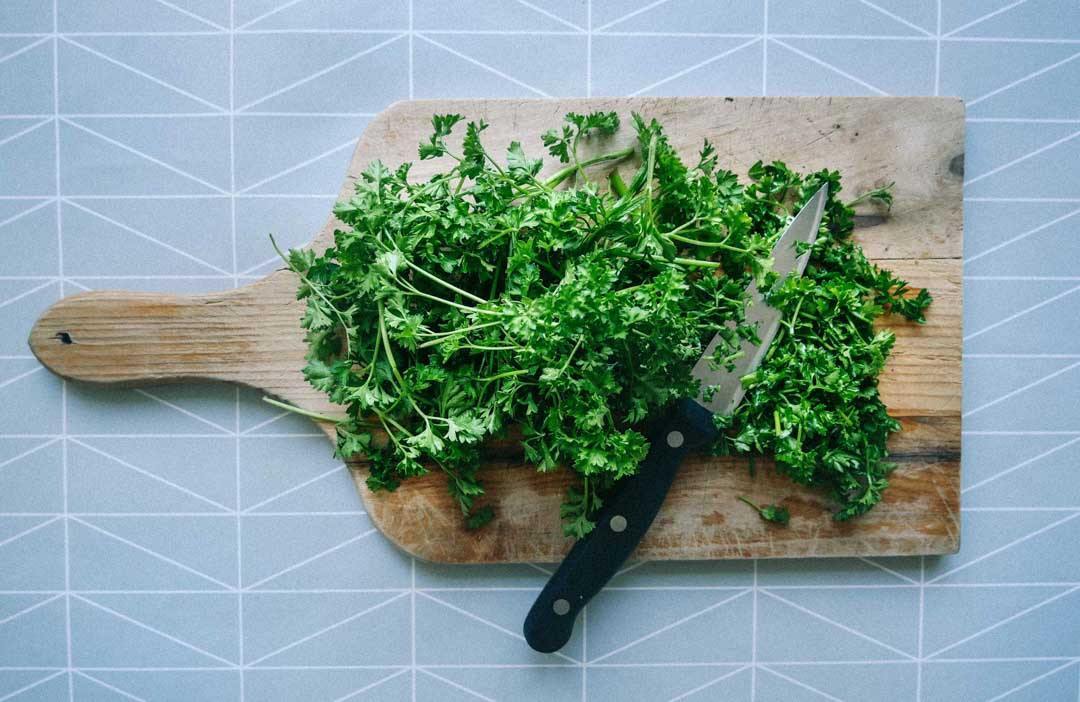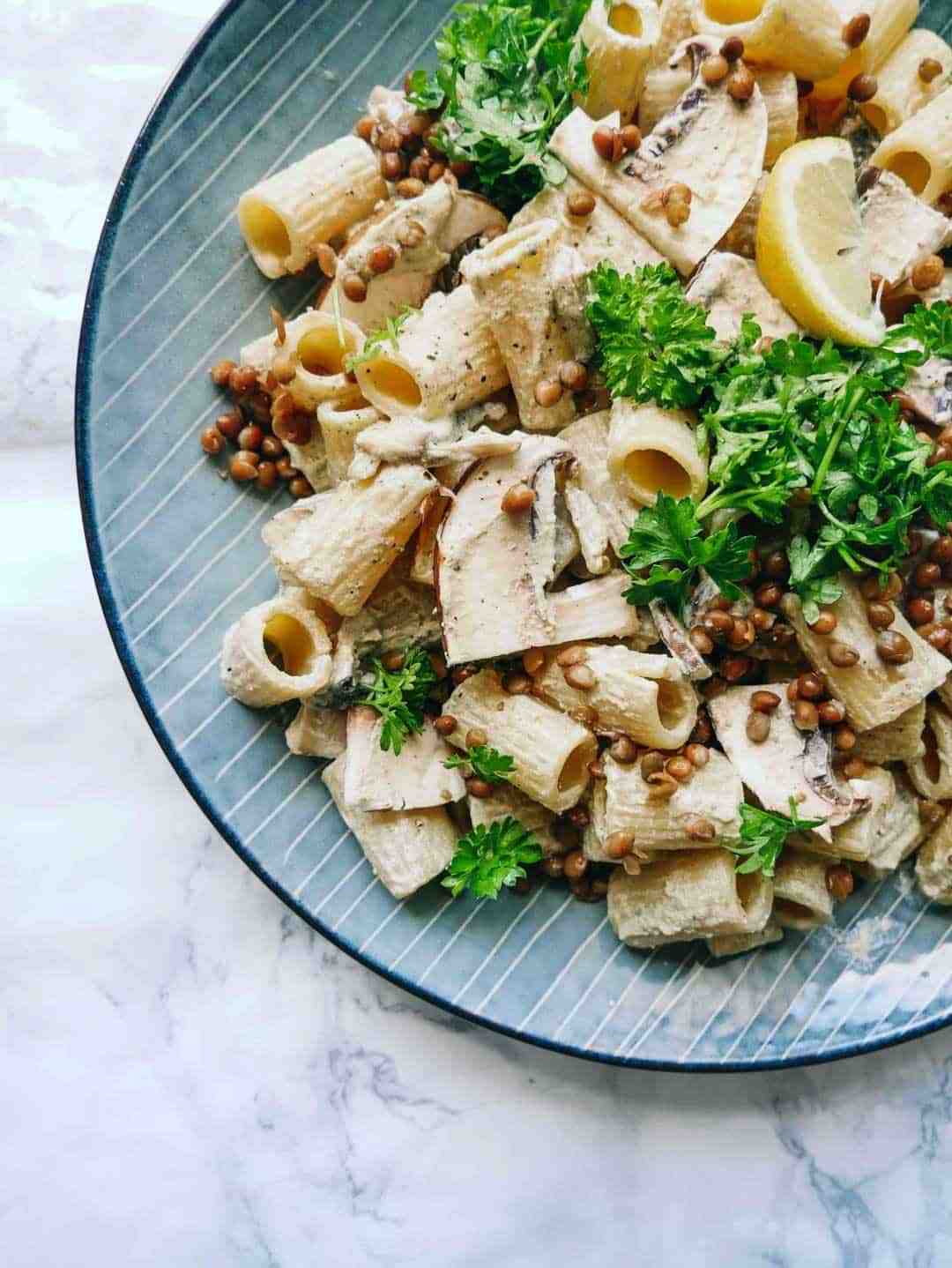 – I hope you could use this creamy pasta recipe. Let me know if you have any questions.
Do you like this recipe? – Rate it below ↓