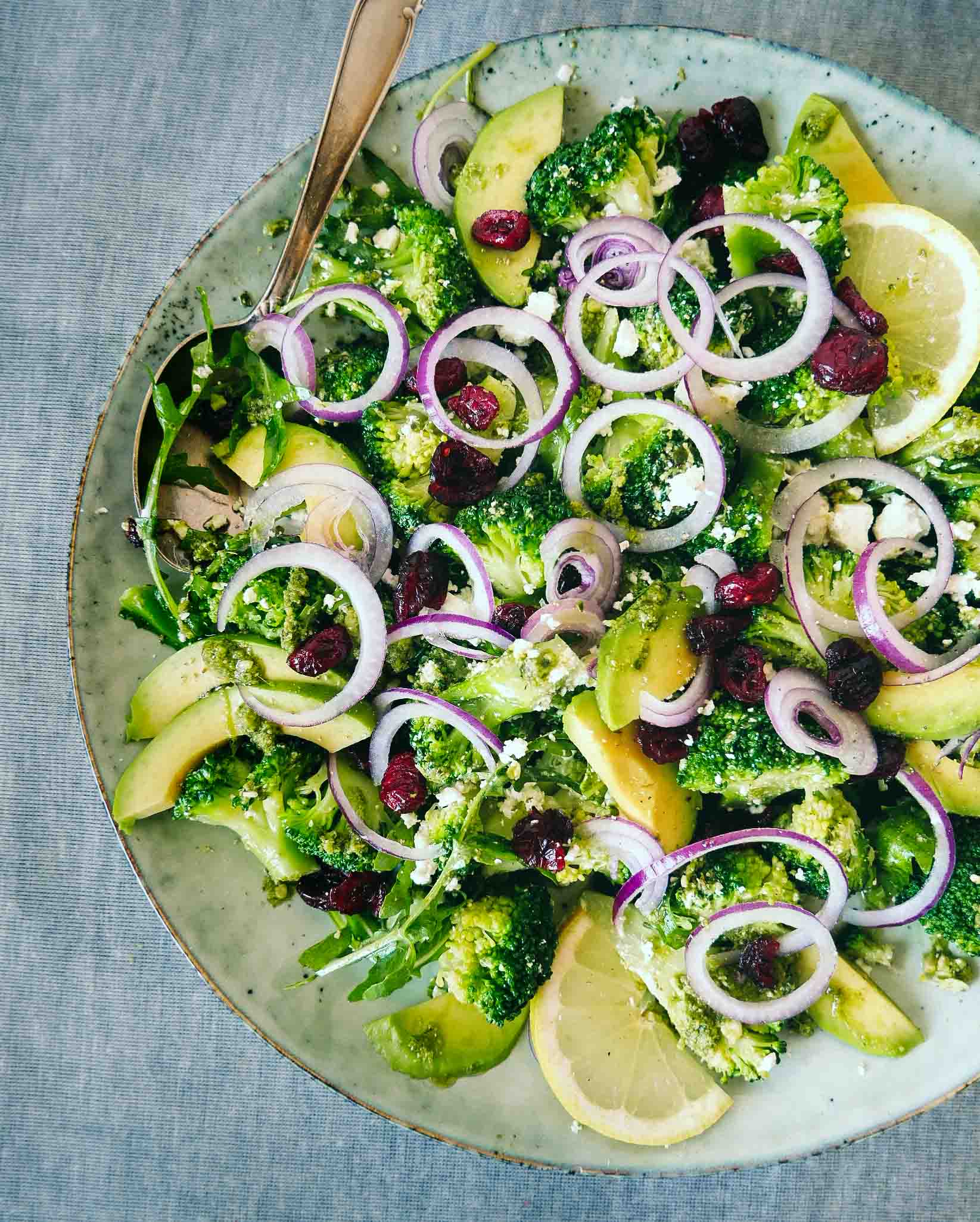 │ Advertisement
Easy broccoli salad with green pesto, feta cheese, rucola salad and thin slices of red onions. Made with some of the most juicy and tasty cranberries from Earth Control.
It was only just some weeks ago I talked about my love for winter color. So I just had to share with you this amazing and colorful salad! I love it's deliciousness, but I think I might just love its pretty colors even more. I made this as a late summer recipe but works perfectly in autumn and winter as well.
If you're feeling bored with your usual salads, this salad is sure to liven things up. I know that feeling making the same types of salad over and over again. But if you are one of these people to eat with the eyes first, this salad will be your new favorite.
Broccoli salad is a great tip too to get rich protein, because broccoli has a variety of health benefits. It can also help prevent allergic reactions and boosts the immune system.
But I promise not only is this salad pretty, it also tastes incredible. It's basically a flavor bomb, health bomb, and color bomb, and I hope you guys are going to love it.
» Try also: If you want to make a homemade green pesto with this salad – go try this easy and creamy spinach.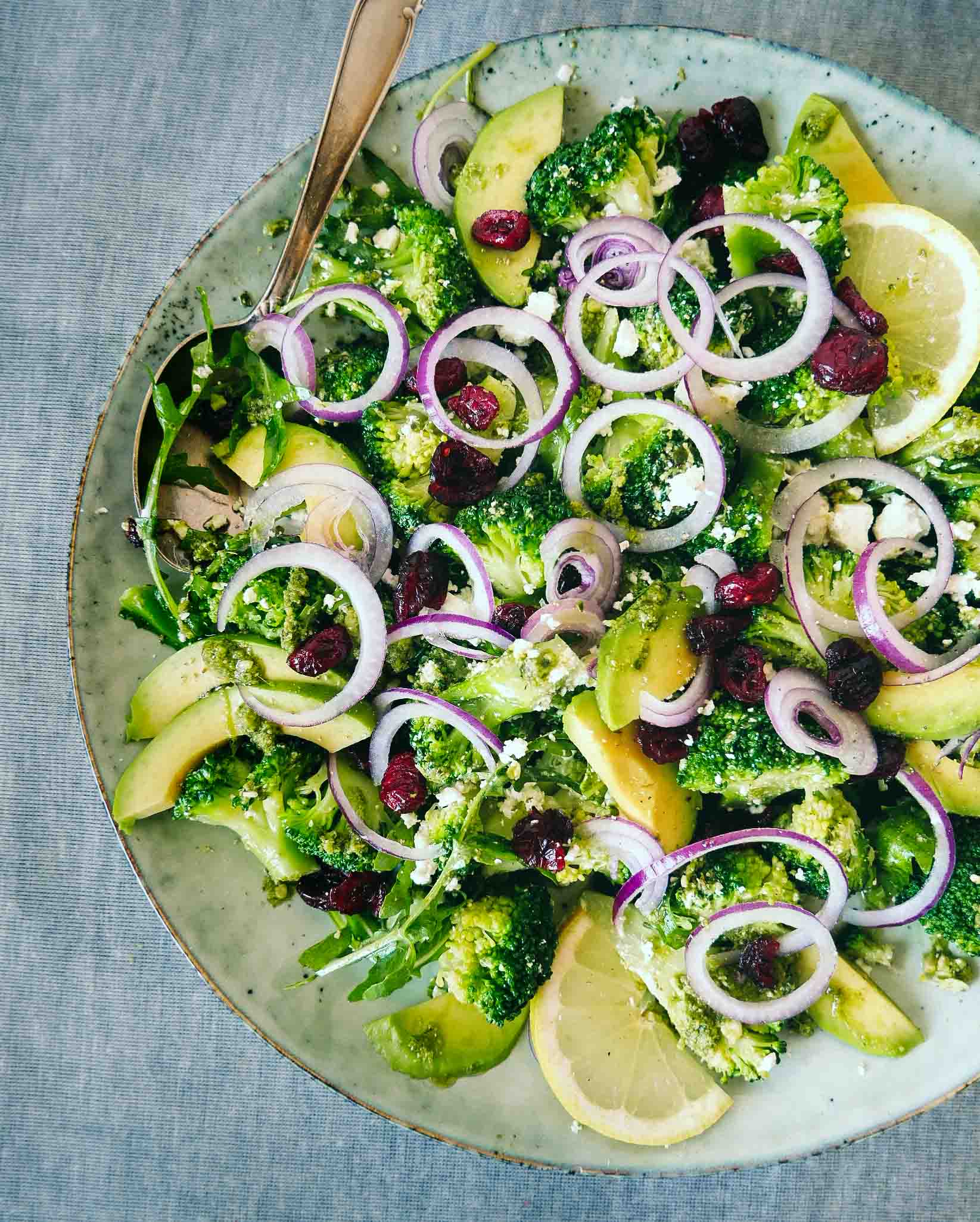 Print Recipe
Broccoli salad with pesto, feta and cranberries
Broccoli salad with pesto, feta and cranberries
Ingredients
300g. broccoli

3 tablespoon green pesto

2 tablespoon of feta

Handful of rucola salad

Small red onion

Juive from half lemon

Half avocado

Serve with: Juicy cranberries
Instructions
1
Wash the broccoli and chop in small bouquets. Cook shortly in a sauce pan in 2-3 minutes.
2
Chop the onion in thin slices, wash the rucola leaves and slice the avocado.
3
Cool down the broccoli in cold water. Add rucola leaves and a green pesto after choice. Mix well and serve on a plate. Add the feta cheese (you can use a vegan friendly option here), add the thin slices of onion and avocado. Squeeze the lemon on top and cover with juicy cranberries.
Broccoli salad ingredients:
In a typical broccoli salad no specific ingredients is actually 100% necessary except for the broccoli of course. First I decided to use only green ingredients for this one like: Broccoli, rucola salad, green pesto, avocado and some lime or lemon. Then the juicy purple cranberries came into play. And then I added some fresh, thin slices of light purple onions with white feta on top.
All together mixed into a fresh salad. But as I always says – you can use any left over ingredients. I think that spinach, parsley and cucumber slices and topped with small pomegranate jewels would be a perfect match with the broccoli too. Maybe served with creamy chickpeas drenched in yogurt and tahini and sprinkled with some good spices. If pomegranate is not in season, it can be replaced with raisins (or these juicy cranberries of course).
Experiment with your own favorite vegetables, nuts and fruits. I recommend to use a dressing, pesto, yogurt or oil with the broccoli bouquets. It makes them more juicy and soft – and brings a lot more flavour.
If you're not into broccoli then try cauliflower or some crunchy roasted brussels sprouts. They have always been a popular dish when I experiment with salads.. But what I've done lately is adding some crispy coconut chips to the salad with finely chopped hazelnuts. They adds a super nice nuttiness to the dish too. Dried apricots is also good and offer sweetness and chewiness. You can also try lentils if you want more "filling". In winter and autumn blood orange or orange would also work more festive and fresh. Skip the feta cheese if you want to make it vegan. Fried tofu works also very well. Try to cook them with a drizzle of tahini or peanut butter – very delicious.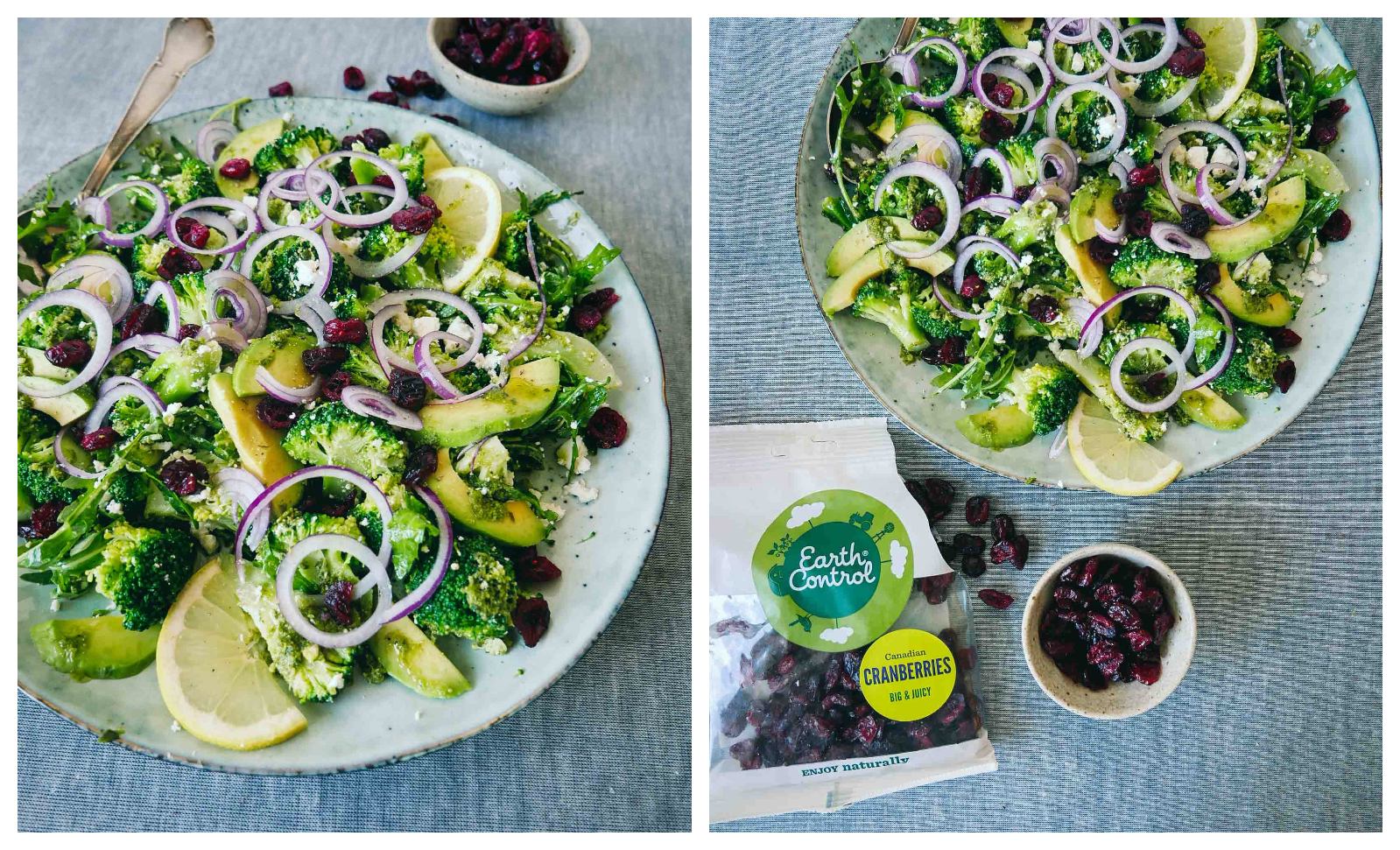 I love this little salad recipe – and hope you will too. You can buy the canadian juice cranberries here at Earth Control.