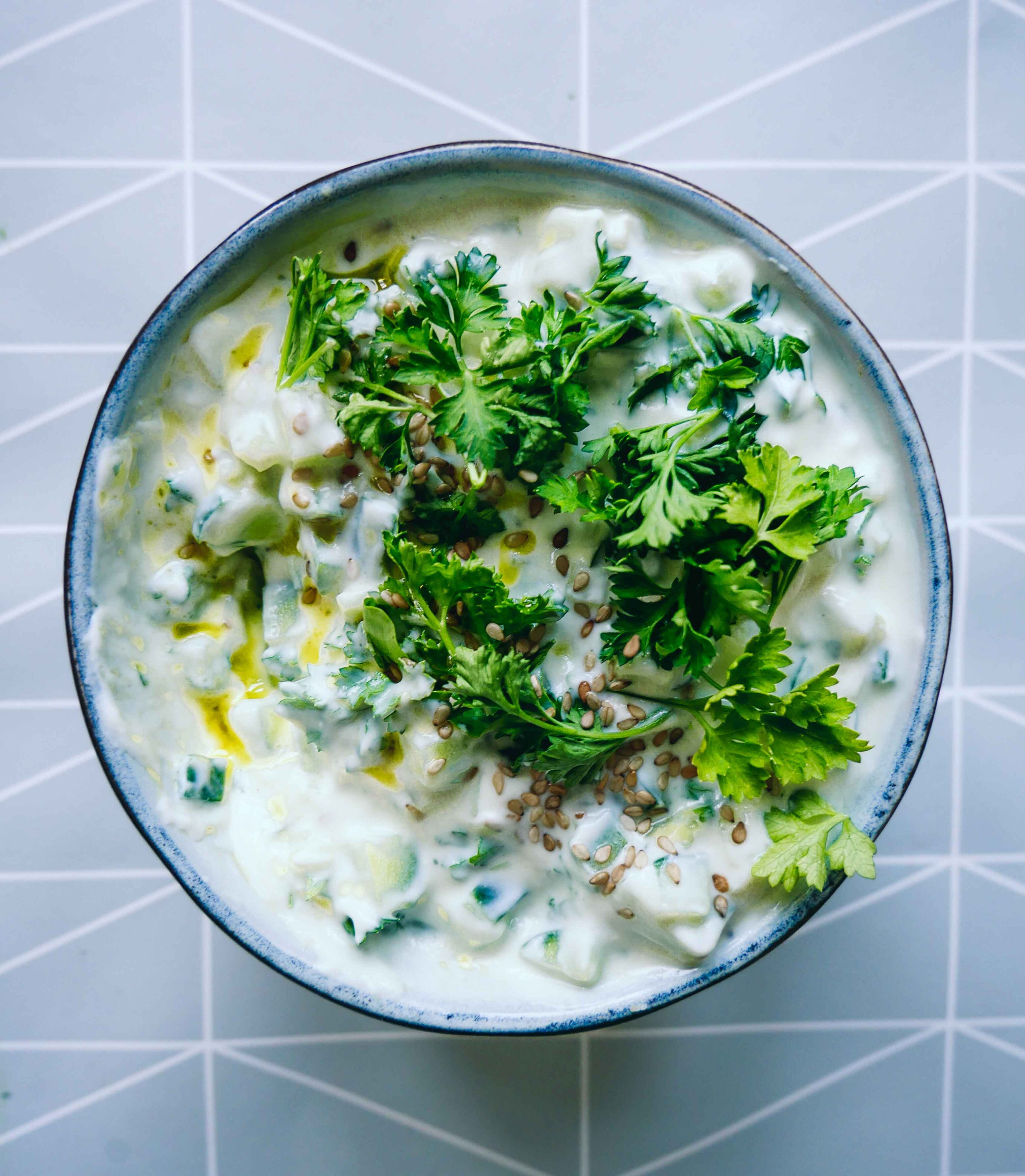 Here is my recipe to make you own delicious, tasty and creamy Vegan Tzatziki. A Greek inspired dip sauce – with so much good flavor. Serious good and makes me swoon.
First make sure to have some good naturel, vegan yogurt. It brings the perfect creamy base for this dip. Next comes some finely grated cucumber, pressed garlic, squeezes of lemon juice, a little oil, salt, and pepper! Last but not least is dill or parsley, which adds some good much-needed herby flavor.
I made this a Vegan Tzatziki version with naturel yogurt but coconut yogurt works perfect as well. Just be sure to use a light and dominant-free creamy yogurt. But there is plenty of ingredients to add too: Vegan mayo, cashews or other whole foods.
Don't forget to decorate your final green result with some fresh chopped parsley or dill leaves, one teaspoon of olive oil, salt, pepper and a drizzle of sesame seeds.
» Try also these: How to make the best creamy hummus dressing
Vegan Tzatziki recipe – Updated version ↺
This recipe is actually an updated version of an earlier post – you might have seen before. I just made some delicious roasted vegetables (oven baked) the other day and added this easy vegan tzatziki recipe.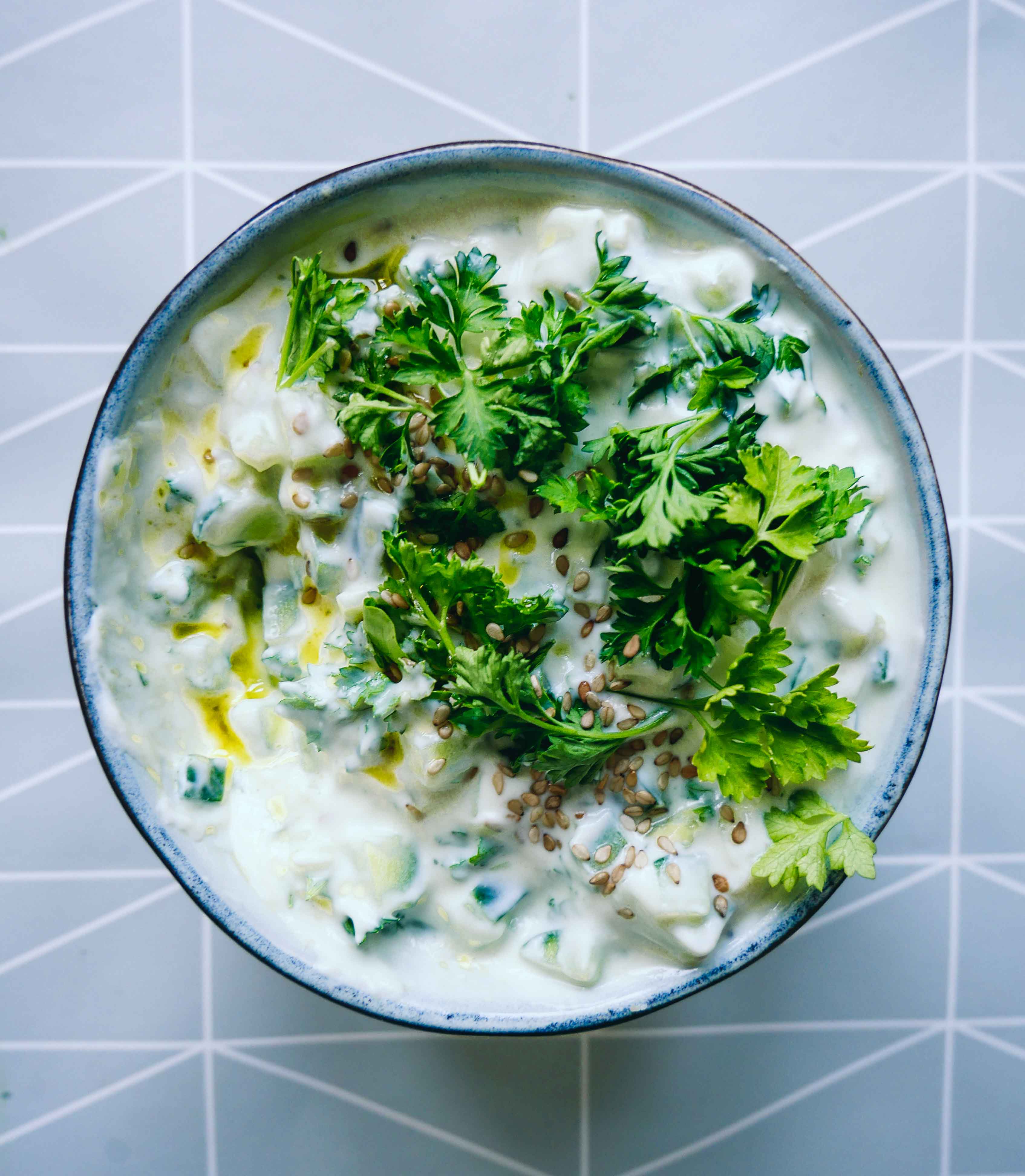 Print Recipe
Vegan Tzatziki Recipe:
Get this easy, homemade Vegan Tzatziki dressing recipe at Micadeli. My own tasty, creamy greek dip served with grilled flatbreads. Get the recipe below:
Ingredients
2 cup Naturel Yogurt (vegan version)

1 organic Cucumber, cut in small pieces

1 clove of Garlic, pressed

juice from 1/2 Lemon

Handful fresh Parsley (can be omitted)

Salt and Pepper

Decoration: Use Sesame Seeds on top and 1 teaspoon Olive oil
Instructions
1
Start to mix yogurt, pressed garlic and lemon juice in a bowl. Let sit for 5 minutes.
2
Wash and cut the cucumber in very small pieces (squares). Add the cucumber with the yogurt mix.
3
Wash some fresh parsley or dill. Chop in small pieces and add to the bowl. Taste with salt and pepper. Save in the fridge and let it rest the next ½ - 1 hour before serving.
4
Before serving: Mix the tzatziki together and add 1 teaspoon of Olive Oil on top. Decorate with fresh parsley or dill and sesame seeds.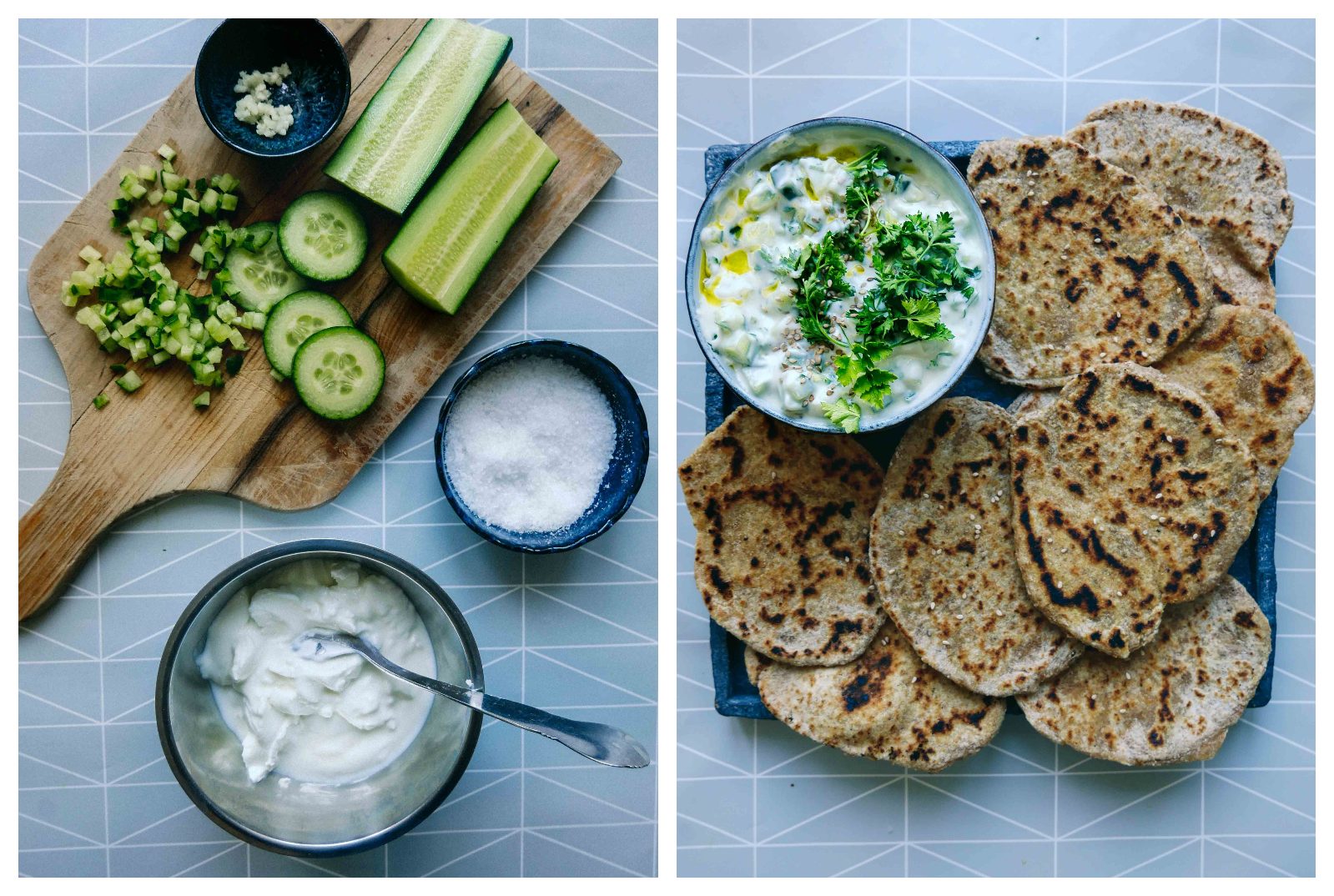 What to eat with Vegan Tzatziki dressing:
When I made this Vegan Tzatziki I ate it with the best Grilled Flatbreads – recipe here. I know, very simple and doesn't look at much. But it was actually the best meal I've made in a long time! I still remember the taste of cold creamy tzatziki together with these crispy warm flatbreads.
.. Talking about flatbreads. I know it might seem to be a big weekend project to make homemade flatbreads. But it's actually easy. Make the dough, put the breads directly on a warm pan, over fire or on the grill. And voilà – you have one of the best summer recipes in a long time. I store my breads in the freezer (to make them last longer).
But back to the title question. What to serve with vegan tzatziki? And my answer is simple because I eat it with almost anything.. With salads, with chickpea patties, in big salad bowls, or you can also use it like a dip for french fries.. In Denmark we eat a lot of rye bread too. And toasted danish rye bread with cold tzatziki is also a winner! You can use some toasted rye bread pieces, flatbreads or biscuits – and turn this easy recipe into a starter or snack – in no time!