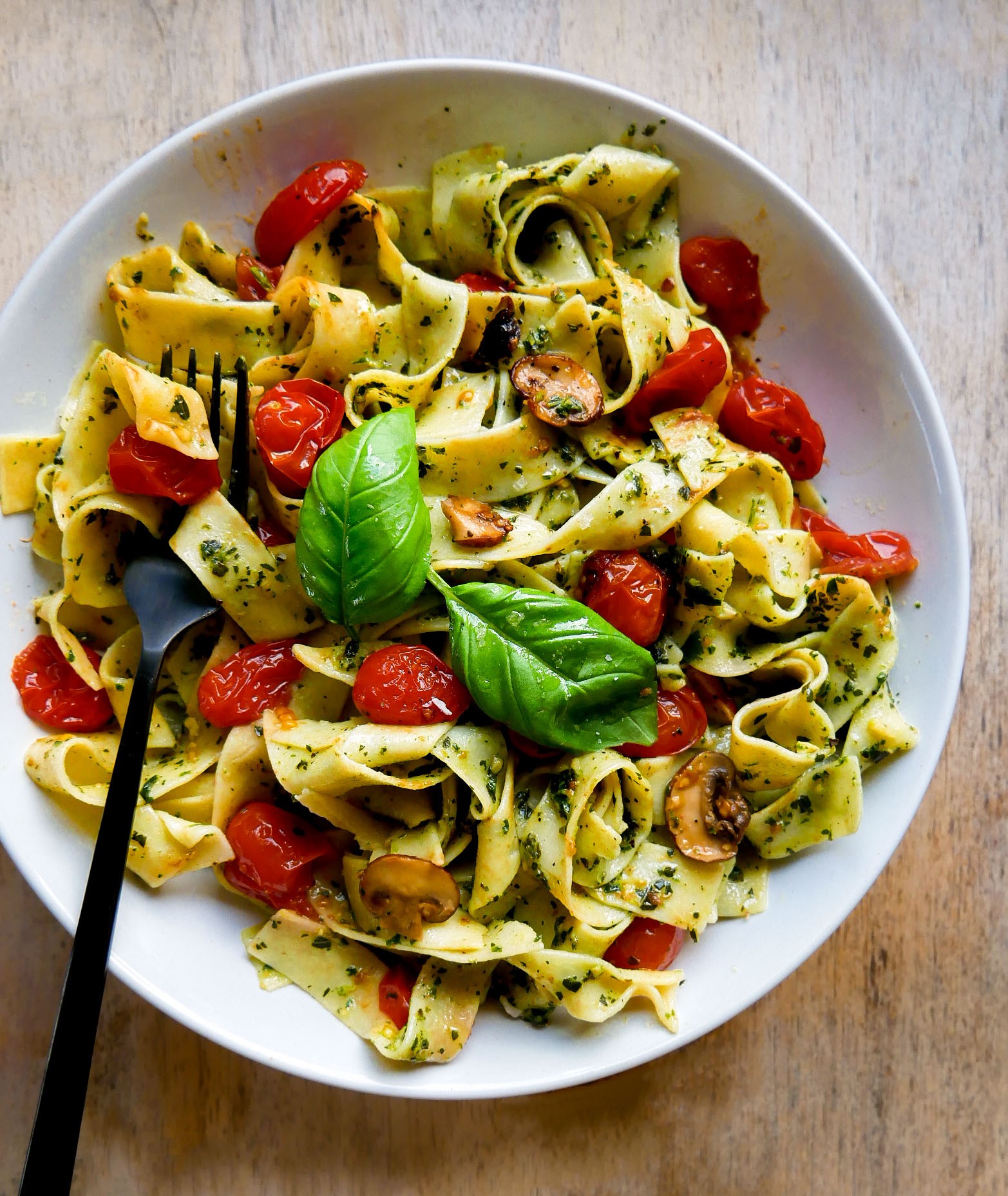 This simple Vegan Pappardelle Pasta with soft tomatoes and mushrooms, tasty green pesto, salt and pepper is the ultimate weekday go-to.
You don't have any Pappardelle Pasta? Don't stress, you can use ANY pastas for this dish. Just be aware of the boiling time (according to the package instructions).
You can add whatever leftover vegetables you have as well and add to the pan just along with the tomatoes and mushrooms. Finish the dish off with a good green pesto of choice and green basil leaves on top.
I used a good store bought basil pesto for the easiest recipe result. But you can try out → this easy green spinach pesto recipe, if you wants to make your own. Making your own takes this simple weekday dish to the next level.
Furthermore this recipe is ready in just 10 minutes, and uses just the simplest of everyday ingredients.. most of which you may have in your pantry right now. If you're looking for your new easy pasta dinner for busy or lazy weeks, this is it.
» Looking for easy pasta recipes? Try also: Cozy, Creamy Butternut Squash Pasta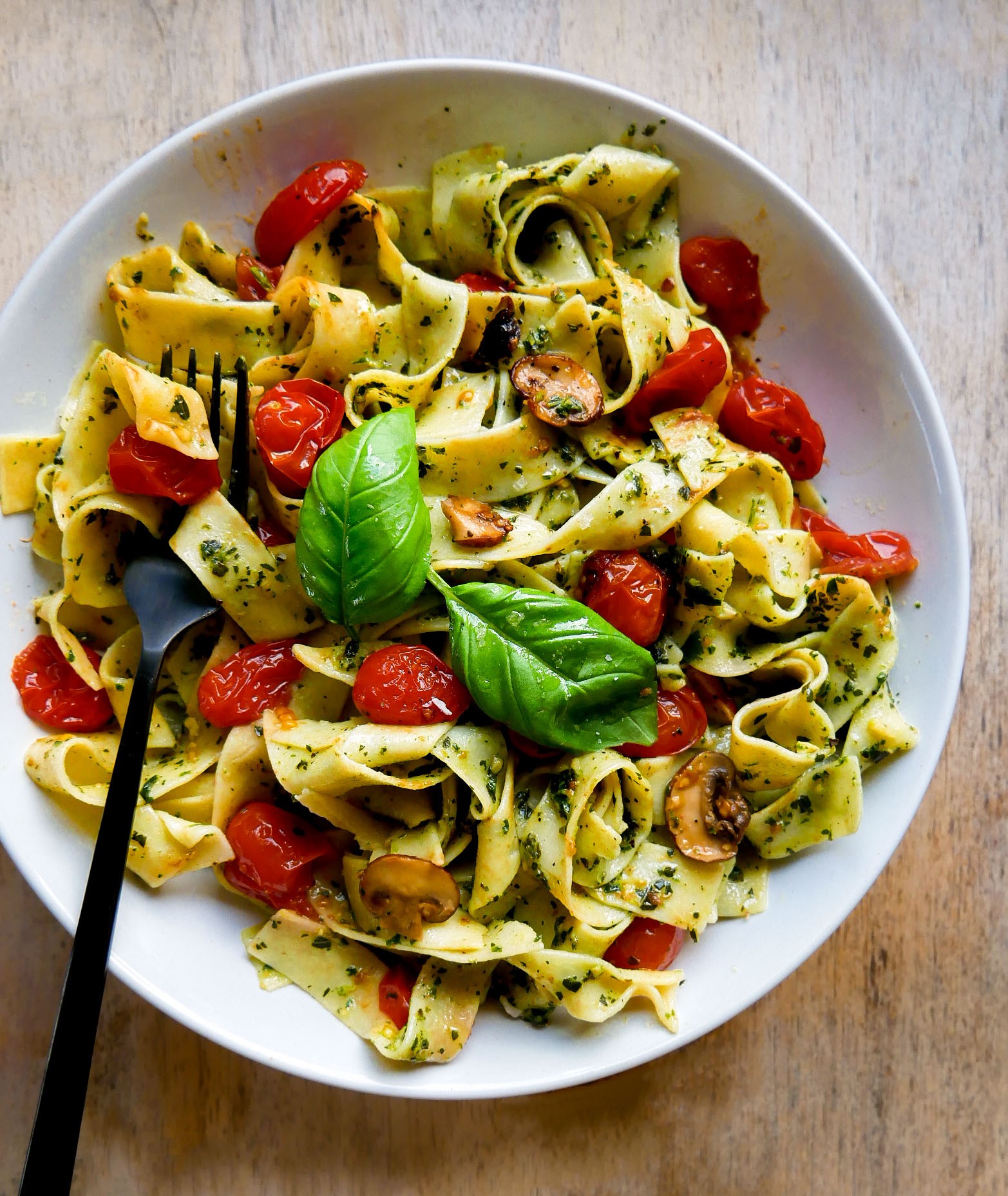 Print Recipe
Vegan Pappardelle Pasta – In 10 minutes:
This Vegan Pappardelle Pasta is made with only pastas, tomatoes, mushrooms, green pesto and basil. So good and easy recipe ready in 10 min.
Ingredients
300g. Pappardelle Pasta, Vegan

Handful of Tomatoes

Handful of seasonal Mushrooms

3 tablespoon of Green Pesto of choice

Oil for frying

Salt and pepper
Instructions
1
Cook the pasta al dente, about 7-8 minutes according to package instructions.
2
Wash the tomatoes and mushrooms, chop in small slices. Add oil on a pan and fry the mushrooms and tomatoes while the pastas are cooking. You want them golden but still tender.
3
Drain the pasta, pour in green basil pesto and mix around. Stir in the tomatoes and mushrooms.
4
Serve directly on a plate, generously drizzle with salt and pepper and decorate with basil leaves on top.
Everyday recipe with the simplest of ingredients.
I always try to make my recipes AS SIMPLE as possible. Which means I'm ready to remove or omit ingredients in a dish for more simplicity. Because I know that you always asks for easy vegan recipes… And I don't think there's no need to make things more complicated than that.
I think this 10-minute recipe is really just as easy as the title suggest. And yet it's so delicious. Furthermore, I think even kids can make this recipe with some help from mom or dad.. Just boil the pasta al dente, cook the tomatoes and mushrooms – and add it right back to that same pot along with pesto, salt and pepper. Top with fresh basil leaves – and done.
Simple, right? Perfect for all the busy (or lazy) weekdays out there.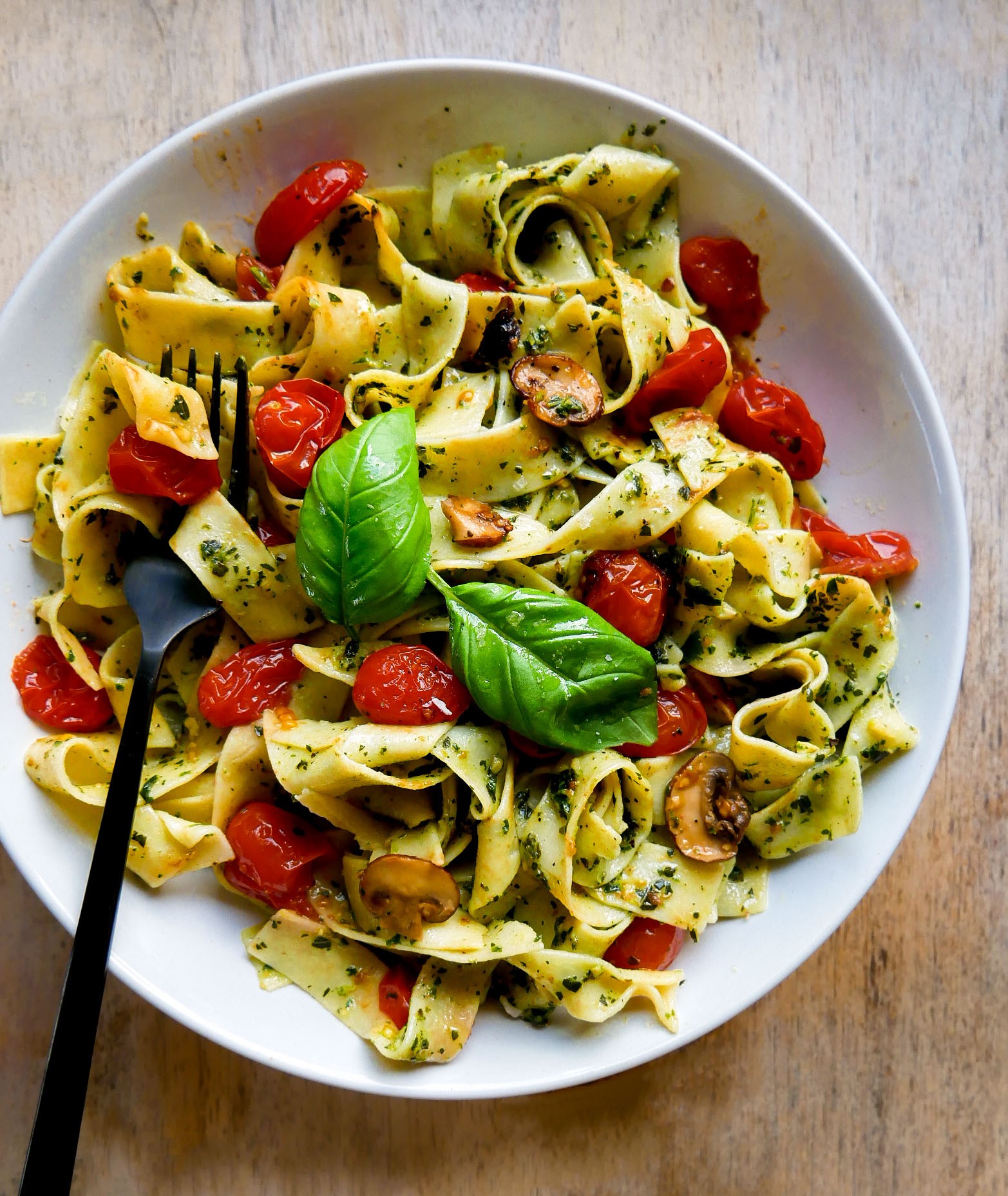 I've made pasta dishes several times the last weeks. Never get tired of pastas because you can make it in so many variations. And every time I feel the same two words, SO GOOD.
Just hope you could use this easy Vegan Pappardelle Pasta go-to! If you have any questions, just write in a comment below. And if you do make this recipe, don't forget to tag me on Instagram: @micadeli_
Help me and rate this pasta recipe right here ↓