How to make easy tasty spinach pesto
How to make quick pesto? This easy spinach pesto has it all: made with simple ingredienser, taste absolutely amazing and it's very quick to make.
Put a few ingrediens in small food processor, mix and that's it. I use about 2 cloves of garlic, but you can easily add more if you like a stronger taste.
I often make this pesto and serve with homemade sourdough bread for a starter or a side dish for grilled vegetables, salads, pita or falafel dressing. Insanely good. No nuts in this recipe – and without parmesan cheese too. I've only used seeds, oil, lemon, garlic, spinach, salt and pepper. I hope you can use this pesto recipe. Just let me know if you have any questions making it!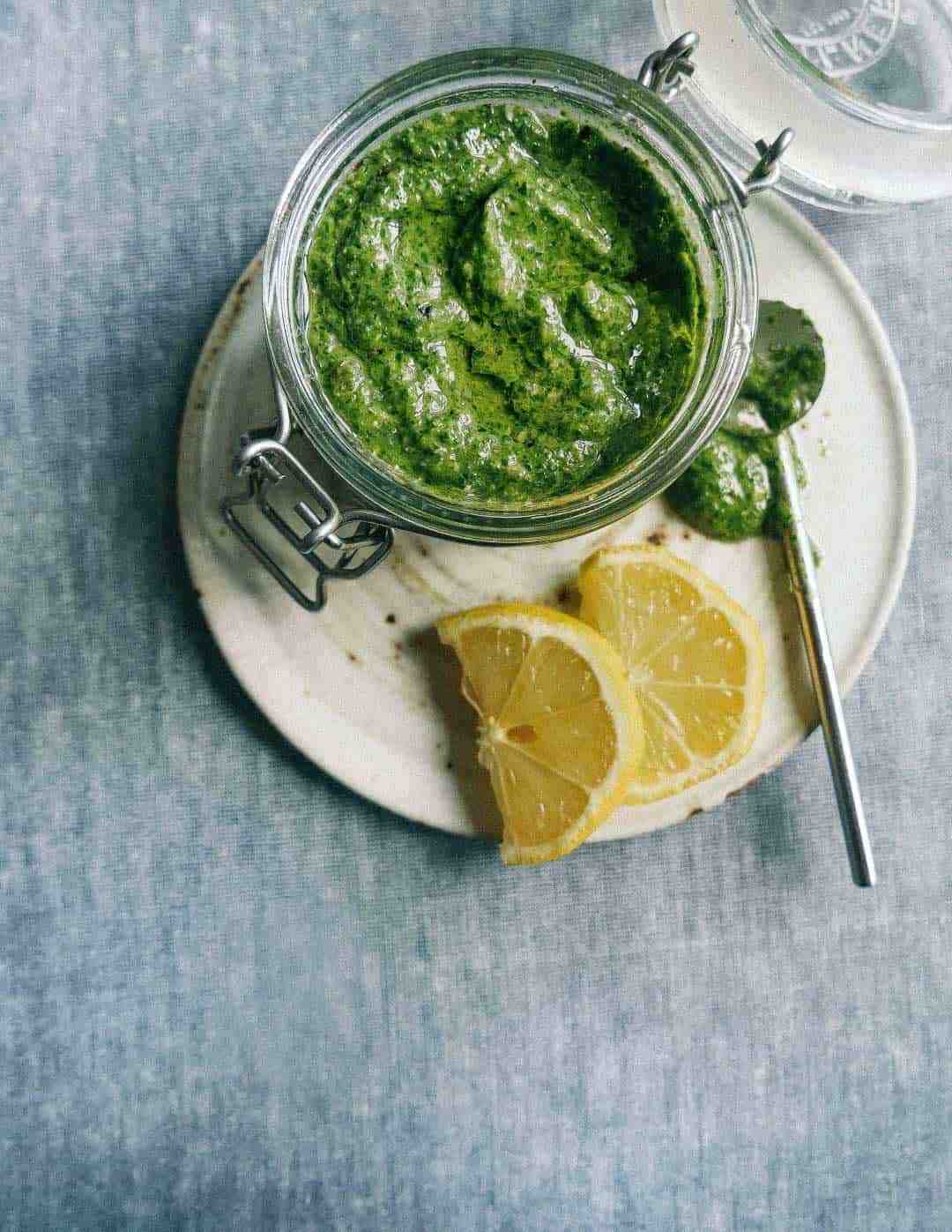 Print Recipe
Spinach Pesto:
Easy Spinach Pesto. Here is how to make quick green pesto! No nuts used. Simple recipe perfect for pasta, spaghetti, salads or other Italian recipes.
Ingredients
250g spinach (around 2 big handful of spinach)

half cup of olive oil

juice from half a lemon

2 tablespoon of sunflower seeds

1 tablespoon of pumpkin seeds

2 cloves of garlic, pressed

taste with salt and pepper
Instructions
1
Wash the spinach and put in a mixer.
2
Add half of the olive oil, lemon, seeds and garlic. Mix until it's smooth and creamy.
3
Add the rest of the olive oil and taste with salt and pepper - add more if needed.
4
Put the spinach pesto to a sealed clean glass container, and keep in the fridge.
Perfect for pasta, spaghetti or salads:
Pesto can be used in many variantions and in many different types of dishes. I love using this pesto for all my vegan and vegetarian recipes. Pasta salads, Spaghetti dishes or other Italian food. I've heard that a green pesto like this also should fit perfectly with a Ravioli dinner.. Need to try that homemade Ravioli soon! Remember making this recipe, you can always use what you just have in your kitchen. Basil, parsley, or other types fits great in pesto. Also if your spinach isn't really fresh anymore – like my in the picture.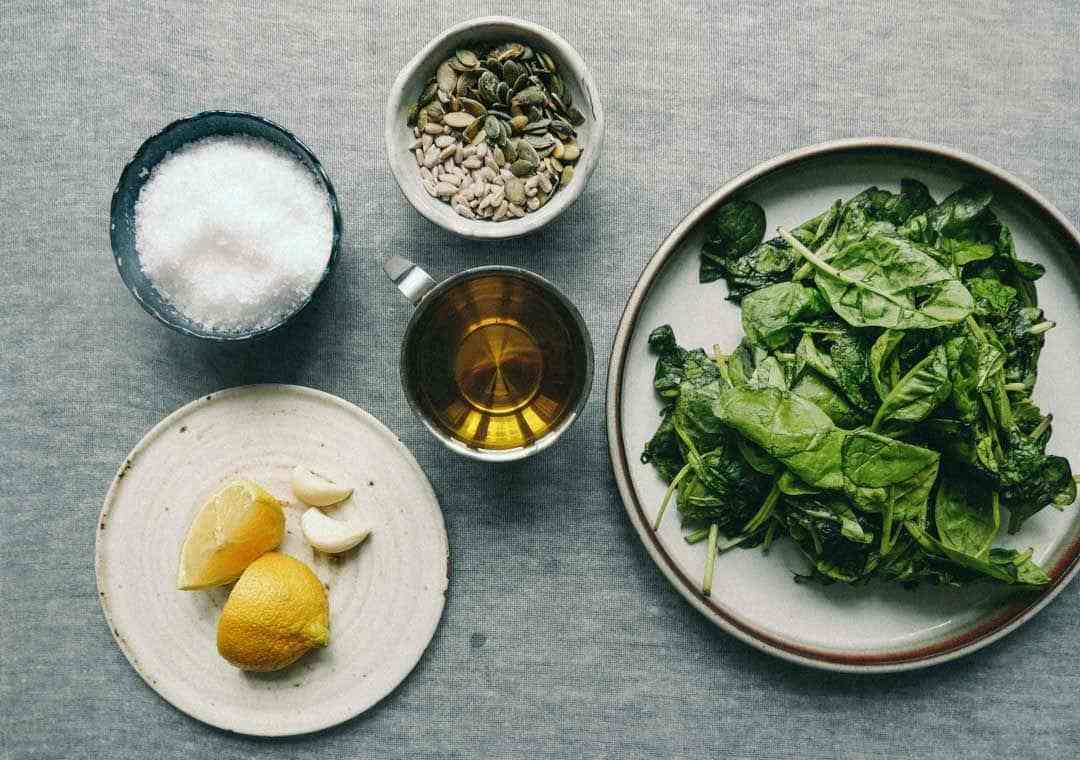 ~ Spinach leaves, lemon, garlic, olie oil, sunflower seeds, pumpkin seeds and salt. Everything you need.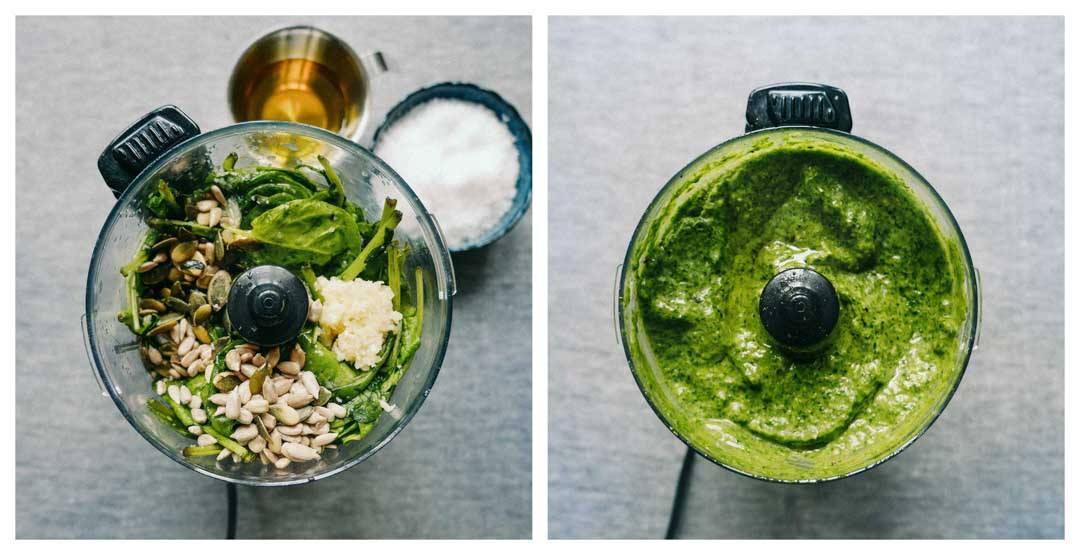 ~ Mix everything together in a high powered blender and voilà.. Creamy beautiful green pesto. This color makes me want to dig in!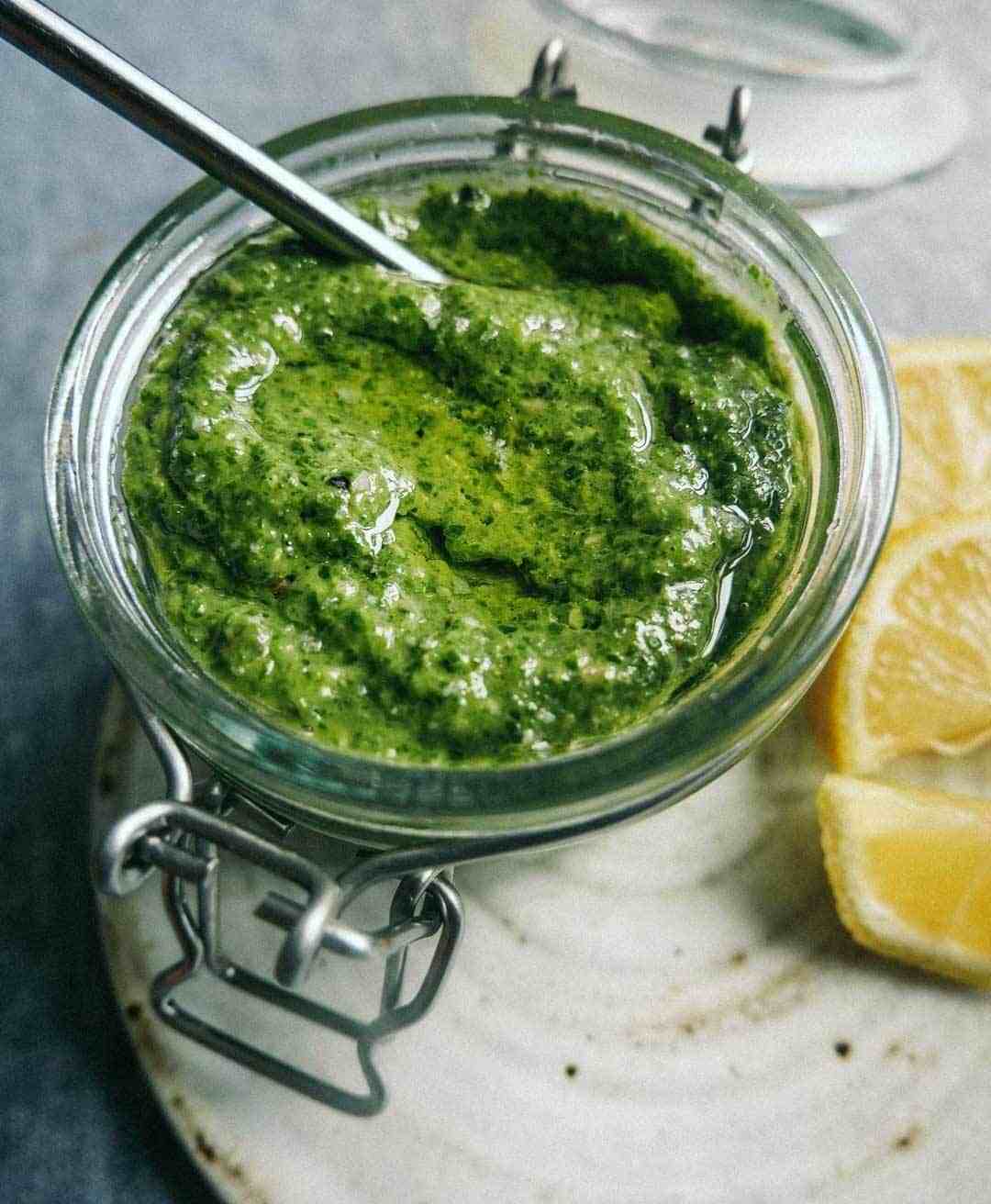 ~ Spinach pesto served with seeds and chili. I made this the other day. So perfect with crispy rye bread chips.
Rate my recipe here below: