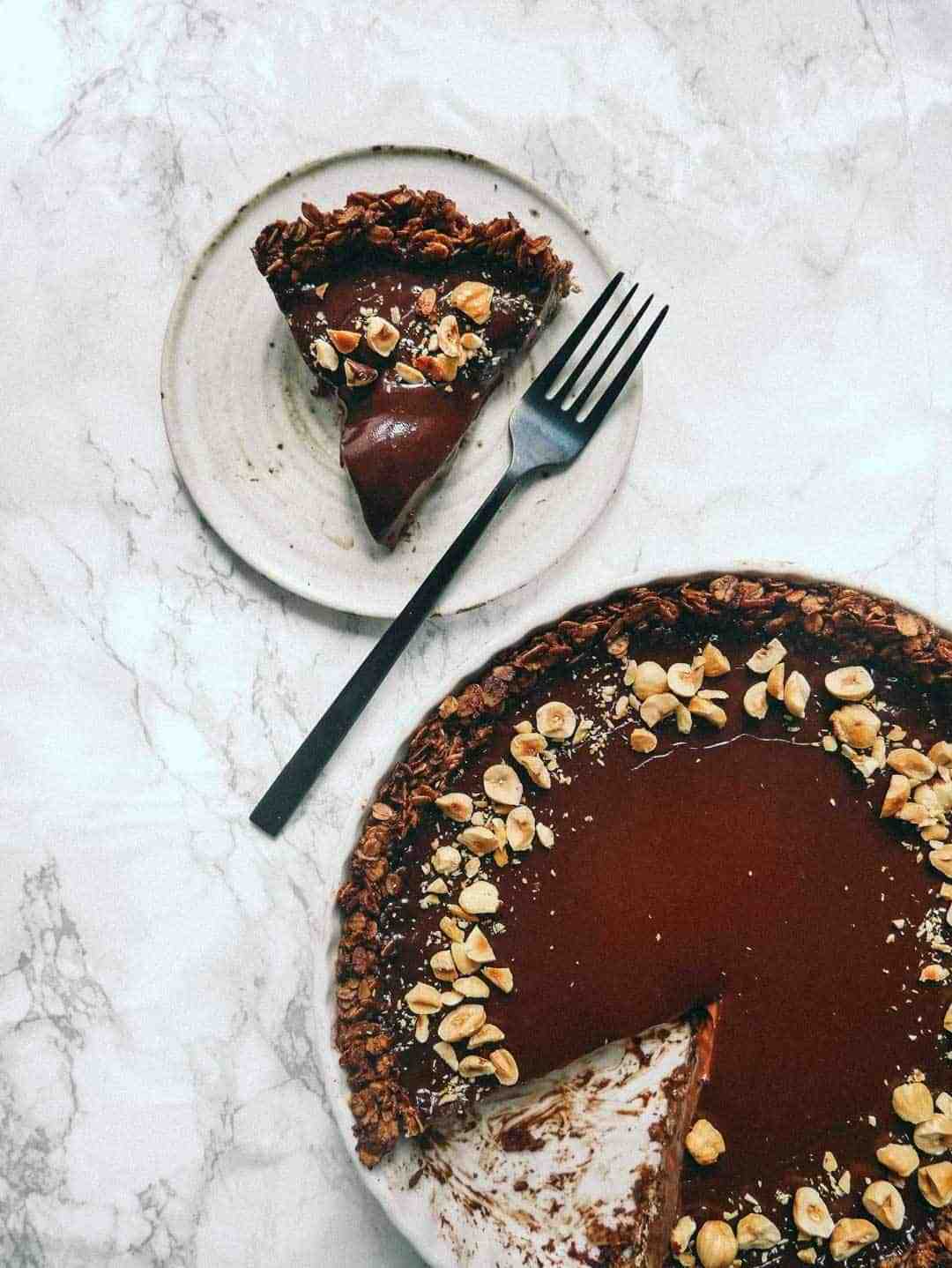 I know it's big words saying that this vegan dark chocolate tart is my favorite tart of all. But I promise you, this 'Choco Deli Dream' will be one of the best chocolate tarts you'll ever eat. And another good thing – it's GLUTEN FREE. I used almond flour making the tart, but you can easily use normal organic flour if you don't have almond flour. I added coconut milk to the chocolate. What a creamy feeling. Another necessary ingrediens for this cake is salt. Don't be lazy with the salt – taste both the tart and the coconut topping for perfect taste of salt and add more if needed. Salt brings out the taste of the ingredients and is needed for all cakes and desserts including chocolate.
Perfect chocolate tarts needs preparing time:
This vegan dark chocolate tart takes a little bit preparing about 20-30 minutes. And then 30 minutes to cook. You'll need to use some time for the base granola dough. It can be a little sticky working with, but just be patient. If you give it some time and working with the dough carefully, the tart will turn out so beautiful. I really hope you will try out this recipe – and let me know if you have any questions. You are very welcome to rate this tart below if you find this recipe good and helpful!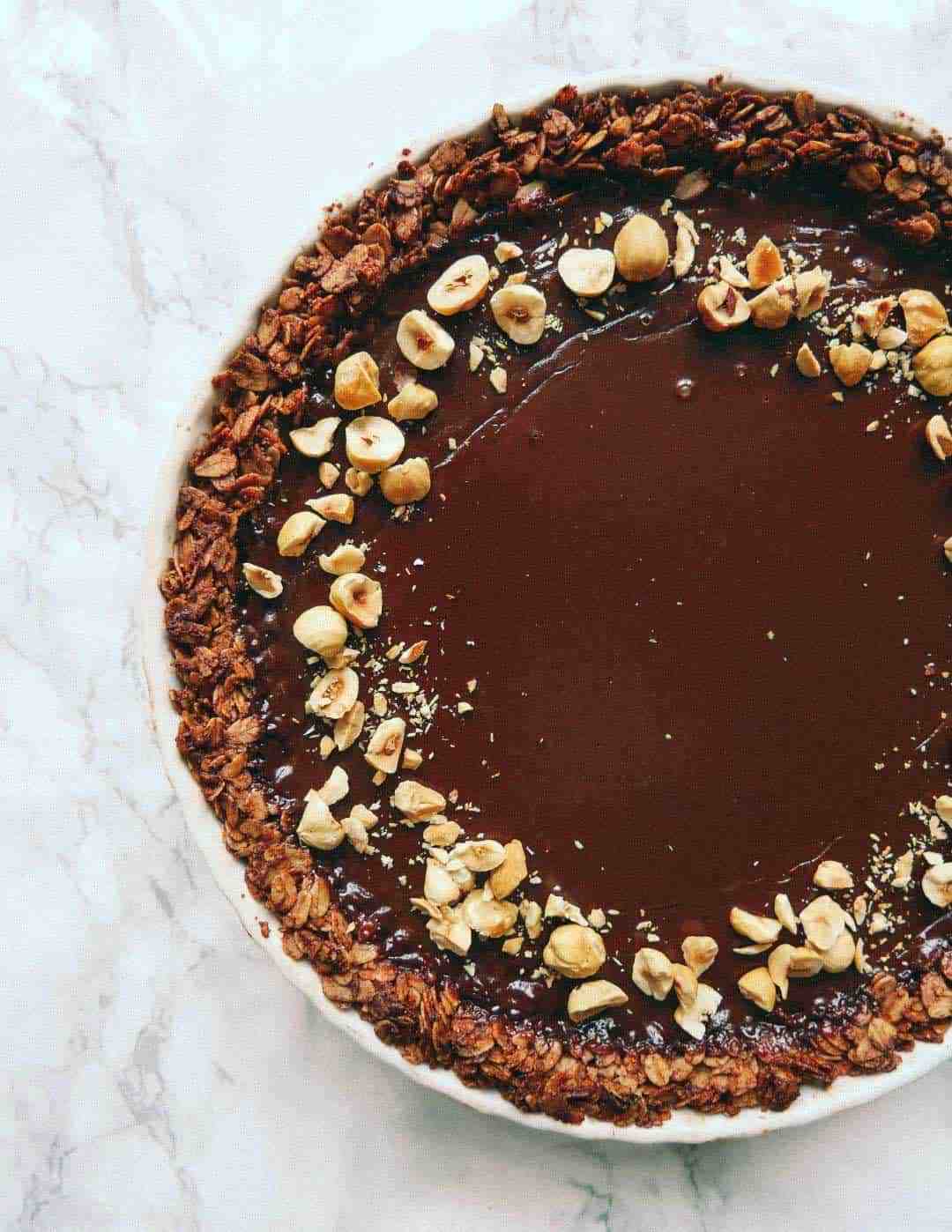 Print Recipe
Vegan dark chocolate tart – Choco deli dream
Vegan Dark Chocolate Tart. Salted, gooey, creamy and gluten free! Best vegan cake recipe made with coconut milk. Try this 'Choco deli dream'.
Ingredients
Tart:

225 g. oats

3 tablespoon coconut oil

2 teaspoon salt

3 tablespoon maple syrup

3 tablespoon raw cacao

3 tablespoon almond flour

Topping:

1 can coconut milk

2 tablespoon maple syrup

200 g. dark good chocolate

3-4 pinch of salt

Decoration:

A handful roasted hazelnuts
Instructions
1
Heat up your oven at 180° degrees.
2
Start making the tart: Mix oats, coconut oil, salt, syrup, cacao and almond flour in a small can over low heat.
3
Cover a tart pan with a thin layer of plant butter or coconut oil. Add the mixing in the tart pan and press down the 'dough' at the bottom and the sides. (It can be a little sticky, but be patient, you need to use a little time doing this, so the tart turns out beautiful)
4
Bake in the oven for 5-7 minutes.
5
Make the topping: Heat up 1 can of creamy coconut milk with syrup and chocolate pieces. Keep stirring. Taste with 3-4 pinch of salt.
6
When the tart is ready, take it out and add carefully the coconut topping. Use a spoon to mix it around. Bake the cake again in about 20 minutes. The tart needs to feel a little gooey and unbaked. Add the chopped hazelnuts on the warm cake, when it's ready.
7
Eat the tart warm, or put it in the fridge and eat it when it's totally cold. (my favorite is the cold one)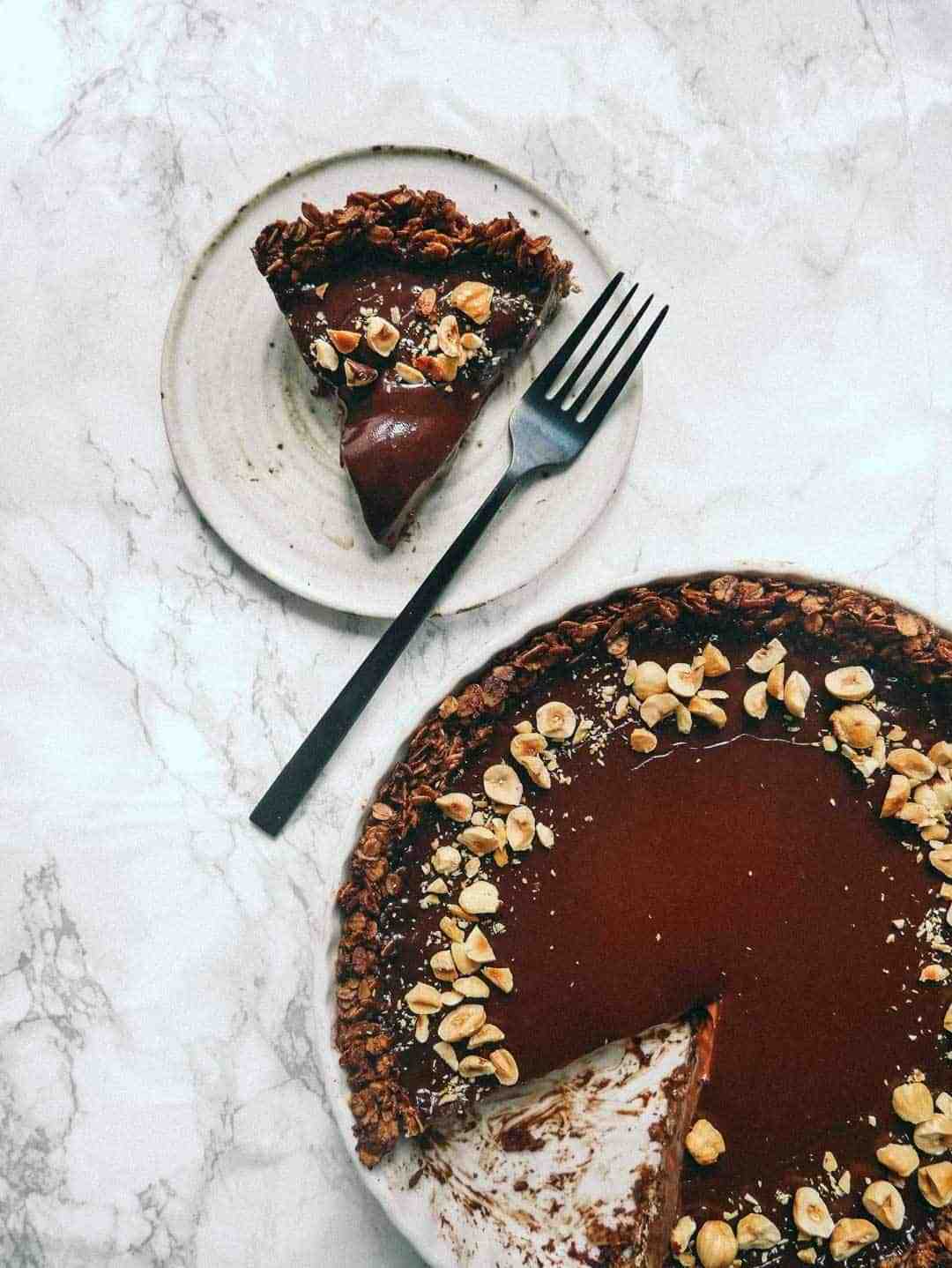 ~ Choco deli dream my absolute number 1 chocolate tart. I hope you will try this out!


~ Perfect taste of dark chocolate. Last I ate it with these creamy peanut butter smoothie. Need to make this combo very soon again.