For me ice cream is a pleasure all year around. You don't need to wait for summer and all the good seasonal strawberries to come. It's always good to buy seasonal, but when fruits or vegetables are in season I can recommend buying a heap and freezing it for smoothies or ice cream. Or else use fruits and vegetables you already have in your kitchen and combine it with seasonal tastings and flavors.
This ice cream recipe is made on a ice machine, which gives a more creamy and soft result – I hope you will try out this recipe!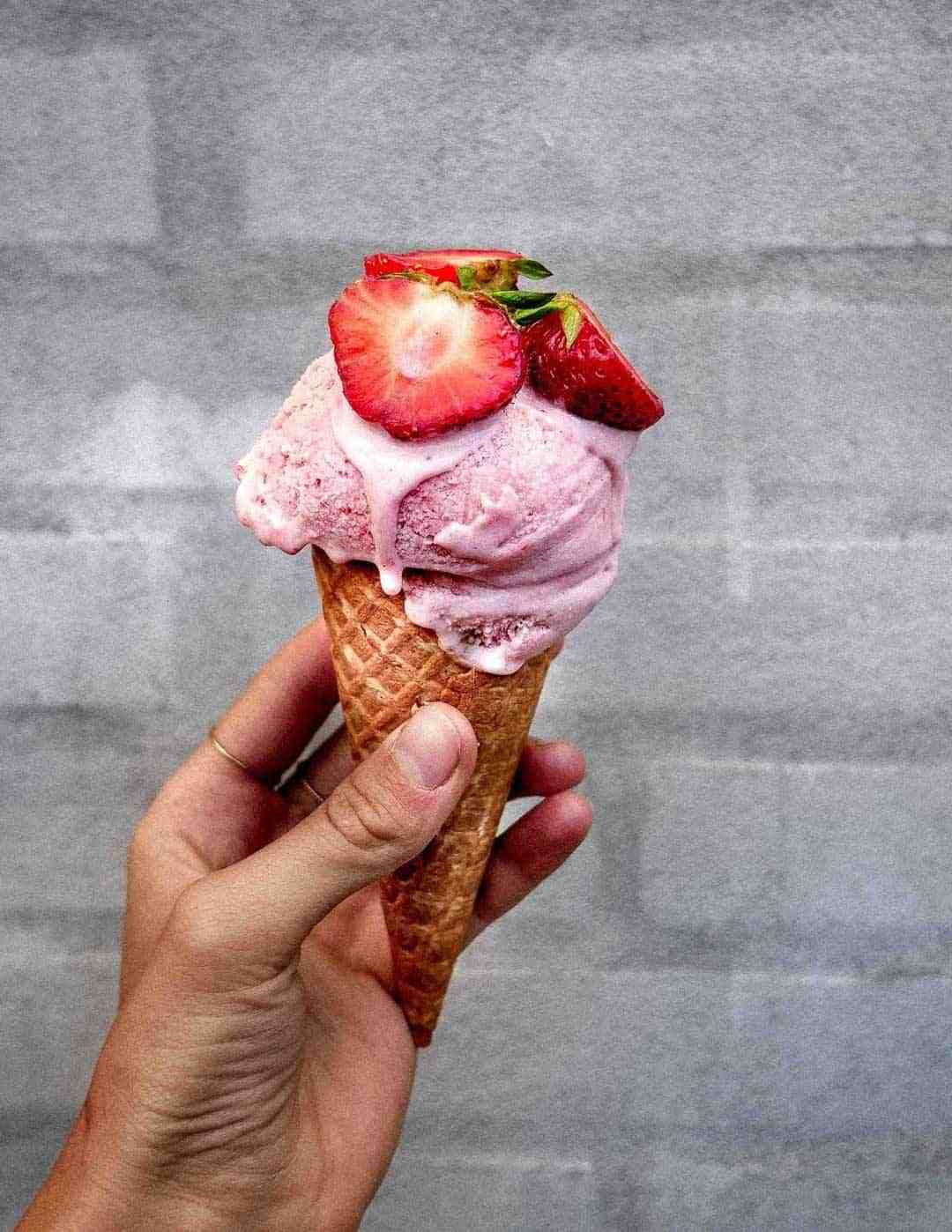 Print Recipe
Strawberry ice cream
Homemade strawberry ice cream - best recipe made on a ice machine, which gives a more creamy and soft result. Find the recipe here.
Ingredients
Step 1) Basic mix:

Aquafaba from ½ can of chickpeas, reduced and chilled. (you can use 2 pasteurized eggs, if you don't want it vegan)

100g. sugar

½ vanilla pod

½ cup almond milk

1 banana

Step 2) Soy cream:

2 cup of soy cream (whipped)

Step 3) Strawberry mix:

350g. fresh mashed strawberries (or frozen)

100g. sugar

½ vanilla pod + seeds

juice from ½ a lemon
Instructions
1
Step 1) Mix aquafaba with sugar, vanilla almond milk and banana. Whip up with a mixer.
2
Step 2)In another bowl whip 2 cup soy cream until creamy.
3
Step 3) Put the strawberries in a can with sugar, vanilla pod + seeds and lemon. Boil carefully in 5 minutes until thick and creamy and use a blender to mix it all together. Put the mixing in the fridge.
4
After 1 hour in the fridge mix the first mix (Step 1 + 2) with half of the strawberry mix (Step 3). Put then the ice cream in the ice machine and mix in 50 minutes.
5
When the ice cream is finish, turn the rest of the strawberry mix (part 3) in the ice cream. Put in a form dd strawberries, add strawberries on top and cool down in the freezer before eating.
My best healthy ice cream was a combo of homemade elderflower juice mixed with smashed fresh seasonal strawberries. Can you believe it was a popular, sweet and healthy summer dessert? Also frozen bananas is a smart thing to have in your freezer, cause you can make ice cream in just a few minutes. Frozen bananas makes ice cream or smoothies very creamy and they are really sweet, so you do not really need any other sweetener.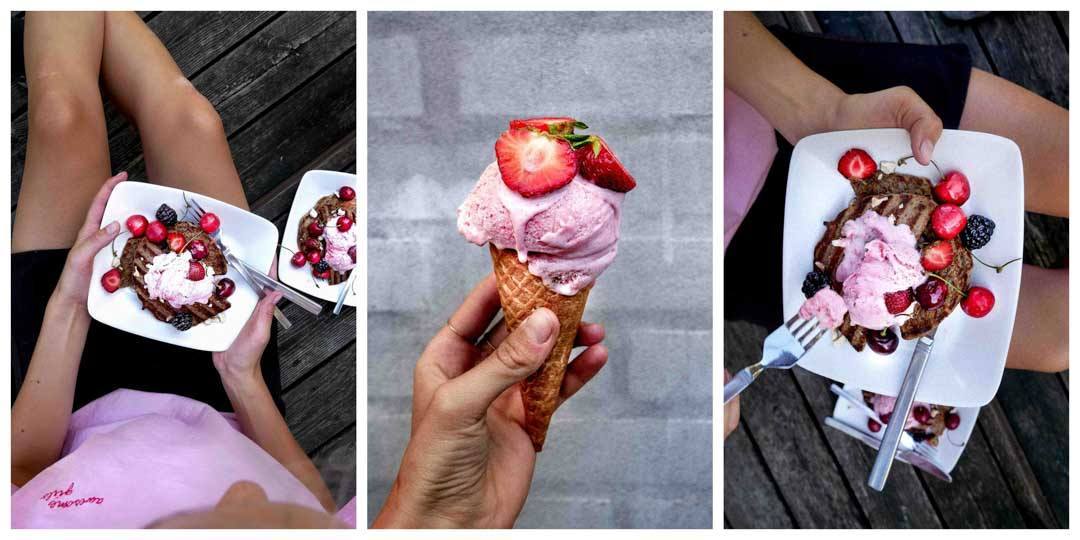 ~ This ice cream is also very delicious with these protein pancake or crispy waffles.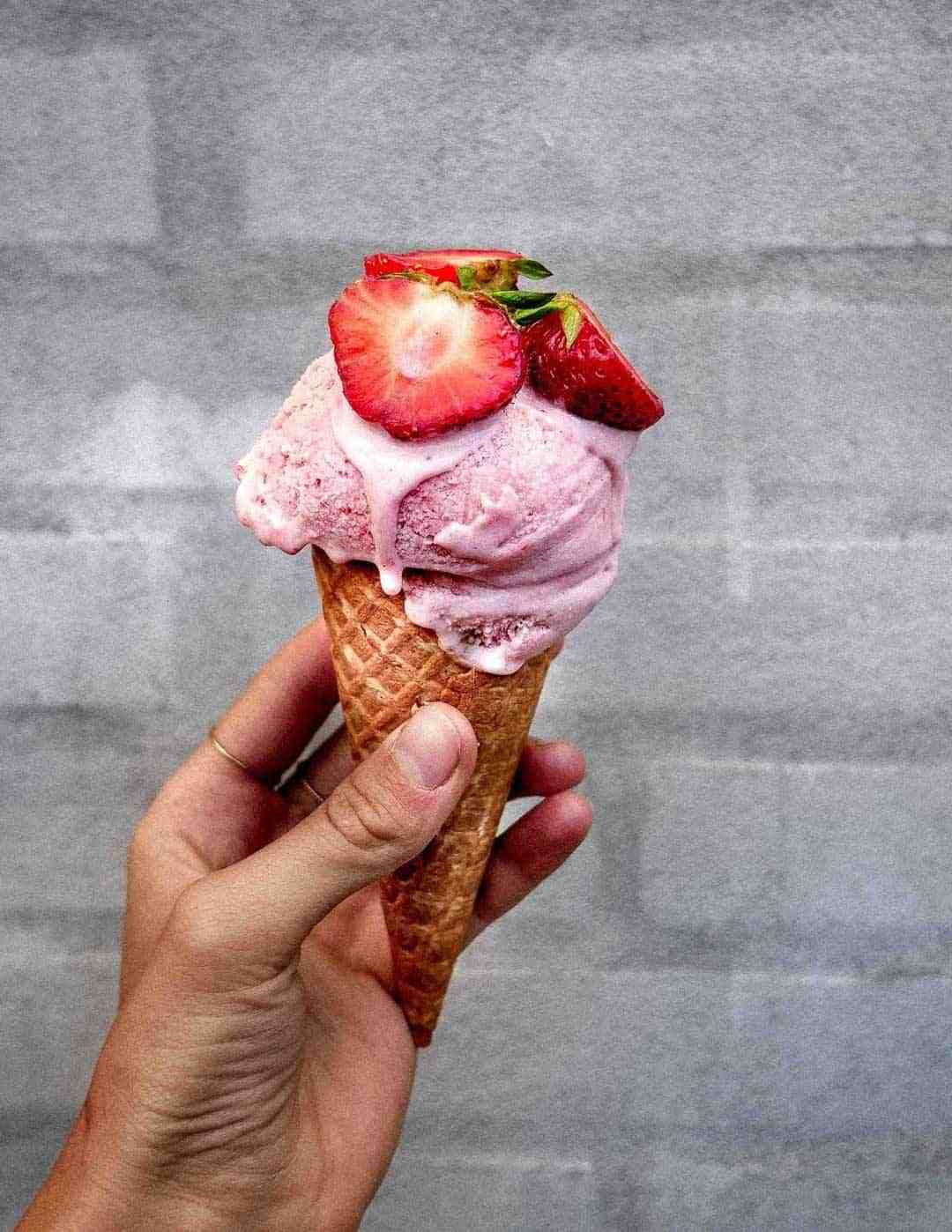 ~ Best homemade strawberry ice cream – hope you could use this recipe.