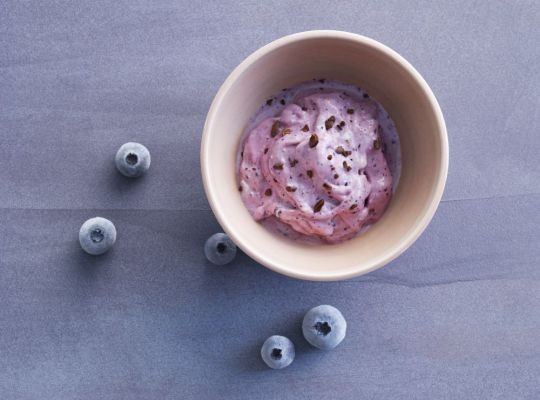 Healthy blueberry ice cream inspiration for your next summer evening or movie snack. This creamy recipe is from danish High on Life – take a look at their website to find more healthy smoothie and ice cream inspiration.
The last months full of beach trips and good weather calls for cold ice cream. But you don't need to buy the sugar filled ones from the store with extra artificial color and additives.
The best thing about ice cream is that you can make you own – and it's surprising easy to do it. You don't need an ice cream machine as well. With a good powered blender like Vitamix or other good blenders you can make healthy ice cream in no time. Just add your own favorite smoothie ingredients and add to the freezer. You can easily vary the amount and add ingrediens from the season. No excuse not to eat ice cream all year.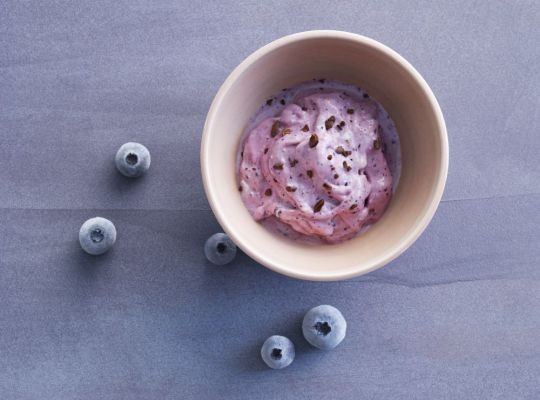 Print Recipe
Blueberry ice cream:
Healthy blueberry ice cream recipe for the next summer evening made with bananas, blueberries, coconut milk, vanilla and cardamom.
Ingredients
2 x frozen bananas

3/4 cup of frozen blueberries

half cup of frozen mango

1 cup of creamy coconut milk

1/2 teaspoon vanilla

1/2 teaspoon cardamom

1 tablespoon maple syrup or honey
Instructions
1
Add all ingredients in your blender. Turn on lowest level and turn on speed slowly.
2
Blend all ingrediens in 40-50 seconds, if needed then use your tamper or a spoon.
3
Serve the smoothie like it is with chopped cacao pieces or dark chocolate.
How to get a creamy consistency:
The trick for creaminess and a deep round taste in all ice cream and smoothie recipes is frozen bananas, mango or avocado. If you don't have frozen mango then frozen bananas works perfectly too. Here you can add 3 bananas instead of mango. And if you don't have frozen fruits at all then add the fruit + a handful of ice cubes.
I use frozen bananas in all my smoothies and it gives such a creamy and beautiful texture. This recipe is made from High on Life. Here on their website you can find a lot more delicious ice cream recipes and healthy inspiration.

I hope you could use this healthy blueberry ice cream recipe. Leave a comment below if you have any questions making it. You can also take a look at my other smoothie recipes here for more inspiration.