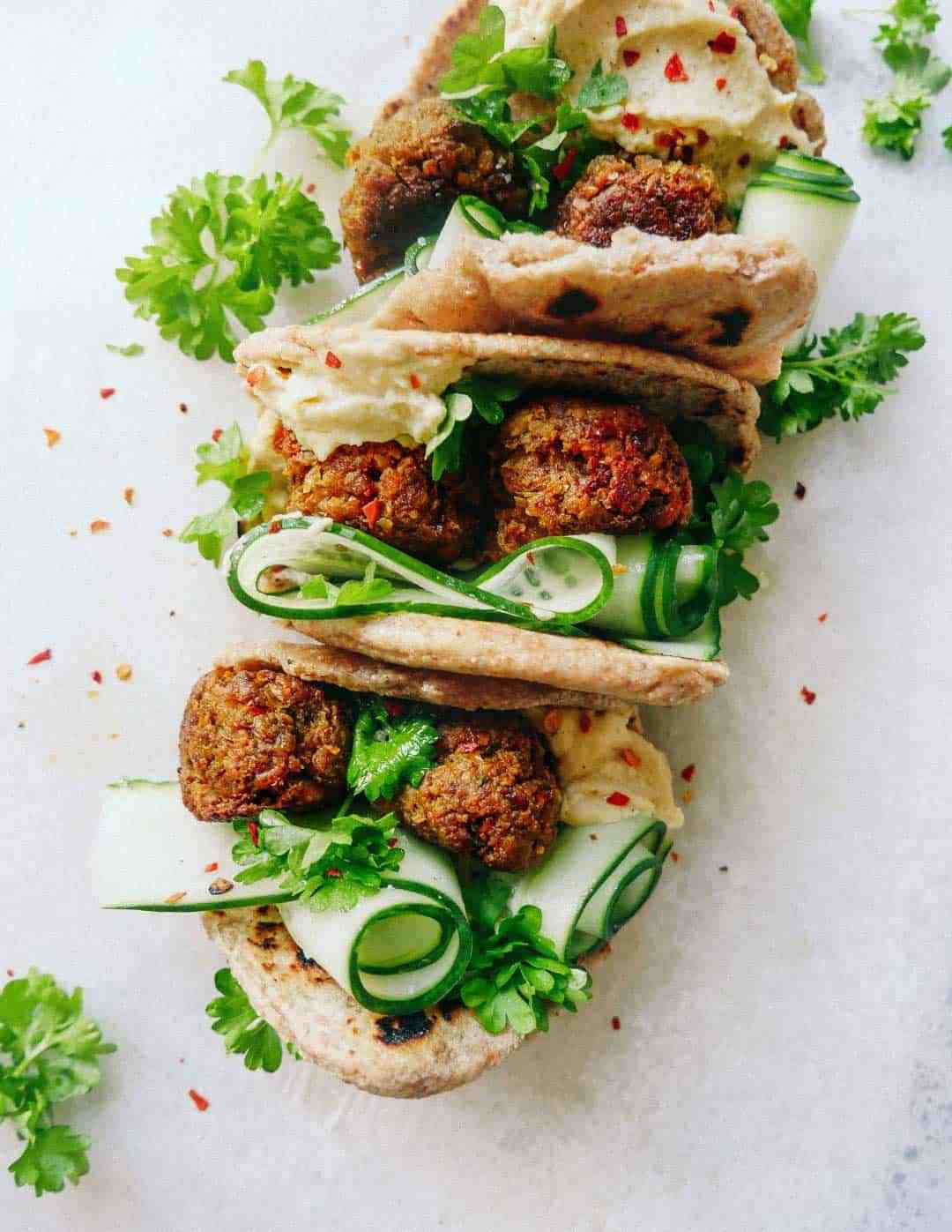 Chickpeas are one of my favourite ingredients to cook with when I make falafel meatballs, patties or other kinds of 'meat-free' pieces. Chickpeas are just so easy to work with. It always gets super crispy on the outside and full of taste at the inside. I've tried to experiment with other kind of beans but need some more practise getting that same result. Serve the meatballs in flatbreads (like I've used), in salads or bowls with a big bunch of veggies. You can also serve these 'meatball' in hot pastas and stews, chopped in pieces.
Falafels with the good spices.
I used Harissa and Ras el Hanout spices in my falafel recipe. But you can easily experiment using other spices. Just make sure to taste the final dough and add more salt, sour or spicy ingredients if needed. Make or buy your favorite hummus and serve some tablespoons per each bread. You can also find my easy and creamy hummus recipe right here. Made with the classic hummus recipe ingredients – so if you have these, you can mix the hummus in 5 minutes. I also sliced some cucumber (cucumber ribbons) to my tortilla dish. So delicious in warm flatbreads like these and looks beautiful for serving. Don't you think?
They're so tasty and nice served hot out of the oven, with big dollops of hummus and some crunchy fresh cucumber – served in flatbreads.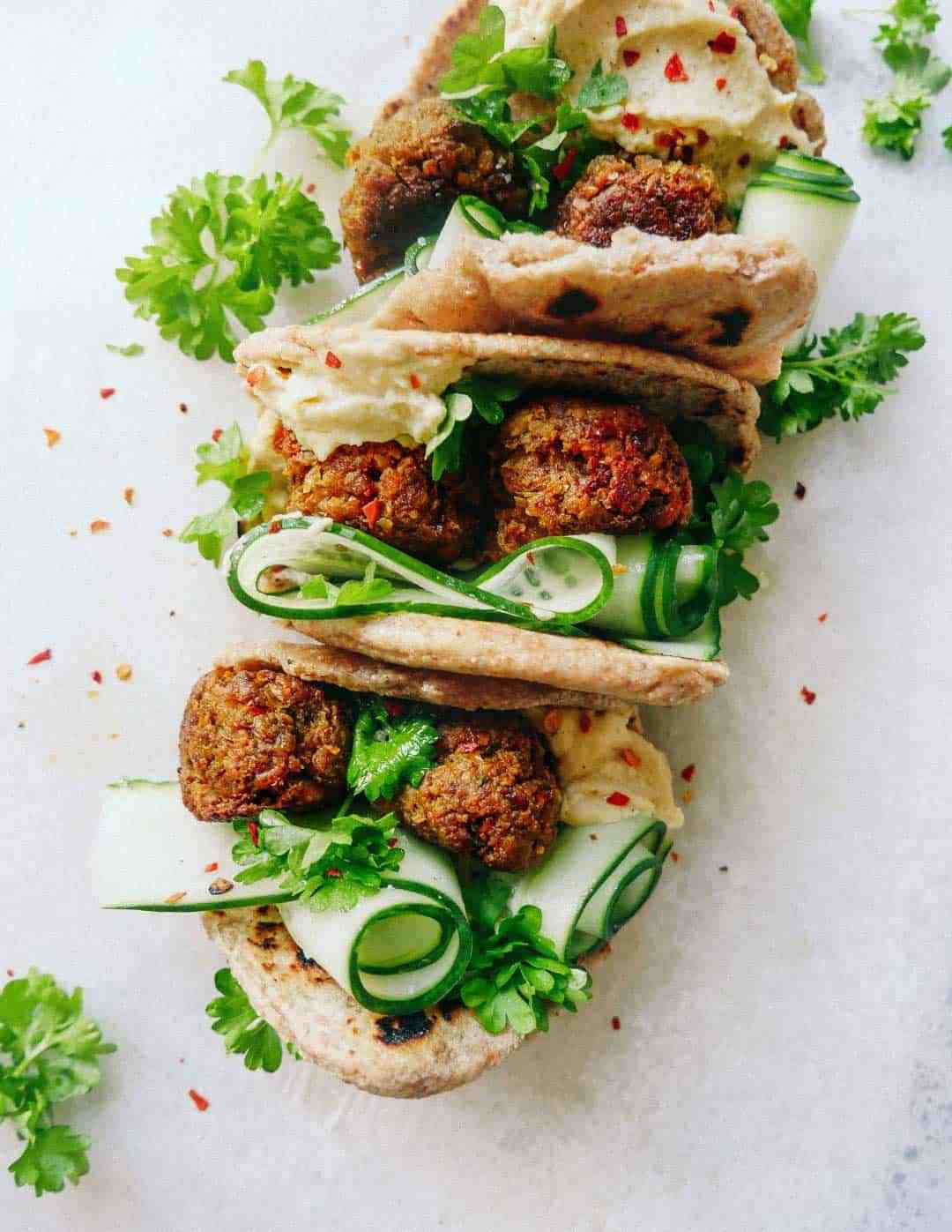 Print Recipe
Falafel Meatballs
Crispy falafel meatballs full of flavour and crispiness. Served in warm tortilla flatbread ala pita bread with hummus and cucumber. Get the recipe here below:
Ingredients
1,5 cup chickpeas, cooked (around 1 tin)

1,5 cup of lentils, cooked (around 1 tin)

1 big clove of garlic, chopped

1 teaspoon Ras el Hanout (or other favorite spices)

1 teaspoon Harissa (or other favorite spices)

1 tablespoon red pesto

3 tablespoon of olive oil

Zest and Juice from half a Lemon, organic

3 tablespoons of flour after your choice

Olive oil for the pan

1/2 cucumber, sliced

A handfuld of fresh parsley, chopped

Tortilla breads or flatbreads

1-2 tablespoons hummus pr. bread
Instructions
1
Pre-heat the oven to 180c. Mix all ingredients together in a high powered mixer, blender og food processor. If you don't have a mixer, then blend it all together in a big bowl and use a fork.
2
Mix with your hands the mixture into small balls. Around one tablespoon to one meatball. Use some flour if the dough is too sticky and shape the meatballs. Put on a baking tray and warm in the oven for 20 minutes - Turn the meatballs and give them 10 minutes on each side.
3
Take out from the oven, add some olive oil to a pan and fry them on the pan 2-3 minutes on each side for a crispy and golden surface.
4
Warm your tortilla bread or flatbred. Wash some fresh parsley. Add hummus to the flatbread together with chopped parsley, 2 tablespoons of hummus and warm crispy 'meatballs'.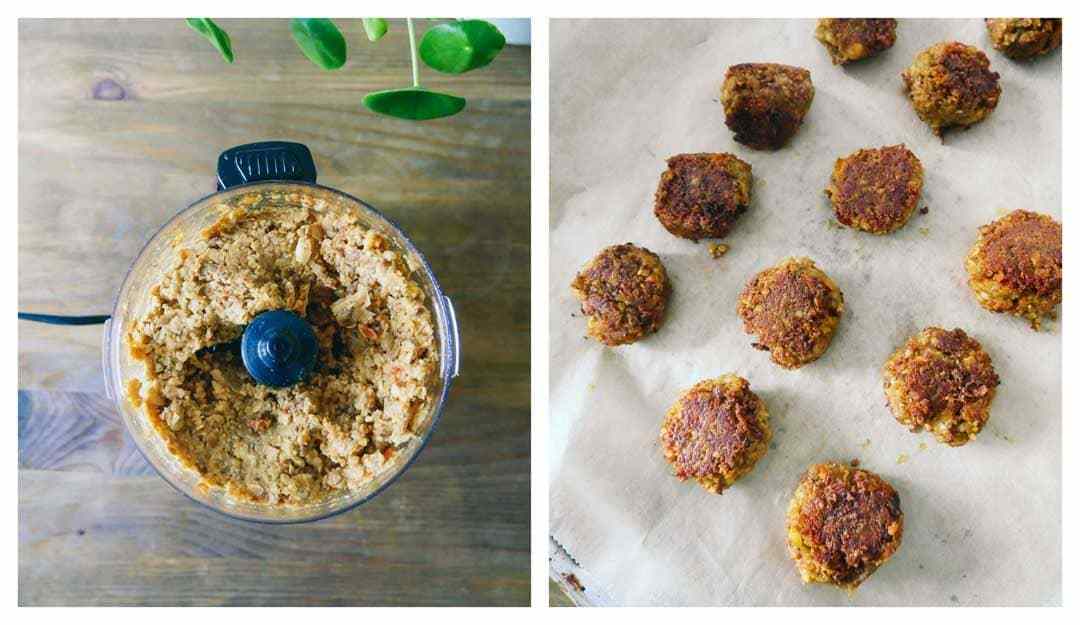 ~ The delicious falafel/meatball dough. Baked in the oven and fried on the pan.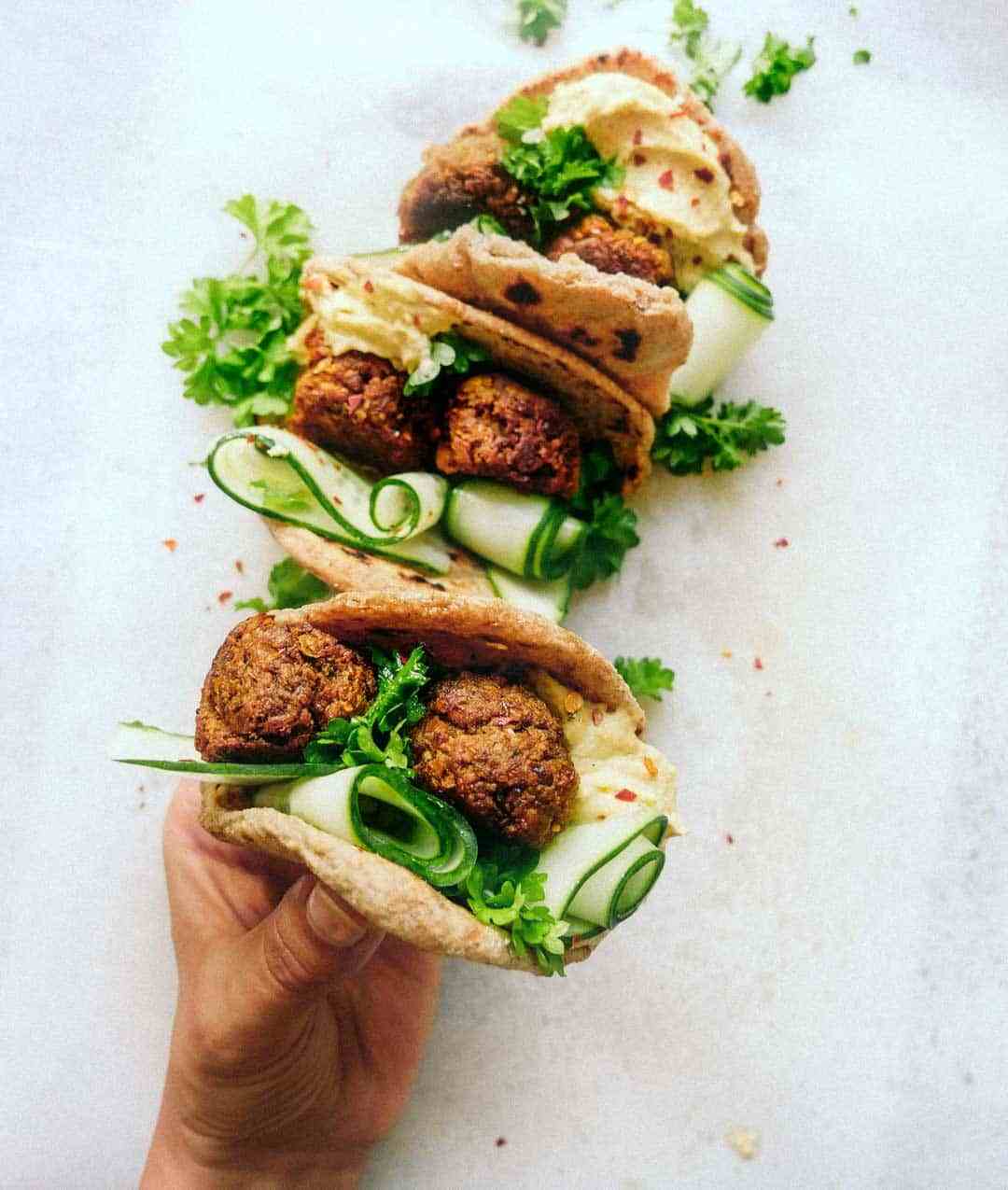 ~ I hope you could use this falafel meatball recipe! Just let me know in a comment below if you have any questions making it.
Rate the recipe below: