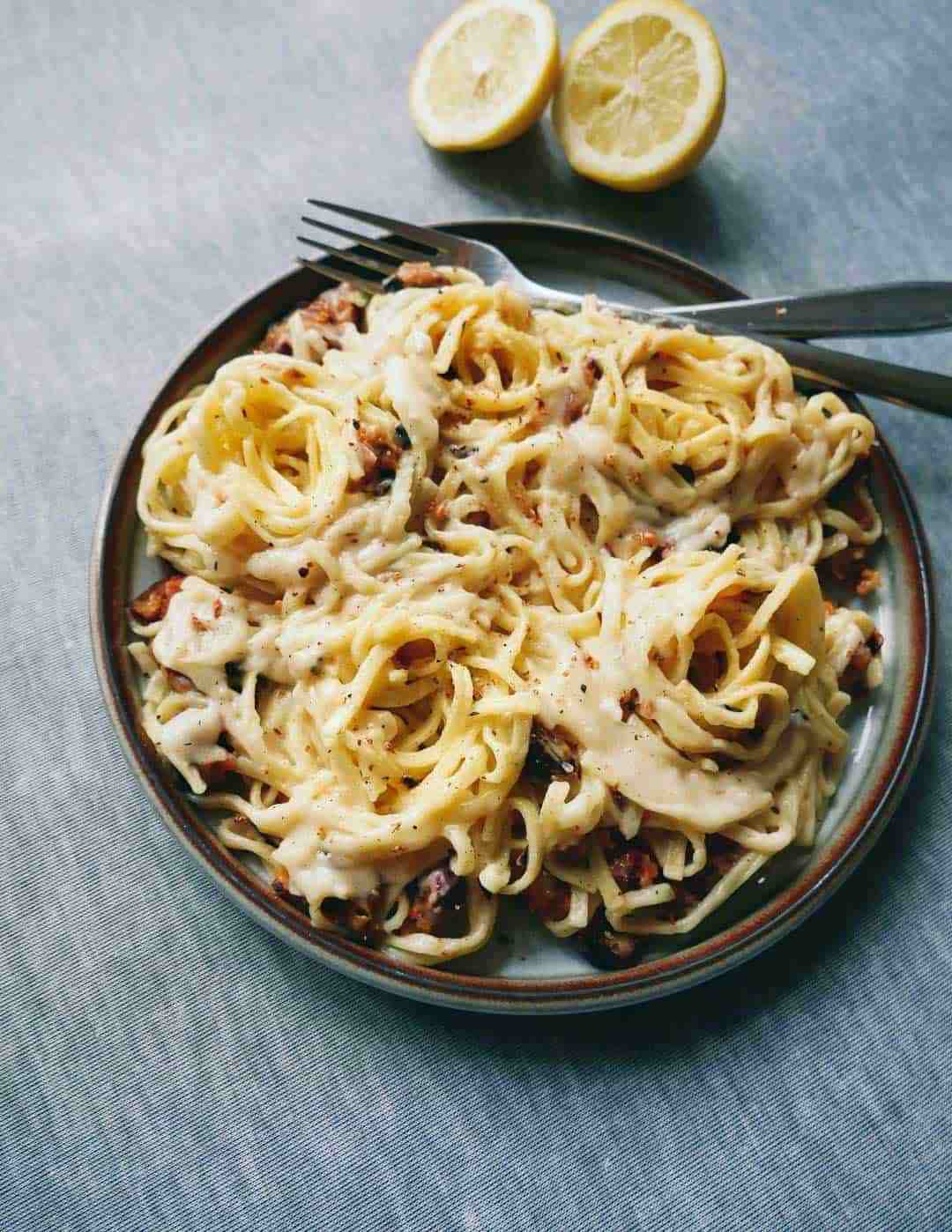 Pasta or Spaghetti are some of my absolute favorites when I need something quick, warm and comforting. This Vegan Spaghetti Carbonara is the dream 15 minute meal so because of that I think I make Pasta or Spaghetti at least once a week. I use to make my simple pesto recipe, which I always have a big batch of and then stir it through a hot bowl of penne and some veggies.
Today I went for a classic favorite recipe – Vegan Spaghetti Carbonara. Perfect on busy days and taste absolutely delicious.
If you want the carbonara meat free like me, you can always add mushrooms, courgettes, egg-plants or other of you own favorite vegetables in this dish. Today I used a leftover of these Vegan Bean Sausages, chopped in small pieces and roasted on the pan. A perfect combination to the creamy Spaghetti result. But as this recipe says underneath – mushrooms or other vegetables also does the job perfectly!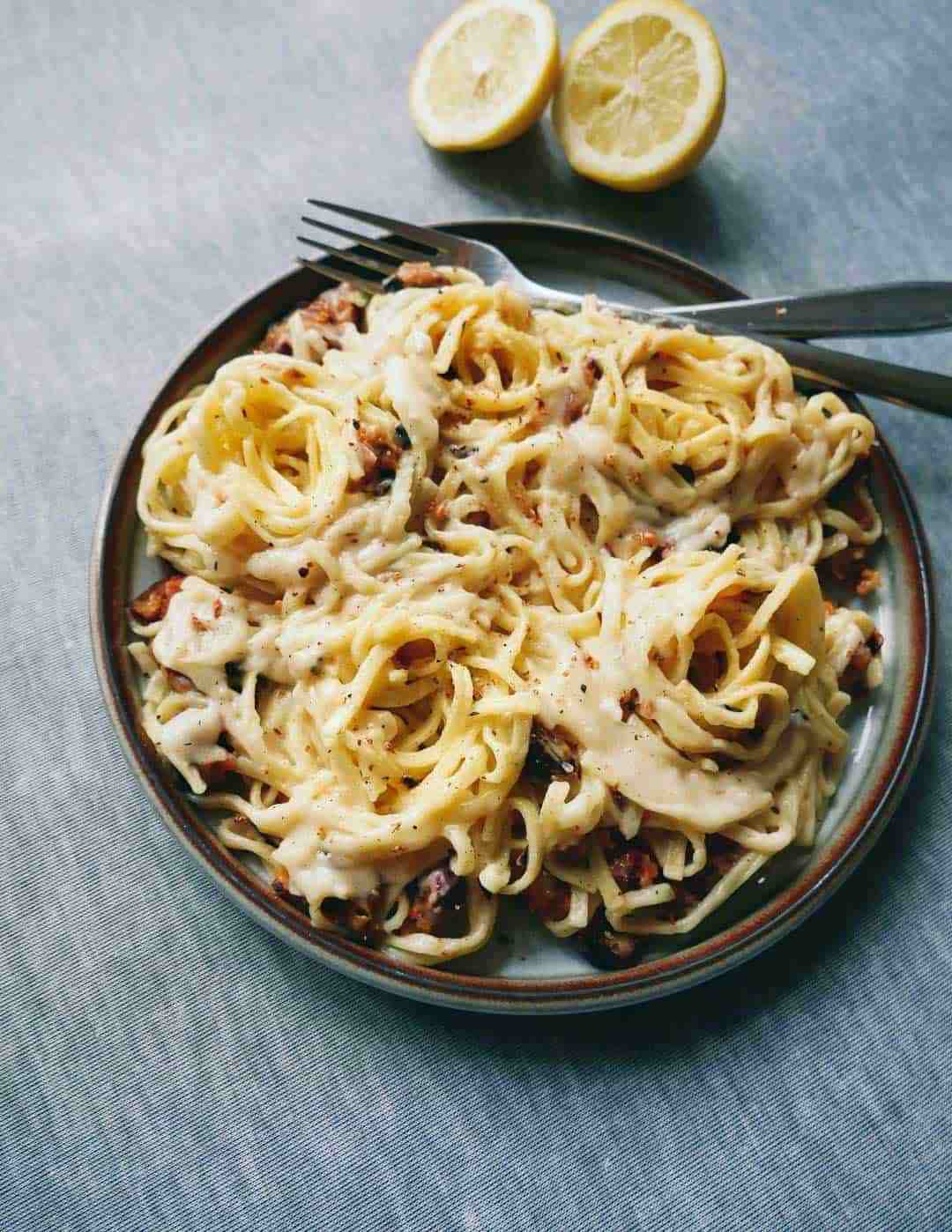 Print Recipe
Vegan Spaghetti Carbonara
Creamy and easy recipe for Vegan Spaghetti Carbonara. Perfect on busy days, easy and tasty to make. Try out this delicious Spaghetti Carbonara recipe.
Ingredients
Test Spaghetti for 2 persons

A handful of mushrooms, eggplant or 1-2 Vegan Bean Sausages, chopped

1 clove of garlic, pressed

1 onion, chopped

2 tablespoon flour

2 tablespoons plant butter

1,5 - 2 cup Plant Milk (or Soya Cream)

1-2 teaspoon freshly ground nutmeg

Zest and Juice from 1/2 Lemon, organic

Salt and pepper
Instructions
1
Chop the mushrooms and onion and fry on a pan at medium heat in a minute. (If you use vegetarian sausages cut them in small pieces and warm on the pan with the onion and garlic). When golden and finish, cook the Spaghetti and make the Carbonara cream.
2
Cook the Spaghetti (al dente) - according to package directions.
3
Make now the Carbonara Cream. Find a small sauce pan. Warm the butter at medium heat, add the flour immediately. Stir continuously and add the milk. Keep stirring until thick and creamy. Add more milk if needed (or if it gets too thick). Add salt, pepper, zest and juice from the lemon and nutmeg. Cook at medium heat a few minutes. Taste and add more salt or lemon if needed.
4
When the Spaghetti is cooked al dente, remove the water, add the Carbonara cream in the sauce pan and stir carefully together with the onions, mushrooms or vegan sausages.
5
Serve the finish and tasty Spaghetti Carbonara on plates, drizzle on top with extra nutmeg, salt and pepper - and a touch of lemon. Bon Appétit.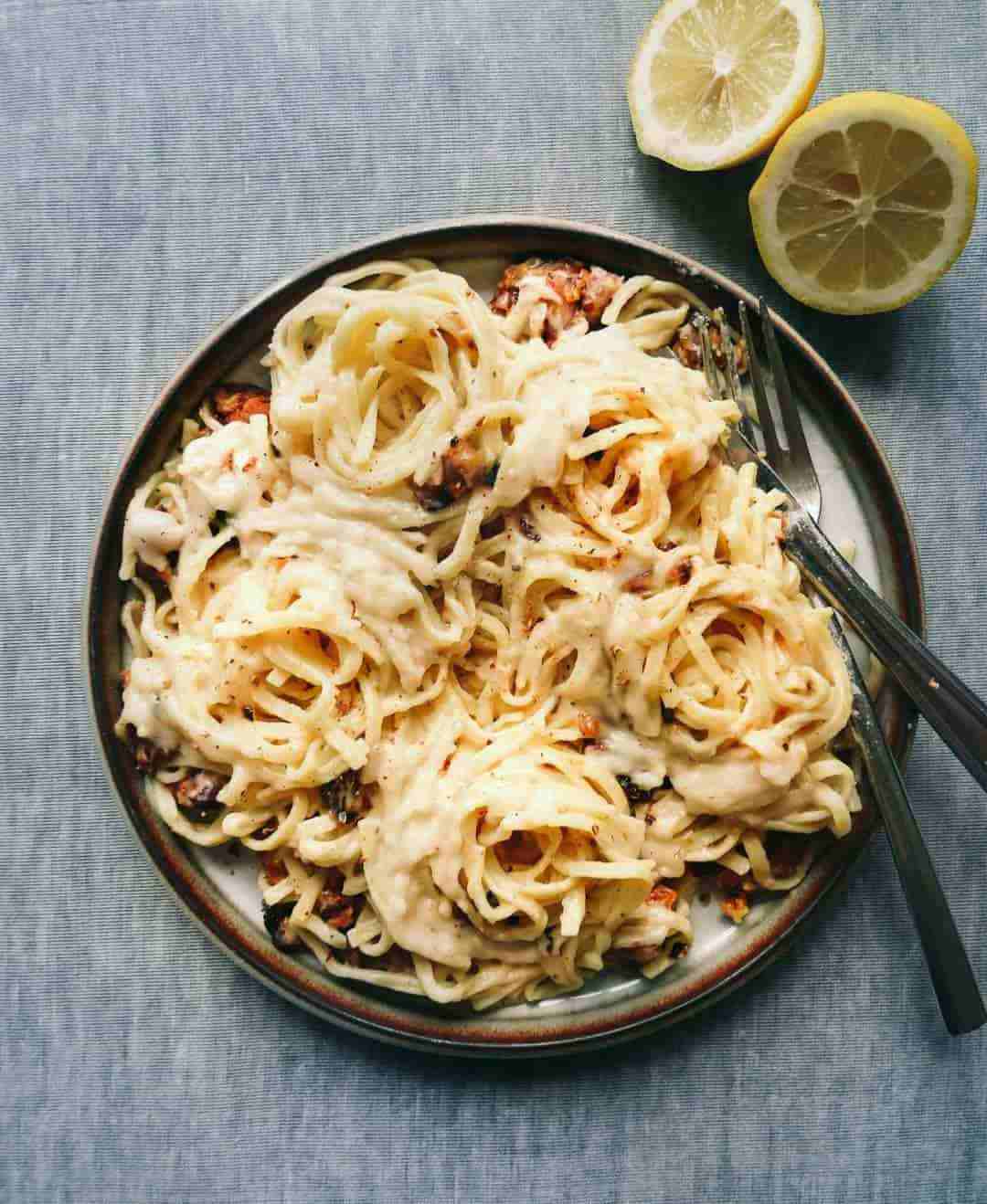 ~ So delicious and creamy result of Vegan Spaghetti Carbonara with a touch of freshly ground nutmeg, Carbonara cream and lemon.
Let me know if you have any questions making them! Don't forget to share your photos and tag me: @Micadeli_
Rate the recipe below ↓