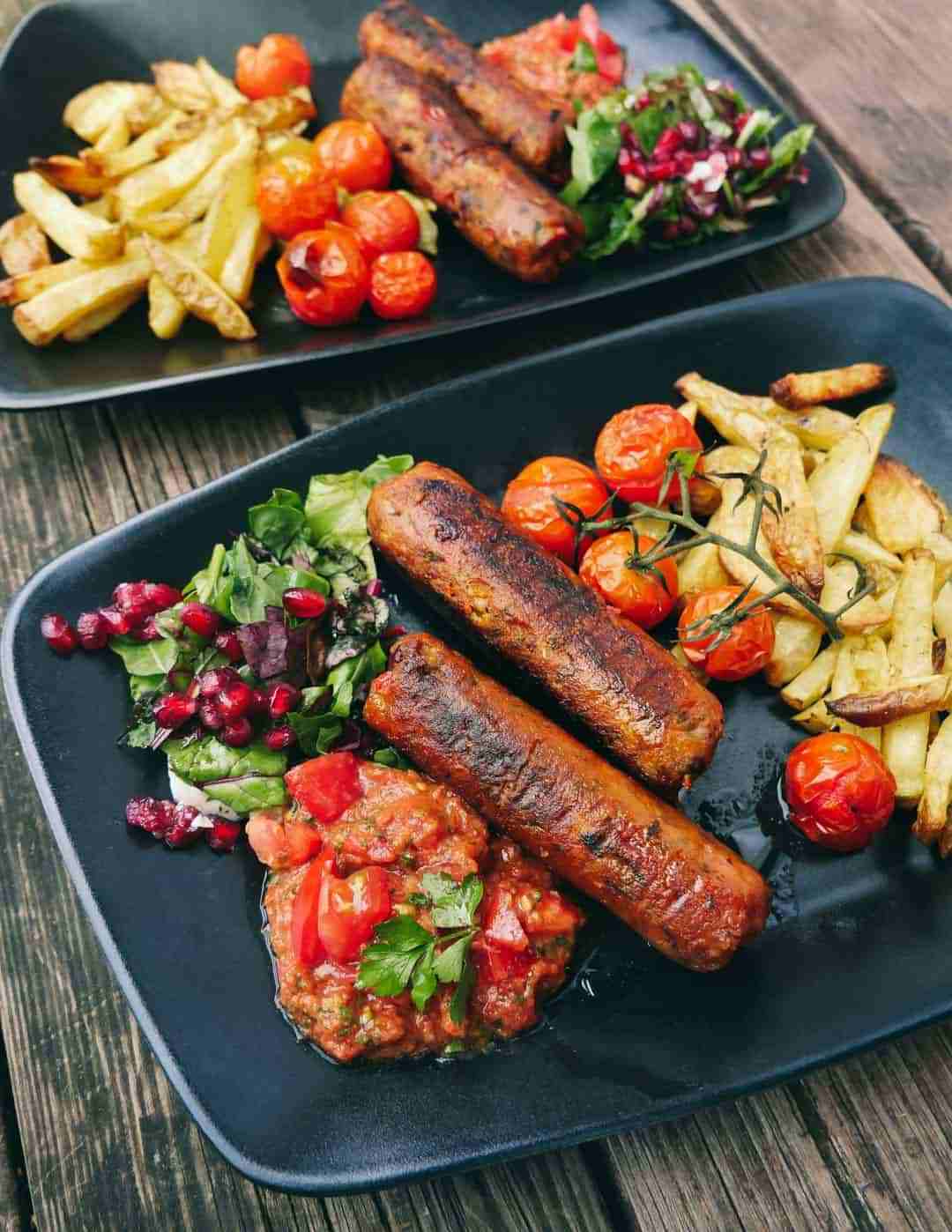 Vegan sausages – The perfect texture and tasty for BBQ's. I've wanted to make this recipe in a long time now and try out something more 'meat' kind of food. The finish result doesn't taste like meat though, but have more a bean/paprika flavored taste.
These sausages are made with a few vegetabels too: mushrooms, red pepper, onions, garlic and a little handful of fresh parsley. And then full of soft beans, a little of lemon and good spices. We actually made these sausage on a pan inside in the kitchen, but would have fit perfectly as BBQ's as well.
Please notice the cooking time on this recipe. (It takes a little bit to prepare the sausages before frying!) So you can easily make the sausages ready a day before, and then keep them in the fridge until making them.
Try also – For serving we made these crispy french fries and homemade tasty tomato salsa a lá ketchup. So good! I really hope you'll like this recipe and I hope you'll enjoy! Just let me know if you have any questions making them!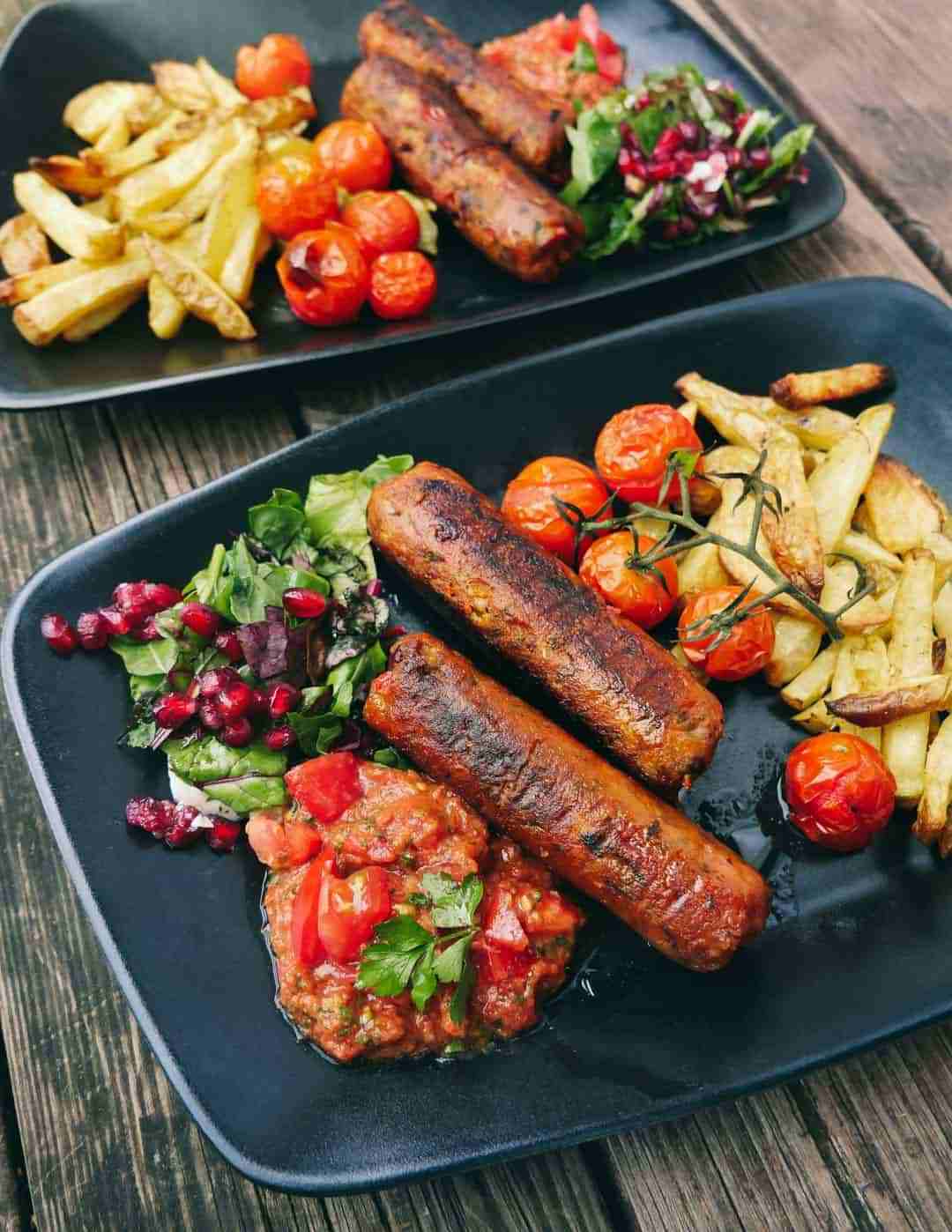 Print Recipe
Vegan bean sausages
The best vegan sausages served with french fries and tomato salsa dip. Go find the recipe underneath for these tasty vegan sausages. Enjoy!
Ingredients
2 x cloves of garlic

1 red onion

1 red pepper

6 x fresh mushrooms (normal size)

1 teaspoon cumin

2 teaspoon paprika

1 teaspoon BBQ spice (or 1 teaspoon paprika more)

a small handfull of fresh parsley, chopped

70g tomato paste

1 can of kidney beans

1 can of white beans or cannellini beans

2 tablespoon almond flour

5 tablespoon flour (or buckwheat if gluten free)

Taste with salt and pepper
Instructions
1
Chop the mushrooms, red pepper, onion and garlic. Add some oil to a hot pan and warm the mix until softened. Add the lemon zest, paprika, cumin, BBQ spice, tomato paste and chopped parsley.
2
Drain, rinse with water and dry the beans. Add in a big mixing bowl with the almond flour and normal flour. (almond flour gives a good nut taste)
3
Once the onion mix has softened, add the mixing into the beans and flour. Using a masher and mash the mix until it just starts come together and you have a rough texture. Don't over mash the mix to a puree. Add salt and pepper.
4
Make some small sheets of baking paper and sheets of foil ready (20x20 cm). Add some flour to your hands, grab a big tablespoon of the sausage mix and form into sausage sizes.
5
Wrap them into the baking sheet fold the ends - and after into the foil sheet. Make sure to do it tightly. I got 8 sausages in all.
6
When finish, place all the sausages into a big saucepan of simmering water. Cook them for 20 minutes.
7
Remove the sausages from the water and cool down in the fridge until you want to use them. When cool enough to handle, remove the wrapping. (Remember to recycle the foil).
8
BBQ or fry the sausages on a pan for 4-5 minutes with some oil or plant butter. Turn around carefully until golden all the way around. If needed add some salt and pepper.
9
Serve the sausages with salat, french fries and tomato salsa dip on the side. Bon appetit!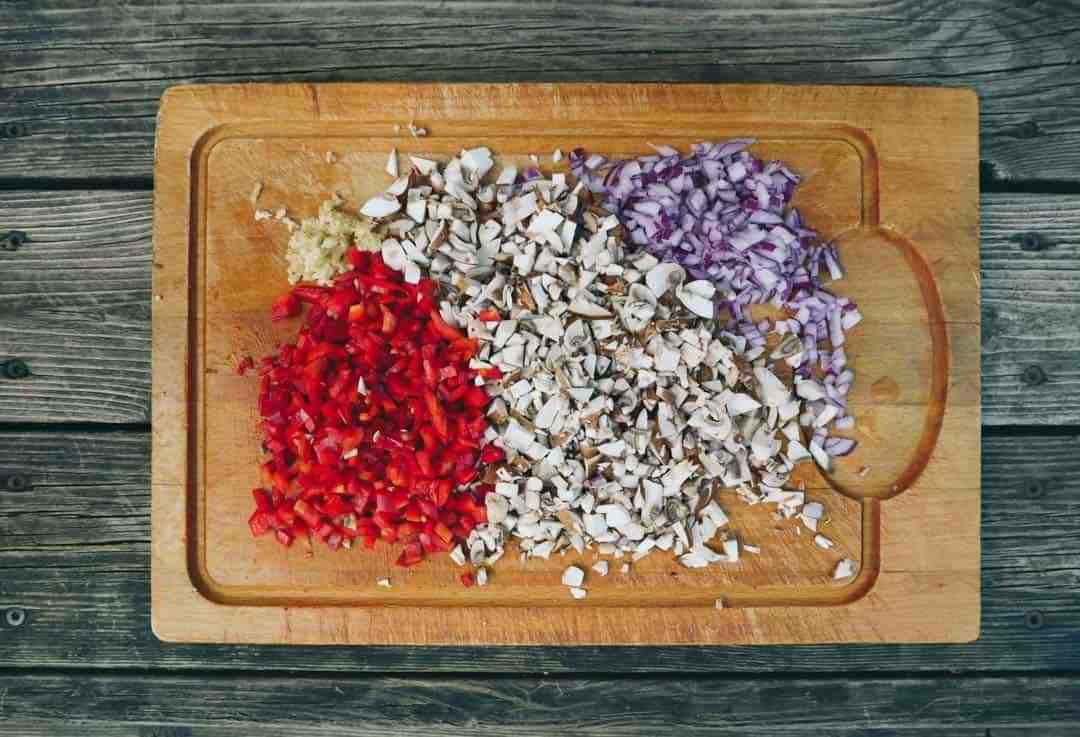 ~ The vegetables are now chopped and ready for the pan. Red pepper, mushrooms, red onions, garlic and lemon zest is all you need.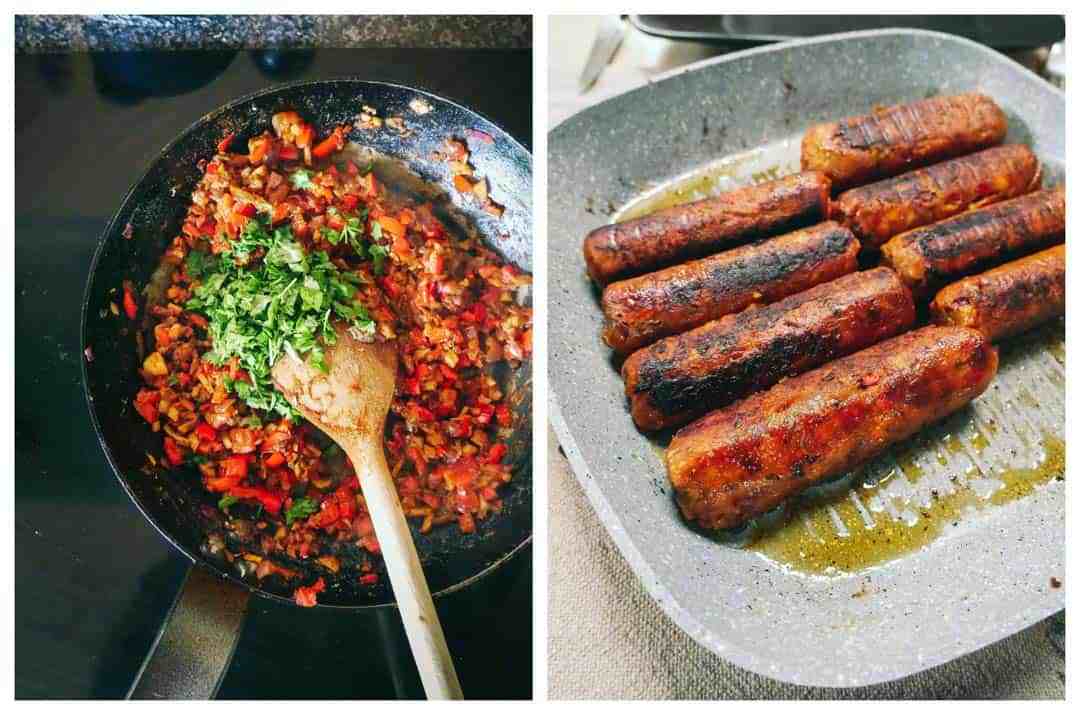 ~ Using a masher and mash the bean mix with the vegetables until it starts to come together and you have a rough texture. Don't over mash the mix to a puree.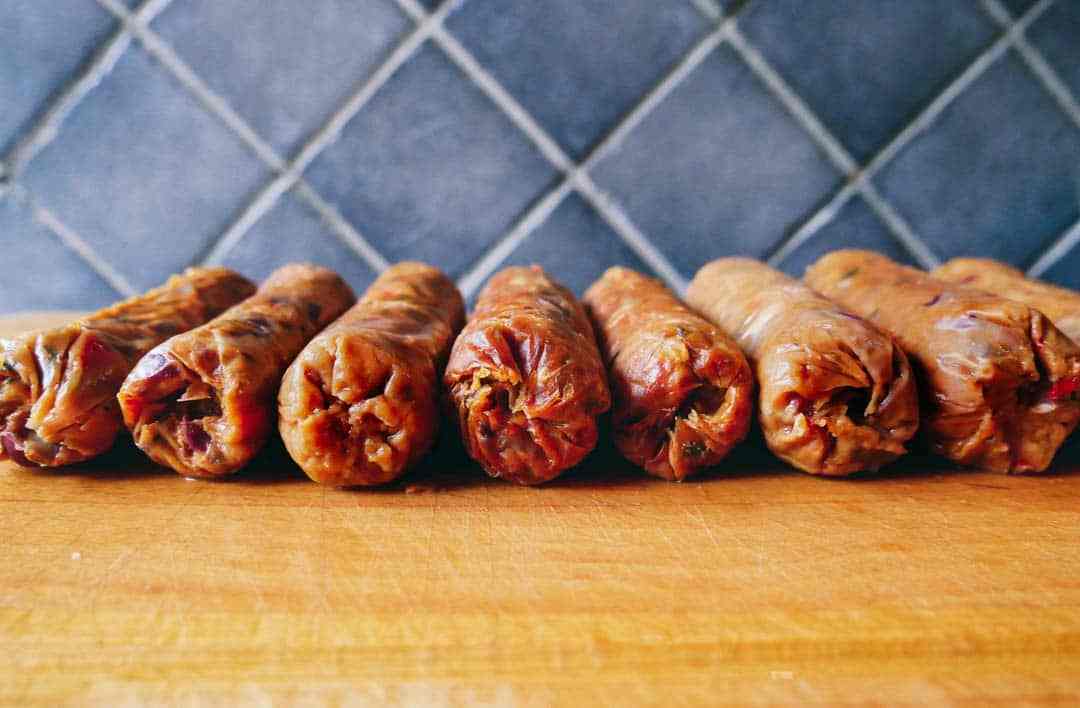 ~ The wrapping with the soft sausages inside. Ready for the cooking. Remember to recycle the foil.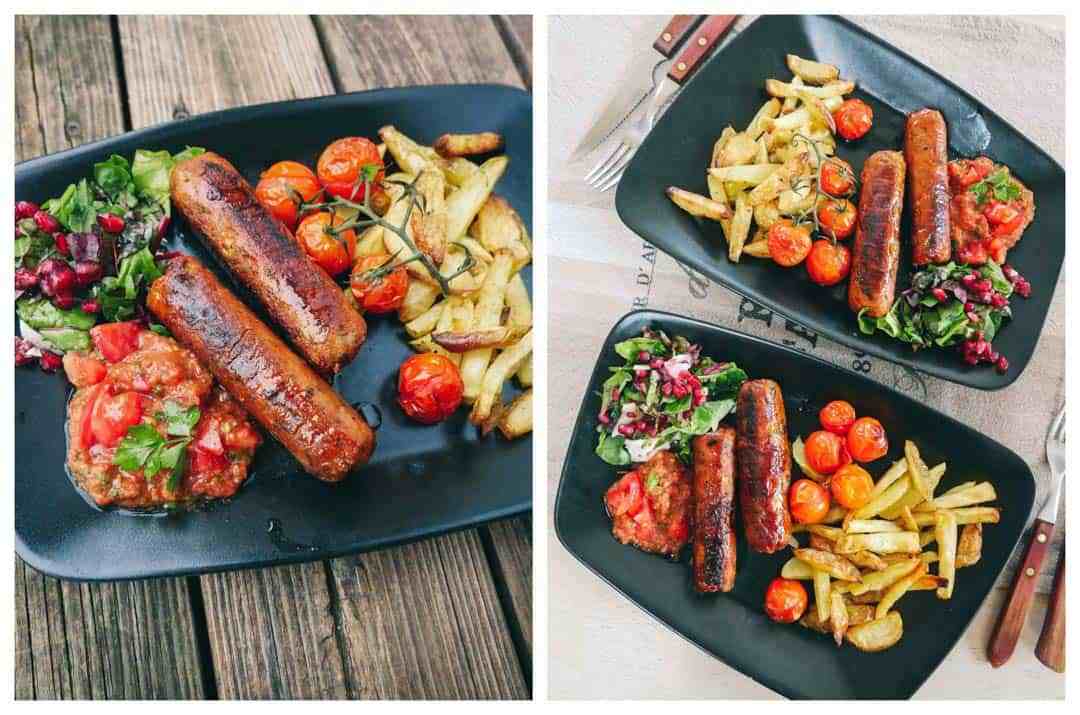 ~ The sausages after cooking and cooled down in the fridge. When removing the baking paper it gets this nice pattern and smooth surface. The sausages served with tomato salsa dip – get the recipe here.