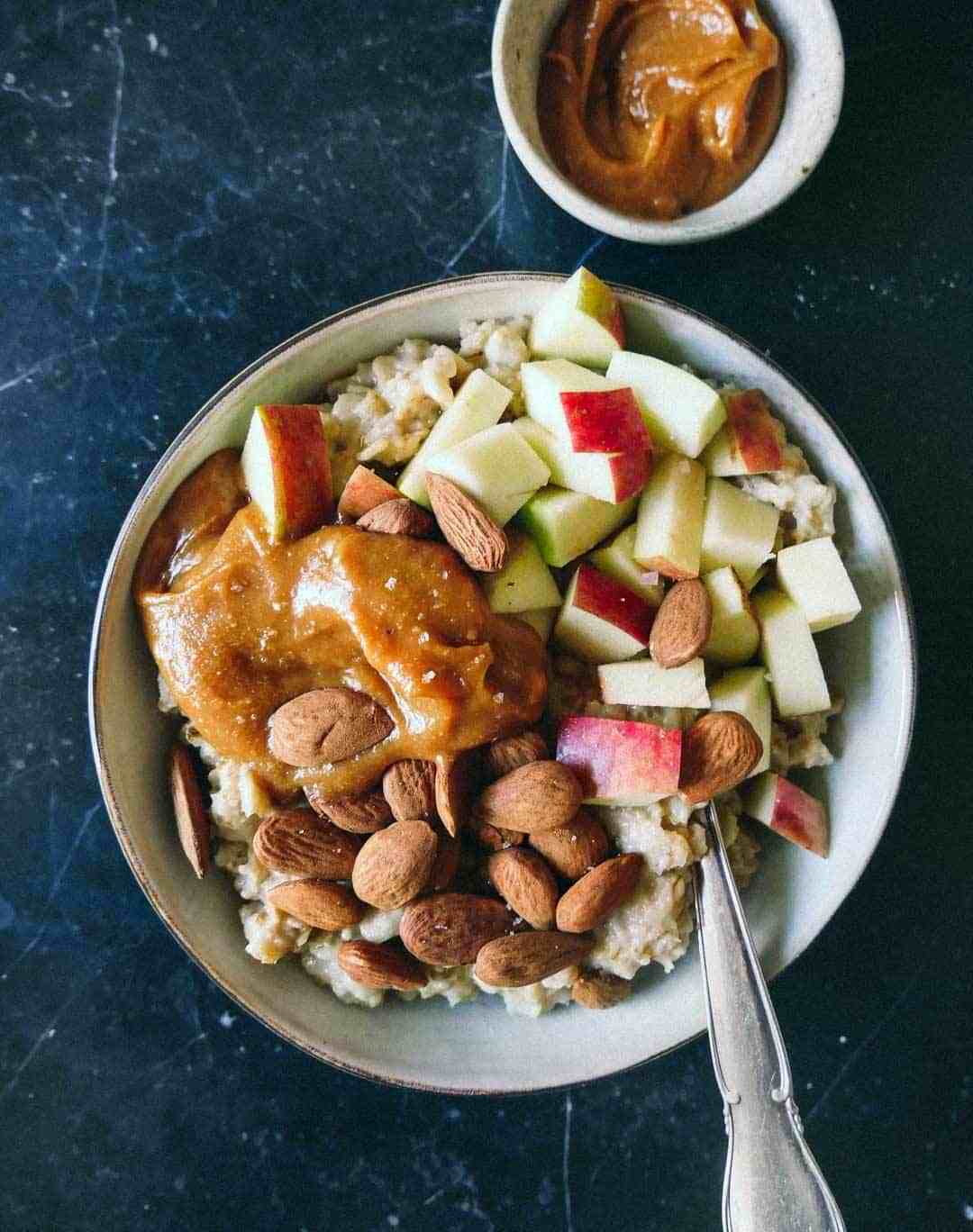 How to make vegan oatmeal with caramel:
Caramel Oatmeal – My best recipe for homemade vegan caramel. A healthier caramel version than the leading brands only made with 3 ingredients! Easy to make and taste amazing on pancakes, cookies, cakes or with sour desserts, fruit salad or other baked goods.
The caramel and cinnamon add enough flavor to keep you from dousing the oatmeal in sweeteners. Add your favorite toppings and choose from the season. These fresh chopped apples and caramel makes the breakfast so comforting and warming! But you can easily use banana, granola or warm berry compote.
Try also my berry compote recipe here.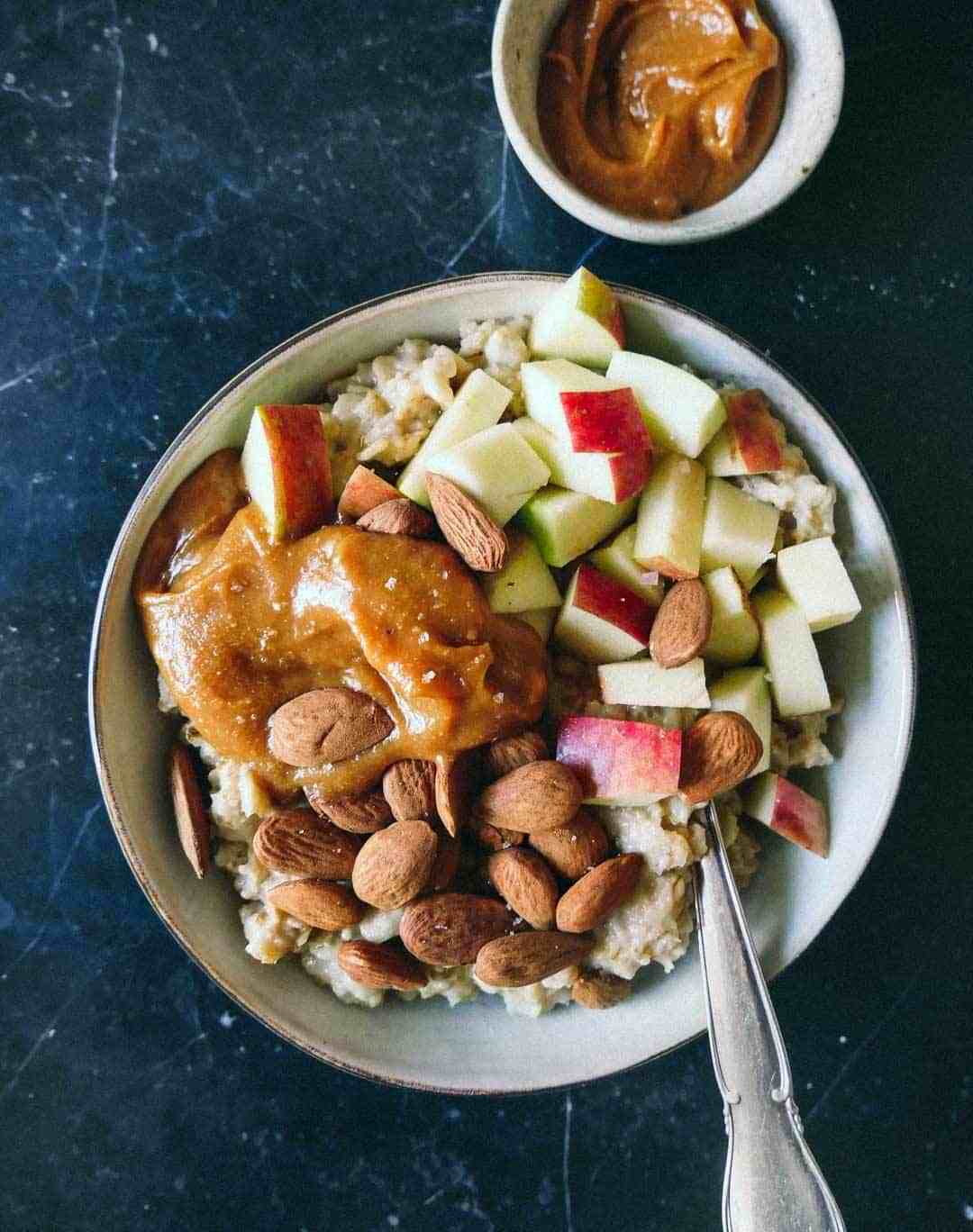 Print Recipe
Caramel Oatmeal with Apples
The best caramel oatmeal with apples – vegan version. Healthy, salted and creamy recipe with apples. Also good for overnight oats, cookies and pancakes.
Ingredients
1 cup Oats

2 cups of plant milk (I used oat milk)

2 teaspoon of cinnamon

2 tablespoon of Peanut Butter

3 tablespoon of Maple Syrup

Drizzle with salt
Instructions
1
Oat meal: Mix the oats with the milk and cinnamon in a small saucepan. Warm carefully and stir at low/medium heat.
2
Caramel sauce: Add Peanut butter and maple syrup in another small saucepan and warm carefully while stirring. (you can also use a microwave - heat carefully while stirring a few times)
3
Serve the oat meal with the warm caramel sauce, topped with chopped almonds and seasonal apples.
Can you eat oatmeal as a vegan? And what about caramel?
Yes, oatmeal is one of the best breakfast and nutritious foods for all people – no matter diet. Oats are a whole grain food and it's a food worth celebrating even though you are eating vegan or not. Oats has many benefits for example weight loss and reduced risk of heart disease.
The traditional caramel from the leading brands are very often not vegan because it's made with condensed milk or butter. But it's so easy to turn it into a vegan recipe. My recipe for caramel is an healthier vegan recipe made with 3 ingredients: Peanut butter, maple syrup and salt. It takes only a few minutes to mix together and taste incredibly good.
Is oatmeal healthy?
Yes, traditional oatmeal is actually one of the most healthy kind of breakfasts. The dish have existed in so many years (especially popular here in Denmark) and almost every kid here have been eating it ever since.
Even though there's a high amount of calories of this deluxe recipe with caramel and plant milk, oats are stil in top of the healthiest breakfast you can eat. Oats are filled with fiber, proteins, vitamins, minerals and good carbohydrates. And then it's really good for digestion. I always use rolled oats (the old fashion oats) which keep your full and satisfied in many hours – opposite instant oats.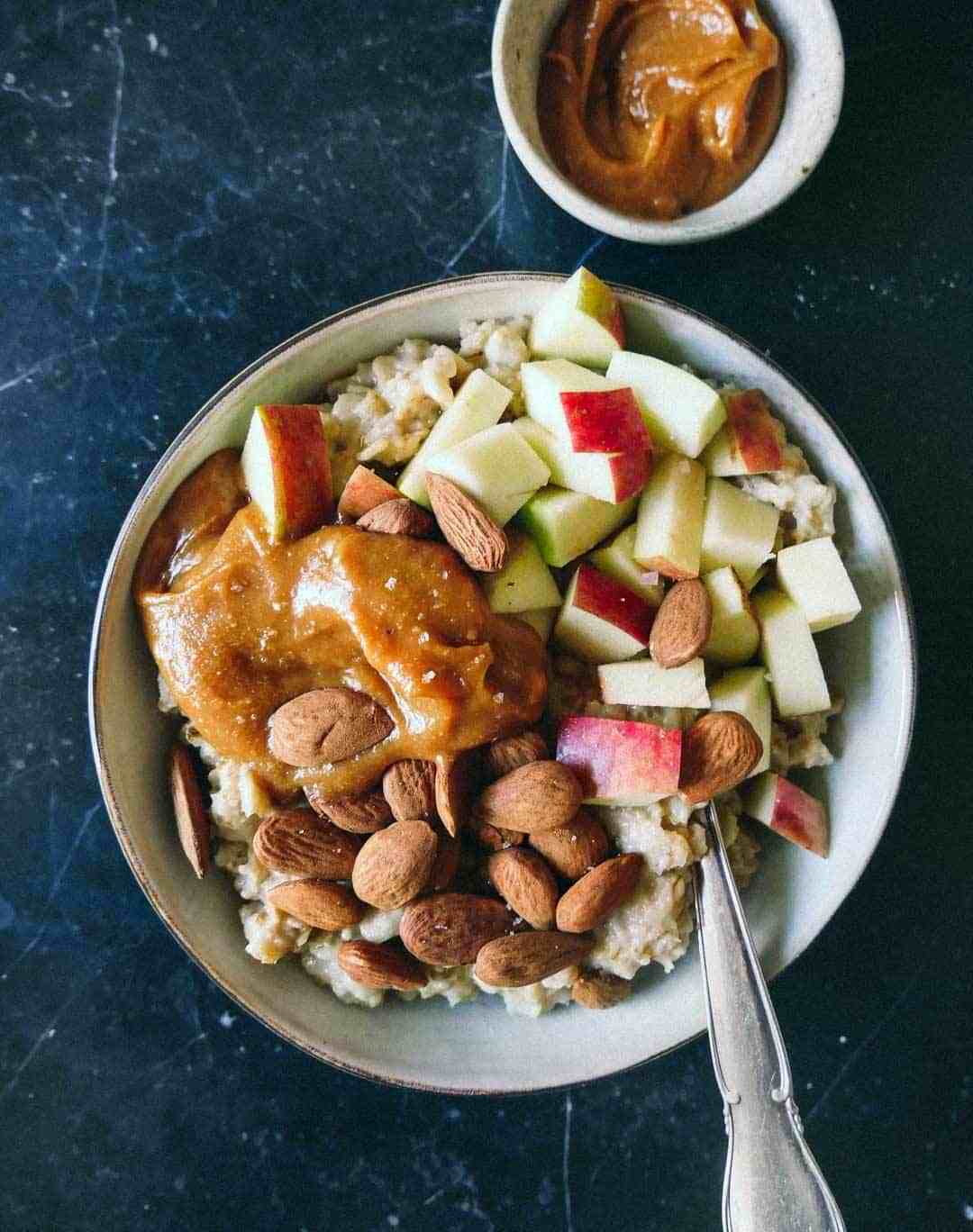 I hope you could use this recipe! Let me know in a comment below if you have any questions making it..
Rate my recipe below ↓