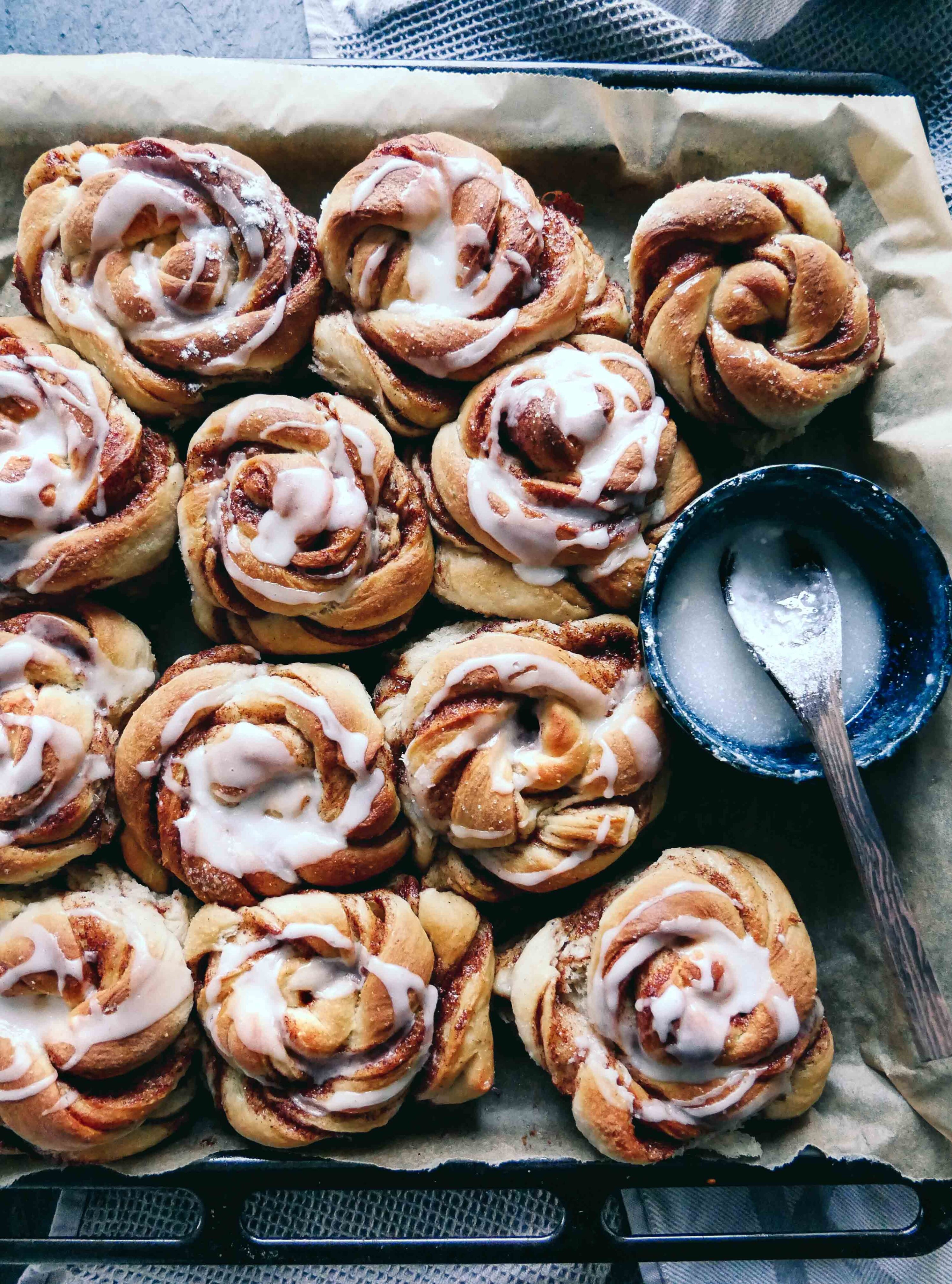 My BEST Vegan Cinnamon Rolls – The ultimate recipe for a fluffy, perfectly sweet, and melt-in-your-mouth result!
After practicing this recipe a lot the last 2 years I've made my own dream vegan cinnamon recipe. In the beginning I though the vegan result would never turn out as good as the 'traditional' cinnamon bun recipe. Which is typically not dairy-free and filled with conventional butter, eggs and milk. BUT, it turns out to be a big lie.
I've made this recipe for family, friends, my neighbor (I know, very comfy neighborhood) and my colleagues at work – and no one have ever articulated or noticed anything about these are vegan.
Sorry, I know I sound quite excited about this recipe .. But it's just because I know how good these are! It takes about 2 hours preparing and 20 minutes to bake in the oven.
You get an even more fluffy result if you let the buns rest overnight before baking (they will raise about double size!). But the instructions will come later on..
What I'm trying to say is that it's not '2 active hours' in the kitchen. You'll need to prepare a bit – and then there's a lot of waiting time. But I guess that's the same with buns, bread or other good bakery! Patience is needed 😉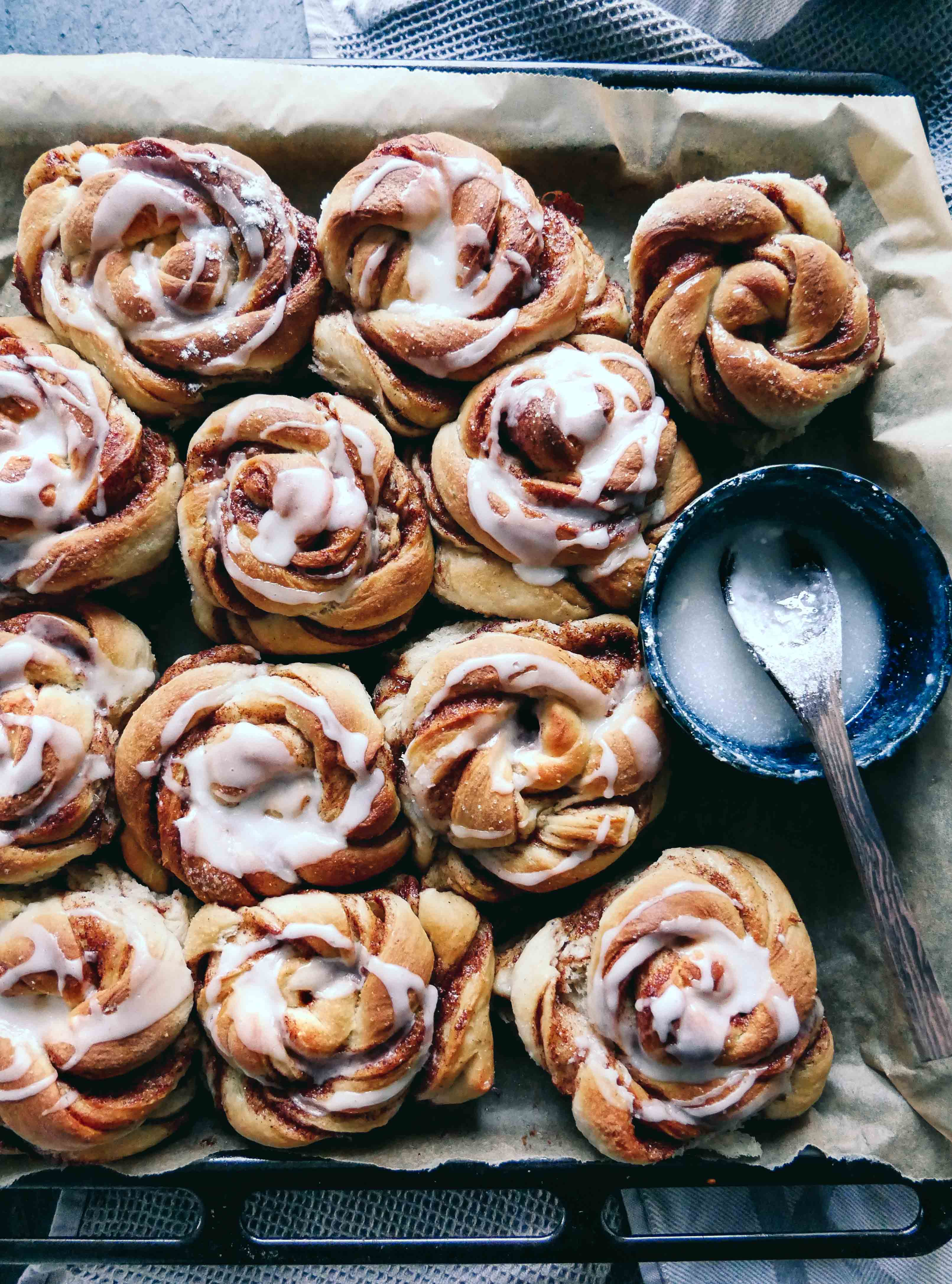 Print Recipe
Vegan Cinnamon Rolls:
Vegan Cinnamon Rolls – My best recipe for fluffy cinnamon buns. Sweet rolls for breakfast, pastry or dessert. A popular danish Kanelsnurrer.
Ingredients
Dough:

5 dl. Almond Milk (or other plant milk)

50g. fresh Yeast

2 tablespoon Cardamom

150g. Sugar

1 tablespoon Salt

1 kg. Organic Flour

150g. plant based Butter



Cinnamon Sauce:

200g plant butter

20g. Cinnamon (depends on how strong you want)

200g. Sugar

Coconut Oil
Instructions
1
Preparing: Start by adding milk and yeast into a high powered blender. I use to mix this with my hands.
2
Add cardamon, sugar, salt and 500g. flour. Start to mix slowly, afterwards turn up the speed. Slowly add the last 500g flour into the blender. Mix on high level in 4-5 minutes until the dough is sticky and coherent. (You'll need to be a little patient here.)
3
Cut the butter in small cubes. When the dough is sticky and coherent add the small butter cubes one by one while the blender is still mixing. When all the butter is added and the dough is blank and sticky on the outside it's done. Cover the bowl with a clean dishtowel and let the dough rise for 1 hour.
4
Make the Cinnamon Sauce. Warm the butter a few seconds. Mix the melted butter with cinnamon and sugar with a spoon. I use to place the cinnamon sauce in the fridge. It will be more easy to work with later on.
5
Drizzle some flour on a clean surface on the kitchen table. Take out the dough on the table. Form the dough as a big rectangle and add the cinnamon sauce on top - See the pictures below. Wrap the dough in 3 layers and cut in lines. Form the rolls and place them on a baking tray covered with baking paper. Cover with dishtowels and let it rest at least 1 - 1,5 hour (You can also leave them like this overnight).
6
Baking: Preheat the oven at 180C (350F) degrees. Add some Coconut Butter or Coconut Oil on top of the rolls. Drizzle with a little sugar too.
7
Bake the Cinnamon Rolls in the oven in 16-18 minutes until they have a nice golden color. Cool down and add white glaze or chocolate sauce on top!
Read more about my dough, rest and baking tips here. I'll give you my best tips and tricks for perfect baked bread. I think you can make these rolls good with half of the waiting time. But if you want a good fluffy result with soft and thick buns, then you'll need to be patient.
Also, make sure you tag me on Instagram @micadeli_  if you recreate any of these recipes. I would love to see your photos!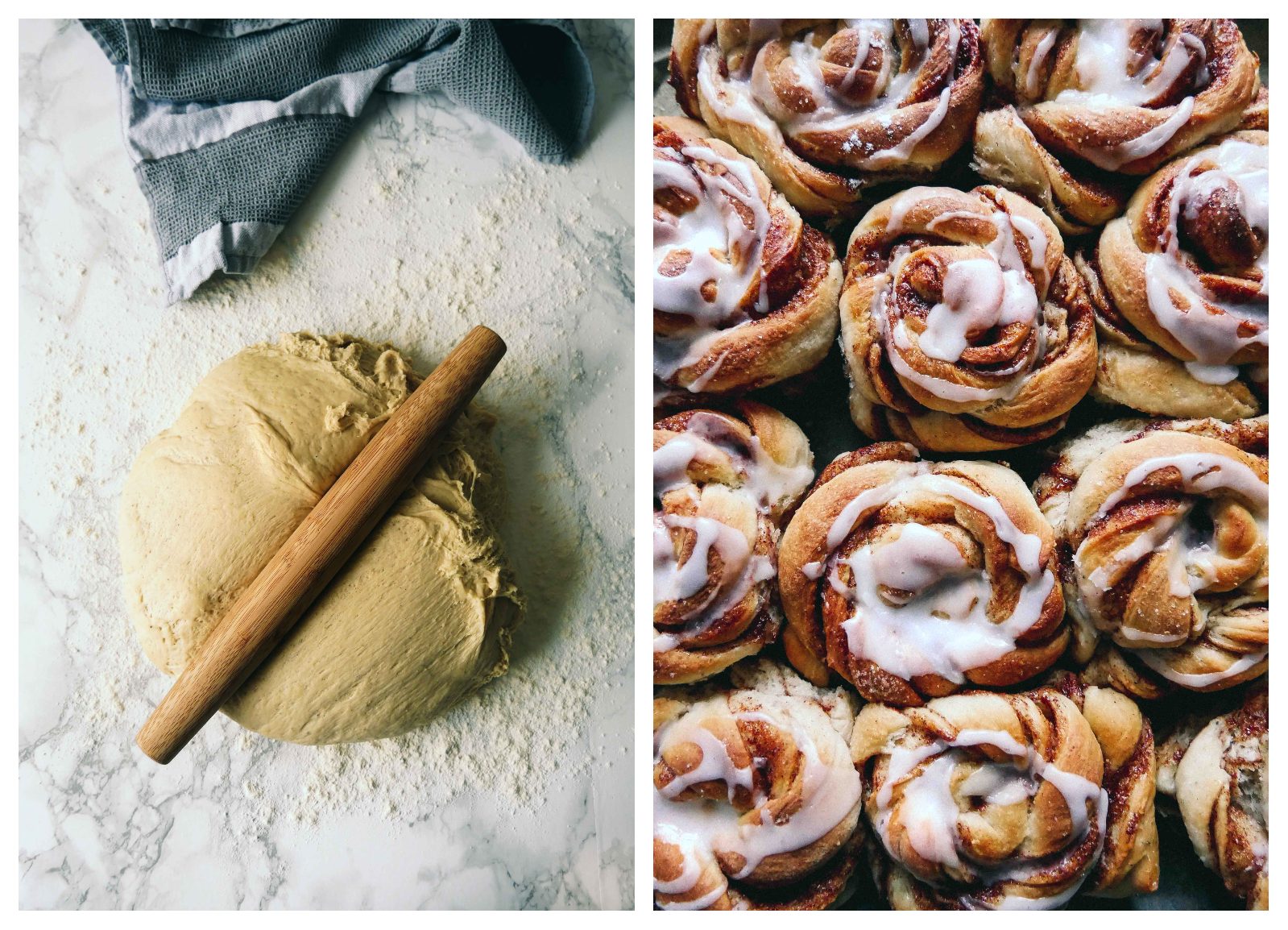 .. But how to make Vegan Cinnamon Rolls?
As said in the beginning this recipe is vegan, which means no eggs or conventional milk or butter is used. Only naturel vegan ingredients. I've made a picture below that shows you my process and how I use to make them!
The size of the dough. About 62-64 cm. in height (doesn't need to be the exactly same size as mine – but just close to)
Cover all the dough with the cinnamon sauce on top. I use to leave 1-2 centimeters in every corner sauce-free.
Wrap the dough. Start by wrapping 1/3 of the dough into the center. Then wrap the last part 1/3 as well, so you get a full covered dough i 3 layers.
Picture 4 shows how the dough should look now. You have the same high around 62-64 cm. But now in 3 layers!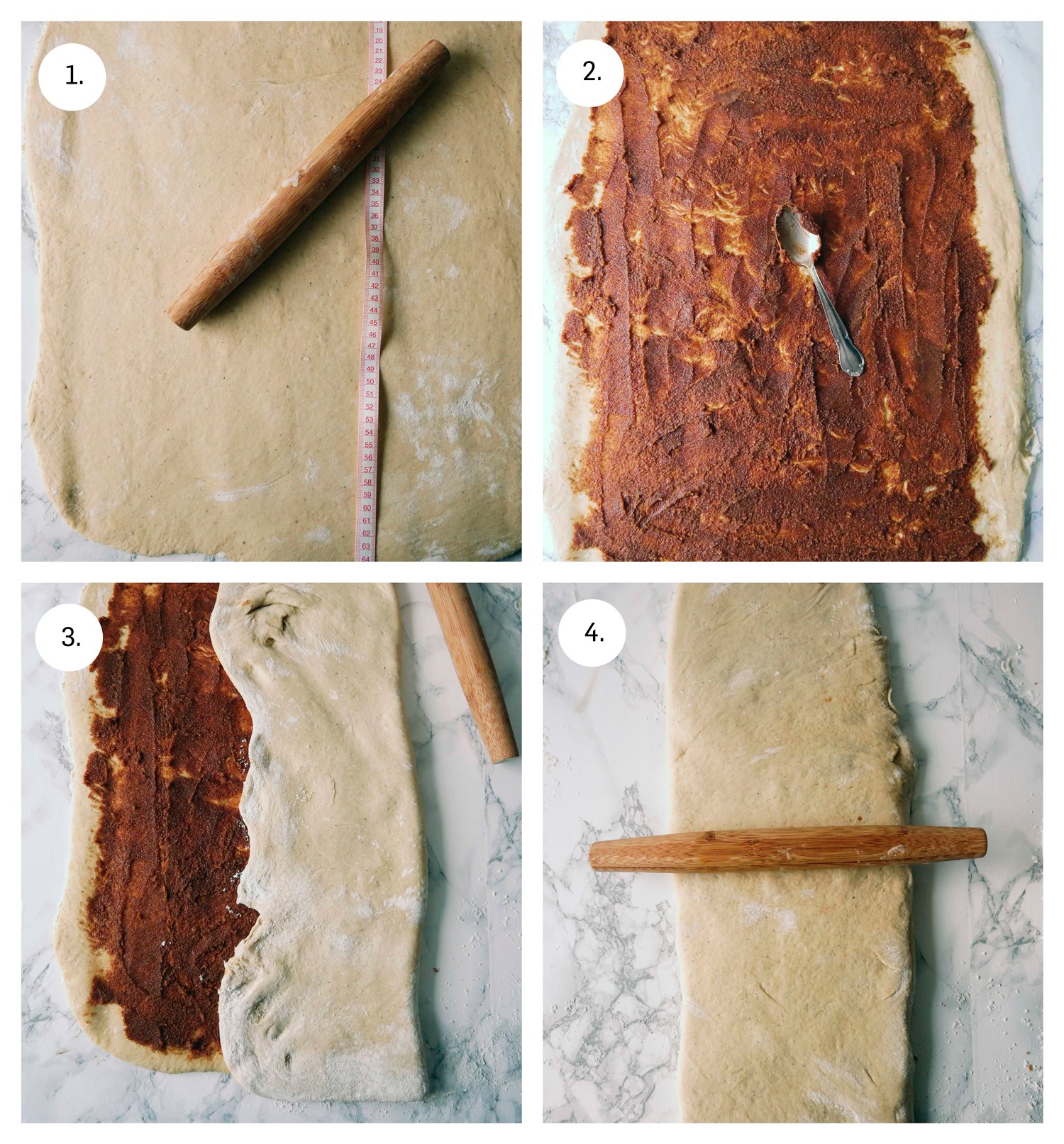 .. And now the fun part begins! When you're ready with picture number 4 and have 3 layers of cinnamon dough, you are now ready to fold them. You can fold them like traditional rolls just turn them around like 'snail'. But I decided to make these like 'Swedish Kanelsnurrer' – which is a very popular pastry here in Denmark too.
This means that you cut your dough in parallel lines around 1 – 1,5 cm. thick. Keep left hand on the left side of the piece and roll the right end with your right hand on the table. Now you should have a beautiful swirl look like the picture below ↓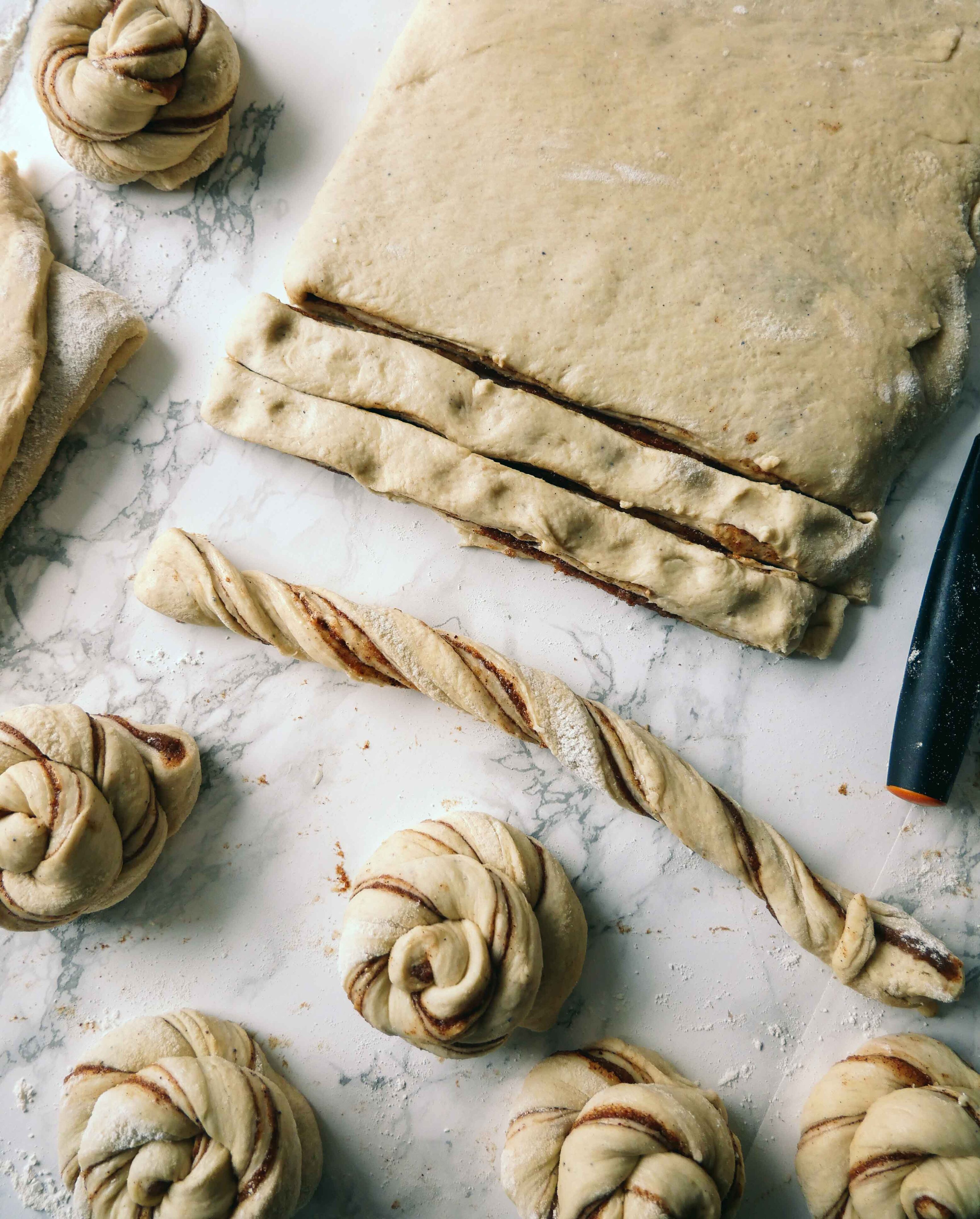 The cinnamon rolls are now ready to be baked. Cover them up with a little juicy Coconut Oil on top. Use a spoon og kitchen brush. Bake in the oven for about 20 minutes until crispy and light-golden.. Mmmh, can almost smell the buns here right now!
These unbaked rolls down here ↓ was made in the evening.. Then I waited about 8-10 hours so they could rest on the baking tray covered with a dishtowel. All worth the waiting time – they gets to fluffy and thick in the consistency!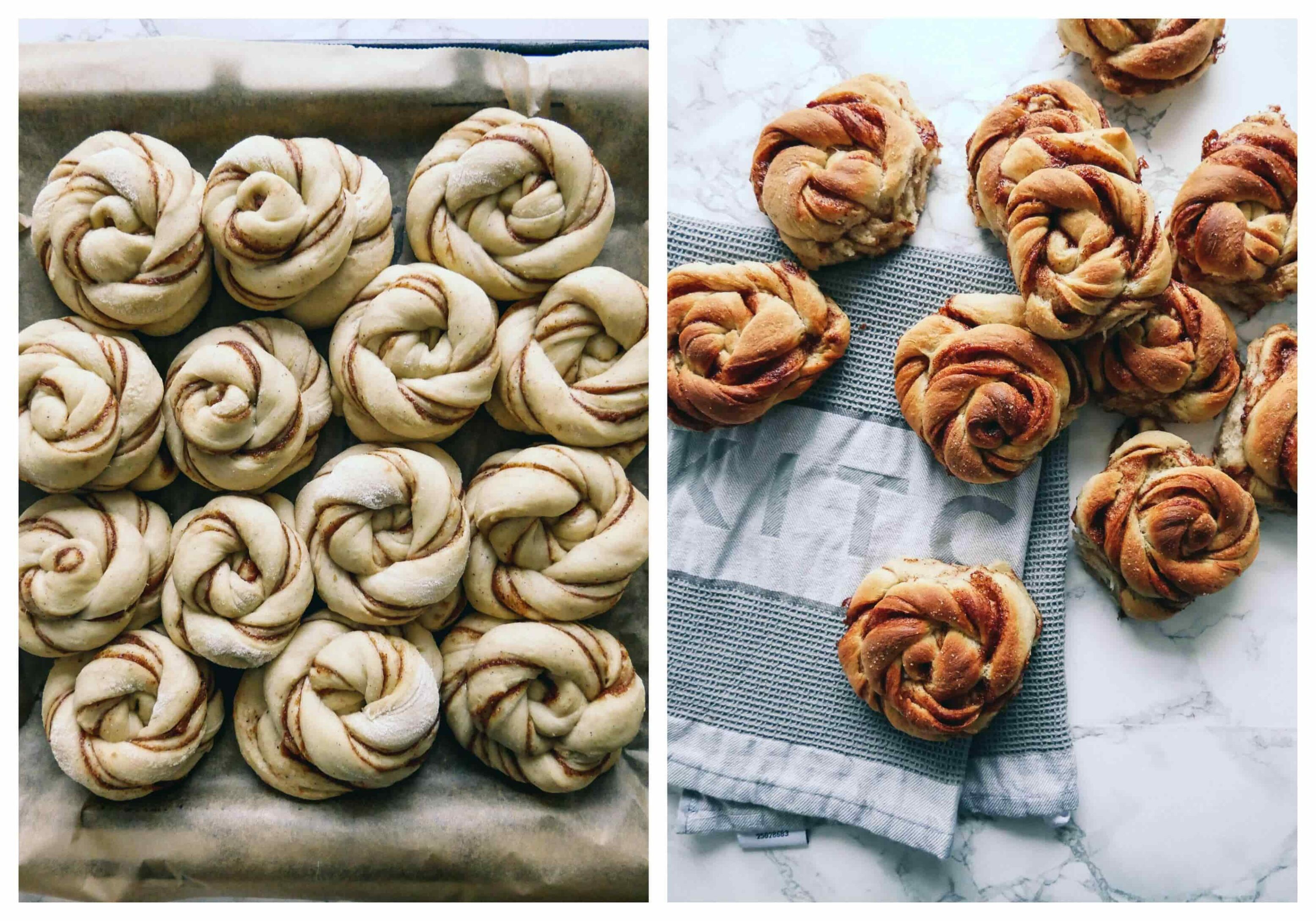 Any toppings for Vegan Cinnamon Rolls?
You can easily eat these just the way they are! Coming warm out of the oven they are so sweet and gives a melt-in-your-mouth result!
But warm chocolate sauce on top of the cinnamon buns should be good too! Some add a little popped quinoa, or roasted hazelnuts as well. The hazelnuts doesn't need to be toasted before using, because when you put them on top on the cinnamon rolls they'll get toasted in the oven too. Enjoy the recipe eating them directly warm from the oven. This dough is just so good – and it's a perfect thing to make in this autumn or winter season and those cold months coming up!
I really hope that you can use this recipe! Just let me know in a comment below, if you have any questions making it.
Did you like this recipe? Rate it here ↓