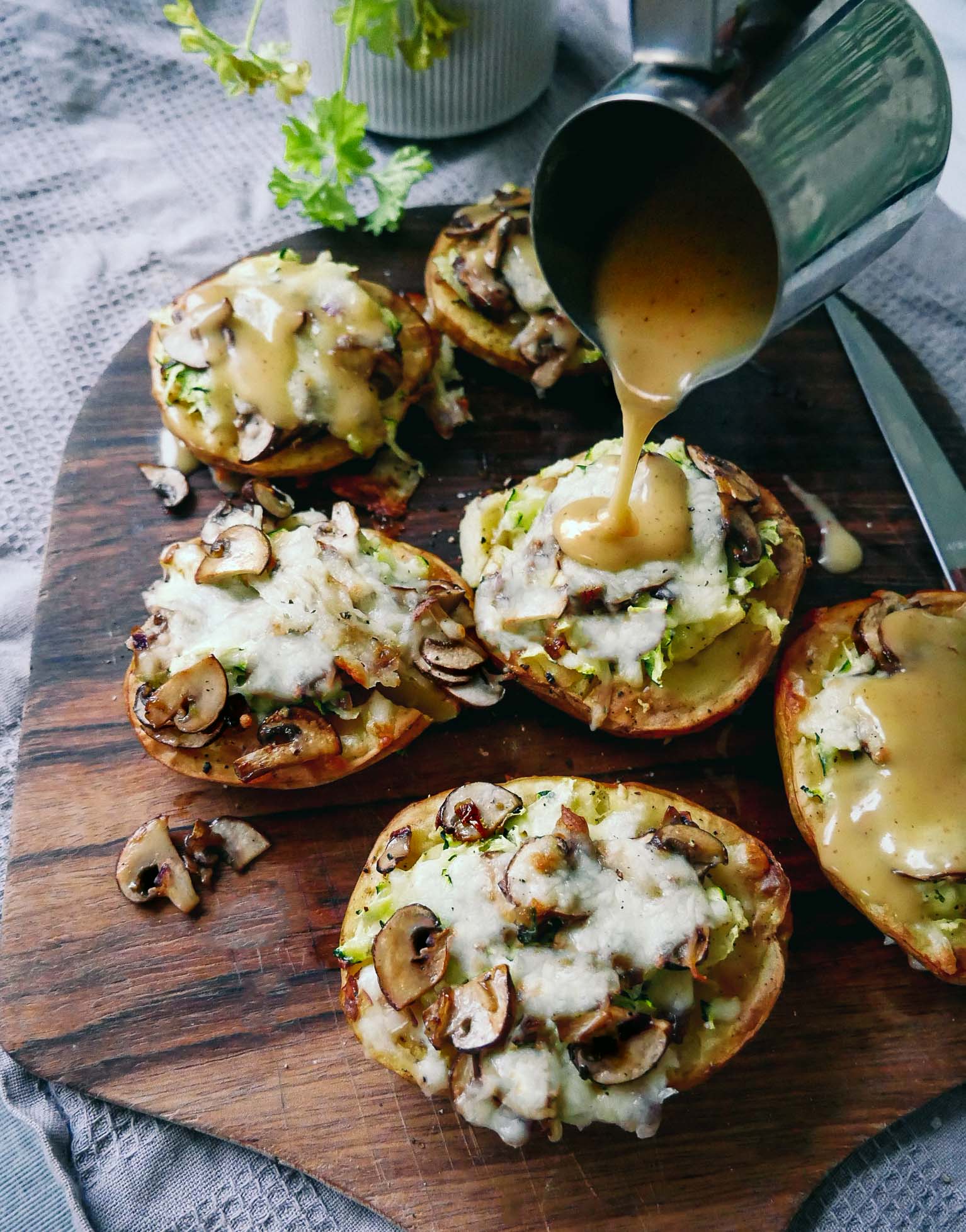 These Oven Baked Potatoes are crispy on the outside – and perfectly fluffy and tender on the inside. All you need is some potatoes, olive oil, sea salt and toppings. 
Decorate on top with cheese (I used a vegan version), mushrooms, zucchini or other of your favorite toppings. This brings the traditional baked potatoes to a whole other level. I also added a light tasty and warm honey and mustard sauce to this meal. It gives an even more vibrant and satisfying consistency to these stuffed baked potatoes. But if you don't have any sauces or dressings store bought you can easily mix your own or omit that part of the recipe.
These Oven Baked Potatoes are one of my favorite side dishes to serve with other small dishes. It's delicious and can be served with salads or warm dishes – both for lunch or dinner. And the best part is that they require only about 5 minutes of preparation work. Once baked, you can serve them as is – or pile high with your favorite toppings.
This recipe is made for 3-4 persons when these are served as a side dish. You can also serve this with small normal-sized potatoes and turn this into cute small appetizers. Don't forget to drizzle with cheese and shredded vegetables on top. If you have any herbs they would be perfect too.
» Serve these baked potatoes with:  Warm roasted Carrot and Lentil Salad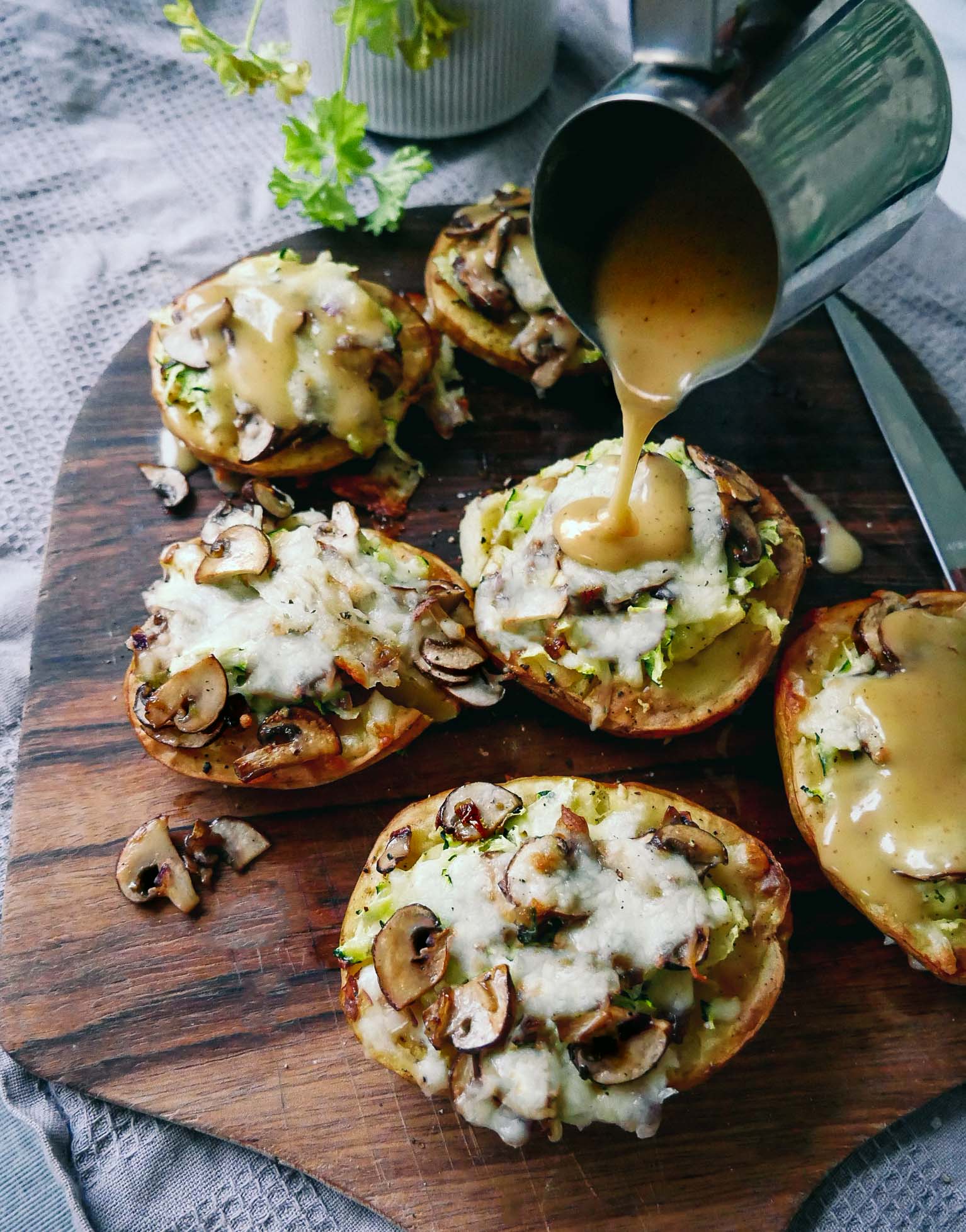 Print Recipe
Baked Potatoes with Toppings:
Tasty and easy baked potatoes stuffed with shredded zucchini, slices mushrooms and vegan cheese. Eat warm and top with a sauce.
Ingredients
3 x medium Baked Potatoes

100g. Zucchini

100g. Mushrooms

100g. Cheese (I used Vegan Cheese)

3 tablespoon of Plant Butter

Salt and pepper

Sauce: Honey and mustard sauce
Instructions
1
Turn on the oven at 200C (390F) hot air.
2
Cut the potatoes in half pieces and make a cut in the center of the half potatoes. Drizzle with olive oil, salt and pepper. Place on a baking tray and bake the oven in 45 minutes.
3
Wash the zucchini and prepare them shredded. Wash and chop the mushrooms in small slices.
4
Take out the potatoes from the oven. Distribute the butter on top of all potatoes, add the zucchini on top along with mushrooms and cheese. Drizzle with salt and pepper. Put the tray back in the oven ad bake for 10 more minutes or until it gets a golden and crispy color.
5
Serve the baked potatoes directly from the oven. Add a good, warm honey and mustard sauce on top - or choose a favorite sauce/dressing yourself.
Baked potatoes and topping inspiration:
There are plenty of ways you can make baked potatoes. But the traditional way is to scrub the potatoes, to wash the potatoes and dry them. Afterwards to oil them (Olive oil helps the skin crisp up more and makes it taste even better). Salt them – You're going to want a lot of salt for that addictive oven baked salty flavor. And last but not least – stuff them with butter, salt and pepper when finish.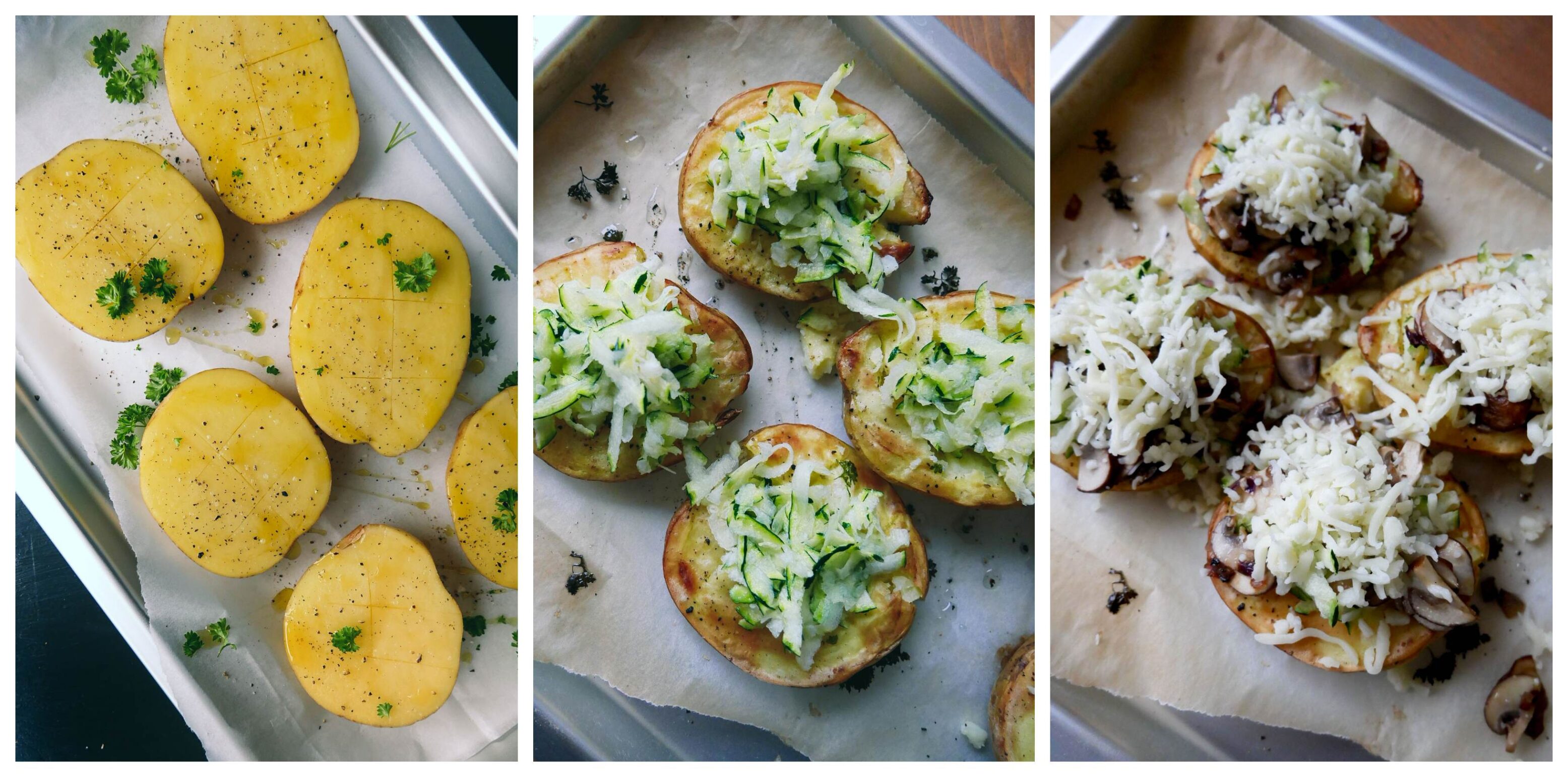 When I started to make this recipe I actually wanted them pretty simple and almost like traditional baked potatoes (with no toppings at all). Just the soft, warm potato taste, salt, pepper and melted butter on top. But then I got some inspiration from another recipe I was testing, and found out that these were so much better with a gently spoon of toppings! So here you have a result of toppings with shredded zucchini, cheese (vegan), a little plant butter and slices mushrooms.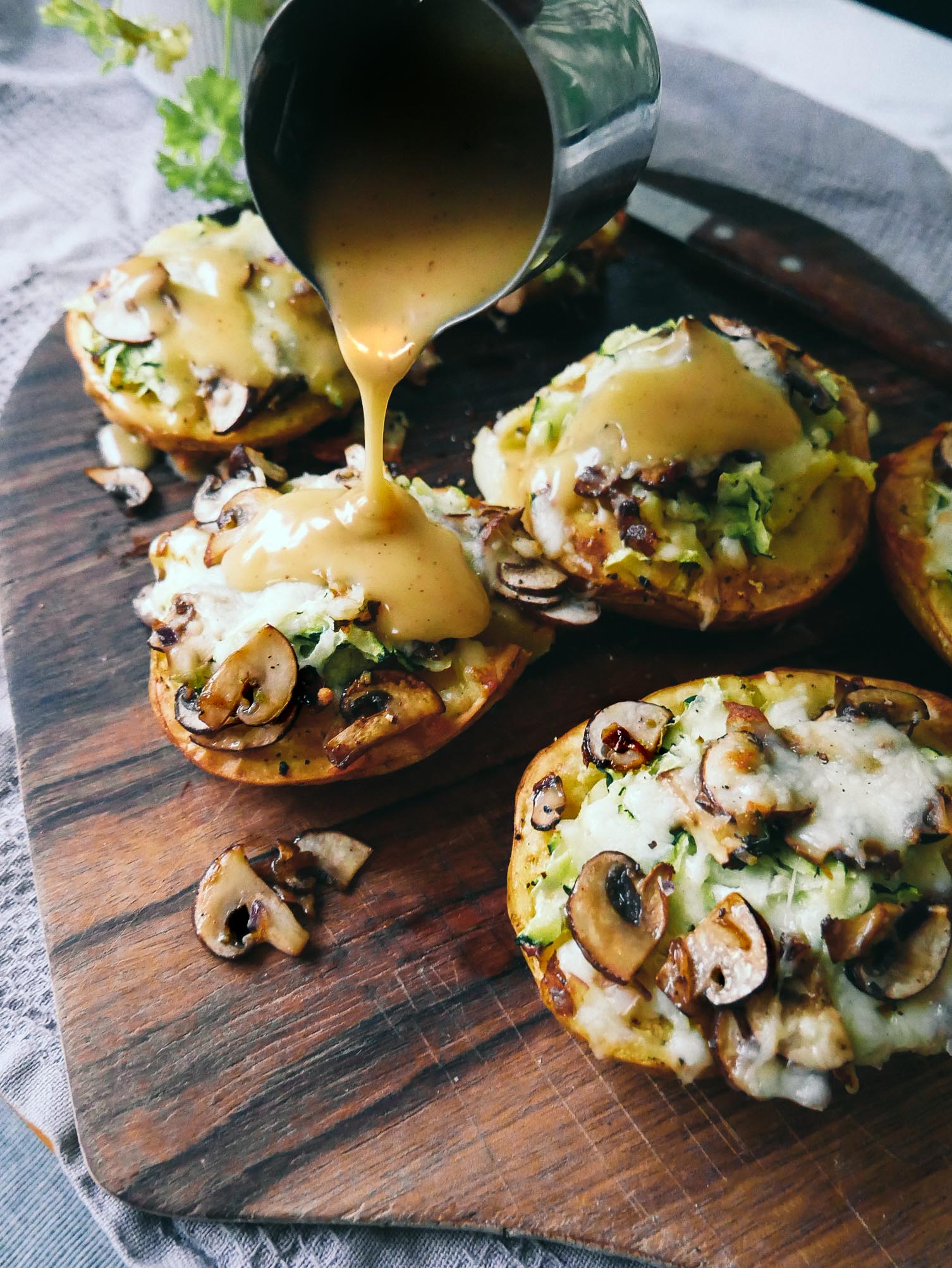 Next time I would like to try out topping ideas like Butternut Squash, Hokkaido pumpkin (for this cosy autumn season), shredded eggplant or maybe fresh/sun dried tomatoes would be good too? If you have any good ideas – just let me know!
Help me to rate this recipe here ↓