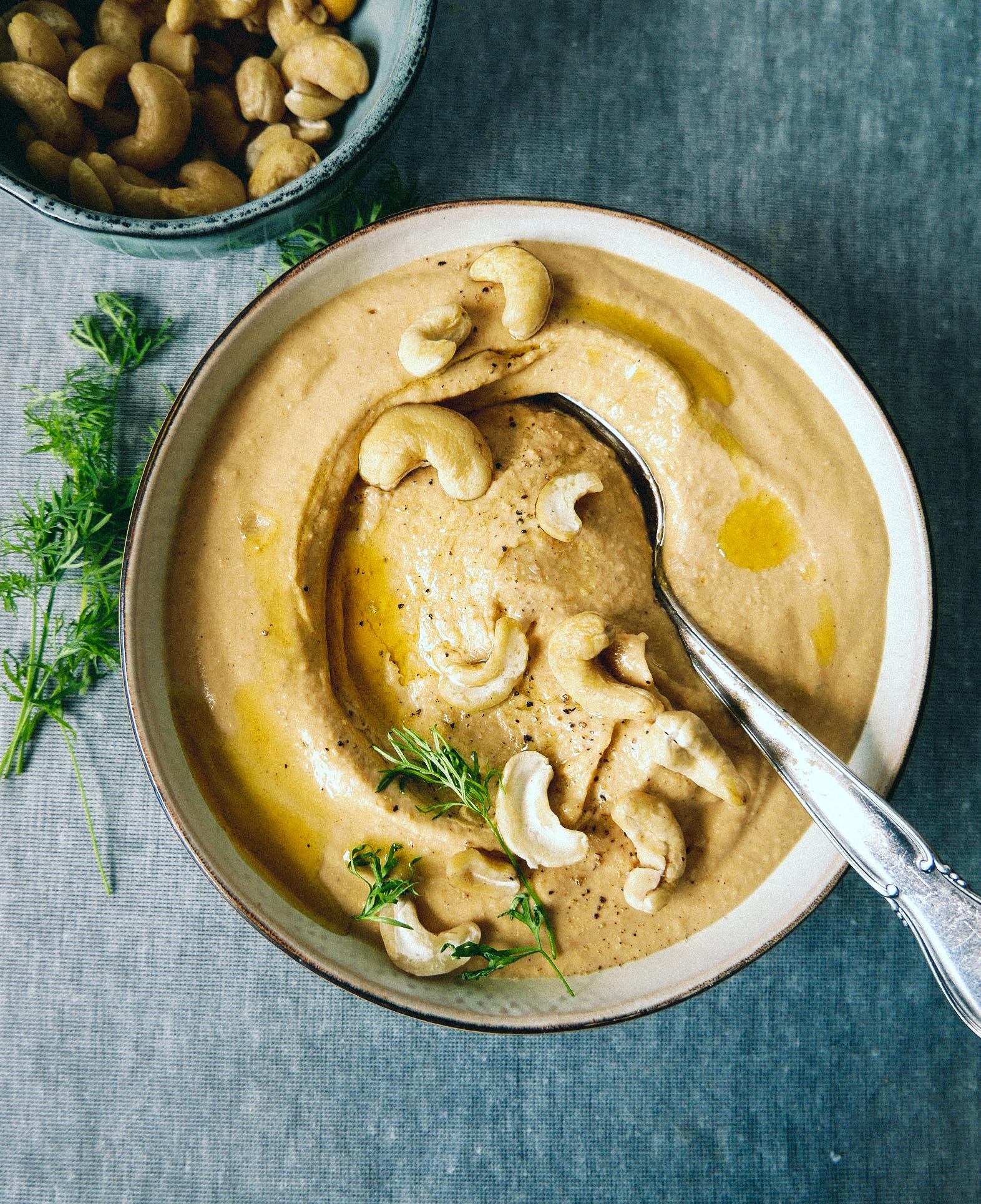 I think hummus is one of my favorite appetizers or snacks to make. It's healthy too and oh so easy.
As we all know traditionally Hummus it is made with chickpeas. Which are a legume. So for a healthy/protein/fat packed paleo rendition, I tried giving this delicious Cashew Hummus a try last week.
I recently tasted a creamy and delicious Cashew Hummus at one of my healthy favorite restaurants in Copenhagen. And I knew immediately I needed to recreate it in my own and share with you.
The ingredients list are quite similar with the traditional hummus recipe. Of course you'll need to soak the cashews overnight or at least for 4 hours so they are soft and workable.
Then place the cashews in a food processor or blender with tahini, lemon juice, garlic, cumin and salt. Mix well until you get a creamy texture.
I used some of the best cashew nuts I could find on the market.
These ones from Earth Control. Making this couldn't be easier! You've gotta try it.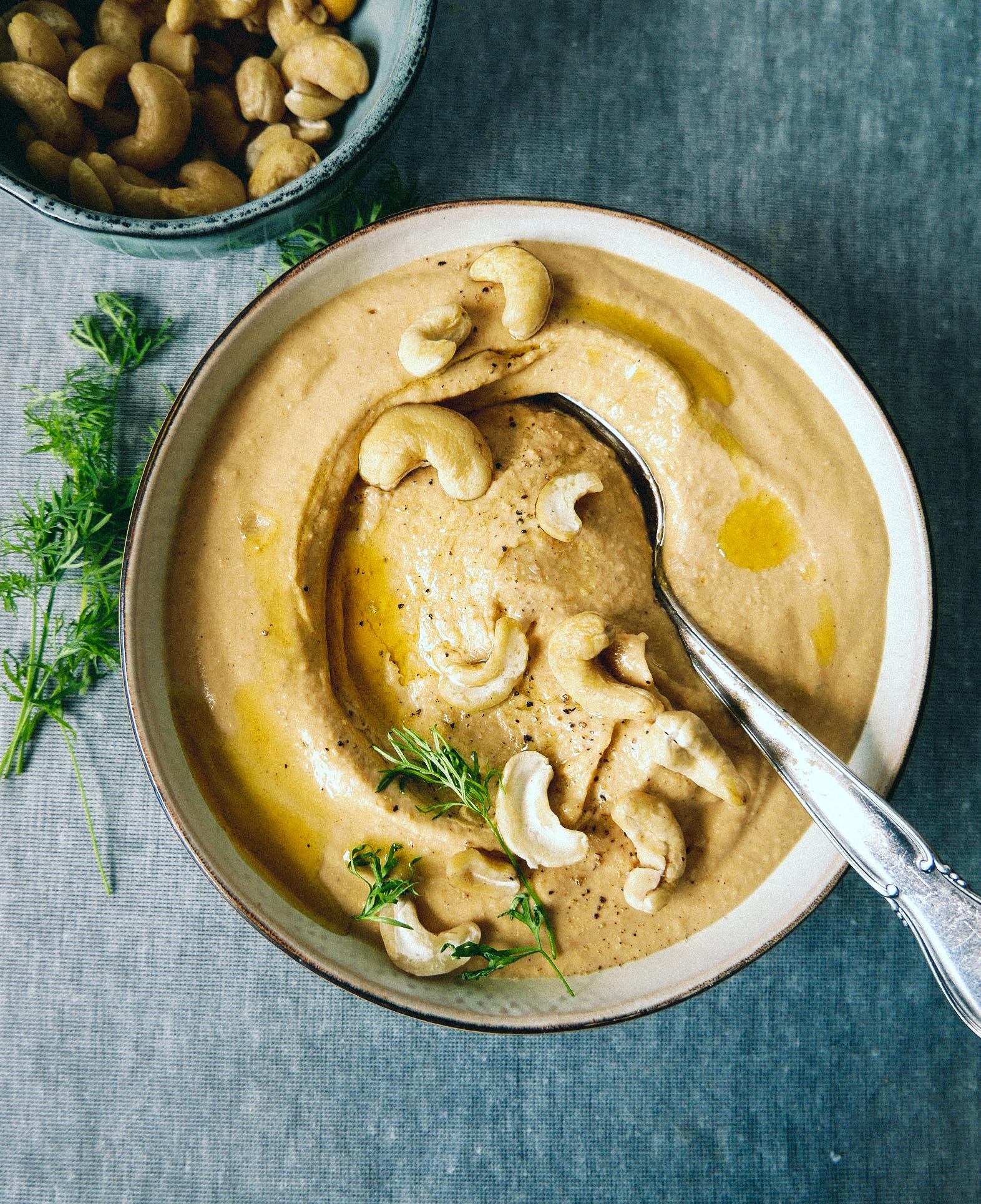 Print Recipe
Cashew Hummus Recipe:
Creamy Cashew Hummus recipe made with soaked cashews, lemon juice, tahini, garlic, cumin, salt and pepper. Gently spoon of oil and fresh dill.
Ingredients
500g Cashews (not soaked)

2 cloves of Garlic

2 tablespoon Tahini

5 tablespoon Olive oil

Juice from 1/2 Lemon

1 teaspoon ground Cumin

Salt og pepper

Fresh dill
Instructions
1
Place all cashews in a bowl. Fill with water until the cashews are just covered. Let soak for at least 4 hours so that the cashews are soft.
2
Place drained cashews in a food processor or blender. Simply place all of the ingredients into a food processor and blend until smooth and creamy. Add more olive oil, water or 2 sp. of the chickpea water if the hummus is too heavy and rough. It's not supposed to be dry.
3
Blend in a few minutes until smooth and creamy. Taste and add more spices if needed. Remember to add a pinch of salt flakes (I like to be generous with mine).
4
Decorate the cashew hummus with oil, drizzle with salt, pepper and fresh dill. You can store the hummus in a clean airtight container in the fridge for 4-5 days.
Chickpeas, peas and cashew hummus recipes:
This hummus recipe is plain – but with cashews (and by plain, I mean delicious of course). But you can easily blend any of the following in with the chickpeas or cashews to make different variations.
» Sun-dried tomato or red pepper hummus: 3/4 cup oil-packed sun-dried tomatoes or oven baked red peppers. Rinsed and drained. Give such a deep and satisfying taste plus a beautiful color.
» Green pea hummus: Add 1/2 cup of green soft peas. The peas gives such a beautiful color.
» Kalamata olive hummus: Add around 3/4 cup pitted Kalamata olives.
» Green hummus: With herbs – add 3/4 cup loosely packed fresh, leafy herbs
» Try also this: Classic, Vegan, Homemade Hummus Recipe
When I made the cashew hummus some weeks ago I added falafels, a simple tomato sauce, fresh chopped cucumber and some dill. It was one of the best weeknight treats I'd made in a long time! Just some inspiration if you want to serve a traditional hummus in new ways.
Otherwise, it really brings appetite decorating a plain hummus with all these toppings. Can also be served with grilled flatbreads, vegetables or use this in sandwich or in salads. Bon appetit!