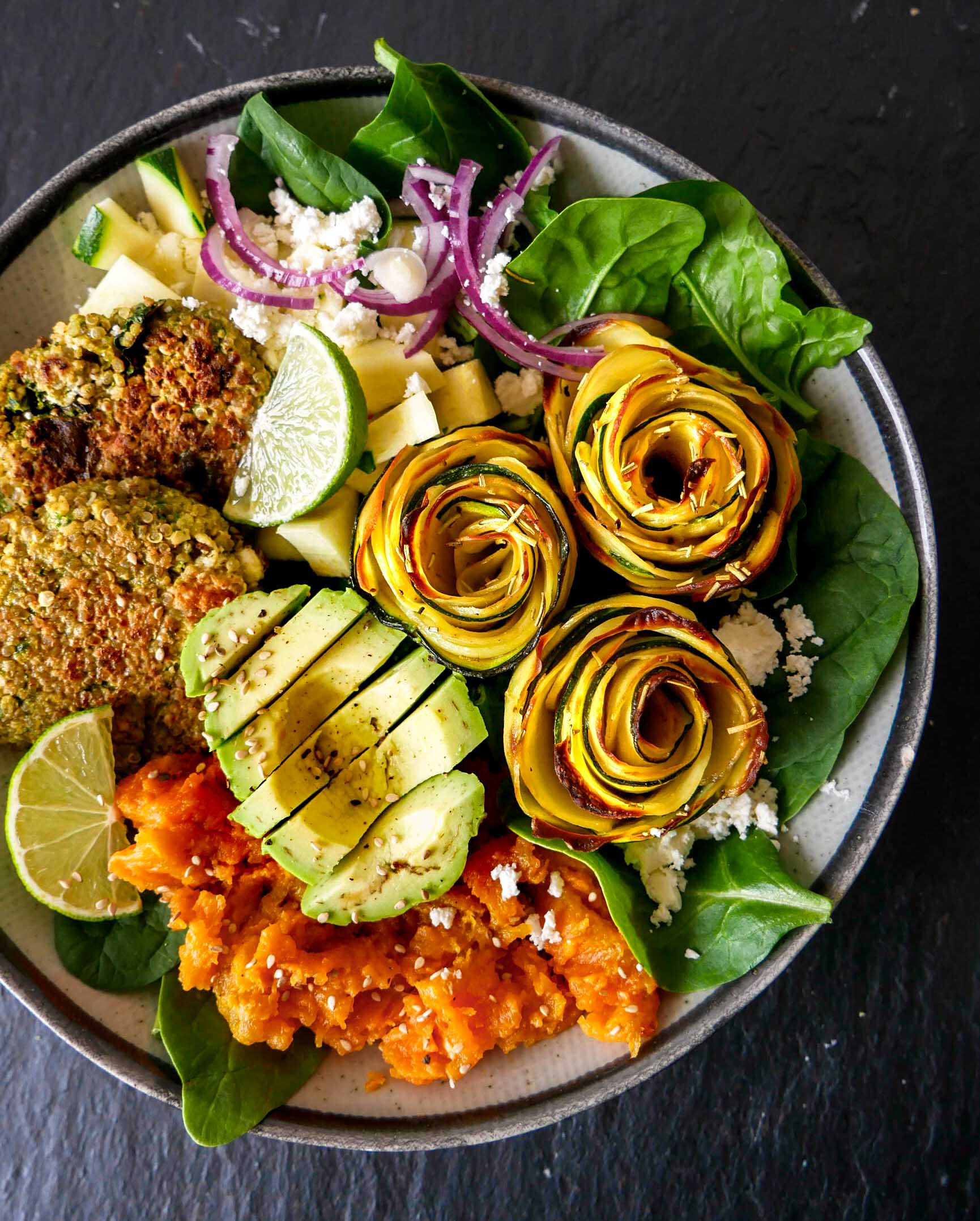 Easy potato roses made with only 4 ingredients! These thin slices of zucchini is such a fun and different way to eat vegetables. Slice them thin, roll into rosettes and bake in the oven in 30 minutes.
I served my Rose Potatoes in a big salad bowl with spinach patties, sweet potato puree, lime and baby spinach leaves. You can find these vegetarian quinoa patties here and if you want more inspiration go to my salad page here.
These rose-shaped potatoes are so beautiful to serve in a salad like this and a cool way to eat more vegetables – especially for kids. Besides that they are healthy too and you can stuff them with even more vegetables without any in the family would notice. Try out cabbage, kale, spinach or carrots.. Or beetroot would have a great color in these. This recipe is also a good way to include the kids in the kitchen too and they can easily form the roses in exactly the shape they want to. No strict rules here.
The ingredient list is simple. You'll only need zucchini, potatoes, oil and salt. Add some black pepper or rosemary too if you want. Or try out turmeric, paprika or chili if you want even more spiciness.
» Try also: Beautiful fig salad filled with quinoa and avocado cream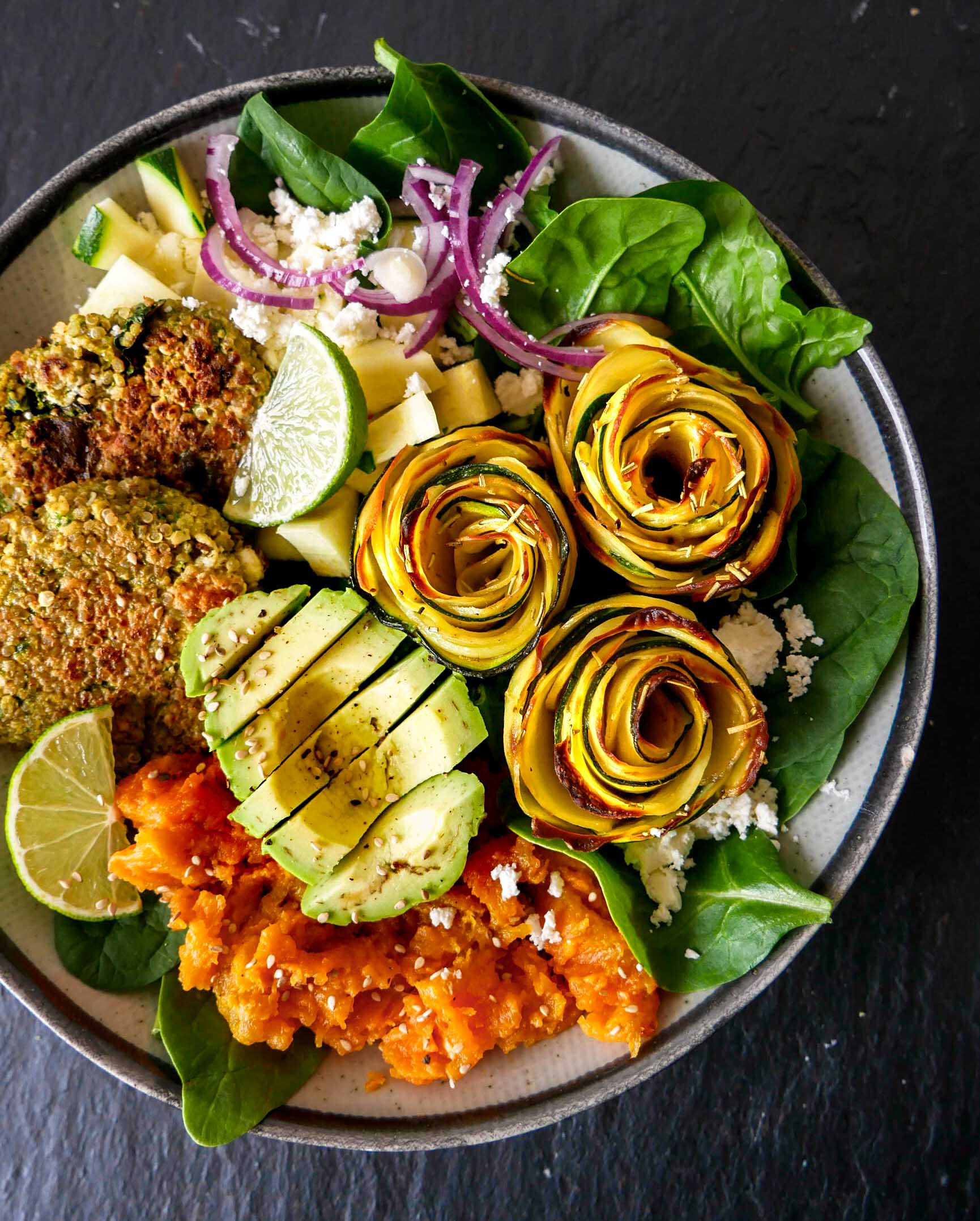 Print Recipe
Potato Roses with Zucchini:
Easy potato roses with thin slices of zucchini. A simple vegan recipe. Roll these vegetable rose potatoe and bake in the oven in only 20 minutes.
Ingredients
4-5 x medium Potatoes

1 x Zucchini

3 tablespoon of Olive oil

Salt + pepper

Rosemary (optional)
Instructions
1
Turn on the oven at 180°C (350°F). Wash the potatoes and zucchini. Slice both of them into thin long pieces.
2
Put all slices into a bowl and add olive oil and drizzle with salt and pepper. Mix carefully but thoroughly so all slices are coated in the oil.
3
Place a long zucchini slice on a table and lay about 8-10 of the potato slices in a row on top (See picture below). Carefully roll and shape them into a rosette and put in the muffin form. Repeat with the rest of the slices.
4
Drizzle with rosemary on top (optional). Bake the potato roses at 180°C in about 25 - 30 min. until golden and crispy.
How to shape the potato roses:
The roses are quite easy to make just with a bit of concentration and patience. I've made a picture below so you can see how I use to make these. And remember you can roll and shape them in exactly the way you'd like!
Start by adding a thin layer of zucchini on the outside. If you're staring with zucchini instead of potatoes they are much more easy to roll and keep in the 'rose shape'. Add a layer of potatoes in a row (make a overlap here).
Roll from one side to the other. Be sure to keep the rolling tight so the roses are not falling apart.
I used a big muffin tray (the red one below) with big holes to bake them in inclusive muffin baking paper forms. But you can also just place them in individual muffin forms directly on a flat baking tray – or just skip the papir.
The result after baking in the oven at 180°C degrees in about 25-30 minutes until light golden.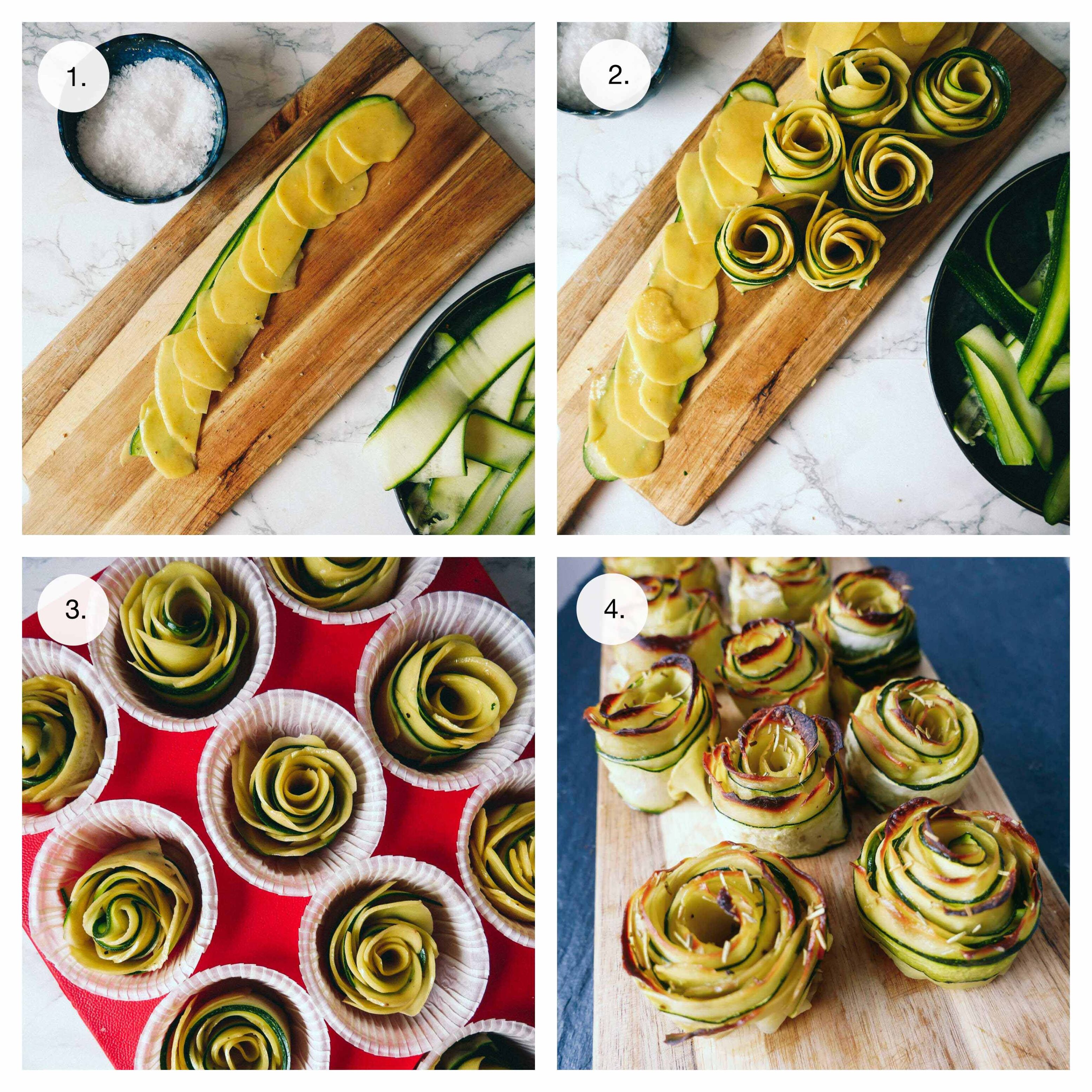 I added some dried herbs (rosemary) on my roses before baking along with a little olive oil and salt. You can also drizzle with sesame seeds, black pepper, paprika, turmeric, thyme – or other favorite herbs or spices.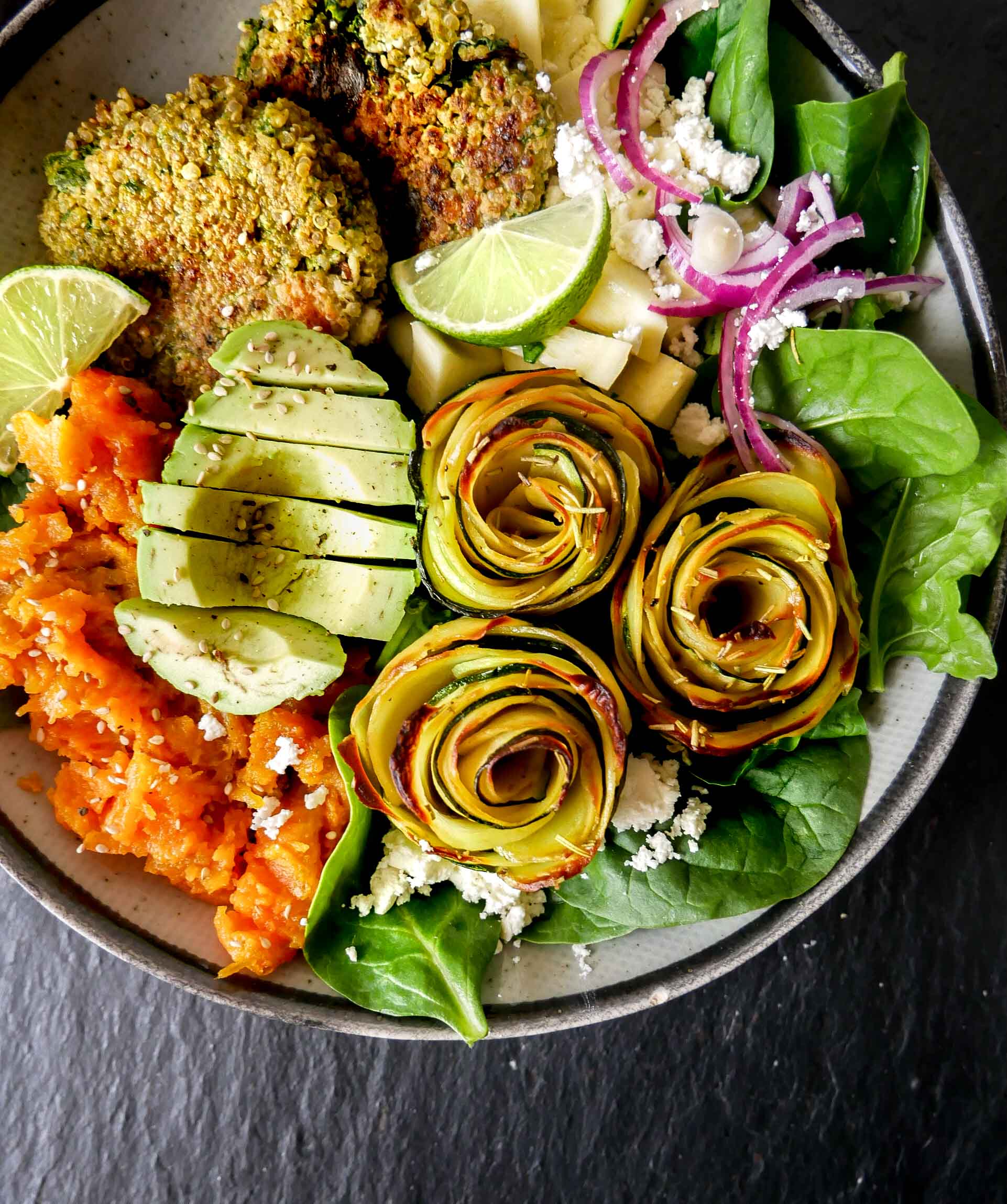 Served these Rose Potatoes in a big salad bowl full of leftover vegetales from the fridge. Try out the spinach patties, mashed sweet potato puree (so good), lime dressing on top and baby spinach leaves at the bottom. So pretty to eat – and so simple to make.
I really hope that you can use this kind of different potato roses recipe! Just let me know in a comment below, if you have any questions making them.
Did you like this recipe? Rate it here ↓