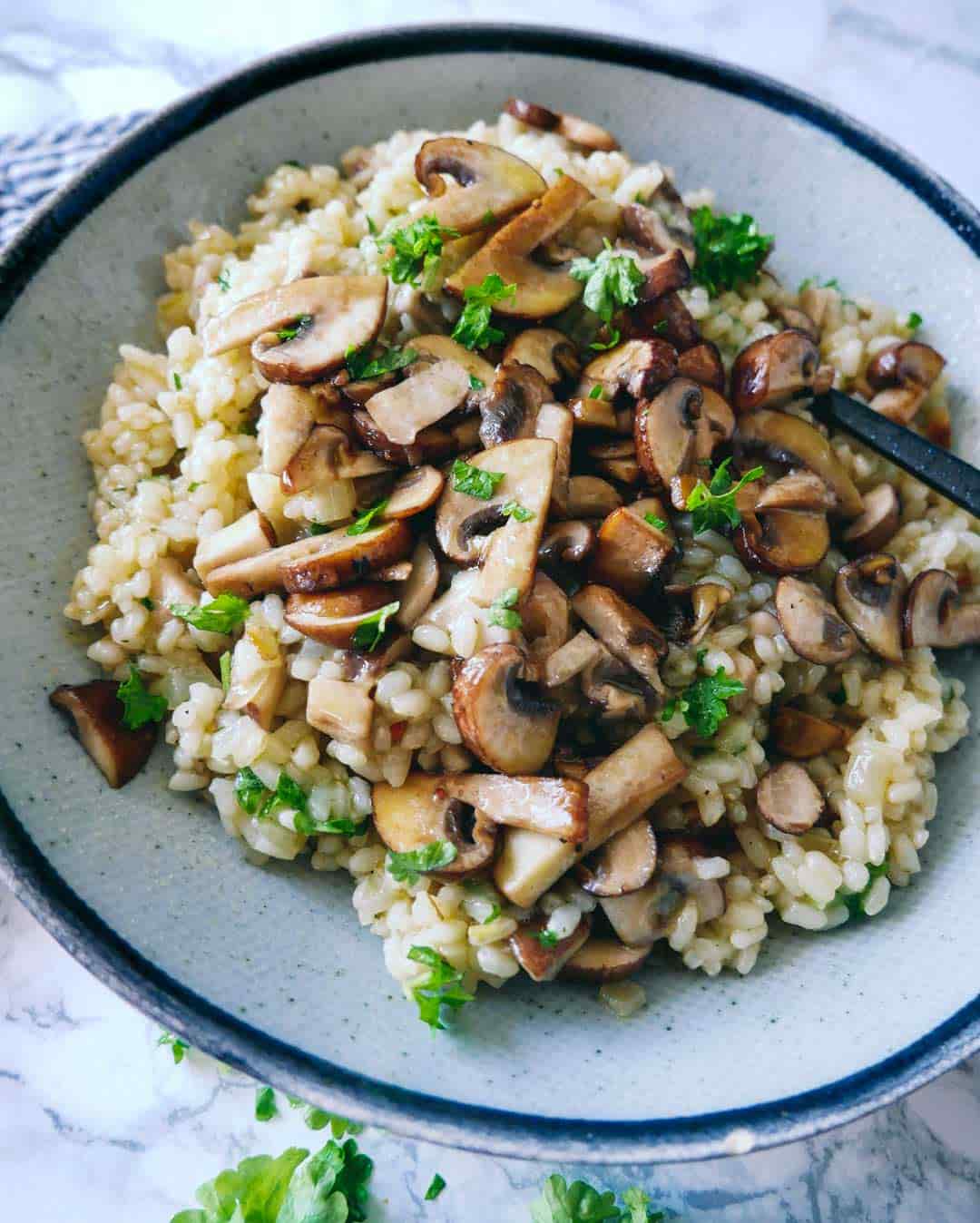 A classic and easy vegan risotto with mushrooms and parsley. Made with a good and delicious olive oil – and with no parmesan but still very creamy.
This is a simple and easy risotto recipes that can be made easily with asparagus, spinach, leek or pumpkins too.
The good olive oil have a big role for the soft and creamy risotto result. My risotto is inspired from the danish book about oil 'En passion for olivenolie' – Colombani also shared the recipe here. You can serve this meal like it is or with a crispy salad on the side depending on the season. This recipe is made for 3-4 persons and one portion use to be great for one person.
No parmesan is used in this recipes. I wanted to try a healthy version of this traditional italian recipe. And I think the taste was so good and intense – but still light and healthier. Making a classic risotto with mushrooms in the recipe, you start with the mushrooms. Then, you make the rice and mix with the mushrooms before serving. As you can see on the picture, I took half of the mushroom mix and decorated my portion just before serving. Chop some parsley and drizzle with salt and pepper too.
» Try this: One pot pasta med svampe og squash – Opskrift klar på kun 20 min.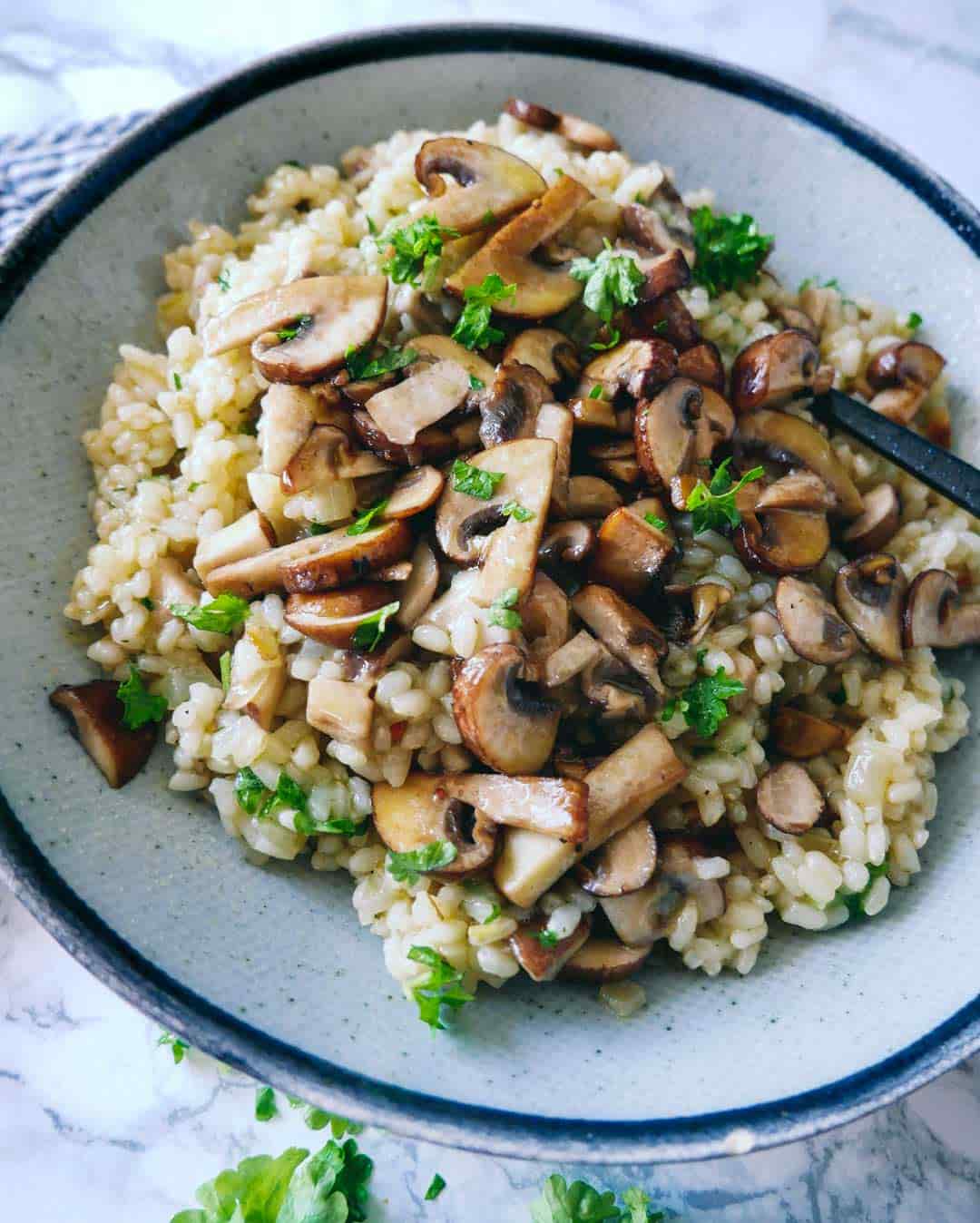 Print Recipe
Vegan risotto with mushrooms
Recipe for an italian vegan risotto with mushrooms and parsley. A healthy recipe no parmesan used. Add wine and vegetables like asparagus too.
Ingredients
300 g mushrooms (mushrooms or portobello)

1 big onion

2 cloves of garlic

200g risotto rice (Arborio rice)

1 liter vegetable stock

½ cup og white wine or apple vinegar

½ cup good olive oil

Serve with: Fresh parsley or thyme
Instructions
1
Wash and chop the mushrooms in slices. Add on a sauté pan with olive oil and cook the mushrooms at low heat and stir. The mushrooms needs to be golden but not to dark. Transfer the mushrooms on a small plate and safe for later.
2
Finely chop the onion, press the garlic and add on the same sauté pan. Add the olive oil so the onions are full covered, let it simmer for a minute or two.
3
Wash the rice and add in the pan. Cook a few minutes until the rice gets a transparent color. Add white wine (or apple vinegar for a kid friendly version). The rice may not cook into the bottom of the pan, so keep stirring.
4
Turn down the heat and make the vegetable stock. Add the stock carefully while stirring. Do it slowly, it takes about 15-20 minutes till you have a good creamy texture.
5
Add half of the mushrooms in the risotto mix and stir together with ½ cup good olive oil. Taste with salt and pepper.
6
Serve the risotto warm and decorate with the last golden mushrooms on top with parsley or thyme.
Vegan risotto mushrooms – made with a good olivenolie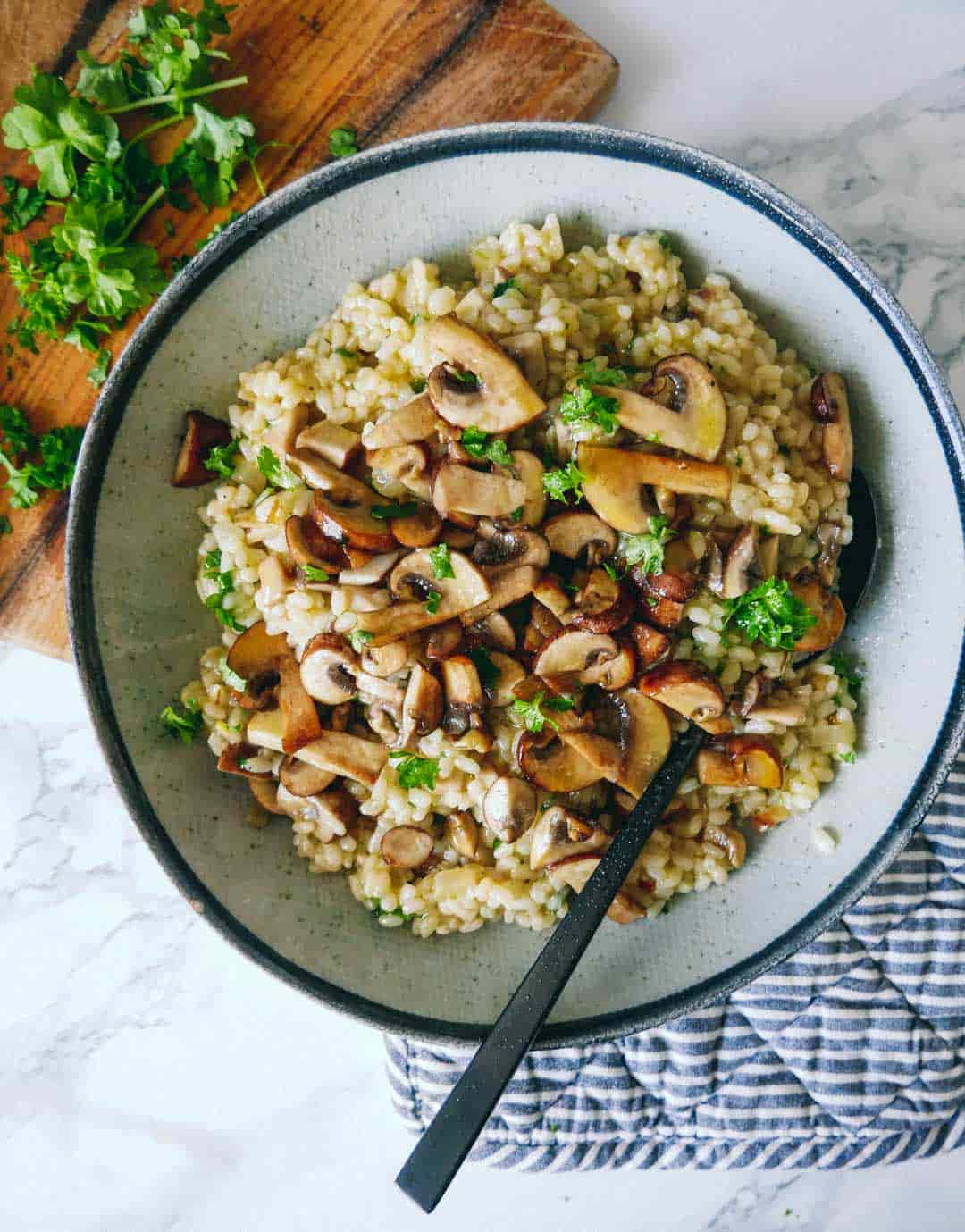 It's quite serious when I describe the ingredients list with a really good olive oil in high quality. After years and years of testing I've learned that it is essential using a oil of good taste. But that is not only when you makes risotto but almost every kind of dinner.

After I recommended the book 'En passion for olivenolie', I get to know about qualities of oils and I learned which difference it can make. I've made a danish recommendation here abut the book. Additionally, the last part of the book is filled with the greatest recipes. Both recipes we know from the cold Scandinavia – but also from the south of Europe. Tomato salads, risotto, oven baked vegetables, a big range of pesto recipes, bread, starters, salads, soups etc,. All recipes that deserves attention.
You can find more recipes at Colombani.dk.