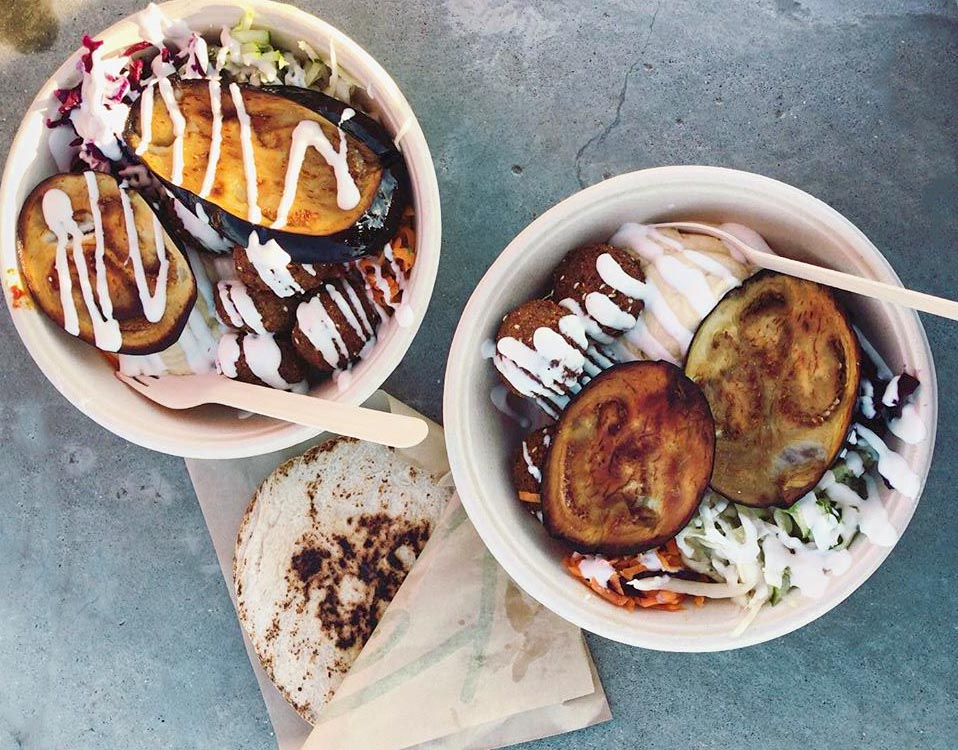 After living several years in one of the most popular and modern cities in Europe I thought it was time to share my best tips for places to eat! And one thing you may know for sure – The copenhagen eating places are constantly moving. Every month there is loads of new and interesting cafés, take aways and restaurants – so this guide never stands still.
It's not expensive places – even though Copenhagen can be quite expensive to visit. I tried to find the most budget friendly places, cafeés, markets and restaurants in case some of you plan a visit in the summer. Hope you find some inspiration!
---
My Copenhagen Food Guide:
La Neta – Say Hola at one of La Neta mexican street food places. Ask for a veggie – and try their quesadillas with creamy avocado dip. Don't forget to order one of the local Mikkeller beers.
Nørrebrogade 29, Kbh N or Istedgade 88, Kbh V.
Anne's gademad – Delicious take away from 'Vesterbro'. Ask for vegetarian option. Visit here.
Enghavevej 3, Kbh V.
Pho Hanoi – If you have ever been to Vietnam you might know how delicious Vietnamese food can be. Order your next Phở (soup with all good vegetarian ingredients) at Pho Hanoi. Ask for vegan option.
Place: Vester Farimagsgade 6, København V
Morgenstedet: Vegetarian place in the cozy part of Christiania. Very sustainable and organic good food. Around 80-120 DKK for a meal. Read more about Morgenstedet here.
Fabriksområdet 134, Christiania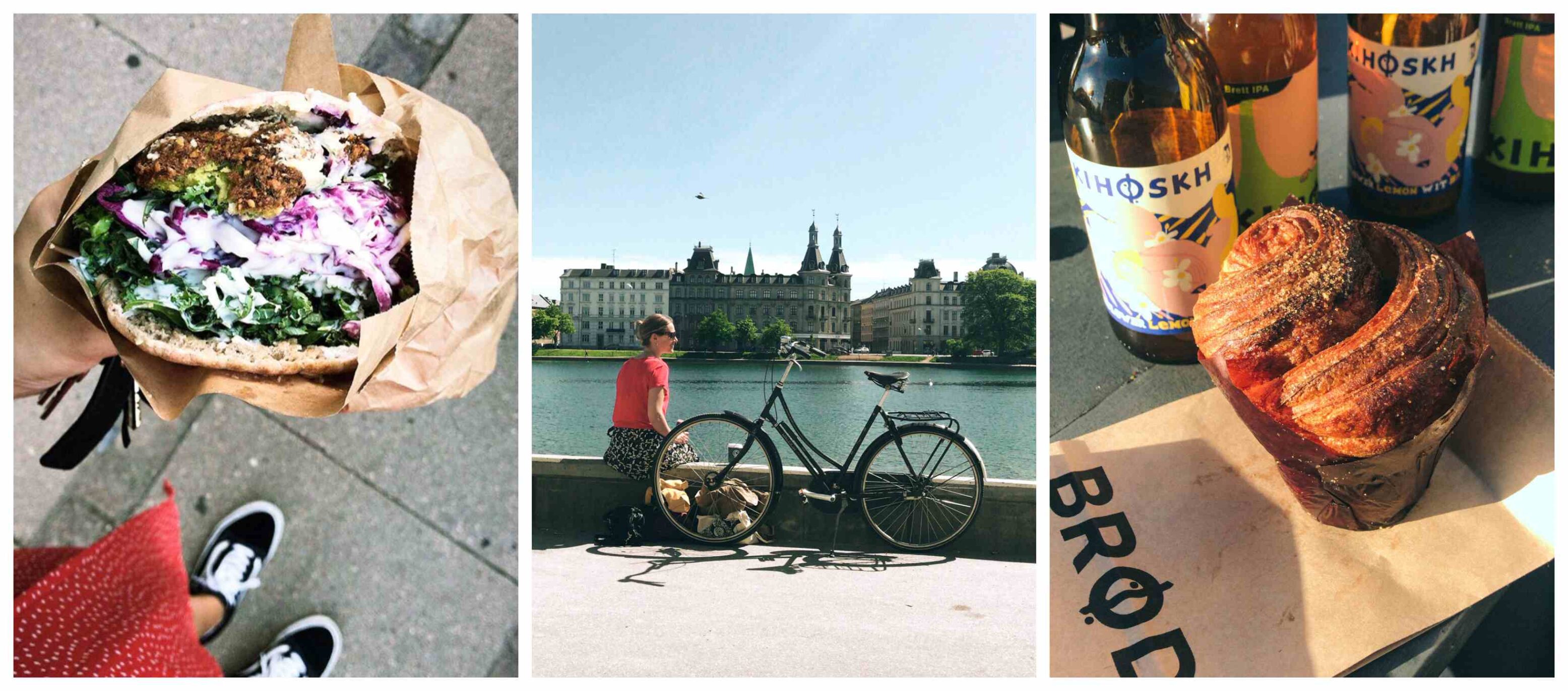 Skt. Peders Bageri – Sankt Peders Bakery is a cool bakery place full of sourdough-nerds that makes the best bread! Very popular for locals too!
Sankt Peders Stræde 29
Juno Bakery: Also a very cool and popular bakery. Just so you know – you might need be patient standing in line. But It's all worth waiting for! Please try their Saffron buns or Cardamom buns. Visit here.
Århusgade 48, 2100 Østerbro
Kihoskh – A modern small chop where you can by everything from beers (popular ones), colde drinks, groceries, bread, newspapers, magazines and take away. Visit here.
Sønder Boulevard 53, Kbh V.
Absalon – You can eat at Absalon every day of the week at 18 o'clock. Pay 50 DKK and eat food from big plates that you share with others from the table. Get the vegetarian food every monday and wednesday. Kids under 3 years eat for free.
Sønder Boulevard 73, København V.  
Kate's Joint – Indian and Middle East inspired food at Nørrebro. You can order both vegetarian and vegan recipes. It surprisingly good and cheap. Visit here.
Blågårdsgade 12, Kbh N.
Ali's Bageri – At "Ali's Bakery" you can order a fatteh with chickpeas, cumin, garlic, lemon juice, toasted flatbreads and a good amount of cashews.
Nørrebrogade 211, København N
Din nye ven – Make a visit for breakfast or lunch at "Your new friend". Get 2 pieces of "smørrebrød" try with potato, vegan mayo + all the extras. Another vegan choice is the "postej" made of chestnuts. Simple, good, homemade food – read more here.
Skt. Peders Stræde 34a
H15 – Get to know the locals and danish 'hygge' when you visit the popular Restaurant H15 close to 'Kødbyen'. Very low key cafeteria – make loads of homemade great vegetarian food.
Halmtorvet 15, Kbh V.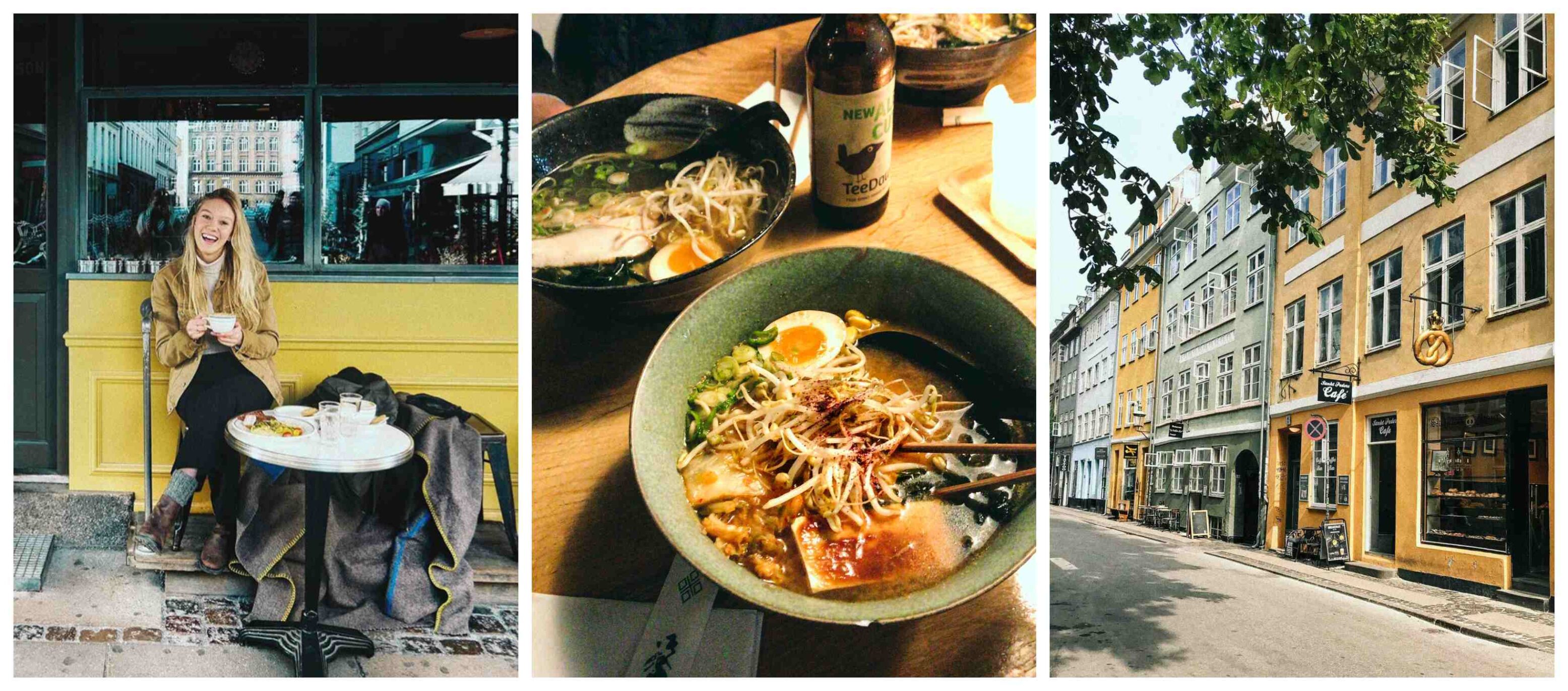 2 x Ramen
Slurp ramen – Order a Japanese Veggie Ramen with a cold beer at Slurp Ramen. Maybe one of the best ramen places in Europe.
Nansensgade 90, Kbh K.
Papa Ramen – Also Japanese noddle soups at Papa Ramen. Try with vegetables and homemade gyoza.
Studiestræde 67, Kbh K
Mahalle – Libanese food as its best. Order a vegan/vegetarian breakfast 'mezze' or get satisfied with plates of falafels, hummus, halloumi – and their lemonade with mint. Visit here. 
Visit Nørrebrogade 5, 2200 or Nansensgade 66.
Nordisk falafel – In my opinion one of the best falafel places in Cph. You get crispy falafels, choose between pitas or salads – visit their Instagram here.
Nordre Frihavnsgade 55, 2100 Kbh Ø
Grød – Known for 'Redefining porridge'. Maybe you have already seen them on Instagram where they love to share colorful bowls. You can also try their risotto, it's good..
Jægerborgsgade 50, Nørrebro or Torvehallerne.
Granola – Popular place between Vesterbro and Frederiksberg. Have a cup of coffee, a lunch or a glass of wine. At Granola you can sit outside like a french café and enjoy one of Copenhagen smallest and oldest shopping streets.
Værnedamsvej 5, Frederiksberg
Foodie Cph – Cool sandwich shop with vegetarian and vegan sandwiches. You can choose everything from Vegan beef – Avocado with mozzarella & beetroot – Fried eggplants – Feta with dates – and homemade Crunchy Peanutbutter with vegetables and a lot more. Take a look on instagram and website too.
Amagerbrogade 13, Copenhagen S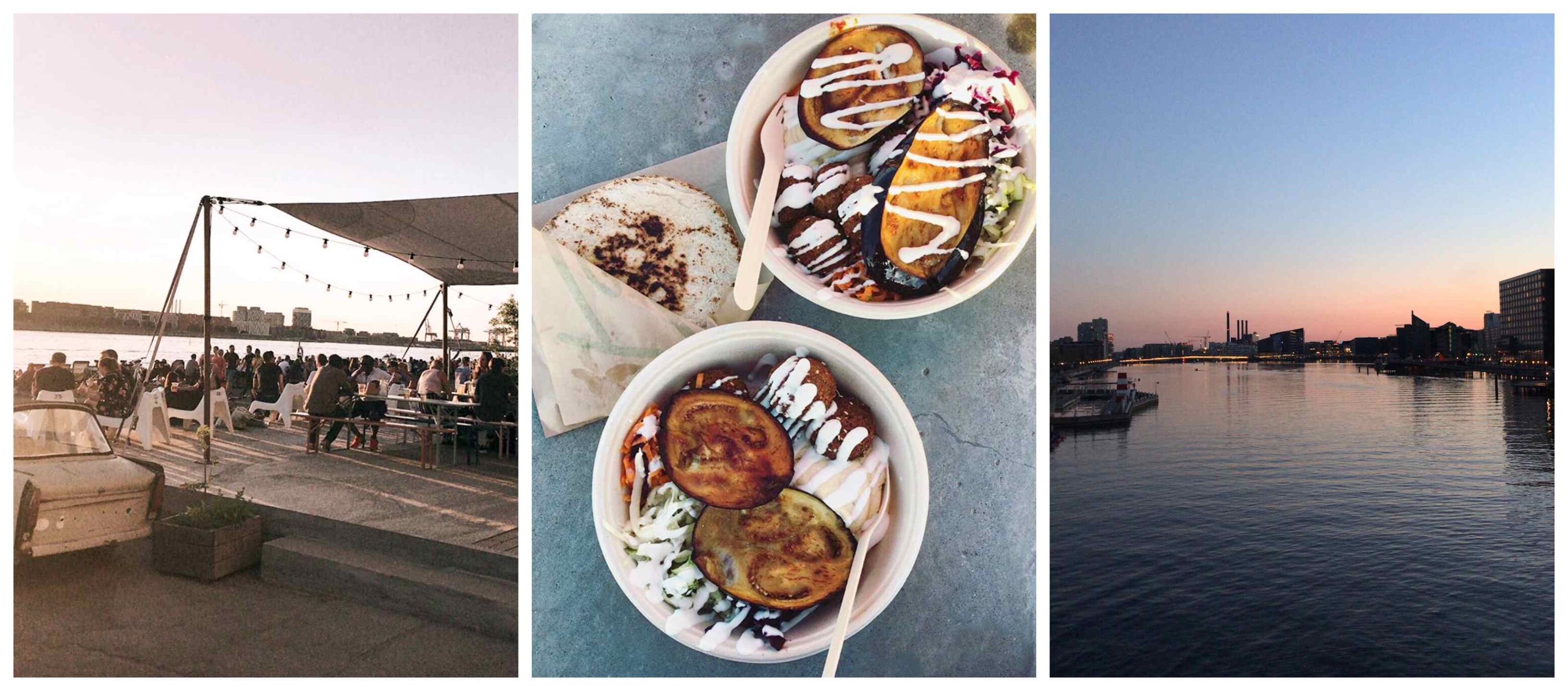 Papirøen Street food – One of the largest street food markets in the nordics. Urban playground feelings full of creativity, activity, food and people. You can find over 40 food places from all around the world – it's almost a copenhagen food guide itself. If you are lucky then you sit in a beach chair with your feet in the sand, the sun is shining and you're watching the copenhagen harbor.
Refshalevej 167A.
LØS Market. – A modern sustainable shop where you can by all kitchen ingredients with no plastic or packaging. Bring your own containers and fill them up. Even if you don't want to buy anything the shop is worth visiting. Read more here.
Saxogade 77, Kbh V.