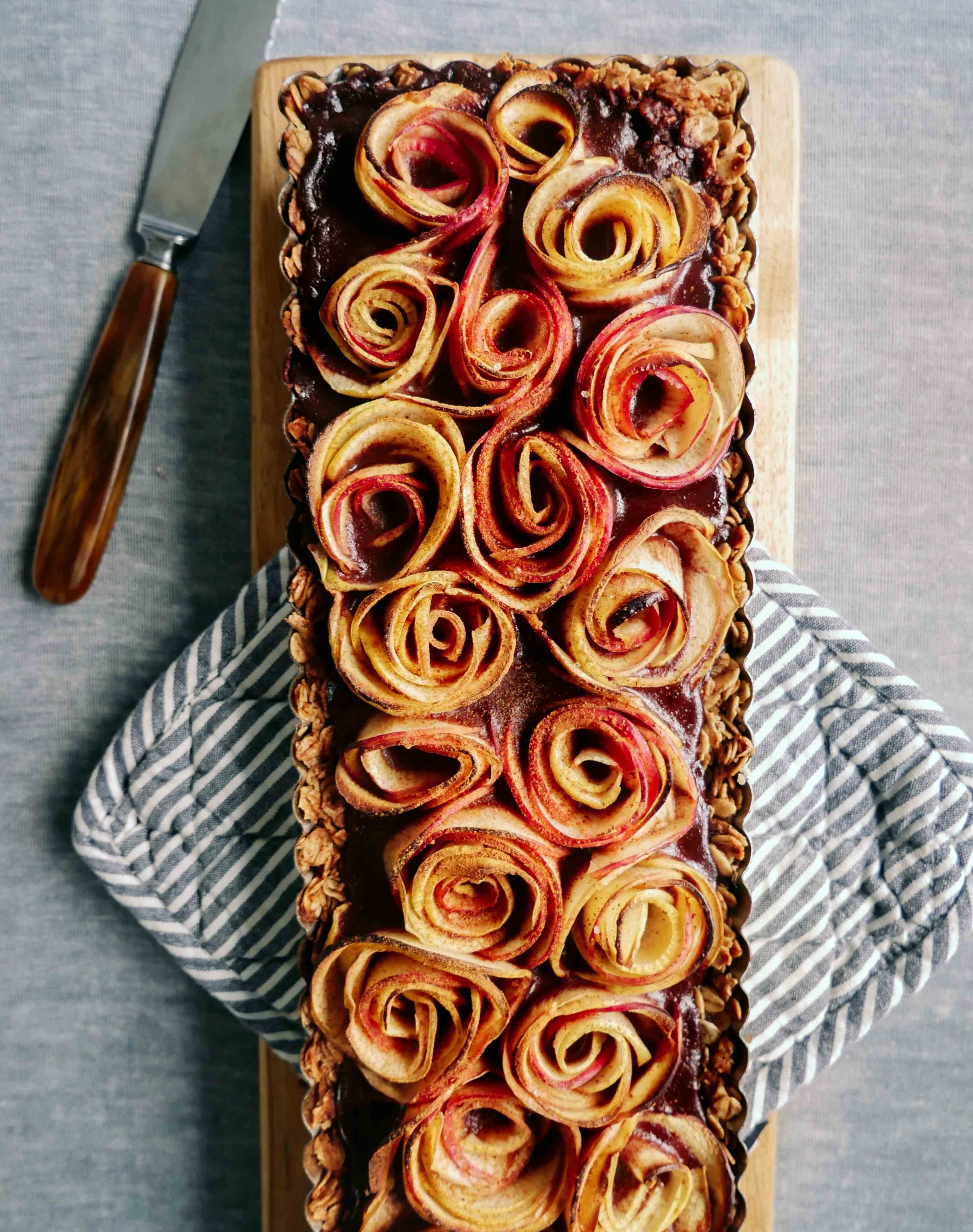 Vegan and gluten free Chocolate Apple Tart topped with homemade apple roses. Delicious and beautiful – perfect for an autumn and winter dessert recipe.
This gluten free and vegan chocolate apple pie is a quick and savory autumn/winter chocolate recipe. The autumn season is still here and full of favorite warm desserts to make. I can't get enough of this chocolate pie and it actually made from my other chocolate recipe this vegan and gluten free chocolate pie filled with crunchy granola, dark chocolate and salt.
There's so many recipes to make with apples in season. Apple crumble, apple pancakes, muffins, jam, buns etc. But you can also use apples in salads, fruit desserts, baked apples and even more.
This pie is gluten free made with almond flour and no eggs used. Preparation time is about 30-50 minutes – it depends on how fast you're making the apple decoration on top.
I wanted my apple slices to be as thin as possible using a vegetable peeling knife. And I also wanted my decoration to be as pretty as possible. So this took me quite long time – but the apple shapes does not need to be perfect. Just be a little patient making this and you you blow your guests away with all these creative homemade apple roses.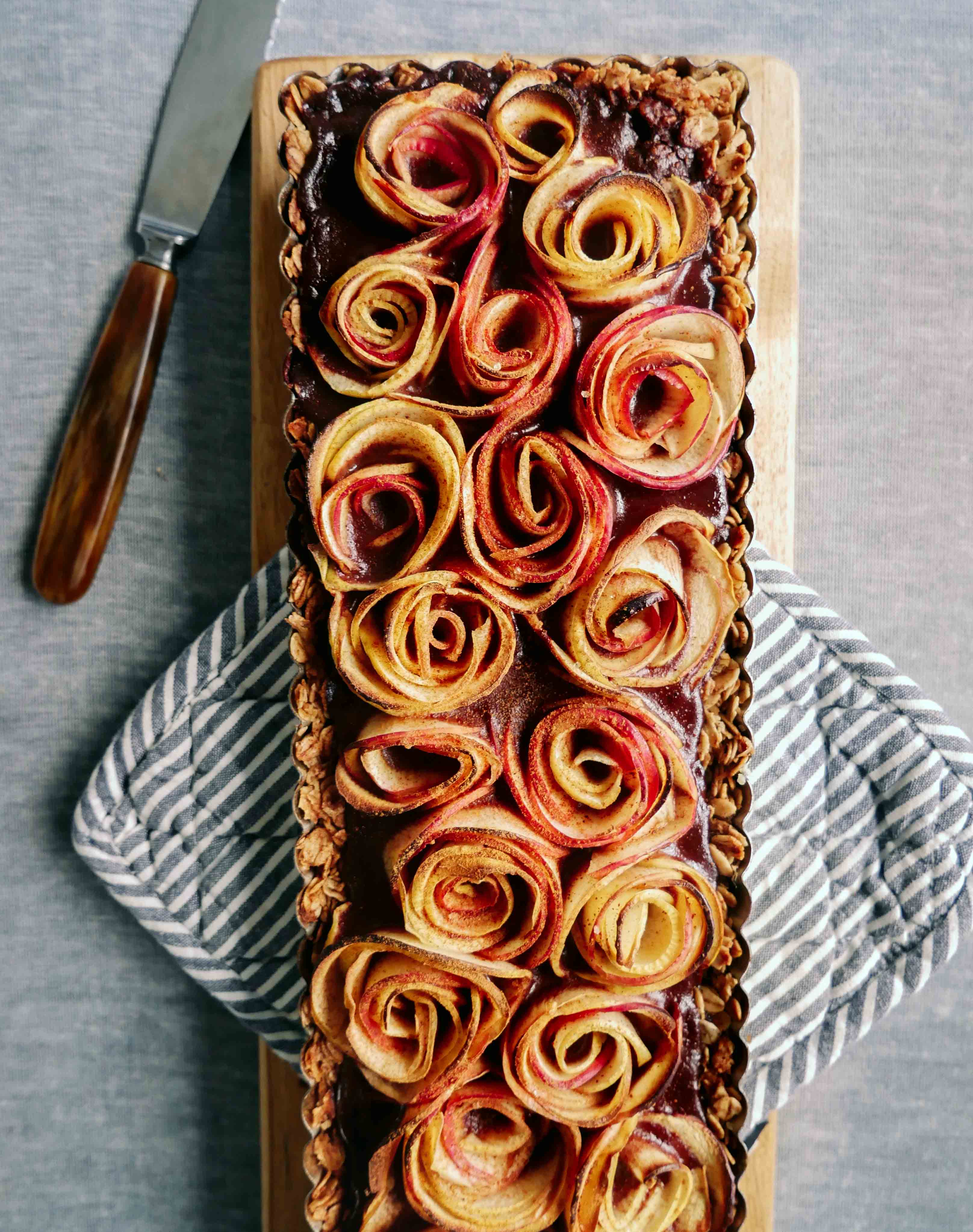 Print Recipe
Chocolate Apple Tart – Vegan and gluten free
Chocolate Apple Tart – quick and savory autumn/winter chocolate recipe. Vegan, gluten free and only made with naturel ingredients. Hope you'll like this recipe.
Ingredients
Tart:

200 g. Oats

4 tablespoon Coconut oil

3 tablespoon Maple syrup

2 tablespoon Almond flour

1 tablespoon Cinnamon

2 teaspoon Salt

Topping:

1 can coconut Milk

2 tablespoon Maple syrup

200 g. Dark chocolate (vegan)

3-4 pinch of Salt

Decoration:

5-6 Apples, in season
Instructions
1
Preheat the oven at 180°C degrees. (350°F)
2
Start making the tart: Mix oats, coconut oil, salt, maple syrup and almond flour in a small can over low heat.
3
Cover a tart tray with a thin layer of plant butter or coconut oil. Add the oat-mix in the tart and press down to the bottom and the sides of the tray. (It can be a little sticky, but be patient, you need to use a little time doing this) Bake in the oven for 5-7 minutes.
4
Make the topping: Heat 1 can of creamy coconut milk with maple syrup and dark chocolate pieces. Keep stirring while heating at medium heat. Taste with 3-4 pinch of salt and add some sweetness or more salt if needed.
5
Take out the tart and add carefully the chocolate topping. Use a spoon to mix it around on top of the baked bottom. Set aside.
6
Wash the apples, cut them in halves and then into very thin slices. Add a layer of 7-8 apple slices in a row (make a overlap here). Roll from one side to the other. Be sure to keep the rolling tight so the roses are not falling apart. Be patient here. Add the apples carefully on top the cake. Continue until the tart is covered. Bake the tart again in 20 minutes. (The tart needs to feel a little gooey and unbaked.)
7
Serve warm and drizzle with cinnamon on top. The tart can be stored in the freezer too.
You simply just cut the apples into very thin slices. Add a layer of 7-8 apple slices in a row (make a overlap here). Roll from one side to the other. Be sure to keep the rolling tight so the roses are not falling apart. I made the same decoration and shapes in my Potato Roses Recipe if you want to see how I roll these. There is also a YT video here that shows the exactly same procedure (just forget the pastry dough).
Use local apples in season:
Apples are one of the best ingredients to work with in the season. Because in the season apples are so crunchy, sweet and satisfying. And it's not a lie that apples are your healthy secret weapon. This fruit is very low in calories only 80-90 calories per apple and contains no fat. I always eat organic apples and from a local place or directly from the garden.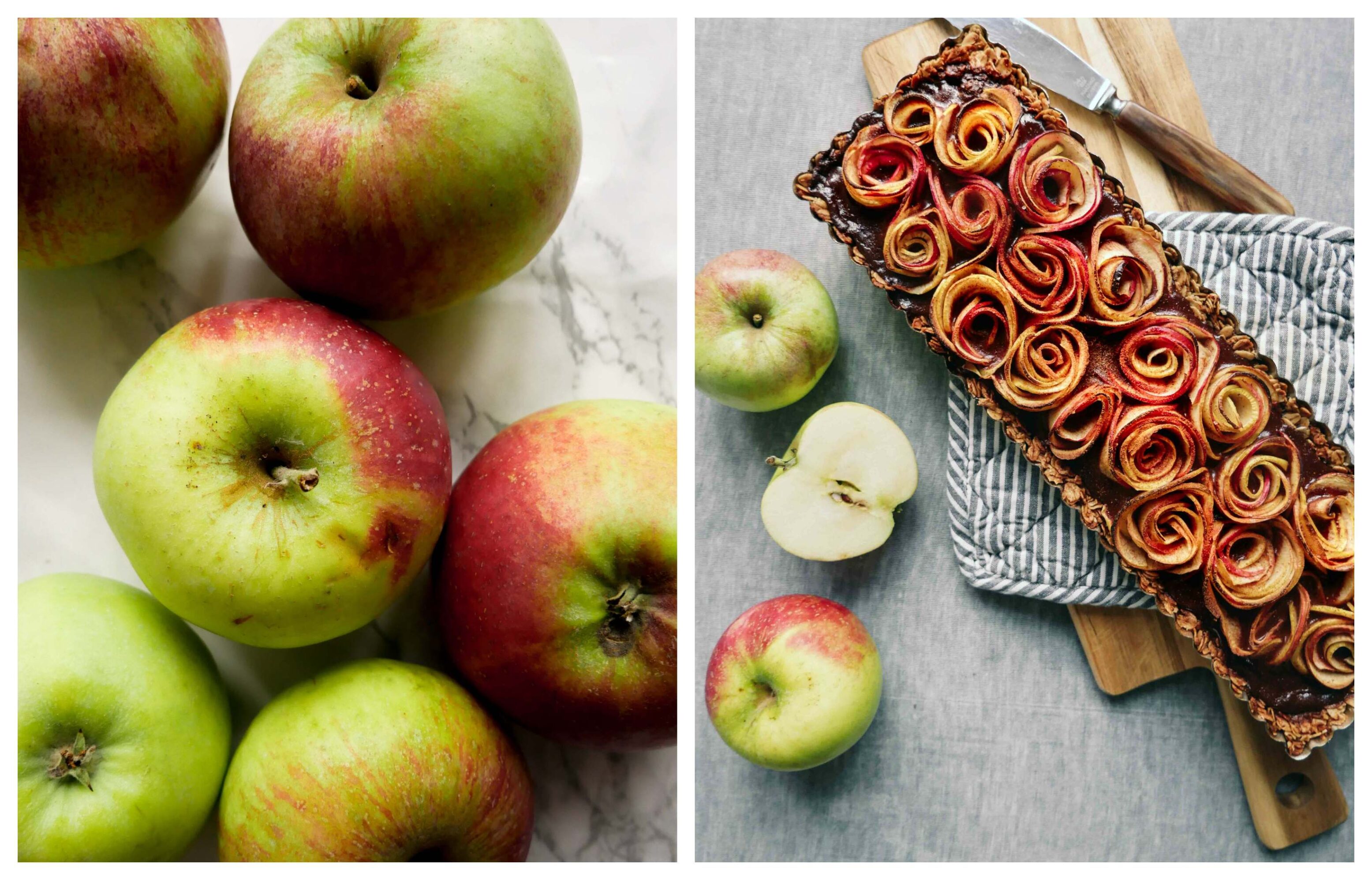 Eating apples with the skin is the most nutritious way to enjoy the fruit too. So don't remove the skin. You can easily use the skin it in various recipes and it gives so much power, taste and health benefits to your meal. For this dish my apples were red/yellow, but just use the color or type you like the most.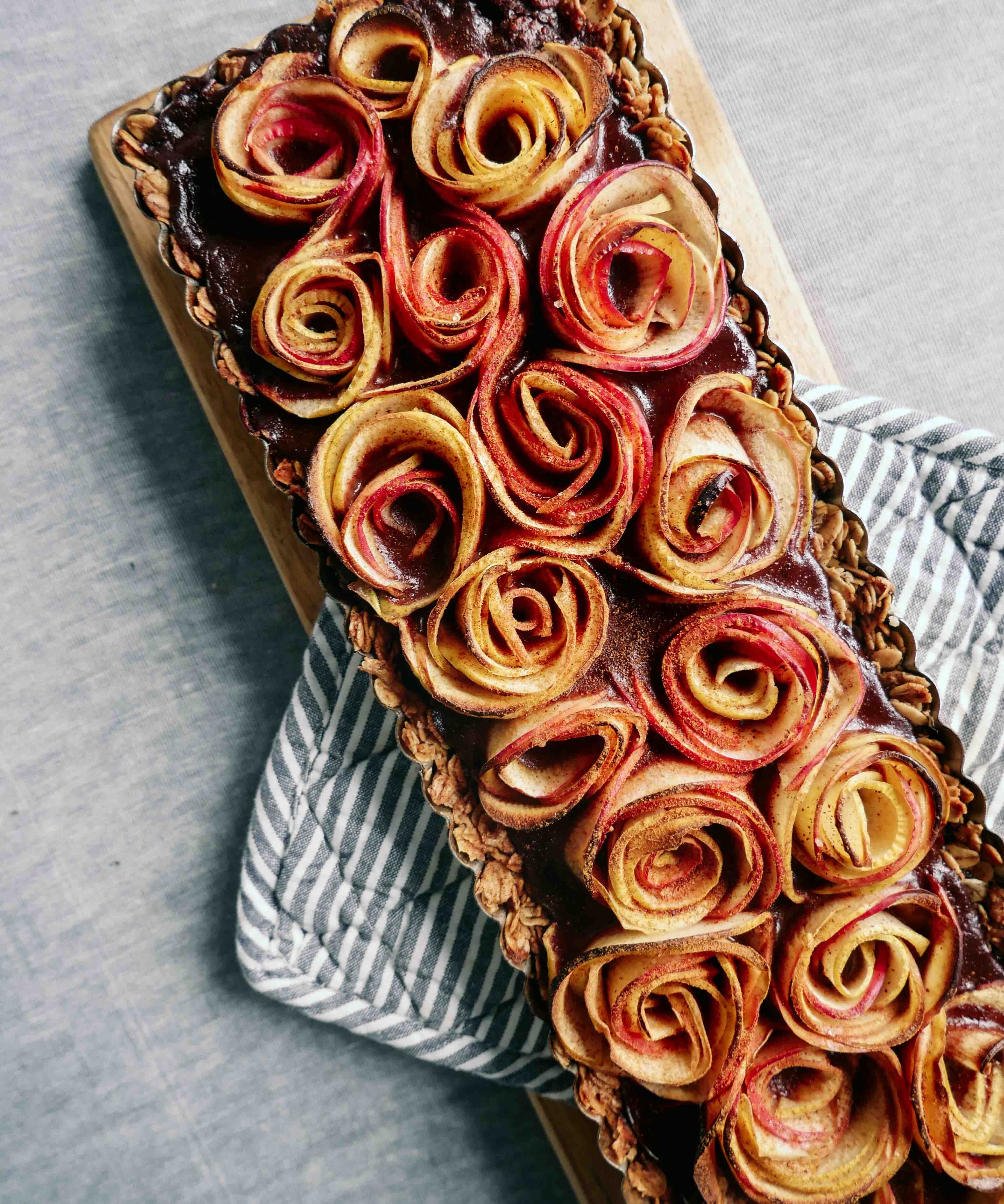 I hope you could use this chocolate apple tart recipe! So beautiful with all the apple layers. Let me know in a comment below if you have any questions making the granola dough or how to shape the apple roses. Rate my recipe below ↓