Vegetarian rice table – Recipe with curry and the best toppings:
The Indonesian "rice table", Dutch "rijsttafel" or Danish "ristaffel". We can call it want we want, but I think we all might know this traditional curry dish. We can call this one for vegetarian rice table. Perfect for main dishes on buzy days or on long saturday evenings. In my vegetarian curry recipe the traditional chicken has been replaced with tasteful and crispy tofu. Made with the best toppings, which you choose after your own wants and needs.
I usually make my curry recipes with small pieces of tofu. I think I gives so much good texture – and it just taste incredible. Last week I made this Sri Lankan curry, filled with the best pieces of tofu instead of the traditional chicken pieces. In this recipe I used the following toppings: Pineapple, peanuts, apples, toasted coconut flakes, spring onions, dates or rosins and a drizzle of salt and pepper. Go find the full recipe underneath: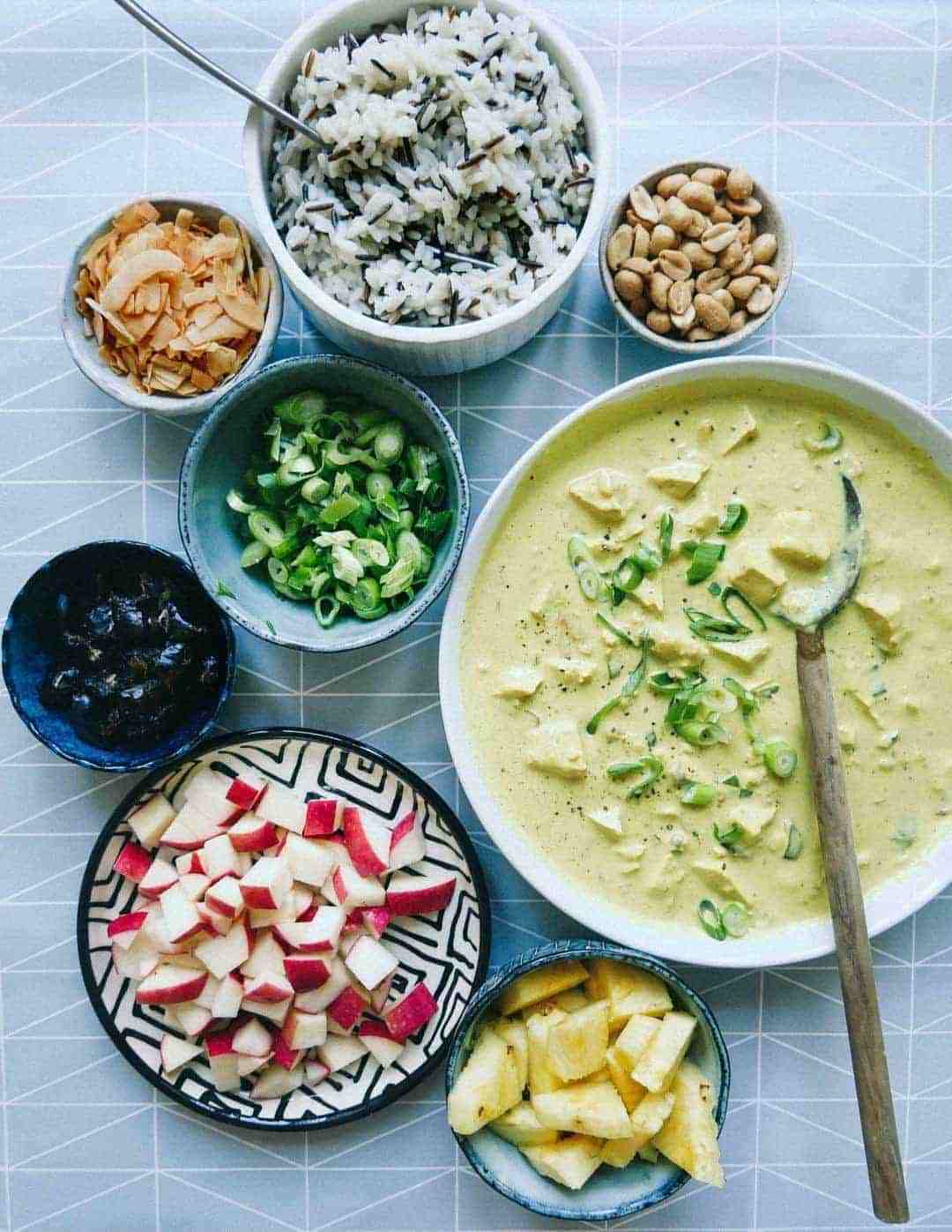 Print Recipe
Ingredients
Curry recipe:
250g tofu
1 big onion
2 cloves or garlic
1 teaspoon of turmeric
1 teaspoon cumin
1 teaspoon cardamom
1 teaspoon curry
2 cup of plant milk (I used plant milk)
half cup of vegetables bouillon
1 cup of soy cream
1 spoon corn starch
juice from 1 lemon or lime
2 tablespoon of oil
salt and pepper
Toppings:
2 cups of rice (around 1 cup for 1 person)
2 apples, chopped
1 cup of peanuts
1 cup of coconut flakes
half cup of spring onions, chopped
dates or rosins
half pineapple, chopped
Instructions
1
Remove the water from the tofu. Cut into small cubes. (gives a great chicken-taste to the dish)
2
Start by chopping your onion and garlic and placing them with the tofu, in a pan over a medium heat with a drizzle of olive oil. Cook for 3-4 minutes until soft.
3
Add turmeric, cumin, cardamom, curry and spring onions. Add half cup of boiling water mixed with vegetables bouillon, add milk and soy cream too, and a little corn starch if needed. Taste with lime or lemon, salt and pepper. Warm carefully on medium heat.
4
Wash the rice and boil while the curry is cooking. Taste before serving, and serve with your favorite toppings.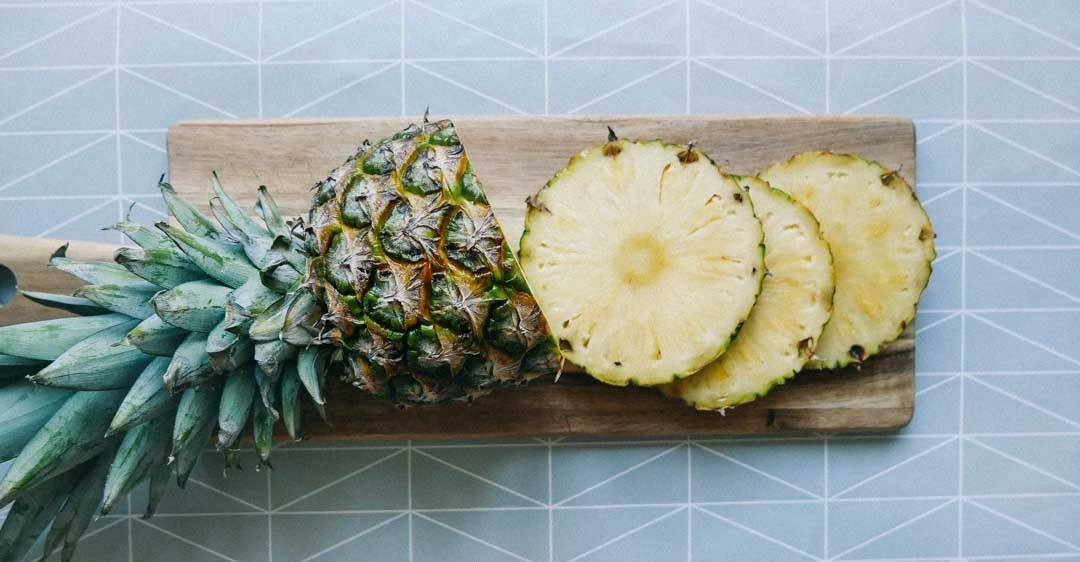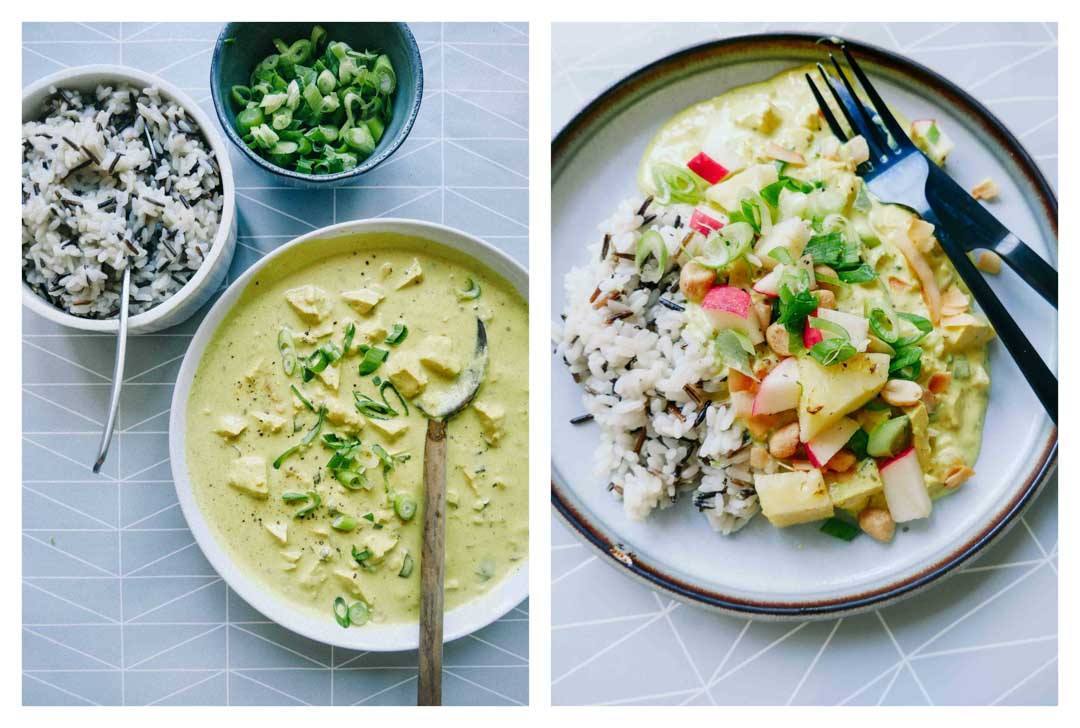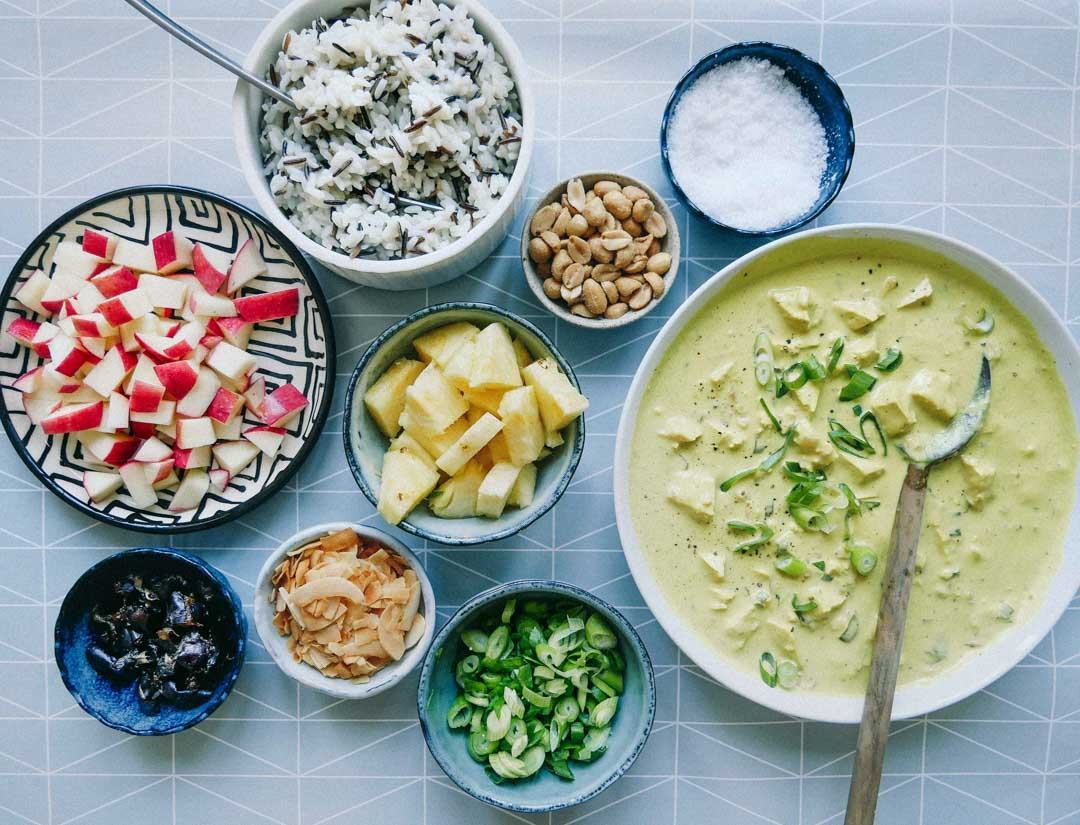 ~ One of my favorite recipes made with the best toppings. I hope you can use this recipe!