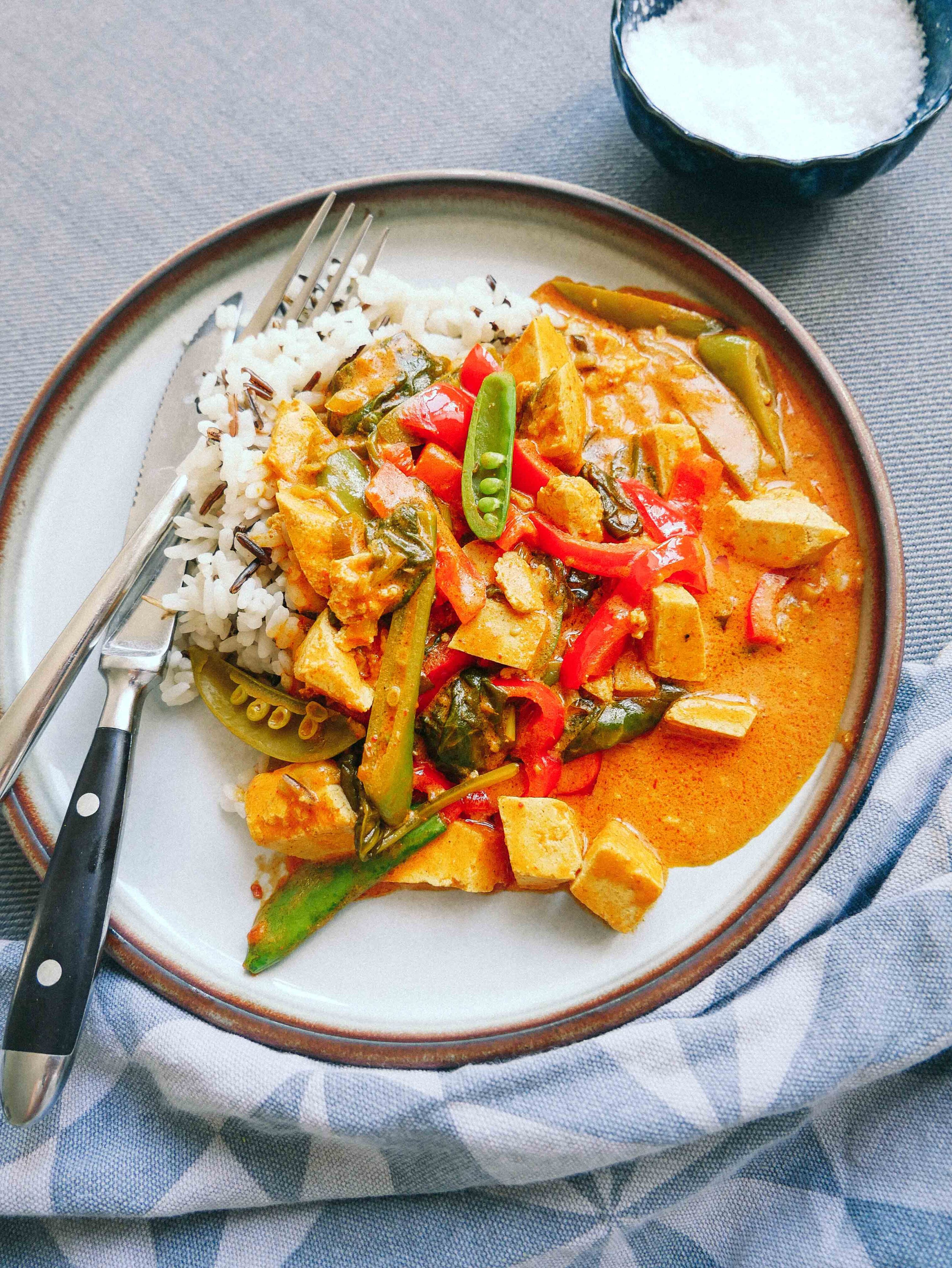 Delicious curry stew recipe. As we still are in summer and in a few months moving into autumn I've really been craving healthier, warming meals with big bowls of curries and stews.
This Vegan Sri Lankan curry is my new favourite though. It's so full of flavour and you can make big batches of it so easily, so that you have great leftovers for busy days and work lunches.
A traditional Sri Lankan Curry can be made in different ways typical with curry, turmeric, coconut milk, garlic, cumin, ginger, chili and a lot of vegetables. My recipe is made with curry, turmeric, cumin, paprika and lemon. But if you don't have all these different spices you can easily only use turmeric or curry – instead of both.
I just hope you create this recipe after you specific wants and needs. I hope you will enjoy this recipe – and let me know what you think of it.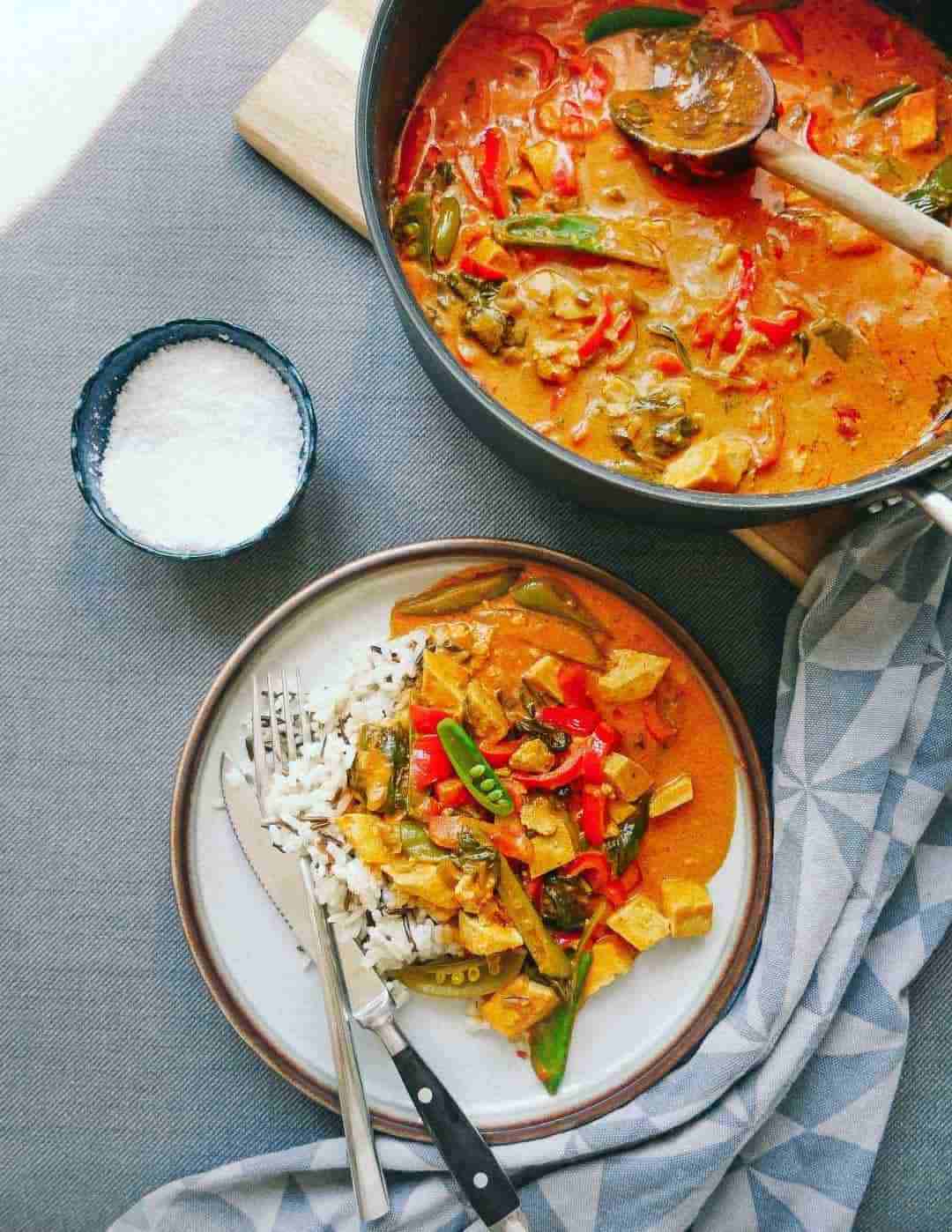 Print Recipe
Vegan Sri Lankan Curry
Delicious and creamy vegan sri lankan curry – served with tofu, peas and rice. Go find the full recipe here and add you own favorite vegetables.
Ingredients
200g tofu

2 cloves of garlic

1 onion

2 stem of spring onion

1 red pepper

2 teaspoon paprika

1,5 teaspoon curry

1 teaspoon turmeric

1 teaspoon cumin

1 small can of tomato paste (I used only 70g.)

2 tablespoon soy cream

Juice from 1/2 lemon

Salt and pepper

Oil

Decorate: 1 small handful of pea pods

Serve with rice
Instructions
1
Remove the water from the tofu. Cut into small cubes. (gives a great chicken-taste to the dish)
2
Start by chopping your onion and garlic and placing them with the tofu, in a pan over a medium heat with a drizzle of olive oil. Cook for 8-10 minutes until soft.
3
Cut spring onions and red pepper in small slices and add to the dish with paprika, turmeric, curry and cumin.
4
Add tomato paste and soy cream, stir a little and let it cook over low/medium heat. (you can also add the pea pods, but I think the result was better adding them on top of the dish)
5
Taste with lemon juice, salt and pepper. Let it cook for about 40-45 minutes - or even more. Add a little water if needed, so we keep the juicy taste.
6
Boil the rice. Serve the Sri Lankan curry with rice and fresh pea pods.
The final result: Vegan Sri Lankan Curry served with peas and rice. So delicious and easy to make. Hope you'll enjoy this recipe..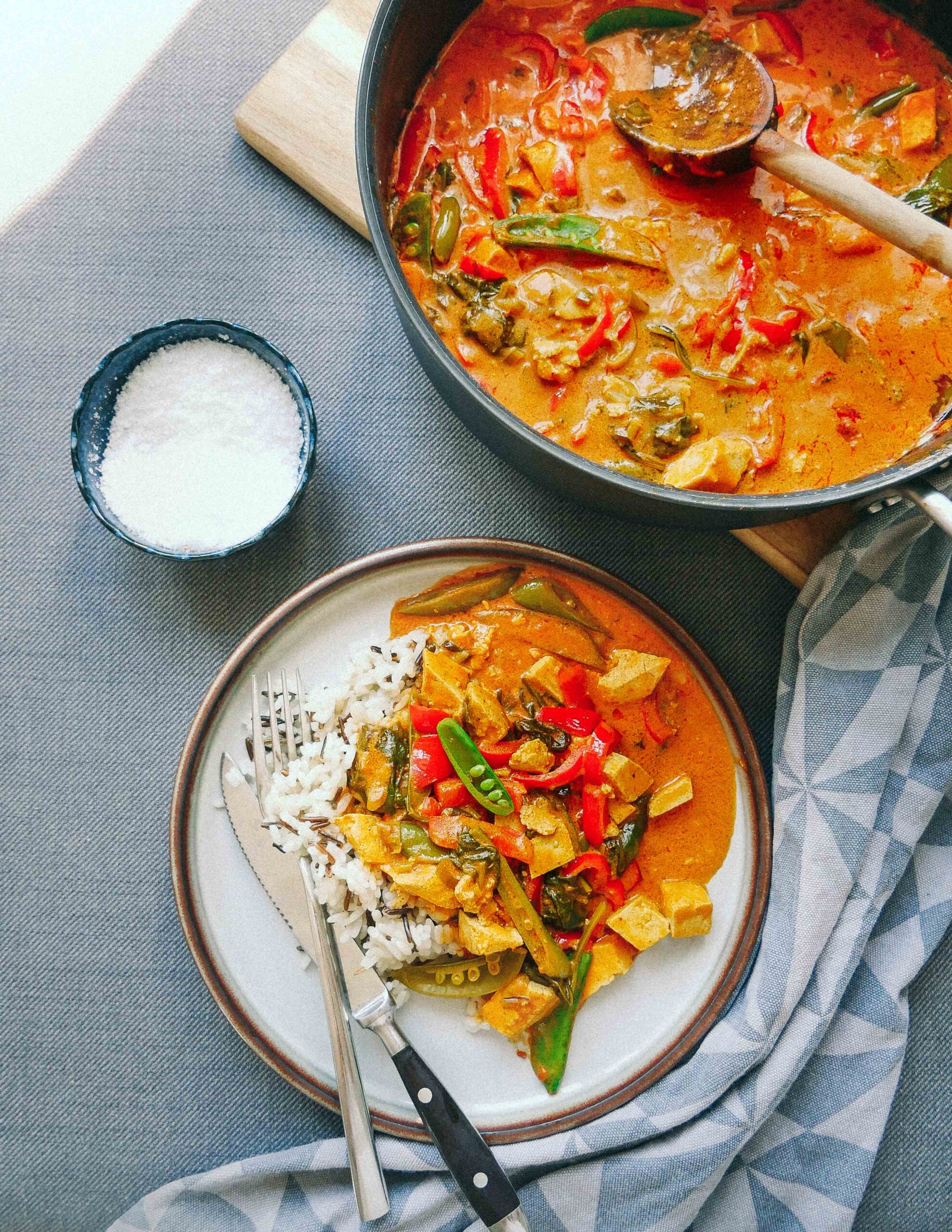 Rate the recipe below: