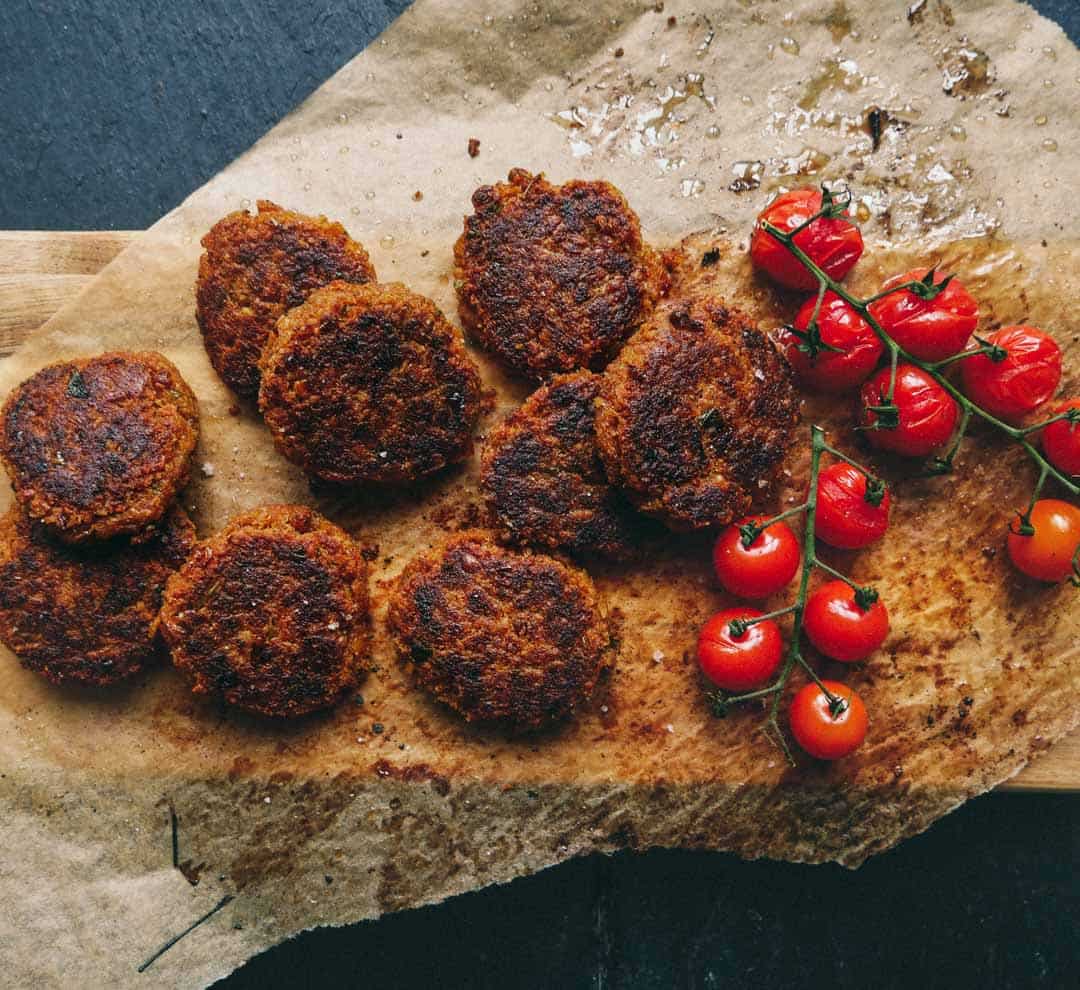 Spicy and delicious vegan patties with harissa spice and a touch of paprika. I love that you can make this recipe, with ingrediens you already have in the kitchen. I always have ingredients like chickpeas, paprika, harissa spice + pesto flour, lemon, parsley, salt and pepper in my kitchen so I can almost always make a recipe like this.
No eggs are used for this recipe – this is meatless and it's dairy free. You can easily make this gluten free too and use buckwheat flour instead of normal flour. I haven't tried to use oats instead. But sometimes I do it with my other meatball or patty recipes, and they use to turn out pretty good. So please try out other flour types – and let me know what you think.
 »Try also: Vegan meatballs served in homemade flatbreads and hummus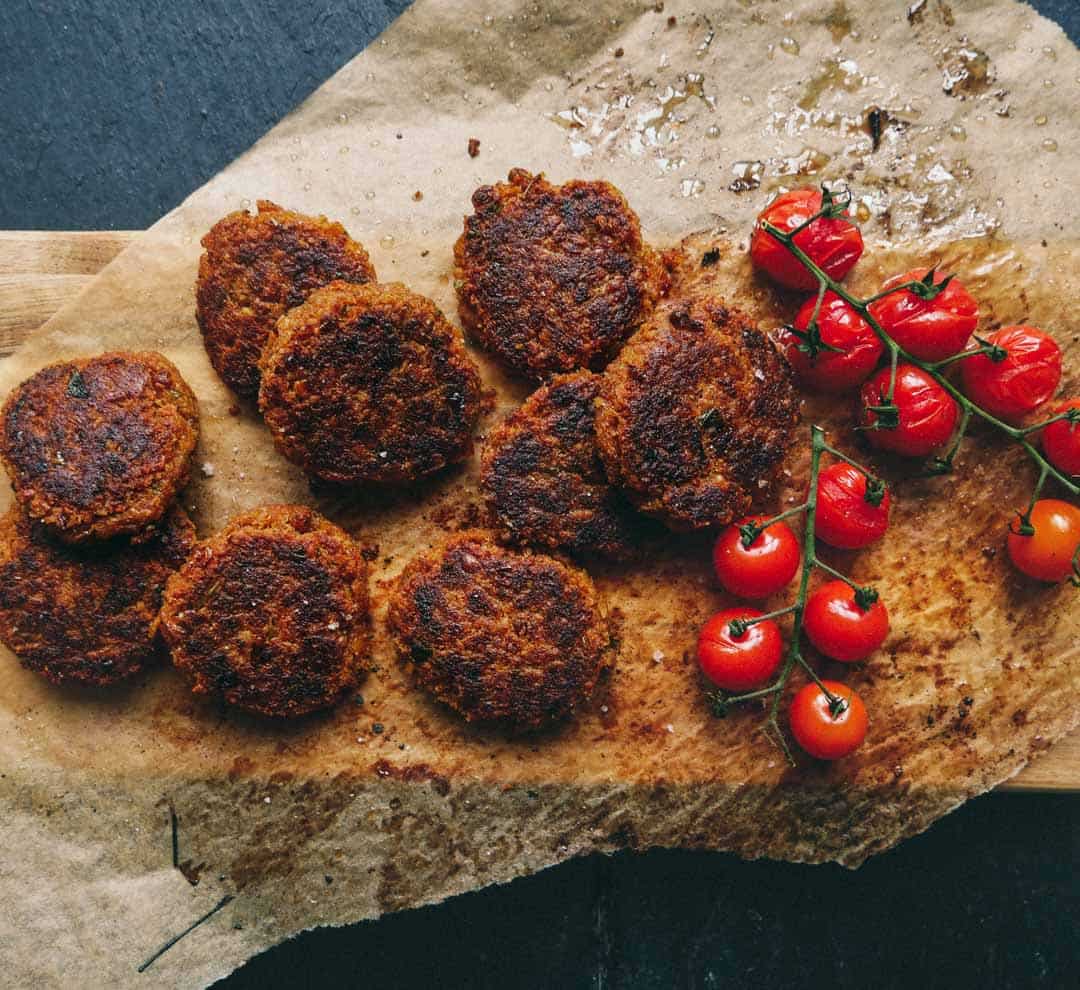 Print Recipe
Vegan patties with harissa
Harissa vegan patties recipe made with chickpeas, harissa spice, paprika and lemon. Delicious and easy recipe, no eggs are used.
Ingredients
1,5 cup of cooked chickpeas

2 teaspoon. Harissa pesto (or other red pesto)

1,5 teaspoon Paprika

1,5 teaspoon Harissa krydderi

1,5 tablespoon Mel

Juice and zest from fra ½ citron

Salt and pepper

A handful of parsley
Instructions
1
Cook the chickpeas or use precooked and preheat the oven at 170°c degrees (338° F)
2
Mix all the ingredients in a high powered mixer or food processor until you have a good well-mixed texture. Form like a round patty and fry them shortly until golden on both sides.
3
After this warm them on a baking tray covered with baking powder in the oven at 170°c degrees for about 15 min. The result should be crispy but still soft in the inside.
4
Serve the patties in burgers or with salad.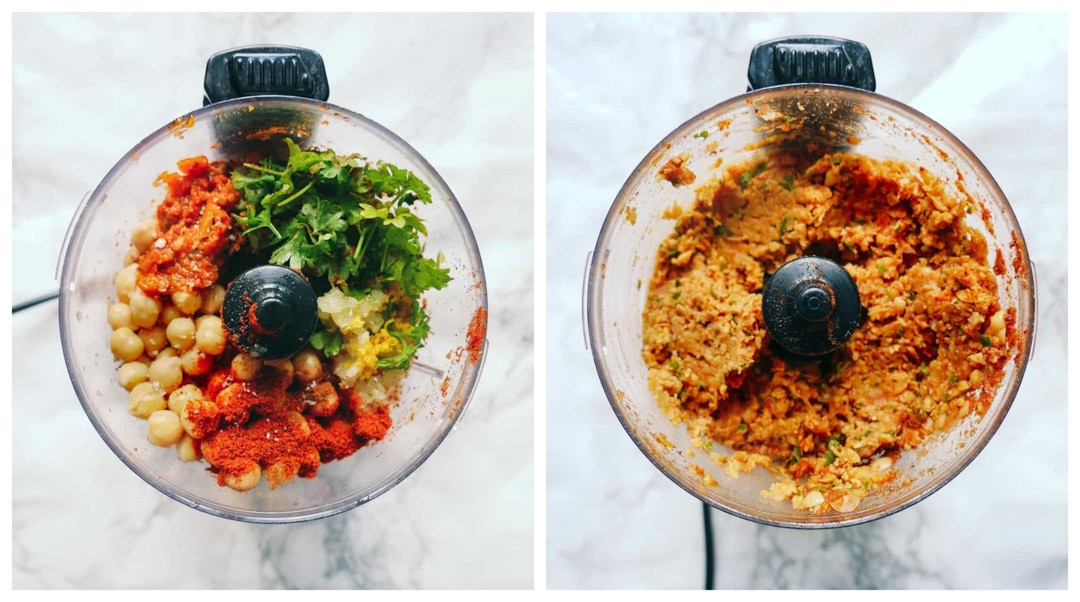 Harissa spice for vegan patties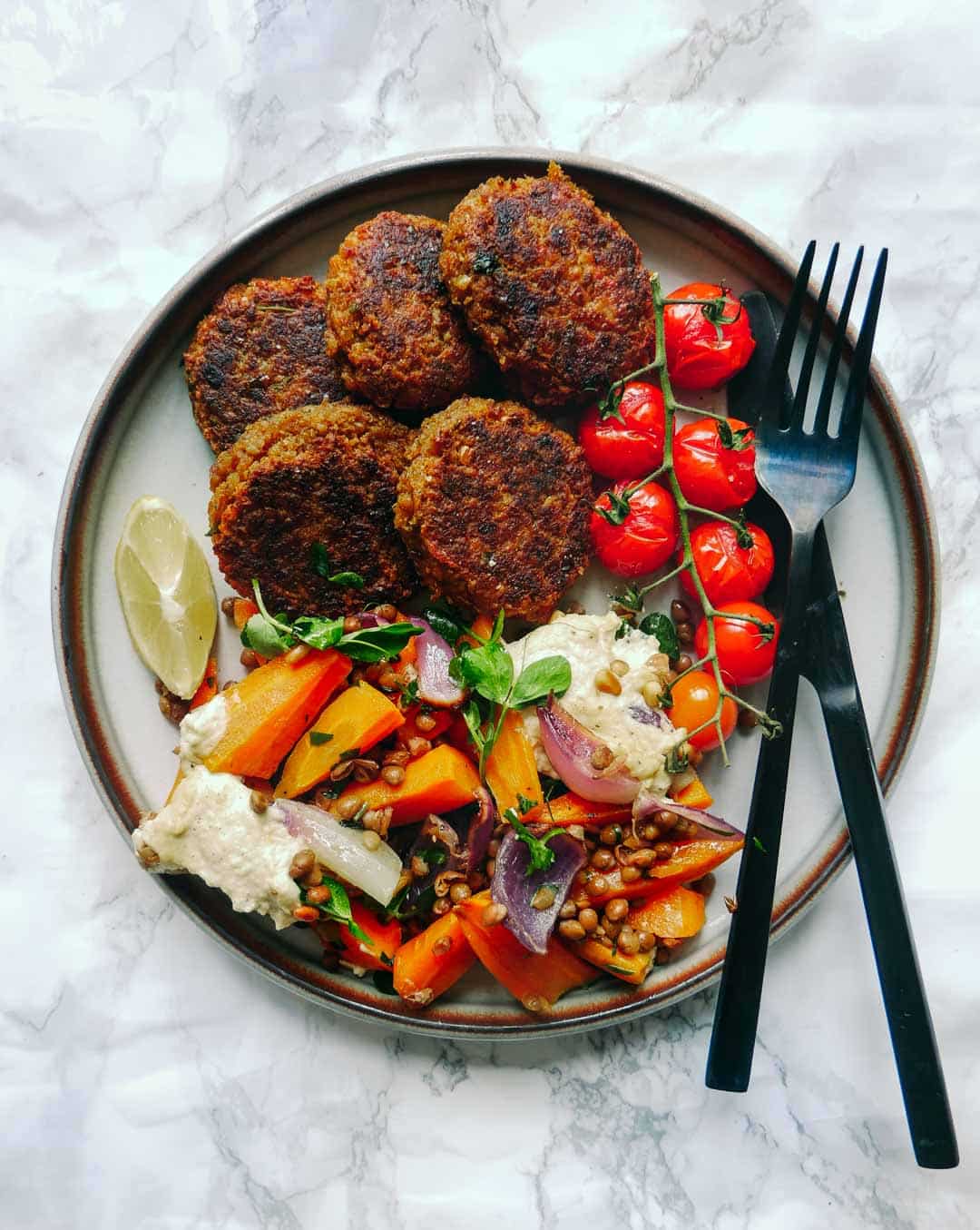 For this recipe I used a store bought harissa pasta for extra flavour with the harissa spice. But you can easily make you own. Make the North African hot chili pepper paste, by mix hot chili peppers, herbs, garlic, coriander, saffron, rose, olive oil and other spices. The main ingredient in the harissa paste is the roasted red peppers and hot chili peppers. When I was younger I wasn't happy for spicy food. But today I love to cook with different spices and flavors. If you want a non-spicy recipe, then keep the paprika, and omit the harissa spice. You can also just change the harissa paste, with classic red pesto so you still get the red look of the vegan patties. If you don't have parsley then omit and add thyme or coriander instead.
Serve this meatless recipes in flatbreads, with salad, in pasta bolognese or dip them in a good soy sauce and use them instead of meatballs. This vegan meal is a great recipe to make in so many variations. I hope you can use this recipe for you next vegan dinner.
Let me know what you think of them – just leave a question below.