How to make Potato Salad – Vegan version:
The best potato salad I've ever made. Delicious, ,homemade and very easy salad with potatoes. A vegan recipe made with a very good tasty dressing. This sweet and classic summer recipe are perfect for warm days and long summer evenings. And actually perfect for grilled vegetables or BBQ too. I really can't get enough of this when all the fresh danish potatoes are in season. Especially small danish potatoes in season are the best ones! I got these fresh chives from my grandmothers garden. Look at how pretty and tasty they looks. I simply love fresh chives on top of all dishes.. I hope you can use this easy salad recipe. Just write a comment below, if you have any questions making it.
Print Recipe
Homemade potato salad:
Best potato salad recipe – Vegan version. Classic homemade summer recipe with healthy fresh potatoes and dressing. Get the tasty salad recipe right here.
Ingredients
1 kilo fresh potatoes

4-5 big radishes

1 handful chives

1 cup of naturel soy creme fraiche or yoghurt

1 cup peas

2 tablespoon mayo (I used vegan mayo)

1 tablespoon mustard

1 tablespoon maple syrup

2 tbeaspoon salt

Juice from half a lemon

Taste with pepper
Instructions
1
Boil potatoes for about 20-25 minutes until cooked, but not too soft. Make the dressing while the potatoes are cooking.
2
Dressing: Mix yoghurt/creme fraiche, mayo, mustard, maple syrup and lemon. Taste with salt and pepper.
3
Remove the water from the potatoes when finish and cool down. Add the potatoes to a bowl, and cover with the dressing.
4
Slice the radishes and mix it all together with the peas on top of the potatoes.
5
Sprinkle with fresh chives, salt and pepper on top. Serve and enjoy.
Summer salads for summer evenings:
This easy potato salad can really be used for many different dinner meals, even though the potatoes or radishes are not in season. It's so easy just so change the ingrediens by the season. Try add sweet potatoes in stead. Or experiment with other seasonal vegetables. The dressing here is the key for a good salad. So always be sure to make a good juicy dip og dressing on side. You can also use oil, balsamico sauce, vinegar, lemon juice or other good sauces. I made this salad few days ago with these home baked flatbreads, a pretty big succes and tomorrow we're going to make them with a bunch of these green pea patties. So good! Hope you could use this potato salad recipe!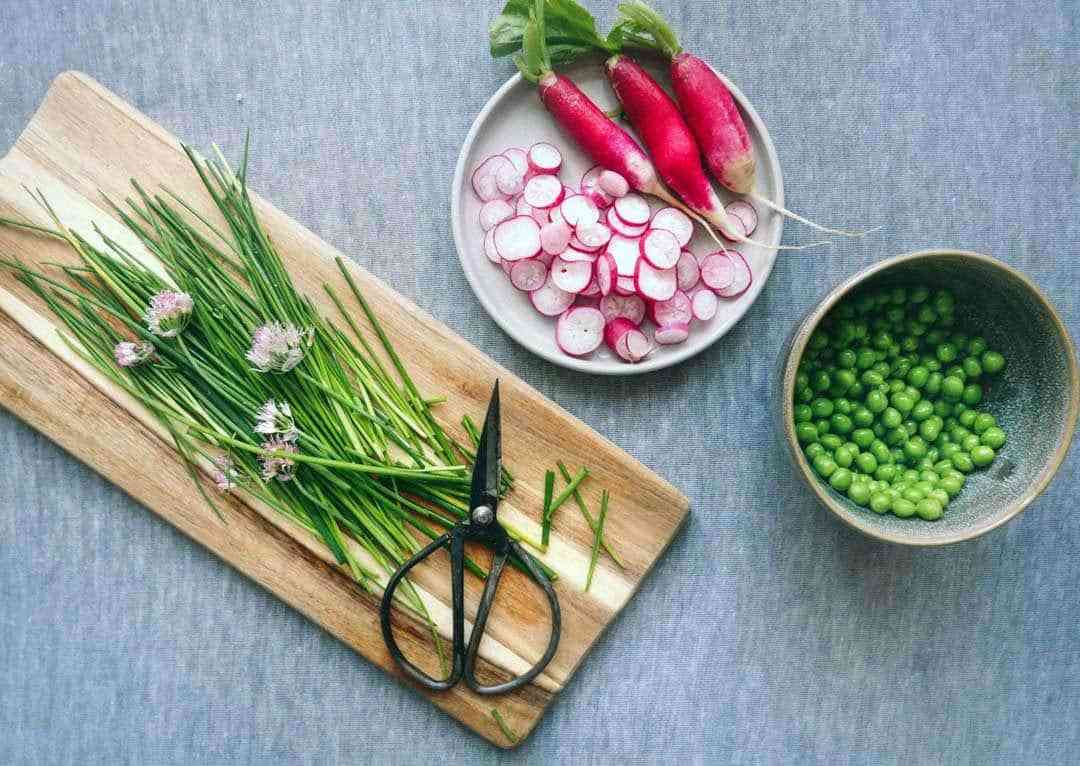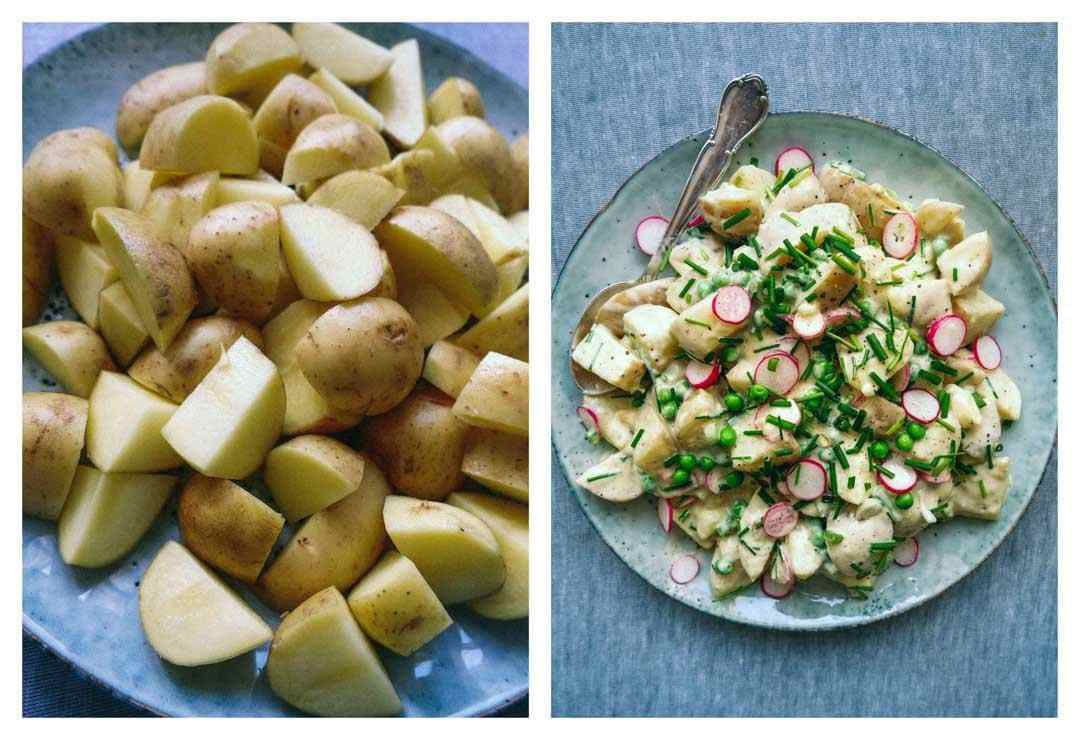 Did you like this recipe? Rate it below ↓