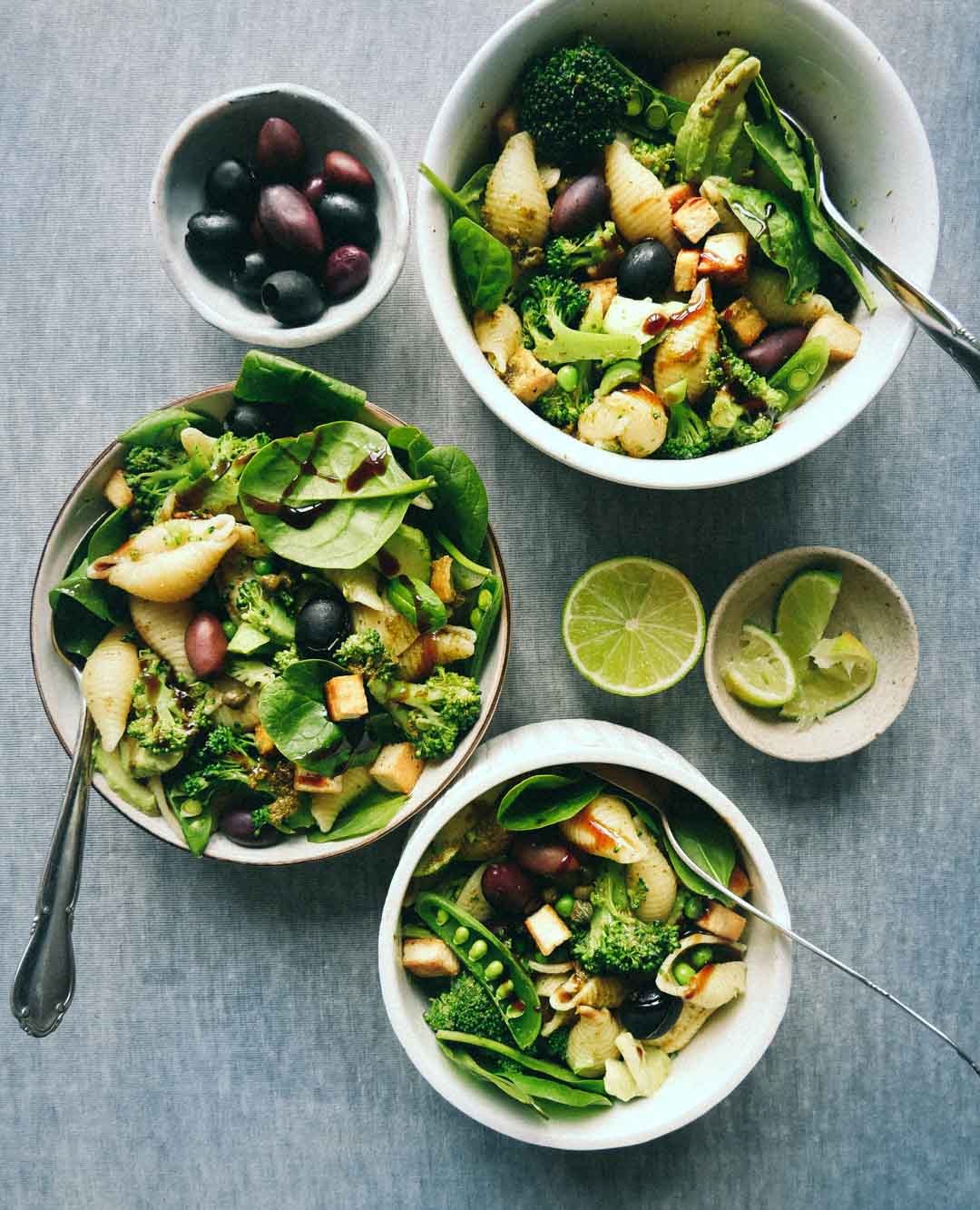 Pasta Salad – Ready in 15 minutes.
This green pasta salad is my absolute go-to on busy working days or when I need to make an easy lunch package.
This recipe is very simple and healthy and you can adjust just the way you like it. I used broccoli, spinach, olives, capers, avocado, fried tofu, peas and pastas of course. I also added salt, pepper, a little squeeze of lime for a perfect and fresh taste.
It's so easy to make a big bunch of green salads, pasta dishes or other stews and keep it for lunch. It makes the food prepping so much easier and it taste delicious even after a day or two. Add some balsamic vinegar for a salty and tasty result! Or else use a creamy pesto or other dressing making the salad perfect.
» Try these: Crispy kale chips – the perfect healthy snack idea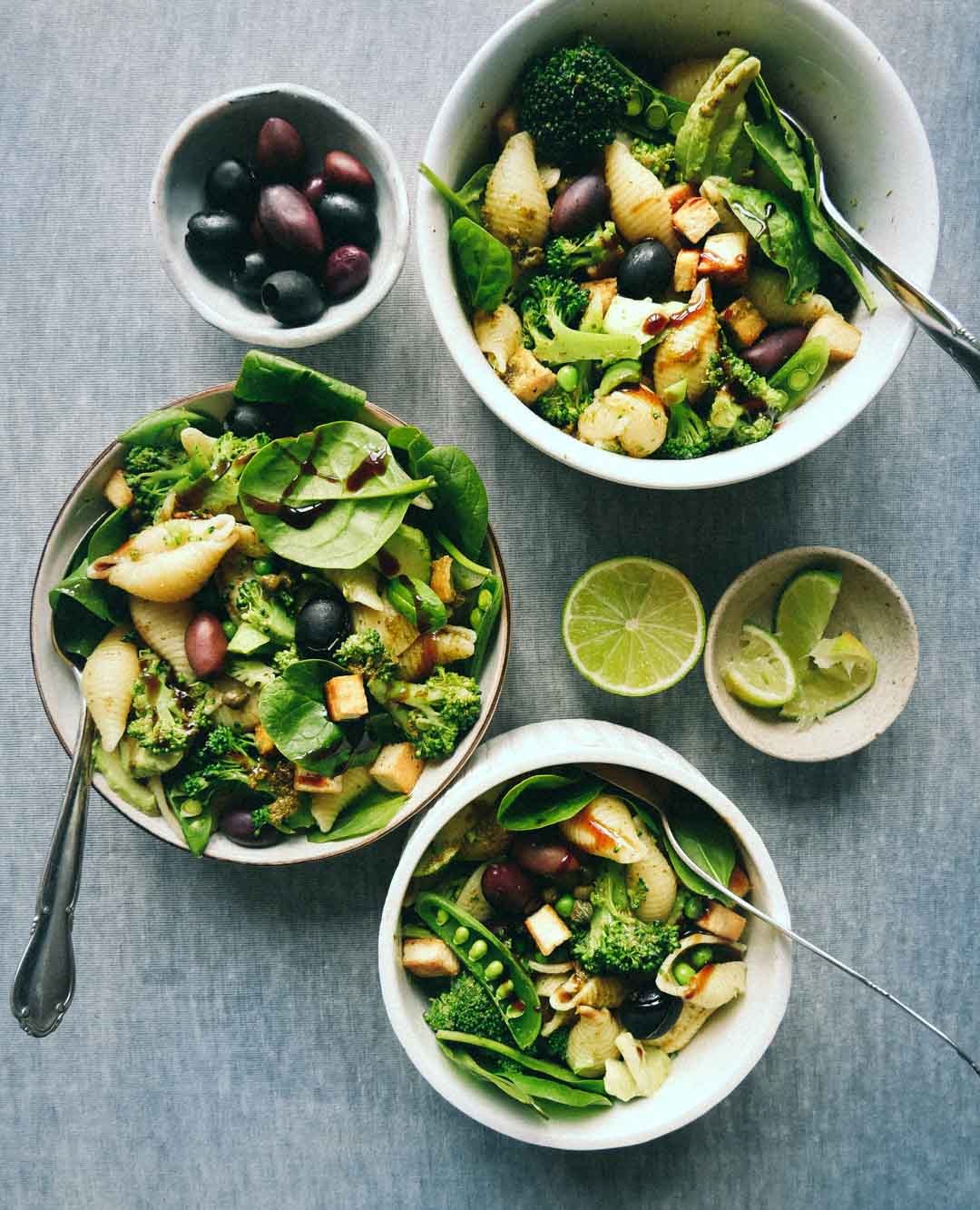 Print Recipe
Green Pasta Salad with Tofu
Recipe for this green pasta salad with tofu, broccoli, spinach and avocado. A healthy vegan recipe perfect for a lunch box or easy dinner. (Made with tofu instead of feta.)
Ingredients
400-500g. Pasta of choice

100g. Tofu

1 Broccoli (200g)

1-2 soft Avocado

1 tablespoon Capers

A handfull of Black Olives

A handfull of Pea Pods

Juice from 1 Lime

1-2 tablespoons of Balsamic Vinegar
Instructions
1
Start by putting your pasta in a big pot full of boiling water, cook for 8-10 minutes.
2
While the pasta is cooking, remove the water from the tofu. Cut into small cubes. Fry the tofu on a pan with 2 tablespoon of oil, salt and peber. Fry on the pan while stirring until golden.
3
Chop the broccoli into small bouquets and cook with the pasta the last 5 minutes.
4
Wash the spinach, chop the pea pods and avocado. Cool down the pasta and broccoli when it's ready under cold water. Mix in a large bowl the pasta, broccoli spinach, pea pods, avocado, capers, olives and fried tofu on top. Squeeze with lime, balsamic vinegar, salt and pepper on top. Enjoy!
Use tofu in your green pasta salads: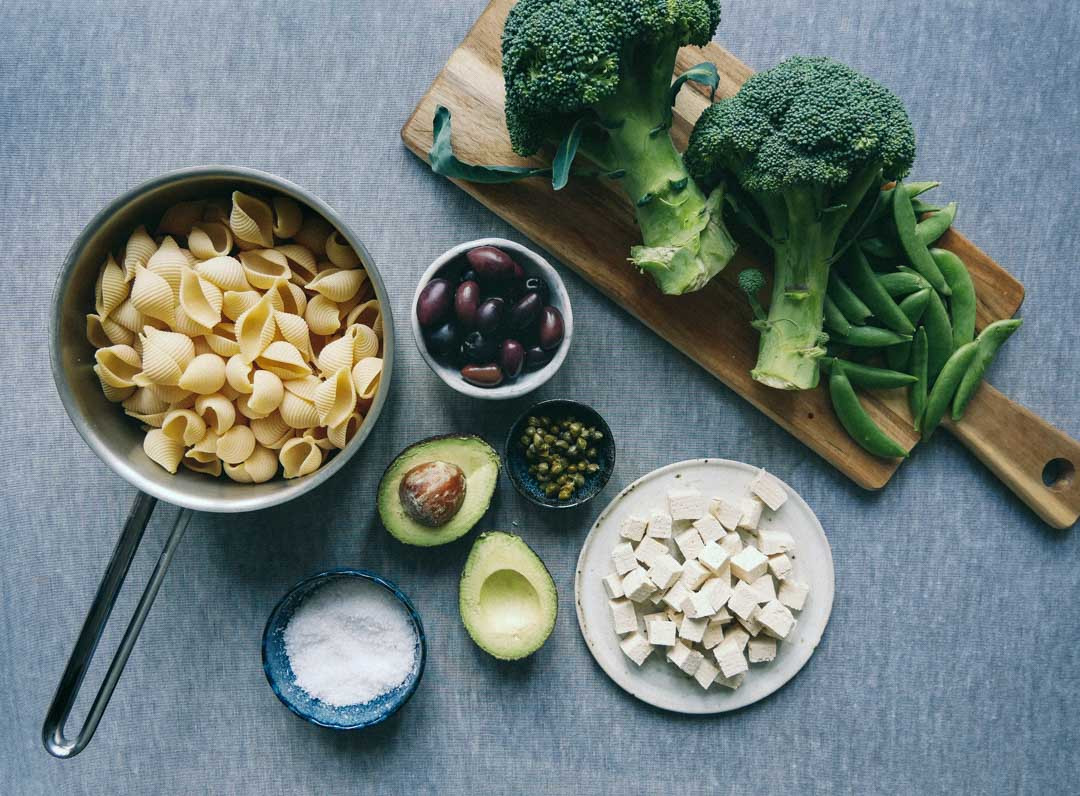 In the beginning my love for tofu wasn't that big. But after tasting fried tofu in many meals I actually changed my relationship with it – And I'm now not longer a fussy tofu eater. Tofu can be used in so many meals. It gives a perfect taste and texture instead of both cheese and chicken. I made this Indonesian vegetarian rice table with curry some months ago with tofu instead of chicken and it turned out so well! But it's perfect in salads instead of classic feta or cheese too.
Tofu itself can be a little boring and tasteless. So be sure to add it to fry it before or mix it with barbecue, curry, paprika, dressings, dips etc. Sometimes I also fry it on the pan with a small amount of soy sauce and maple syrup. It gives the best crisp and caramelized flavor! Tofu can be a very good source of protein which is just another reason to use t in your vegan and vegetarian recipes.
Do you like this green pasta salad recipe? Rate it below ↓