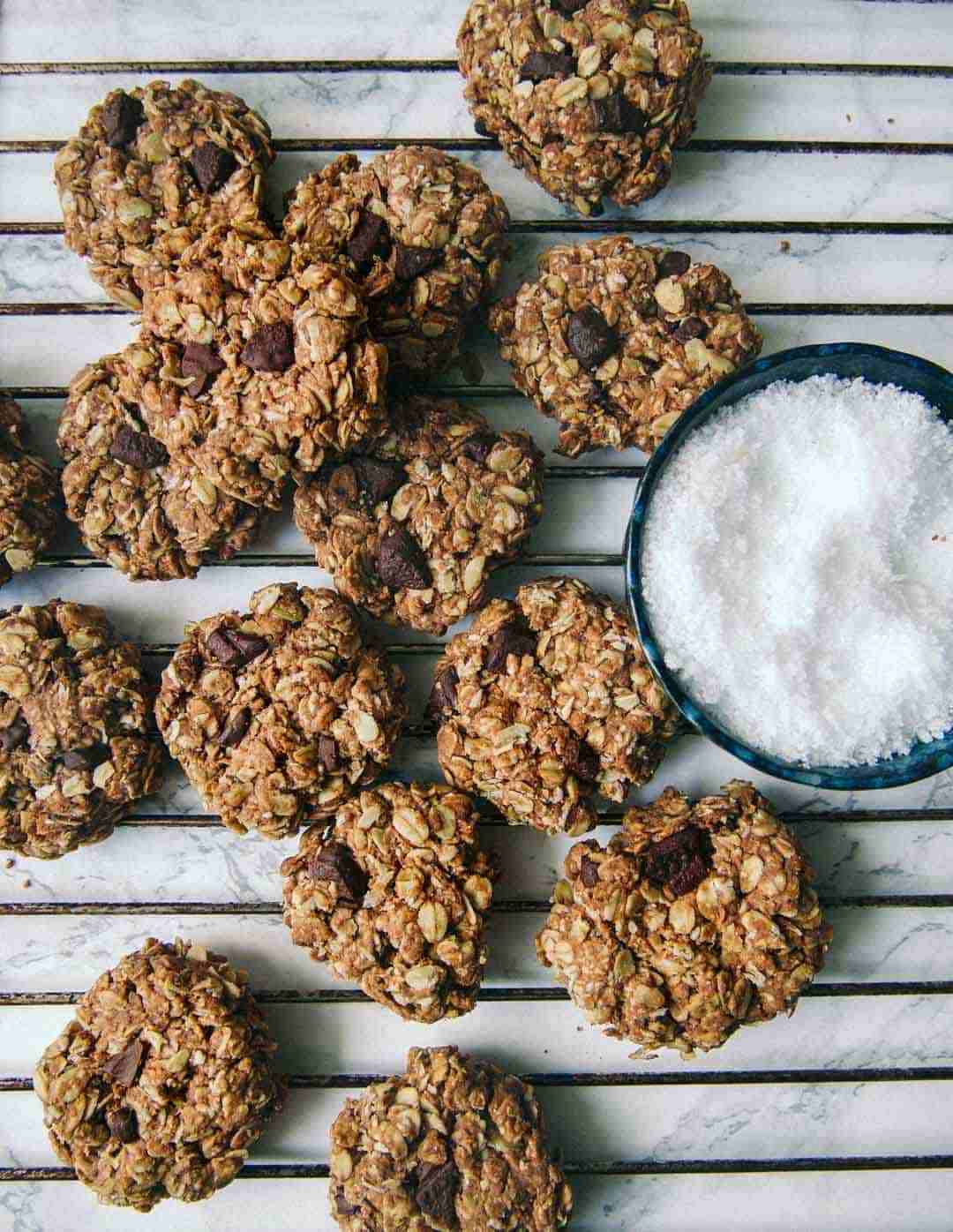 Healthy chocolate cookies with oats.
The best healthy chocolate cookies full of oats. A perfect afternoon biscuit snack with the gooey chocolate pieces! An easy recipe ready in only 15 min and taste incredible – warm out of the oven.
I used a lot of oats for this recipe, a little more than traditional oatmeal cookies, which I also love! So these turned out a little more raw and healthier than some of the leading recipes. And actually a bit more like biscuits than soft cookies. But still a tasty and healthy result. I used normal organic flour for this recipe. It's important to use flour to combine the oats and the remaining ingredients. Otherwise you can easily make this recipe with almond flour for at gluten-free option.
Try also – these peanut butter smoothie. I made them too in perfect combination with the crispy warm biscuits.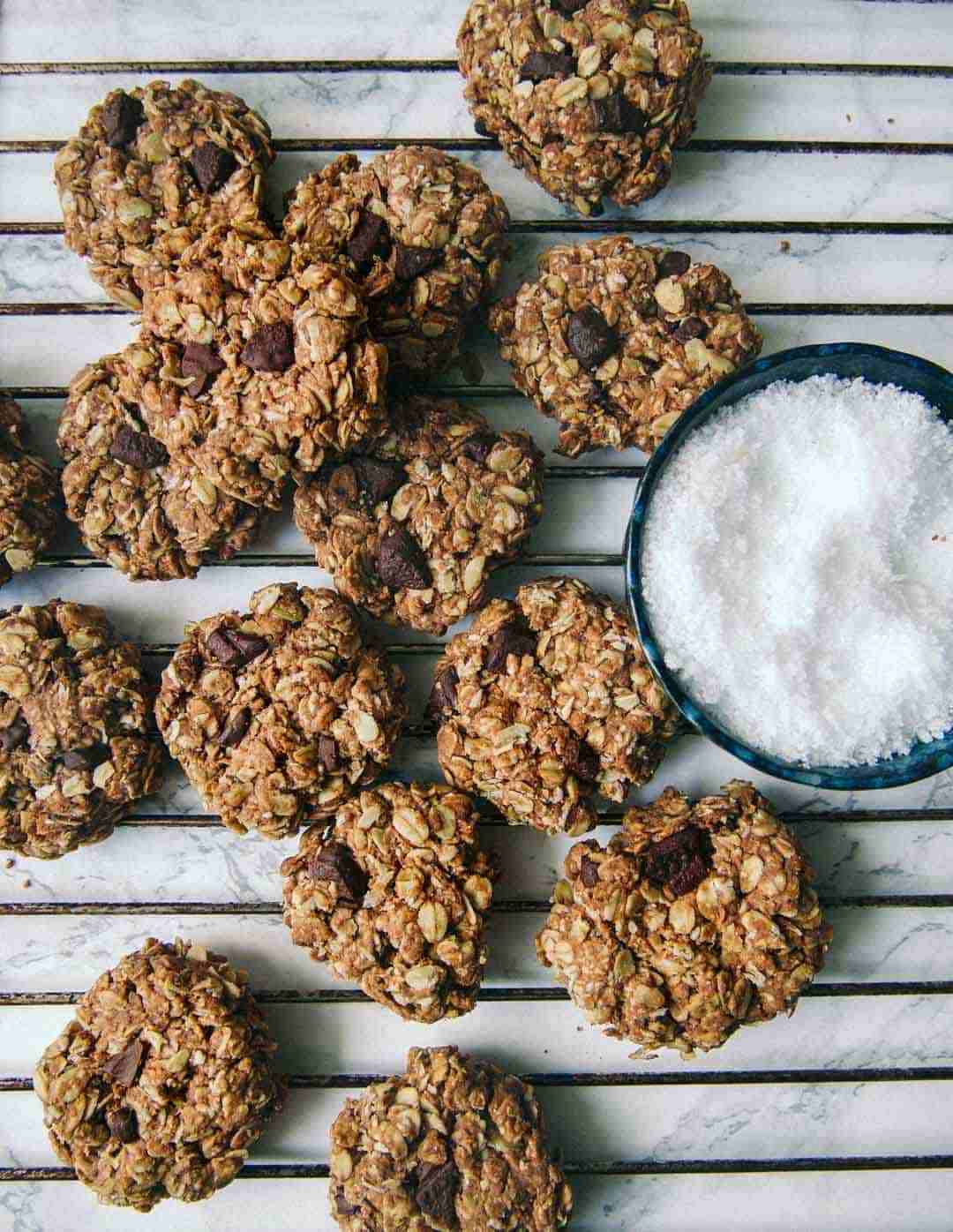 Print Recipe
Healthy Chocolate Cookies
Best crispy and healthy chocolate cookies with oats. Making these biscuits with oatmeal is just a easy way to make vegan cookies. Remember to cool down and they are ready to eat in just a few minutes.
Ingredients
200g oats

5 tablespoon flour (or rise, almond flour if gluten-free)

2 tablespoon cacao

1 teaspoon baking powder

3 tablespoon coconut oil, melted

5 tablespoon maple syrup

2 tablespoon plant butter

vegan dark chocolate (use whatever you like best)

1 teaspoon salt
Instructions
1
Preheat the oven to 180c.
2
Place the oats, flour, cacao, flour, salt and baking powder into a large bowl and mix well together. Add the maple syrup, melted/soft coconut oil and plant butter. Mix until well combined. Finally chop the chocolate and add to the bowl.
3
Use a tablespoon and scoop out balls of the mixture. Place the balls on a lined baking tray and push down a little bit just to form the shape.
4
Bake the cookies in 10-12 minutes until golden and crispy. Leave to cool before eating.
Tips making healthy vegan cookies:
Vegan cookies are made with traditional cookie ingredients but with no eggs used. You'll need to avoid eggs in the recipe and change for plant milk and plant butter. I used plant butter for this recipe but coconut oil is also working pretty good in place of butter. Of course, a recipe can only be as vegan as the ingredients involved. Maybe some strict vegans will need to seek out white and brown sugar made from beets rather than cane. And whether or not a dark chocolate is truly vegan will depend on the type of sugar involved and the nature of the manufacturing facility. But that's another story. I always use chocolate from Goodio – a fantastic scandinavian brand making the best dairy-free chocolate ever. No white sugar, and low production temperatures ensure a rich taste, that honors the cacao and it's origins.
For a gluten-free option you can always change flour with ground almonds. Be sure to add enough wet ingredients with the flour. And too much will make the cookie dough too wet to shape. It needs to me sticky and easy to scoop out and form. Too little wet ingredients will make the cookies too dry and crumbly to form.
I hope you could use this cookie/biscuit recipe! As always let me know in a comment below if you have any questions making it.
Rate this healthy recipe below ↓