Vegan chocolate cake with cashews, cinnamon and fig cream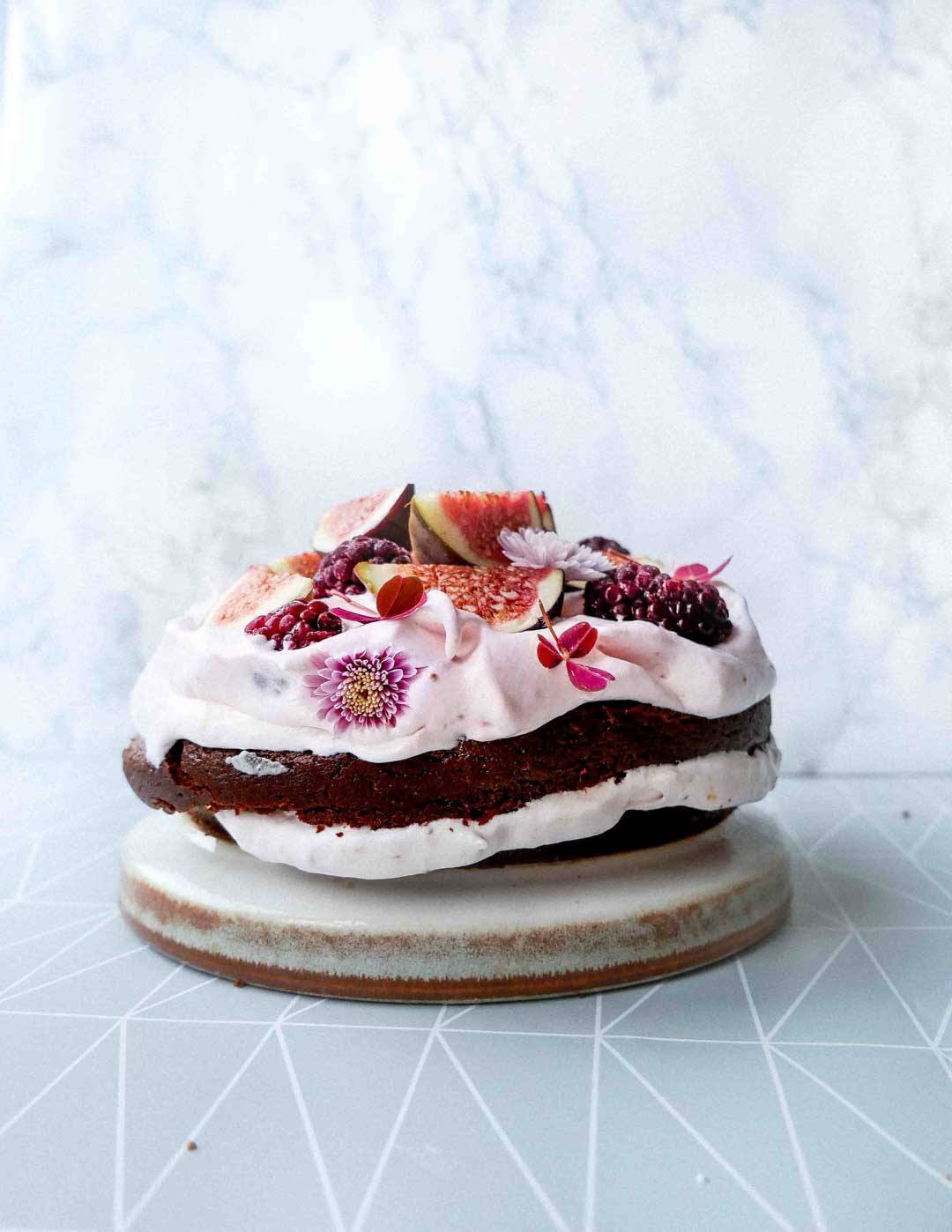 Thinking of this vegan chocolate cake has me feelin' like I'm floating on a pastel cloud. This one is with cinnamon to give it a more autumn/winter taste. This recipe is still in the making but think it's near my best result for a vegan chocolate cake so far! See my recipe underneath:
Cake recipe
Start preheat the oven to 200°C. Mix the ingredients in a blender:
• 2 tablespoon peanutbutter
• 3 tablespoon cane sugar
• 4 tablespoon maple syrup
• one handfull cashews (soaked in water over night – or else you can soak them in boiling water for only 20 minutes)
• 2 dl oat milk (or almond, soya milk)
• 2,5 tablespoon cinnamon (or more if you like)
Tip: If you like it as a clean chocolate cake, you can always omit the cinnamon and add a little more cacao powder underneath to make it more tasteful.
Mix in a high powered blender and blend until you have a smooth texture.
Put the mix in a bigger bowl and add the 'dry' ingredients underneath:
• 2 tablespoon cacao powder
• 1 teaspoon baking powder
• 1 teaspoon baking soda
• 2 tablespoon plant butter
• 1,5 dl flour
If you have high powered blender you can mix the all ingredients together, but I used an electric beater in i big bowl to secure all the dry ingredients got mixed. Taste the dough and add 2 sp more cane sugar or maple syrup if you want it more sweet. I also added:
• 1 big handful chopped almonds
Cover a small baking dish with oil or plant butter and add the chocolate dough. Bake in the oven in 35-45 minutes at 200°C. Check regularly with a small stick or fork when the cake is finish. Happy eating!
Cream with figs
The cream on top of the cake you see on the picture is a very easy mix consisting of:
• 250 ml soya cuisine (whippable soy from Alpro)
• 2 fresh seasonal figs
• 2 tablespoon powdered sugar
• squeezes and peel from half a lemon
Whisk the soy cream and add the figs, sugar and lemon. Put on the fridge while the cake is baking. When the cake is ready for eating add the cream on top of the cake in layers and decorate with eatable flowers, figs, seasonal berries and red sorrel.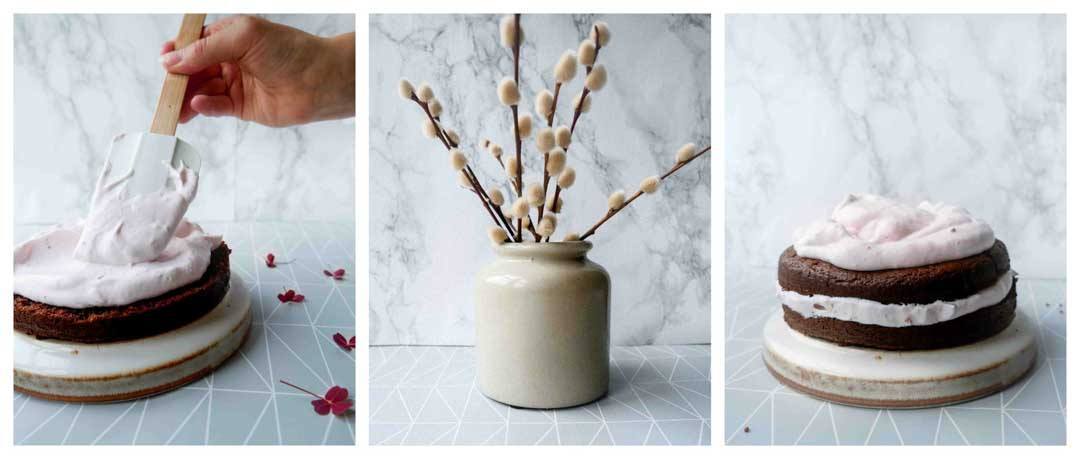 Rate the recipe below ↓