Danish hindbærsnitter – yum to these sweet danish raspberry bites:
In Denmark we call them 'hindbærsnitter', which is one of my all-time favorite Danish pastries! Actually it's not that healthy, it's full of good tasty plant butter, sugar and berry compote – but I promise you, it taste absolutely delicious! It's a perfect treatment after a weekend breakfast, as an afternoon snack or in desserts served with vanilla ice cream. Mmmh! It's a kind of a sweet biscuit full of tasty homemade raspberry jam!
Hope you'll like this recipe! Go find it underneath.
Danish hindbærsnitter – dough:
• 325g flour
• 100g ground almonds (or finely chopped almonds)
• 200g sugar
• 1 vanilla pod
• 300g plant butter
~ Put flour, ground almonds, sugar and grain from 1 vanilla pod in a big bowl. Mix it all together and add the butter in small pieces. If you have a mixer, then mix it all on low speed. Combine until mixture is crumbly (I just used my hands). Keep mixing until the dough comes together. Make the dough into two equal portions, place each half of dough on a piece of parchment paper and slightly press dough into a square shape. Make the size of the dough 3 mm. Do the same with dough #2 and make sure they have a same size of square. Place both pieces of dough in refrigerator for 1 hour to rest.
Turn on the oven to 190º by hot air and mix the raspberry jam:
Rasberry jam:
(I would just let you know, that you can easily use a very good raspberry jam instead of making your own compote..)
• 600g raspberries (or mix with blueberries)
• 1 spoon of chia seeds
• squeezes of a small piece of lemon (1/4)
~ To make the berry jam, heat all the berries with chia seeds and add 1 tablespoon of water. Stew for 10-15 minutes and cool down before you put it on the dough!
~ When the dough & the compote has cooled down, take out from the refrigerator. Place each parchment paper on a baking sheet. Spread jam into one of the dough so the cake is full covered. Add dough #2 on top so you have 3 layers: dough #1 – compote – dough #2. Press carefully in the middle so there's no air between the layers. And then around the corners so it's completely tight. Use a fork and dot the top layer many times. Sprinkle with sugar. Bake in the oven for about 25 minutes until it's golden. Cool down before eating and cut in to eatable pieces!
Hope you could use this recipe.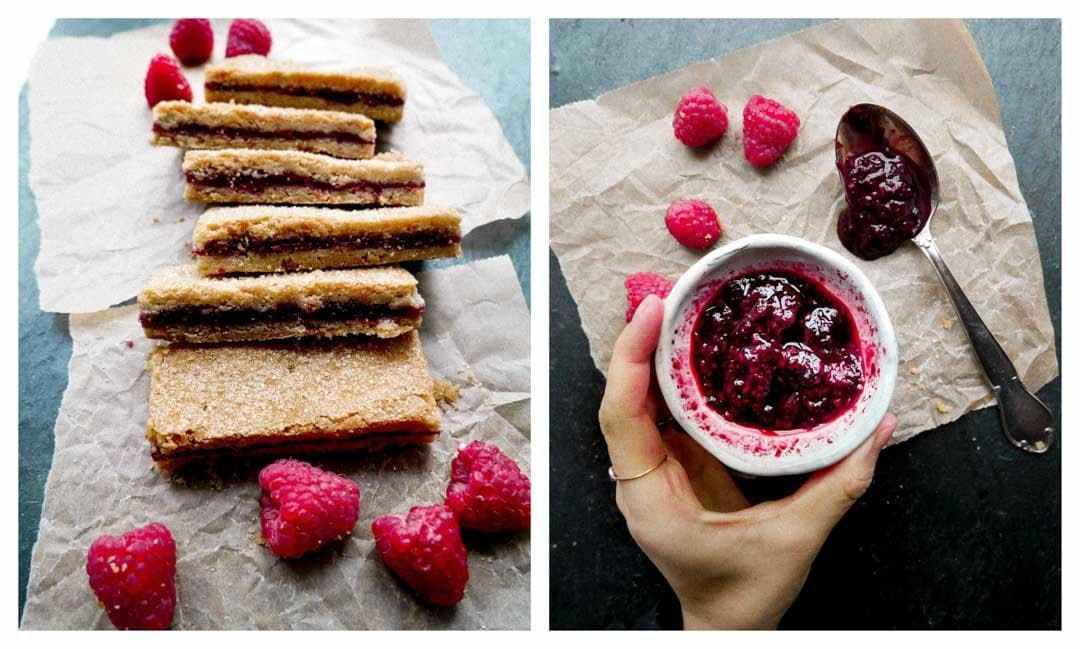 ~ One of my all-time best danish pastries! and with this homemade raspberry compote it's absolutely heaven!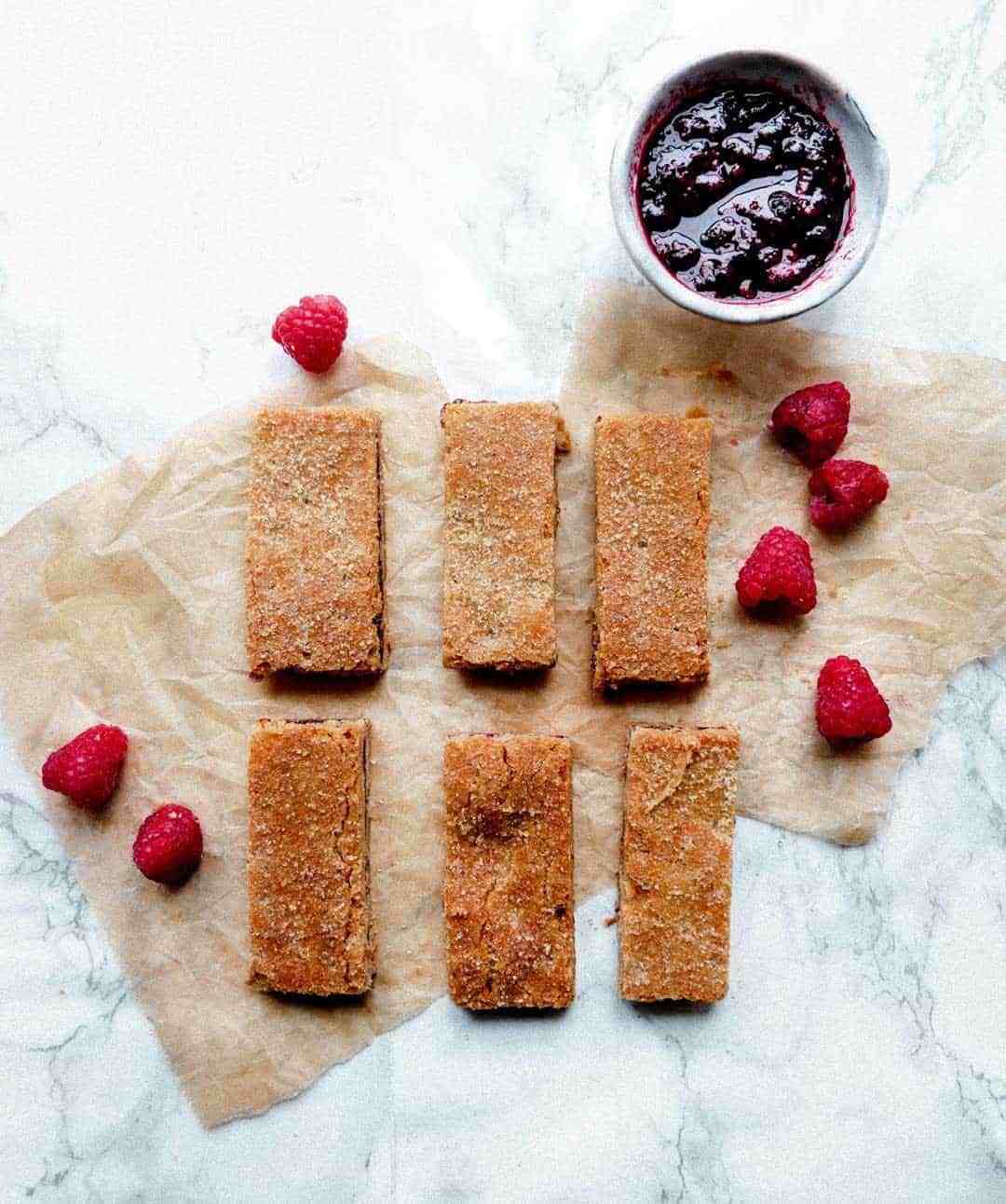 ~ The biscuits are done, cut in to pieces and ready to eat with a lot of extra berry jam!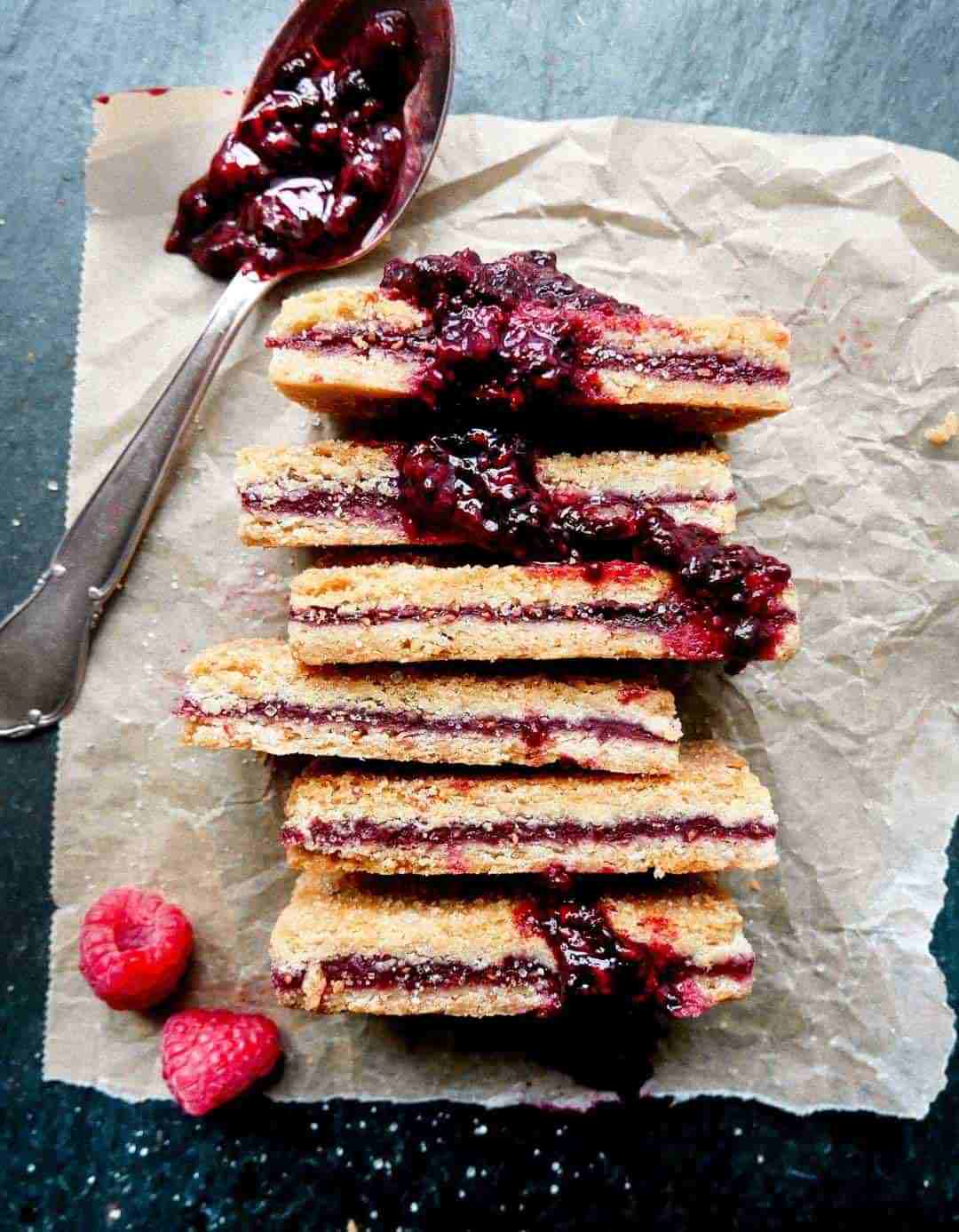 Rate the recipe below ↓