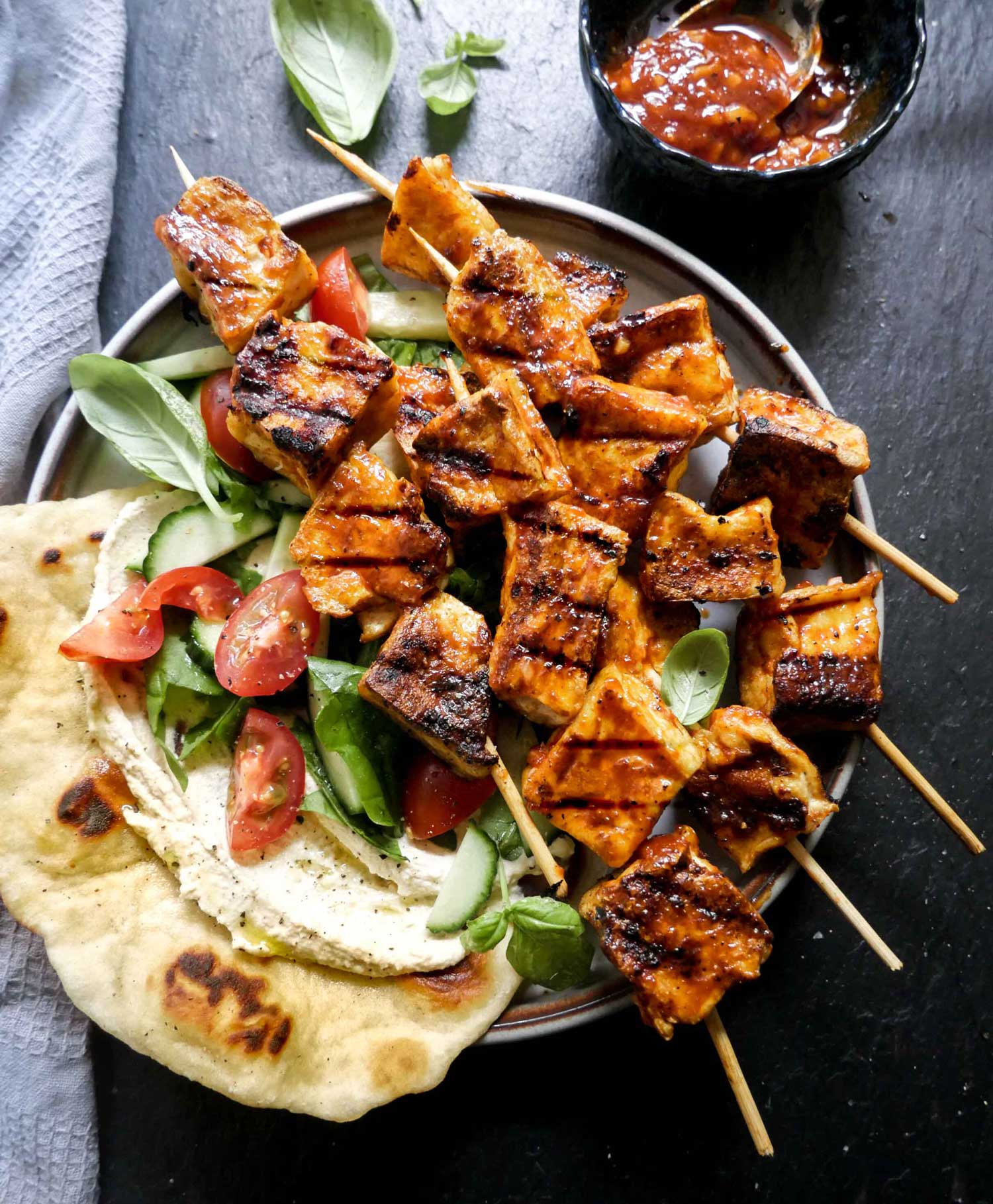 These tofu skewers are one of my favorite summer dinner recipes. Combine these with vegetables and summer salads for the perfect barbecue or grill night.
These are surprisingly good and taste almost like chicken. The key to the amazing taste is this homemade grill sauce. I've shared the recipe too underneath! It's basically a grill sauce but you can use it like a marinade too.
I served the tofu skewers with some homemade grilled flatbread, hummus salat and extra grill marinade on top. So easy to make and taste of summer.
Remember you can always add some vegetables on the skewers too, if you want some more. Or else I can really recommend making some salad on the side too.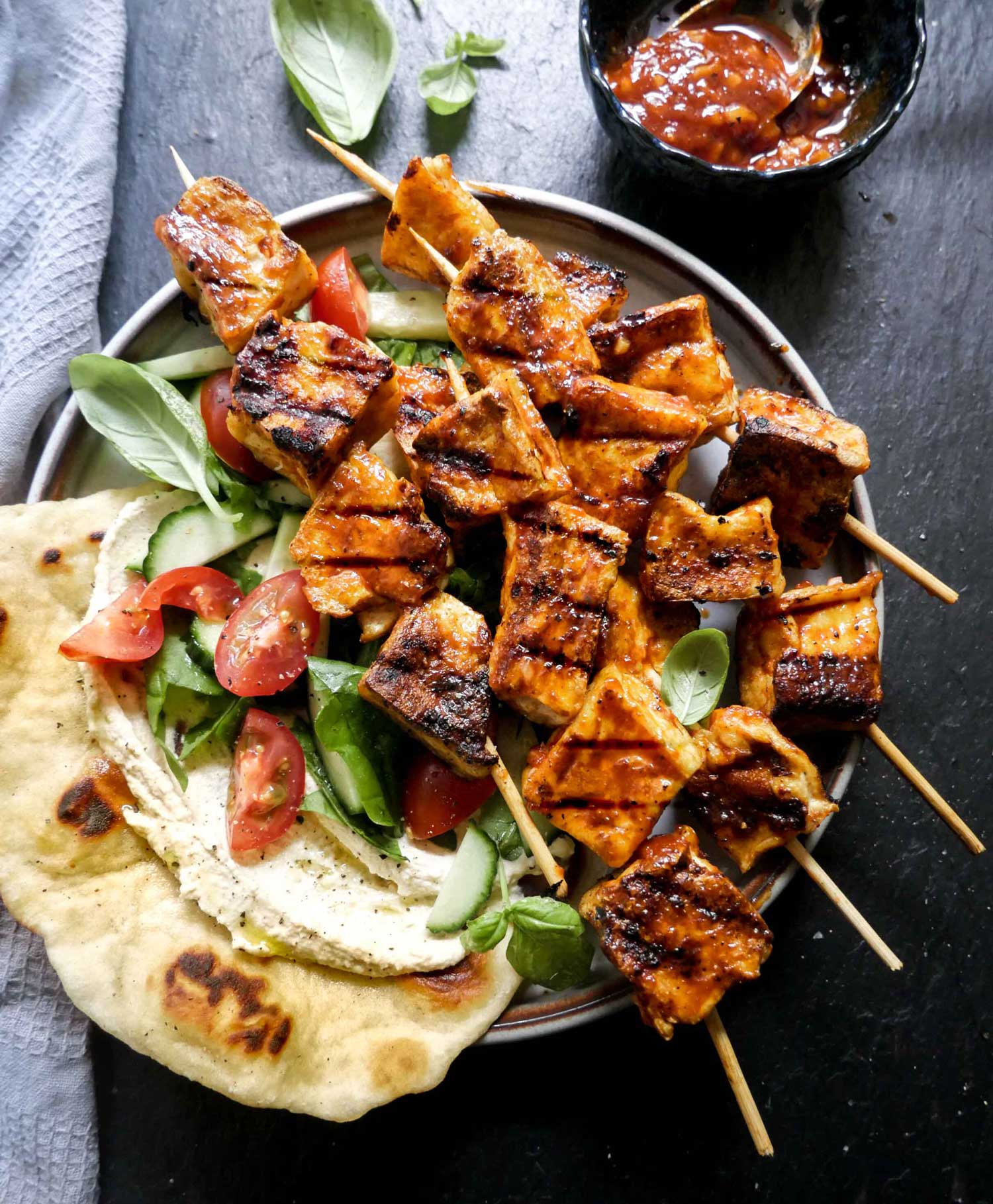 Print Recipe
Tofu skewers with grill marinade
Tofu skewers - surprisingly good and taste almost like chicken. The key to the amazing taste is this homemade grill sauce - full vegan recipe here.
Ingredients
400g. Tofu

5 x Skewers

Marinade:

1/2 cup of Oil

1/2 cup Tomato puree

3 tablespoons of Vinegar

1/2 cup of Onion (1/2 onion)

5 tablespoons of Maple Syrup (or sugar)

3 teaspoon Curry

1/2 teaspoon Pepper
Instructions
1
Marinade: Finely chop the onion. In a bowl mix all the ingredients. Mix well and adjust if needed. Put the lid on and set aside in the fridge until serving.
2
Tofu: Dry the tofu in towels until excess liquid is absorbed by the towels.
3
Cut the tofu in squares and cook on a normal pan in olive oil. Cook a few minutes until golden on each sides. (You may need to turn around the tofu cubes) Take out the tofu from the pan and add on a plate.
4
Add the tofu on the skewers and add generously with marinade. Grill the skewers in 10 min. until golden and grilled on each sides.
5
Serve with extra grill marinade on top, flatbreads, hummus and summer salad.
Grill sauce for the tofu skewers:
I made a big bowl of my favorite grill marinade (because it was empty – so sad). Og it worked perfectly with these skewers.. The sauce is made of tomato puree, chopped white onions, vinegar, maple syrup, curry and pepper. So easy and taste like heaven.
» Marinade recipe here: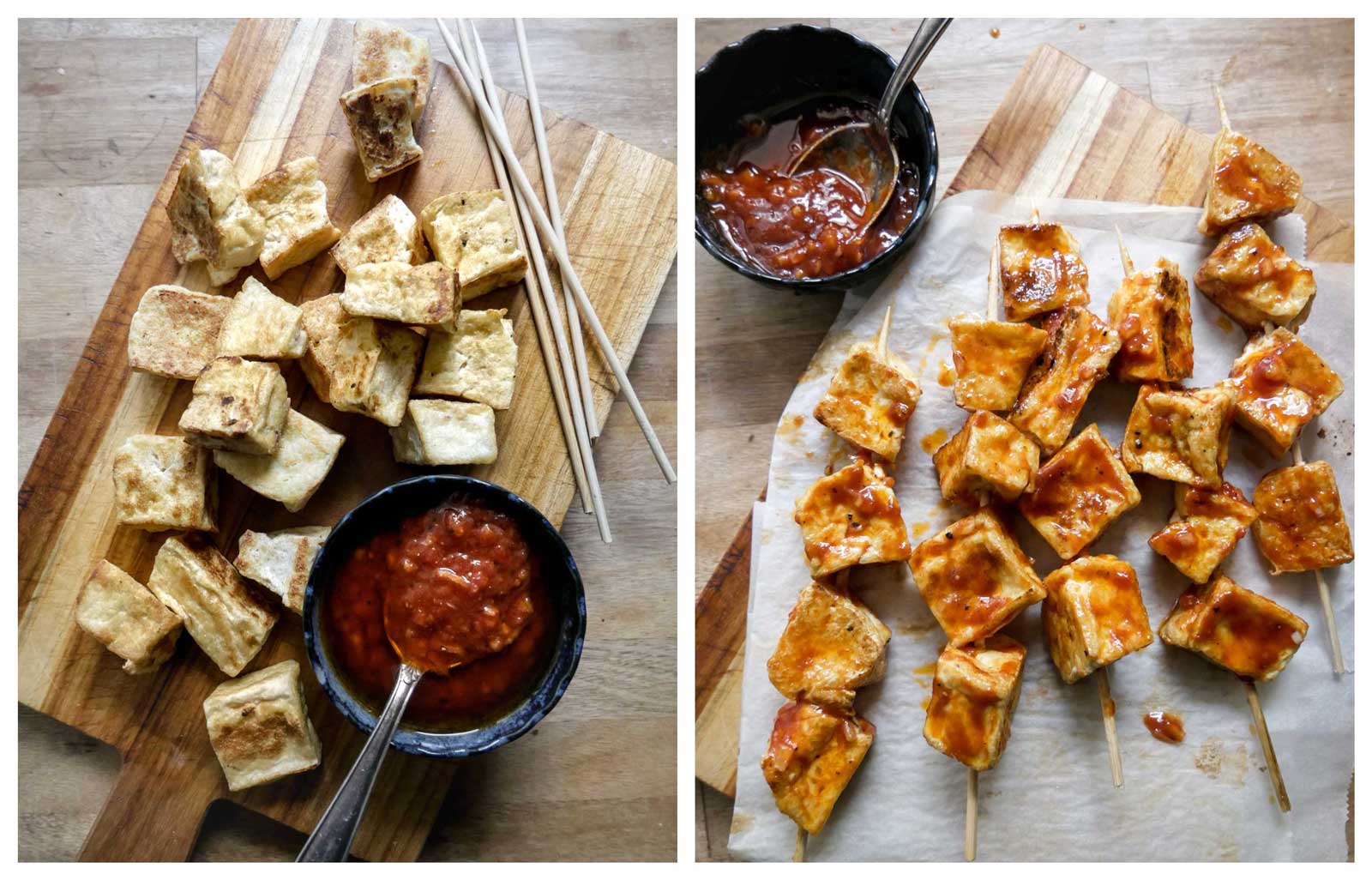 Tofu skewers – dinner ideas ↓
Serve the skewers together with this green pesto potato salad
Make the tofu in small squares and add in pitas
Eat the tofu along with falafels + homemade hummus
Add the tofu pieces on top homemade flatbreads (so good in the summer, because you can make these on the grill too)
Eat them separately with a good amount of cold dip or dressing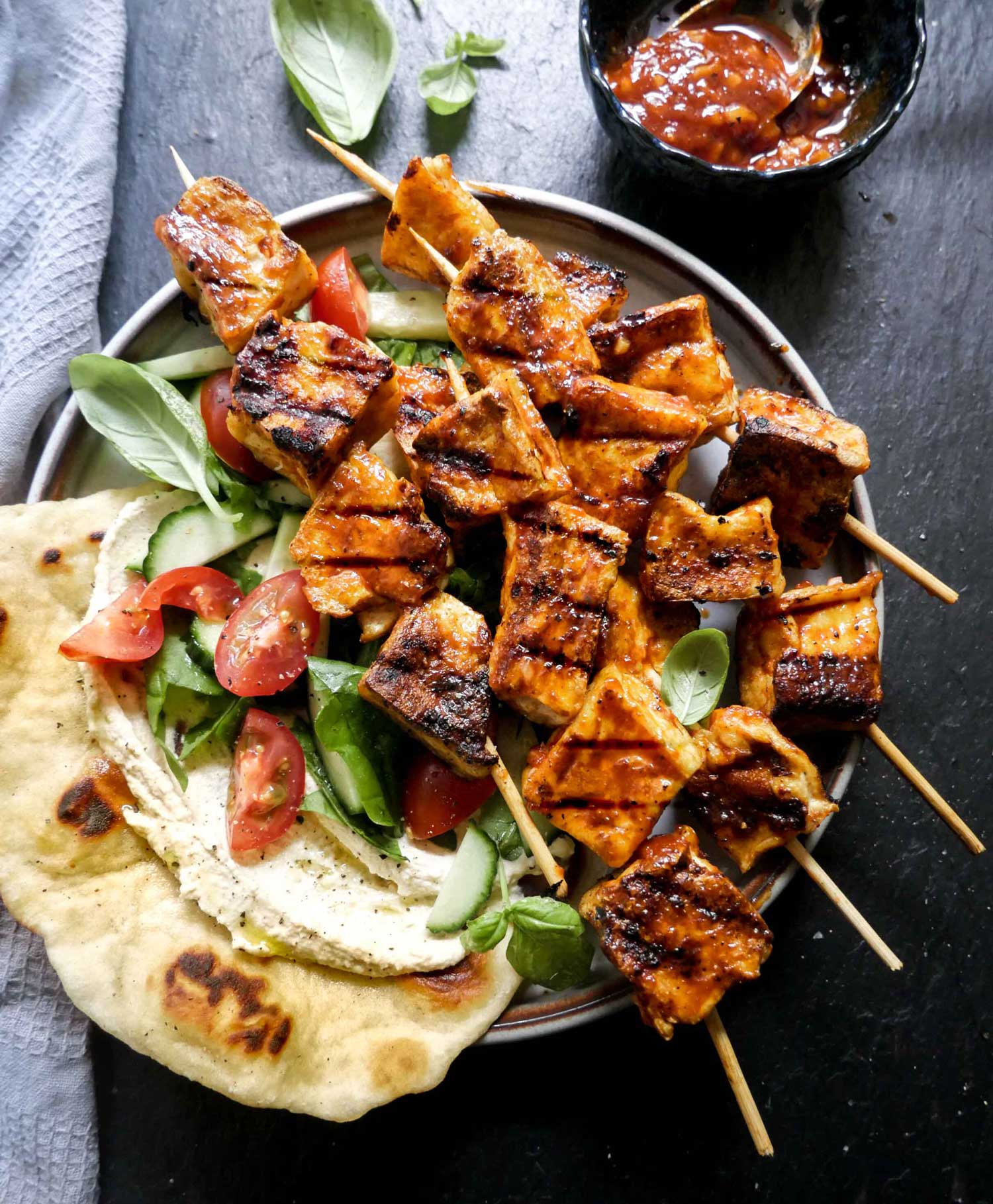 You can use bamboo skewers or stainless steel skewers. I just used the bamboo ones. They works fine on the grill, but stainless steel skewers are (of course) better for the environment.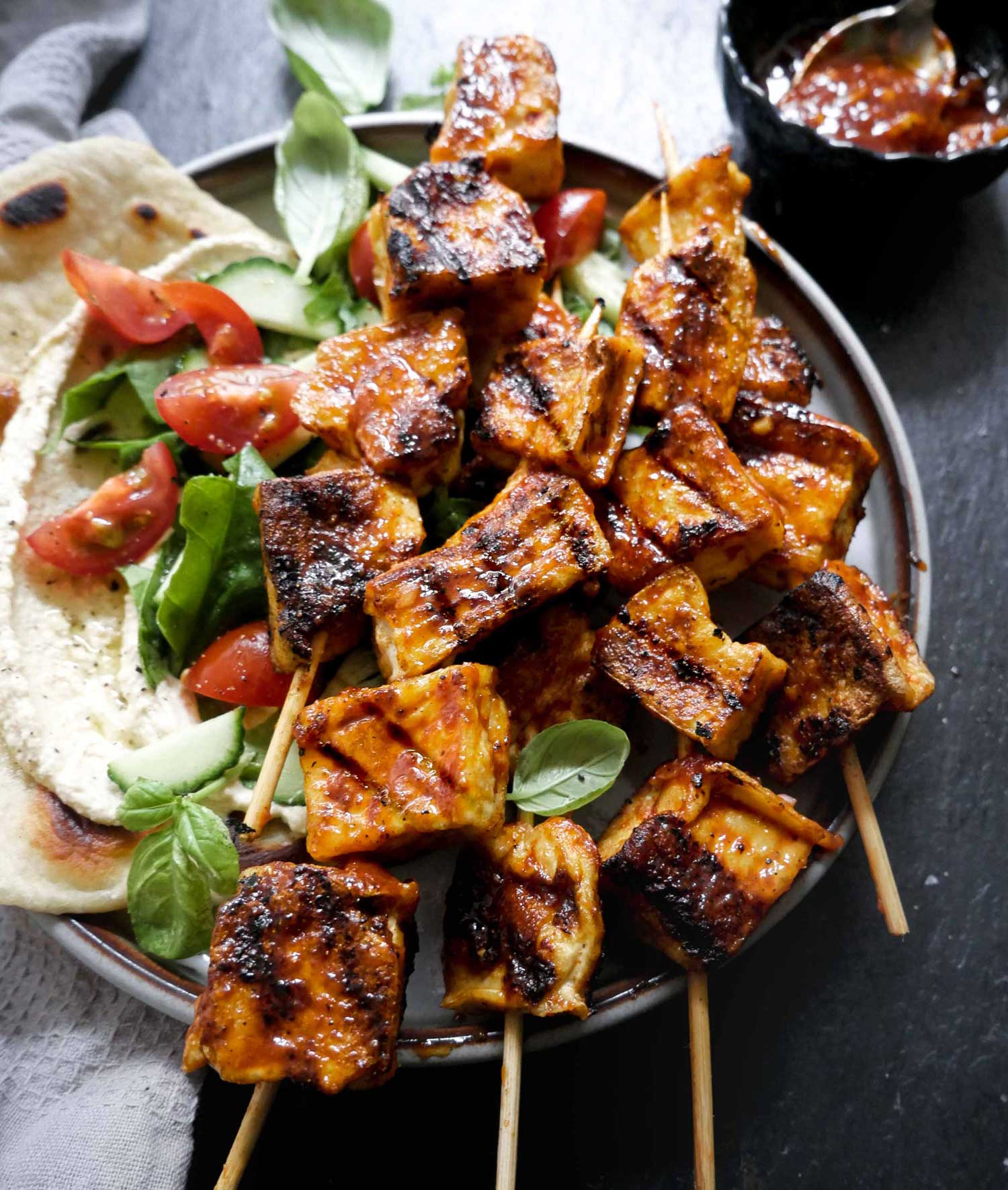 If you make this recipe, feel free to tag me here @micadeli_. I would love to see your summer grill results!