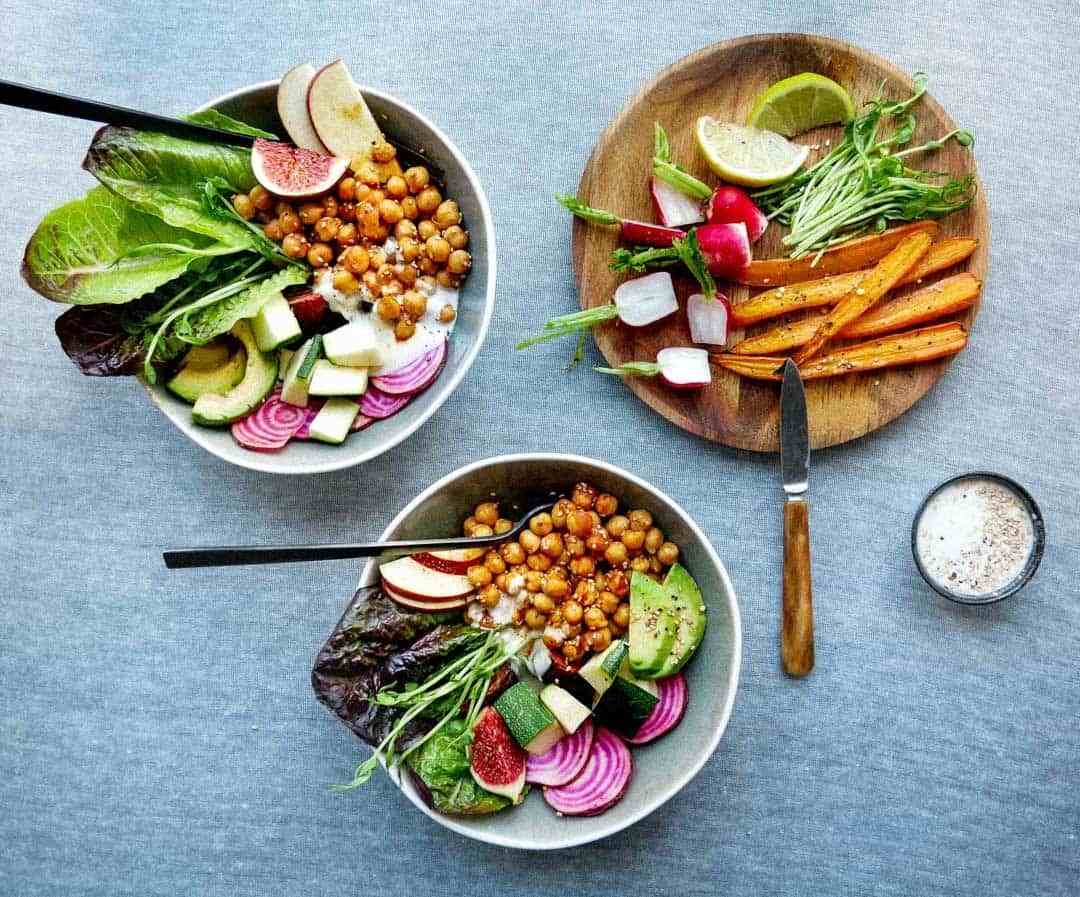 Recipe with spicy chickpeas for the perfect bowls. Plant bowls, rainbow bowls, nourish bowls, veggie bowls – whatever you want to call it, here is a chickpea bowl full of plant based goodness.. Vegetarian bowls are so easy to make and once you have the principles down pat you can start to experiment with loads of different combinations and flavors. Only working with vegetables you cooking time is way more easy and shorter – and then you're working with fresh ingredients.
These bowls really demonstrate that a vegan lifestyle is anything but boring and tasteless. I hope you can use this kind of dinner or lunch inspiration. This dressing was short mixed together with ingredients I just had.
Try also this homemade tasty tzatziki, so good in salads, with oven baked vegetables or flatbreads.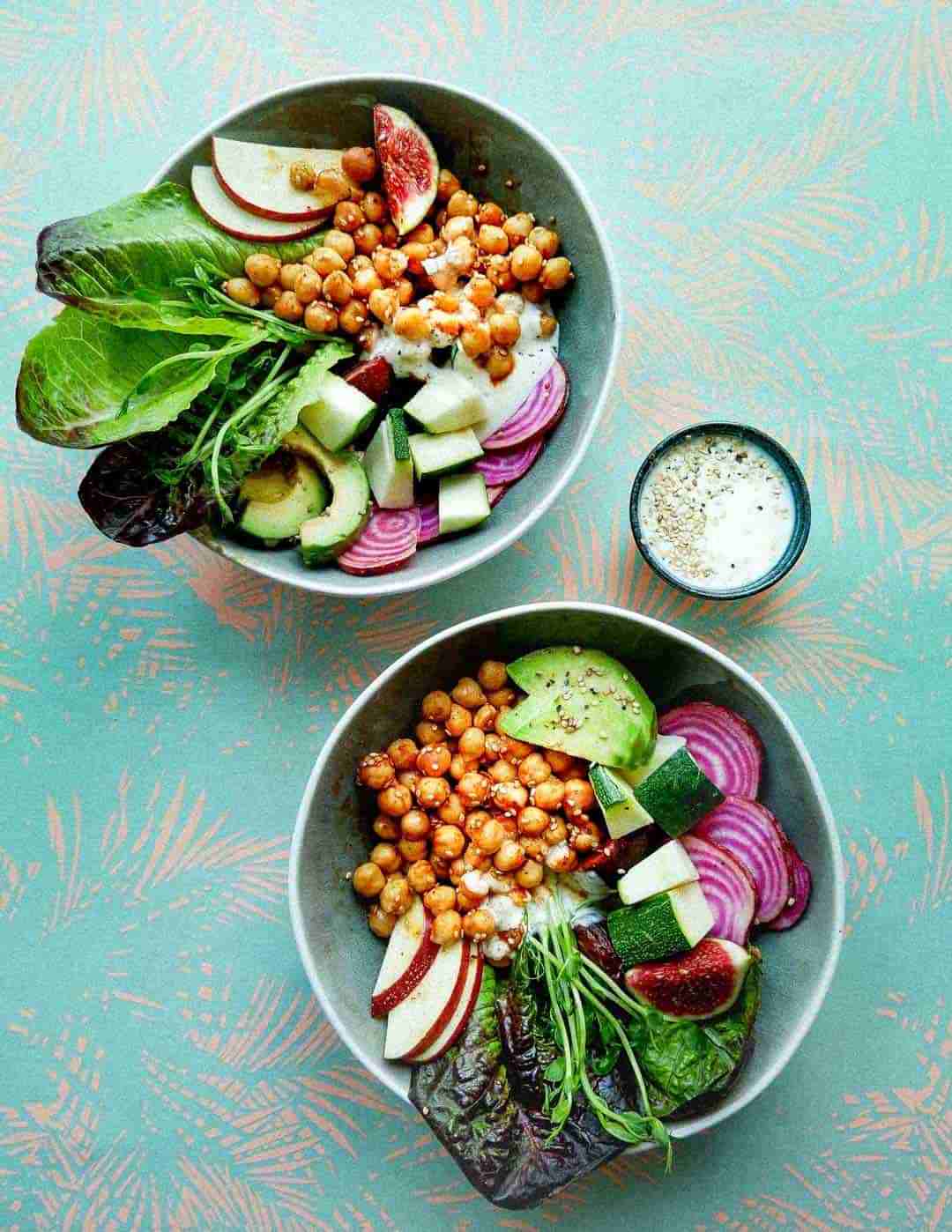 Print Recipe
Salad bowls with spicy chickpeas
Spicy chickpeas in the best salad bowls. Decorated with seasonal striped autumn beetroots, apples, figs and cold dressing. Go find the recipe underneath.
Ingredients
Spicy chickpeas:

1 can of chickpeas (or about 125 g dried chickpeas before cooking)

2 teaspoon chili flakes (depends on how spicy you want it)

1 tablespoon of sesame seeds

1 tablespoon olive oil

2-3 tablespoon of maple syrup

Taste with a little cayenne pepper

Easy dressing:

3 tablespoon soya yogurt

squeezes of half a lemon

taste with salt and pepper

a small teaspoon of balsamic vinegar (balsamico)

Decorate with sesame seeds on top
Instructions
1
Turn on the oven at 200c degrees.
2
Rinse and drain the chickpeas thoroughly under running water. Dry the chickpeas with a clean towel. Spread the chickpeas out in an even layer on the baking sheet. Drizzle with olive oil, syrup, chili flakes, pepper and sesame.
3
Roast the chickpeas in the oven (or on a pan) for 10 to 15 minutes. Taste them to know when it's done. The chickpeas are done when golden and slightly darkened, dry and crispy on the outside, but still soft in the middle. Tip: Besides eating these chickpeas in a salad, you can eat them as a snack or sprinkle over soup in place of croutons (so good!)
4
Serve with spicy and crispy chickpea with seasonal vegetables; apples, figs, zucchini, avocado, salad and striped beetroots. I like my seasonal striped beetroots raw, but you can easily put them in the oven too for 10-15 minutes.
5
Easy dressing: Mix all the dressing ingredients and cool down in the fridge while the chickpeas are cooling down too.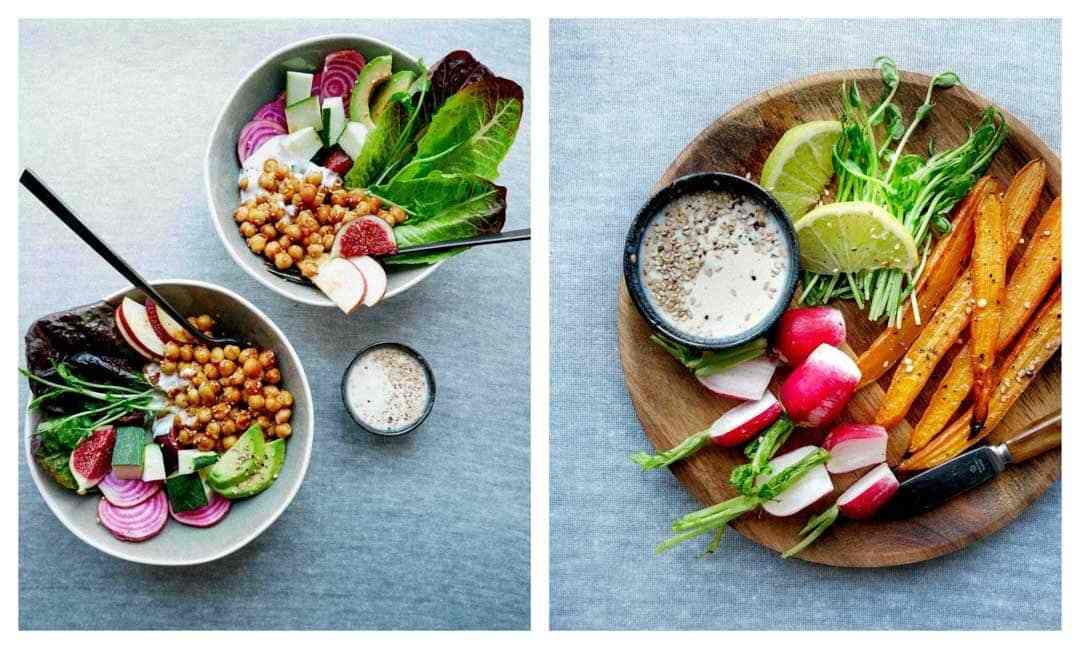 ~ making these bowl is an amazing way to get a lot of vegetabels in your daily diet.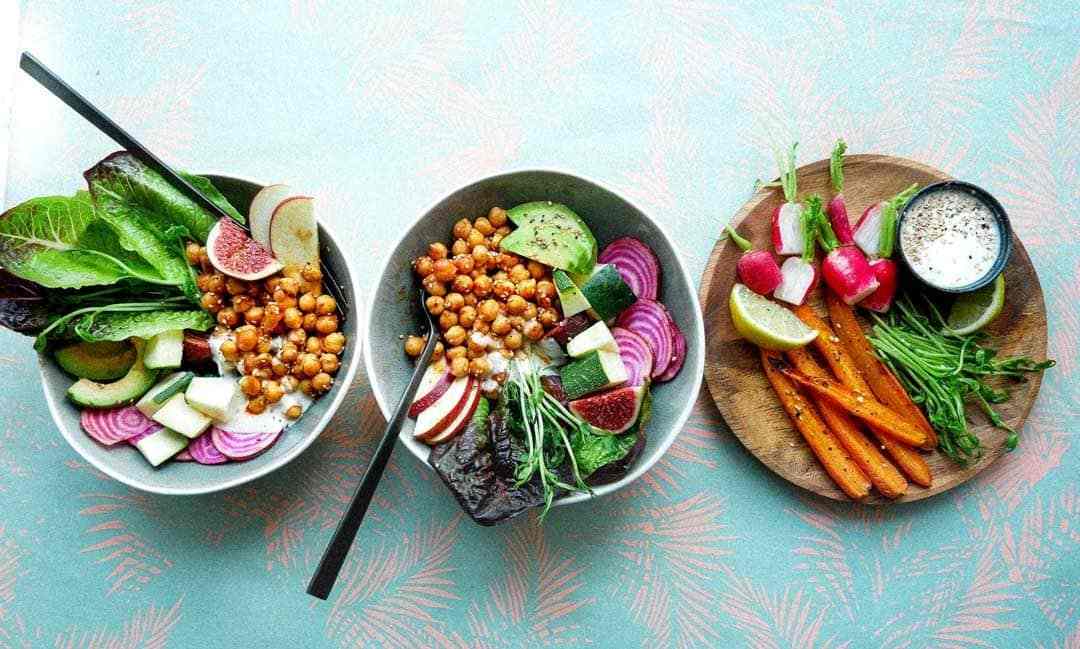 ~ 2 x bowls ready to eat: served with roasted carrots, radishes and a simple lemon/balsamic dressing on the side.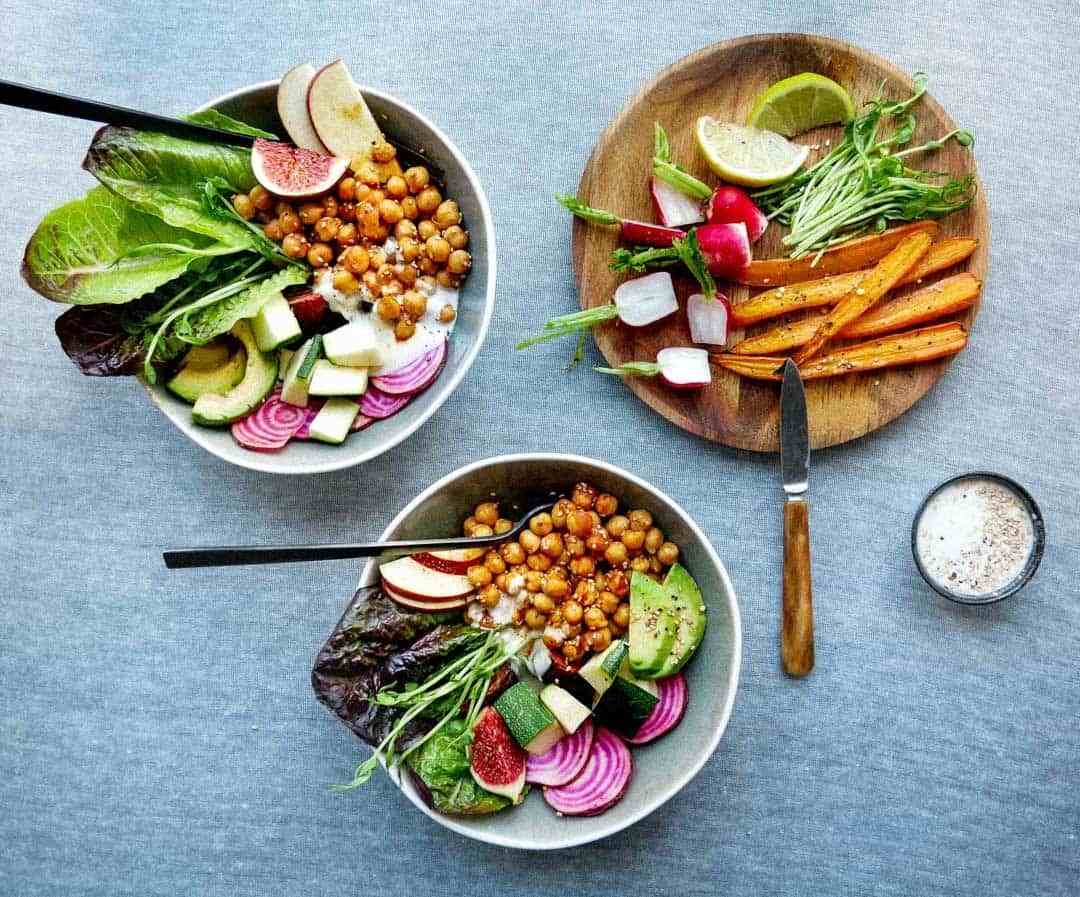 Rate the recipe below ↓