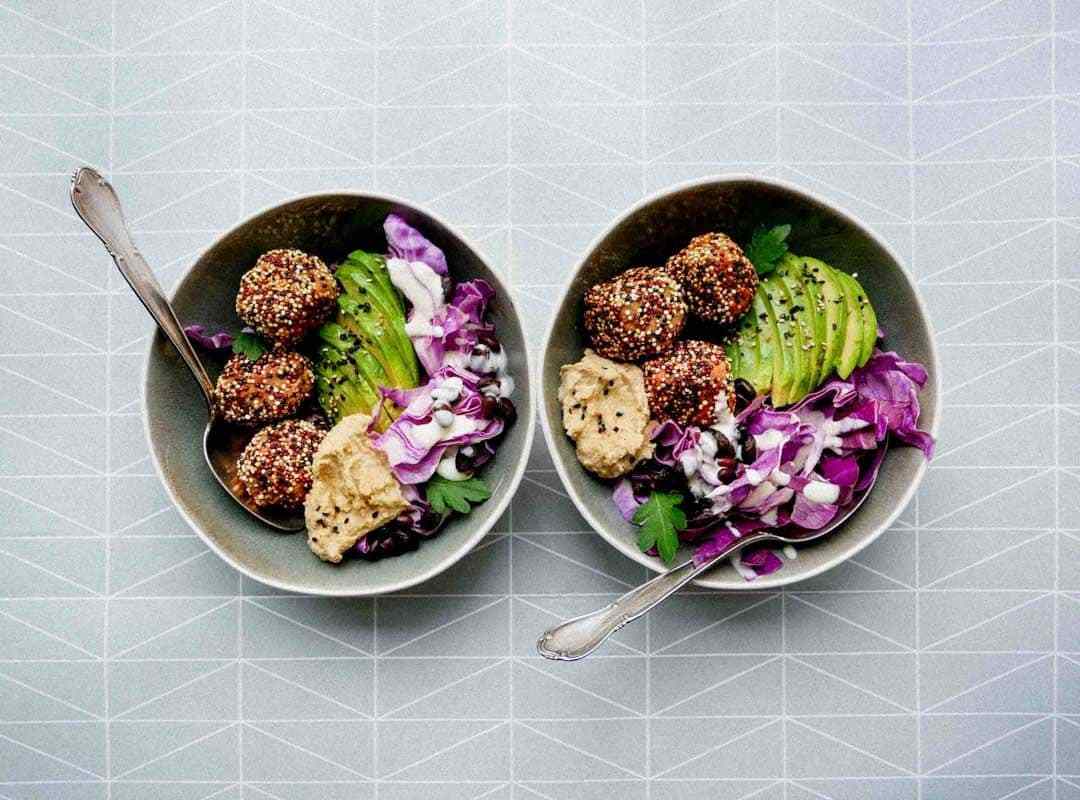 Quinoa falafel with vegetabels and hummus.
I'm love with this homemade quinoa falafel recipe.
These falafels is made out of the exact same recipe as I make my hummus – and turned out to be really good. I like to combine my falafels with a lot of vegetables – this bowl with kale, black sesame seeds, lettuce, avocado, and dressing op top.
Go find my falafel recipe underneath.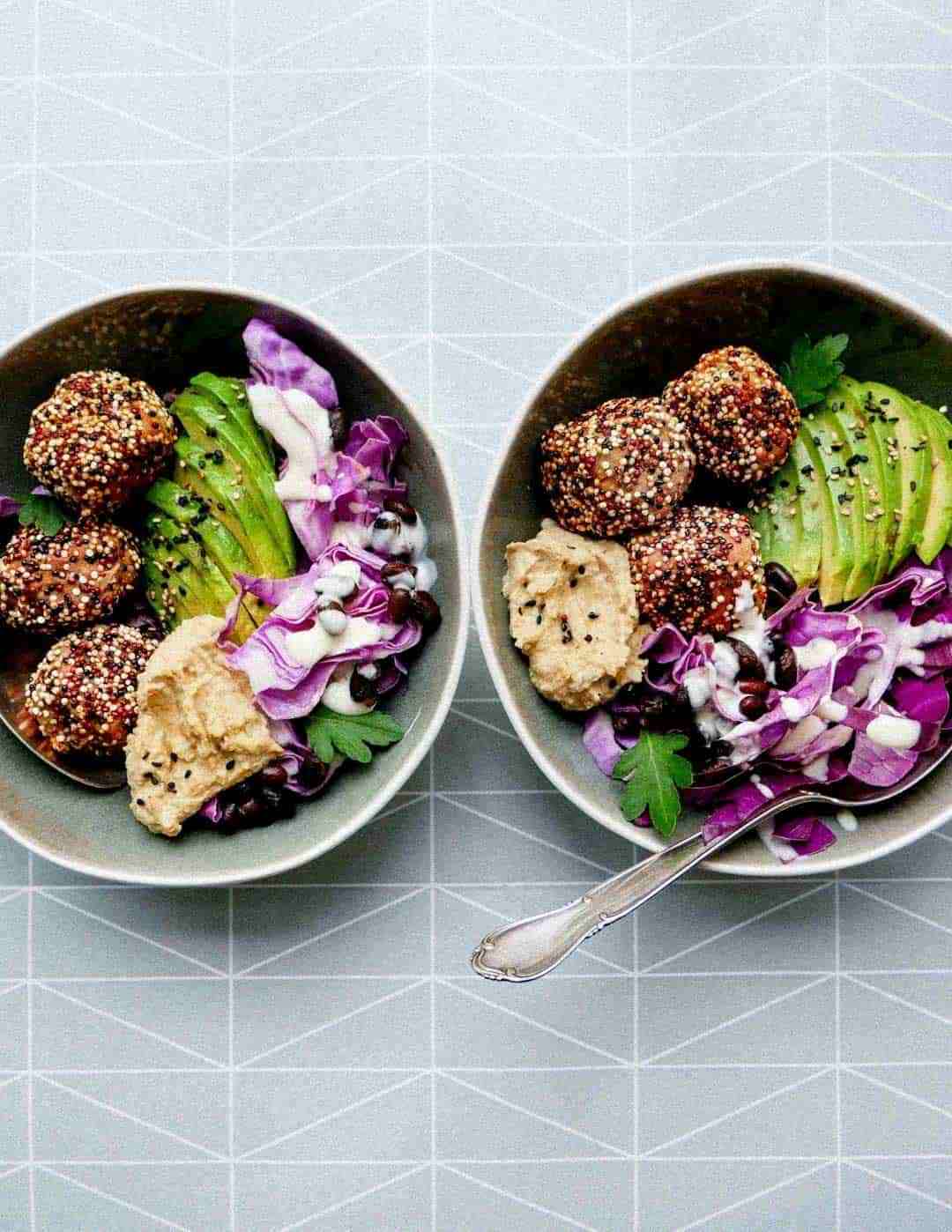 Print Recipe
Quinoa falafels
Homemade quinoa falafel recipe. These are made out of the exact same recipe as hummus. So delicious for bowls, pita falafels and other vegetarian meals. Get my recipe below:
Ingredients
2 cans of chickpeas (or about 250 g dried chickpeas before cooking)

5 tablespoon water from chickpeas

2 tablespoon lemon juice

2 teaspoon cumin

2 tablespoon tahini

2 cloves of garlic, pressed

half onion

3 teaspoon chickpeas flour (or wheat flour)

Little handful of fresh parsley or coriander (can be omitted)

Taste with salt and pepper
Instructions
1
Put all ingredients in a mixer and blend until you have a smooth (but still a little rough) texture. Taste with a spoon and add coriander or fresh parsley if you want more taste. - Now you can actually keep it like fresh hummus.
2
Making the falafels: Form the chickpea mixture into balls about the size of walnuts, or use a tablespoon. Roll the falafels in quinoa seeds, black and white sesame seeds - so it's full covered.
3
You can now choose to bake the falafels in the oven at 200c degrees for 20 minutes, or cover them with a little oil and put them on a frying pan in 5 minutes on each side, or deep fried. I decided to warm my falafels on a hot pan covered with coconut oil or plant butter and warm about 2-3 minutes.
4
Fry about 5-6 balls at once for a few minutes on each side, or until crisp and golden brown. Drain on paper towels as they finish.
Serve your falafels with all your favorite vegetabels. I ate my crispy falafels in a salad bowl with hummus (from the same recipe). Eating your falafels in a warm pita bread with your favorite toppings is also a favorite or in
homemade flatbreads
. Hope you could use this falafel recipe. Let me know if you have any questions.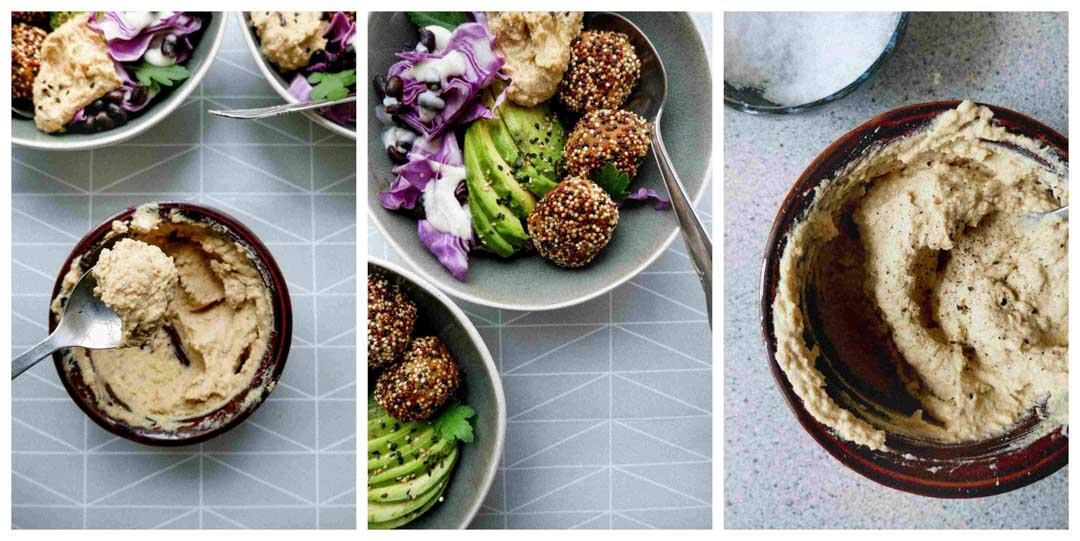 ~ I made my hummus out of the same recipe as the falafels. It turned out really good!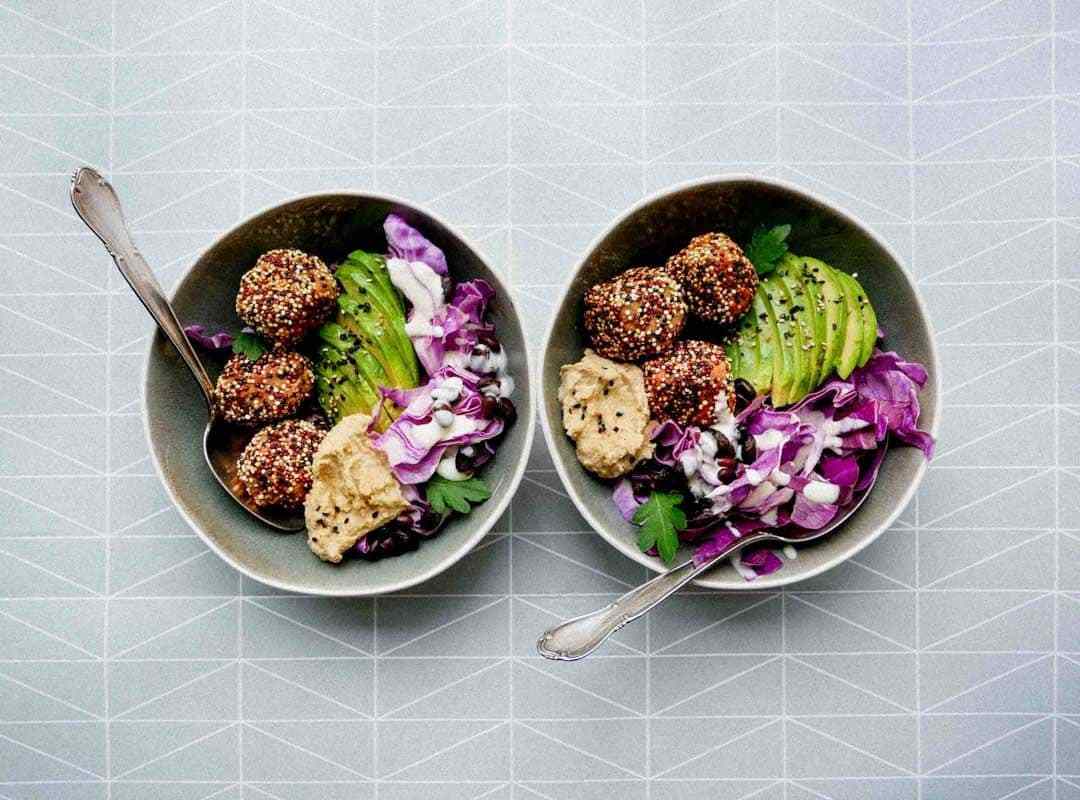 ~ Falafels served with kale, black sesame seeds, lettuce, avocado, and dressing op top.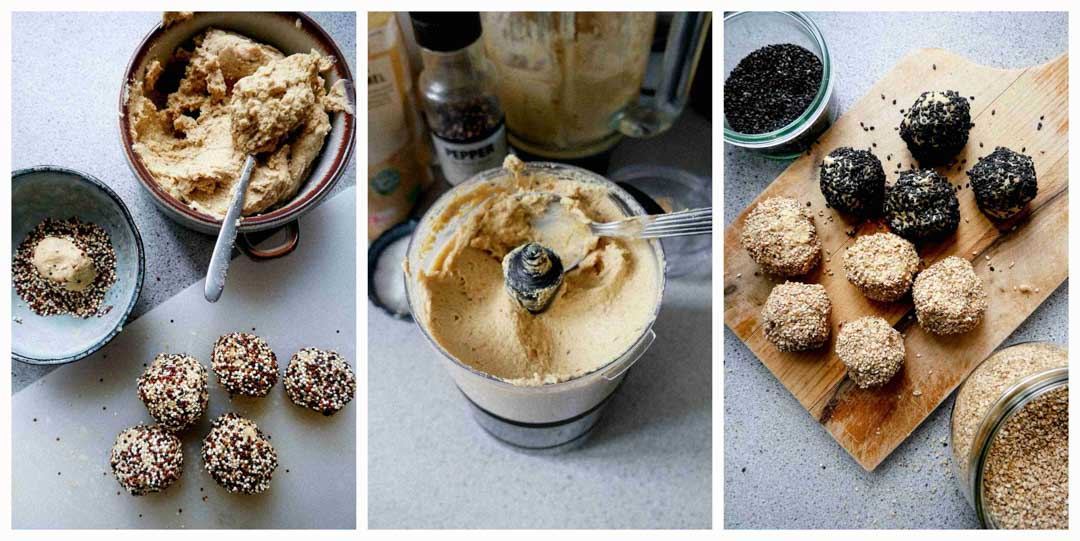 ~ Hummus and falafels in the making covered with different seeds of black and white sesame and quinoa.