Go meat-free with this mouthwatering veggie burger recipe, including crispy and tasty homemade fries. These burger patties made of chickpeas taste absolutely amazing and is so brilliant in vegetarian burger recipes. Easy to make and gives such a crispy taste.
My recipe is pretty simple and you can easily add or omit different spices after your own taste. Normally I could easily add a handfuld of parsley, garlic, onion or red peppers if I had some in the kitchen. It gives the soft patties more shape and texture than the regular vegetarian burger recipes.
My veggie burger was filled with my favorit ingredients. Sourdough bread (homemade recipe right here), crispy salad, slices of tomatoes, mushrooms, radishes and a cold avocado spread made with a handful of parsley – go find the avocado dip recipe here.
Try also – crispy french fries on the side.

Print Recipe
Veggie burger with crispy chickpea patties
The best veggie burger recipe with chickpea patties. Go meat-free with this mouthwatering veggie burger recipe, including crispy and tasty homemade fries.
Ingredients
1 can of chickpeas, around 1,5 cup boiled chickpeas

4 teaspoon tomato pesto, harissa pesto or another red pesto

2 teaspoon of paprika

2 teaspoon of harissa spice, or other red spices

zest of 1 organic lemon + the juice

2 teaspoon balsamico cream

2 tablespoon organic flour, of your choice

2,5 tablespoon of olive oil

taste with salt and pepper
Instructions
1
Turn on the oven at 180c degrees.
2
Remove the water from the chickpeas (drain under cold water). Put in a blender or mixer, add red pesto, paprika, harissa, lemon zest + juice and balsamic. Mix carefully together so you get a sticky patty texture.
3
Add the flour, oil, salt and pepper and mix together again. (you can use a spoon, you don't need the power from the blender for this last part)
4
Set a frying pan over medium heat with 2-3 tablespoon plant butter or oil, and shape the patties to the size you want. Warm about 2-3 minutes on each side and flip when they are perfectly crispy and firm. They don't need to be well done.
5
When the oven is warm, add the patties on a baking tray with baking paper, warm in the oven for 10-12 minutes until golden and crispy. Put the buns in the oven too for the last couple of minutes. Cool it all down before making the burger.
6
Serve the hot patties in the buns, with a good ketchup, salad, tomatoes, mushrooms, radishes and a good burger dressing. And don't forget, the best homemade french fries.

– Hot chickpea patties fried on the pan, and to be cooked in the oven the last minuttes.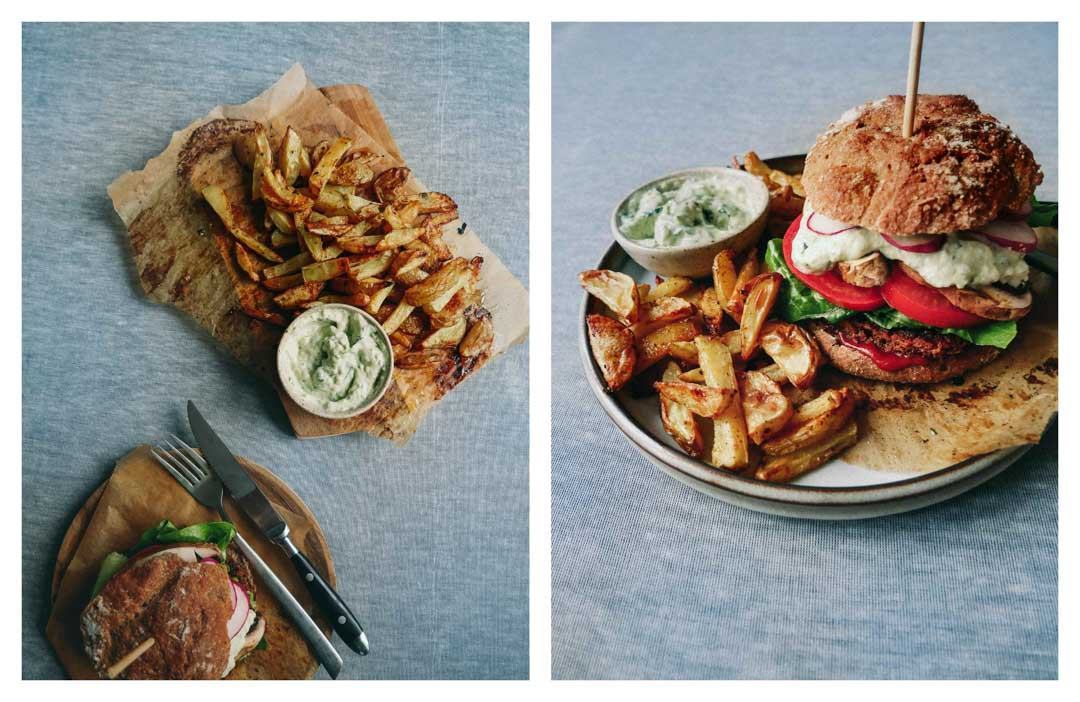 – I hope you can use this recipe! Just let me know if you have any questions making it..