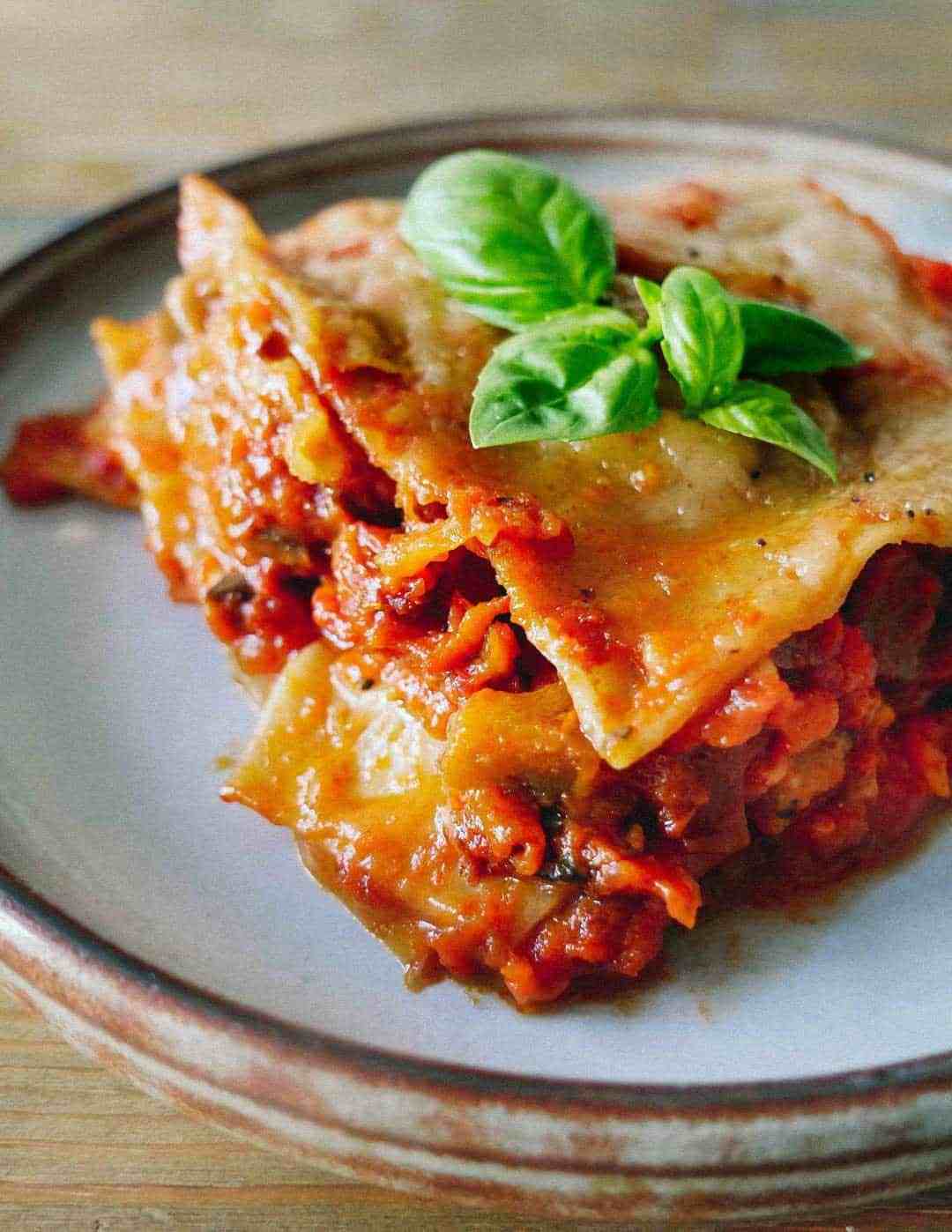 Vegan Lasagna – The Best Lasagna Recipe.
A wonderful Vegan Lasagna made with a lot of layers of roasted vegetables and tomato sauce, the creamiest veggie lasagna sauce and last but not least, topped with fresh colorful basil leaves. I'll never ever get tires of Italien recipes.
I've wanted to make this recipe for so long and share it with you. And I've been practicing a few times now to make the absolute best result.
After practicing a few times I really think this recipe is one of the best – and I really hope you'll give it a go, and that you'll feel the same. Don't remember, the key for a good lasagna is always time. So you need to be a little patient for a perfect result. It can easily take about 1-2 hours. But it's all worth it.
The final result is a super flavorful, nutrient-dense and delicious veggie-packed lasagna. Bon appétit!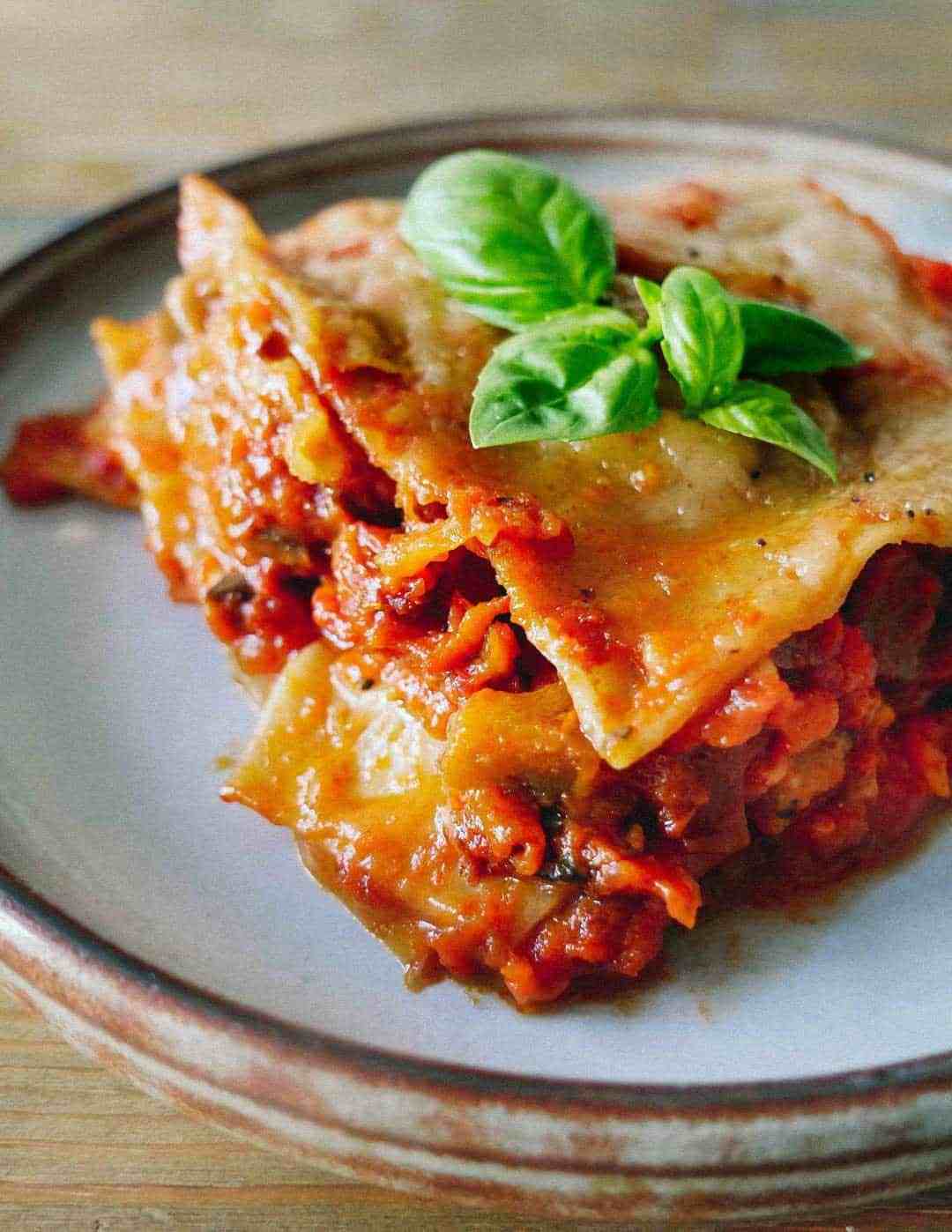 Print Recipe
Vegan Lasagna
The ultimate vegan lasagna. Meat-free with all the best vegetables, a creamy sauce and topped with fresh colorful basil. Get this veggie recipe here below:
Ingredients
Vegetables sauce:

3 tablespoon oil

2 onions

3 gloves of garlic

200g mushrooms in season

4 carrots

1 eggplant

2 cans of chopped tomatoes (2x400g)

half cup of vegetables broth

1 scallion

half cup of water (more if needed)

1 teaspoon cumin

3 tablespoon sun dried tomatoes, chopped

Salt og pepper

Around 10 x lasagna noodles

Lasagna 'cheese' sauce:

3 tablespoon plant butter

3 tablespoon flour

2,5-3 cup milk (I used oat milk)

Juice from 1/4 lemon

120g feta cheese or another cheese (I used the vegan version of feta)

1 teaspoon nutmeg, chopped
Instructions
1
Add oil in a pan, and add onion, garlic and chopped mushrooms over medium heat.
2
To prepare the veggies: Chop the carrots, eggplant, scallions and add in the pan. Add the rest of the vegetarian sauce ingredients. Cook, stirring every 10. minute, until the veggies are golden on the edges, in about 40-50 minutes.
3
Cook on a lower/medium heat and taste with salt and pepper.
4
When the vegetable sauce is almost done, turn down the heat to a lower temperature. Meanwhile, turn on the oven at 180c degrees hot air and prepare 'cheese' sauce: Warm the plant butter slowly in a small can, add the flour and whisk fast and properly. Add the milk and whisk until the sauce is creamy. Add the feta cheese and fine nutmeg. Whisk again until the sauce is creamy and thick. Taste with salt and pepper.
5
Cover with a thin layer of butter or oil in a lasagna pan. Spoon just enough vegetable mixture into the baking pan to lightly cover the bottom. Add lasagna noodles, and cover with cheese sauce. Repeat until you're finish and cover with vegetables sauce and cheese sauce on top. (you can also add traditional lasagna cheese on top, but I think the 'cheese' sauce is all worth itself.)
6
Bake the lasagna in the oven in 20-25 minutes. Cool down before serving. Decorate with fresh basil on top.
Which vegan lasagna ingredients?
There are many ways you can make you vegan lasagna. Some use cashews, tofu, eggplants, seitan or lentils. In few of my recipes I use tofu, but honestly I just love fresh seasonal vegetables. Many other recipe bloggers writes great things about all of the vegan ingredients. So just try it out and make what you feel is the best. With tofu and seitan I would prefer to fry it before, so it gets extra crispy and not too soft. In my veggie recipe I use: garlic, shallots, mushrooms, carrots, eggplants and tomatoes. I might soon make a version of the popular creamy zucchini lasagna. Should also be all worth it too! Gets so hungry writing about all this delicious Italian food.. Last advice – remember you can easily adjust the vegetables to suit the seasons or your speciel wants. I hope you can use this recipe!